Regulated moose hunting
What you need to know about packages offered via random draws
In collaboration with Michel Therrien, hunting guide.
I have been a guide, a user, and a hunter in Quebec wildlife reserves for nearly 30 years. I even remember when random draws were conducted live in front of hunters during major hunting and fishing shows.
Since then, a number of things have changed, including the diversity of the offer, the duration of stays, and the many possible types of weapons permitted. So-called family hunting has also been added to the options available. Groups of hunters therefore have a wide range of possibilities. That's why it's possible, based on the interest of the hunters in question, to set different objectives from one year to the next according to their motivation, curiosity, and interest.
Here are my main recommendations for choosing a hunting package based on existing options.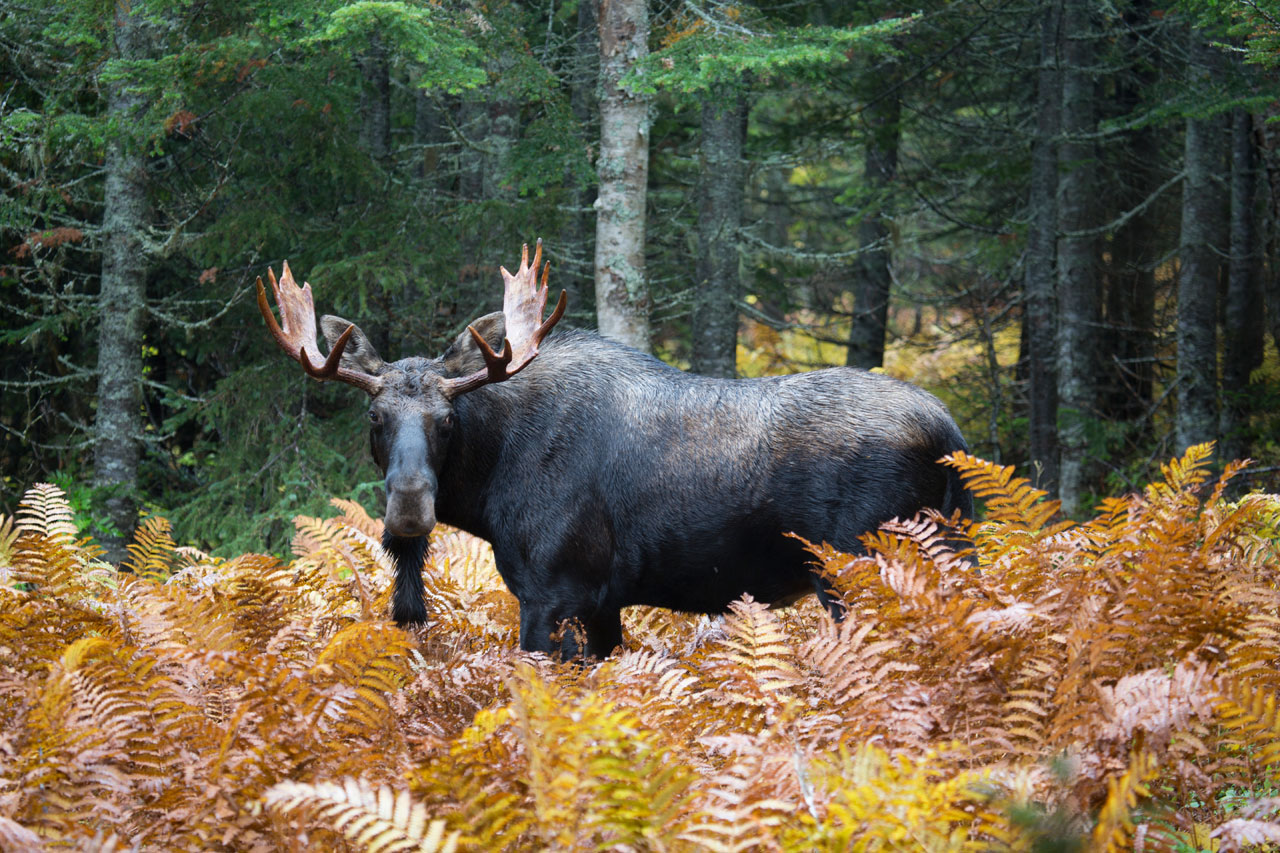 European Plan packages (without guide)
Providing a large exclusive hunting territory and accommodation, European Plan without guide packages are very popular and are the classic option. As the areas are vast, hunters can hunt the king of our forests in several regions with diverse ecosystems. They can also take on the challenge of hunting during the pre-rut, rut, or post-rut period, depending on the dates of their stay. Being lodged will often make the hunting experience more convivial and more adapted to the hunters' needs.
This package is available, notably, in wildlife reserves in the eastern part of the province with high moose densities, but it's also offered in most reserves throughout Quebec.
Personally, I have a soft spot for extensive wildlife reserves with outstanding habitats, which are sometimes even a little more remote and less accessible. By using GPS technologies and the Avenza Maps mobile app, it becomes easier to discover wilderness areas, like when one stumbles upon lakes teeming with large wild trout in the heart of the forest. I have tons of stories in mind involving the discovery of isolated moose communities in the middle of the forest. As Sépaq loans a transportation sledge and motorized winch free of charge, it becomes easier with the orientation tools available to take on the forest by heading toward the moose.
In preparation for their stay, hunters will be able to visit and prepare their territory by obtaining discounts on fishing and vacationing packages, while obviously taking into account their hunting dates. For me, visiting the territory is a must.
In certain wildlife reserves, such as Port-Cartier-Sept-Îles and Ashuapmushuan, there are even packages including bear hunting, hare snaring, and small game hunting, not to mention the possibility of being able to fish during the same period. Here's a diverse post-hunting and fishing menu featuring a variety of in-country products. With so many hunting options, it's impossible not to have stories to share at nightfall.
Packages with services
You want a turnkey stay, without grocery shopping or worrying about exploring your territory beforehand? The American plan package at Auberge de montagne des Chic Chocs, including food, guide, and cozy accommodations, is the best option for you to consider.
What we're talking about here is being pampered in the forest while having access to territories known by the guides. With this type of package, there are often lots of moose spottings, not to mention all the extras included in the package, such as the guide's help with meat butchering and management. The quality of meals and service may also surprise many. This hunt is almost like a holiday!
There's also the European Plan including guide services, allowing you to benefit from the service of an experienced guide while doing your grocery shopping beforehand and making your own meals right at your cabin.
In terms of hunting experiences, these two options often help many hunters learn more hunting techniques, as the guide will be on hand to offer assistance. Besides the services offered, a guided hunt can be a useful experience in terms of developing future hunting skills. The group will also learn tricks related to moose hunting, evisceration, and various aspects of the animal's habitat.
Various packages according to the type of weapon and lodging
For those who can't resist a challenge or who also want to diversify their type of approach, there are bow and crossbow hunting packages, as well as areas for conventional black powder guns. Hunters who have camping gear (a tent or a recreational vehicle) also have access to packages that cost less. I have unforgettable memories of this type of stay involving setting up our big prospector tents near a wild lake, including a particular year when our group rented a campervan at a time of the year when rates for this kind of vehicle were very affordable indeed.
Finally, there are also family-oriented options where it's possible to include, free of charge, or with a discount, a youngster from the up and coming generation of outdoor enthusiasts in areas selected for this purpose. This is a great opportunity for hunters to share the tradition of hunting with the next generation on the ground.
Good luck during the random draws and most importantly, we wish you a successful hunt!