The basics
Essential items for short hikes (and minimalist hikers)
At least 1 liter of water: Bring enough water for the duration of your hike, and don't wait until you're parched before drinking it. Taking smaller sips on a regular basis helps prevent dehydration.
Snacks: They're a must for keeping your energy up while hiking. Besides, everything tastes better out of doors, don't you agree? Opt for high-protein (nuts, cheese, protein bars) and calorie-rich (e.g., dark chocolate) foods that provide quick energy. Stow your snacks in easily accessible pouches so you don't have to empty your backpack (or scatter crumbs in it) every time you grab a bite to eat.
An insulated jacket (down or synthetic), a warm sweater (like a fleece), a beanie and gloves. Temperature and weather conditions can change quickly in the mountains. A lightweight puffer jacket is a great choice to keep you cozy and warm.
A windbreaker (ideally waterproof): A highly packable shell fits in a backpack like a charm. And when you need your shell, it not only blocks the wind, it also keeps you dry. Speaking of which, have you ever hiked in the rain? Why not give it a try? It's fun, and it's also a great way to escape the crowds!
Sun protection: Pack a hat or cap, sunglasses, sunscreen, a long-sleeve shirt, etc. Who doesn't love a beautiful sunny day? But be mindful of prolonged exposure to UV rays. A sunburn or heatstroke can quickly spoil your hiking experience.
Handy extras
For longer hikes (or for those bring-alongs that make all the difference)
Water purification tablets, e.g., Aquatab: There are also water filters and filter cartridges on the market that remove particulate matter and certain pathogens.
Packets of electrolyte powder: Not only do they help you rehydrate, they can also mask the slight taste of chlorine associated with certain water filtration processes.
Firestarter (lighter, matches, small candle, etc.): Flames have a thousand and one uses—to boil water, cook, provide heat and light, and to help locate you in an emergency. When an opportunity presents itself, for example, when you go camping, practice starting a fire.
A penknife: Just like firestarters, a penknife has multiple uses.
A headlamp: Whether for an early morning jaunt or a hike that stretches past dusk, a headlamp is a great item to add to your backpack.
Bags to pack out your waste (if they're washable and reusable, that's even better!)
For those who like to be prepared
And for any eventuality
Plan B to get your bearings (map, compass, GPS, mobile app): The trails in Québec's national parks are well marked. But even so, it's good not to depend solely on trail signs to find your way. There are all kinds of apps for smartphones (equipped with a GPS antenna), including Gaia, Backcountry Navigator, ALLTRAILS, PeakVisor, Spyglass, and others. More of a map-and-compass kind of hiker? Fantastic! They are the most reliable tools out there, provided you know how to use them…
An itinerary you share with a friend or family member: Before heading out onto the trails, take a moment to let someone know which trail you plan to take and when you expect to be back. In the event of an emergency, this simple precaution will be invaluable to search and rescuers.
First aid kit
A first aid kit is a must in the outdoors. You can either purchase a ready-made kit or prepare your own by gathering the necessary items in a small watertight bag. That way, whether you need to treat a minor heel blister or a more serious injury, you'll be prepared for any eventuality.
Lastly, survival blankets are readily available in outdoor stores. Even if you are unlikely to need one, it can be very handy in an emergency situation. And since a survival blanket is ultralight and packs up very small, you'll barely even notice it in your backpack.
Organizing your backpack
Once you've gathered together all your gear, take a moment to organize your backpack so it's easy to find everything when you're out on your hike. It's amazing how messy a pack can get! While there's no magic formula (and there are various schools of thought when it comes to backpack organization), one thing is sure: pack the stuff you use less frequently in the bottom of your pack. As for the gear you'll use the most, pack it near the top of the pack or in easy-to-reach compartments.
Bottom: First aid kit, insulated jacket
Top: Waterproof windbreaker
Easily accessible pockets: Food, headlamp, penknife, sunscreen
Within easy reach: Water bottle
Happy hiking!
The importance of drinking water
When it's time for a hike, people always wonder how much water to bring. The typical suggestion is half a litre per hour, but what if something unexpected happens? This capsule provides our best advice to ensure you don't run out of water and enjoy your outing in nature. (Video in french only)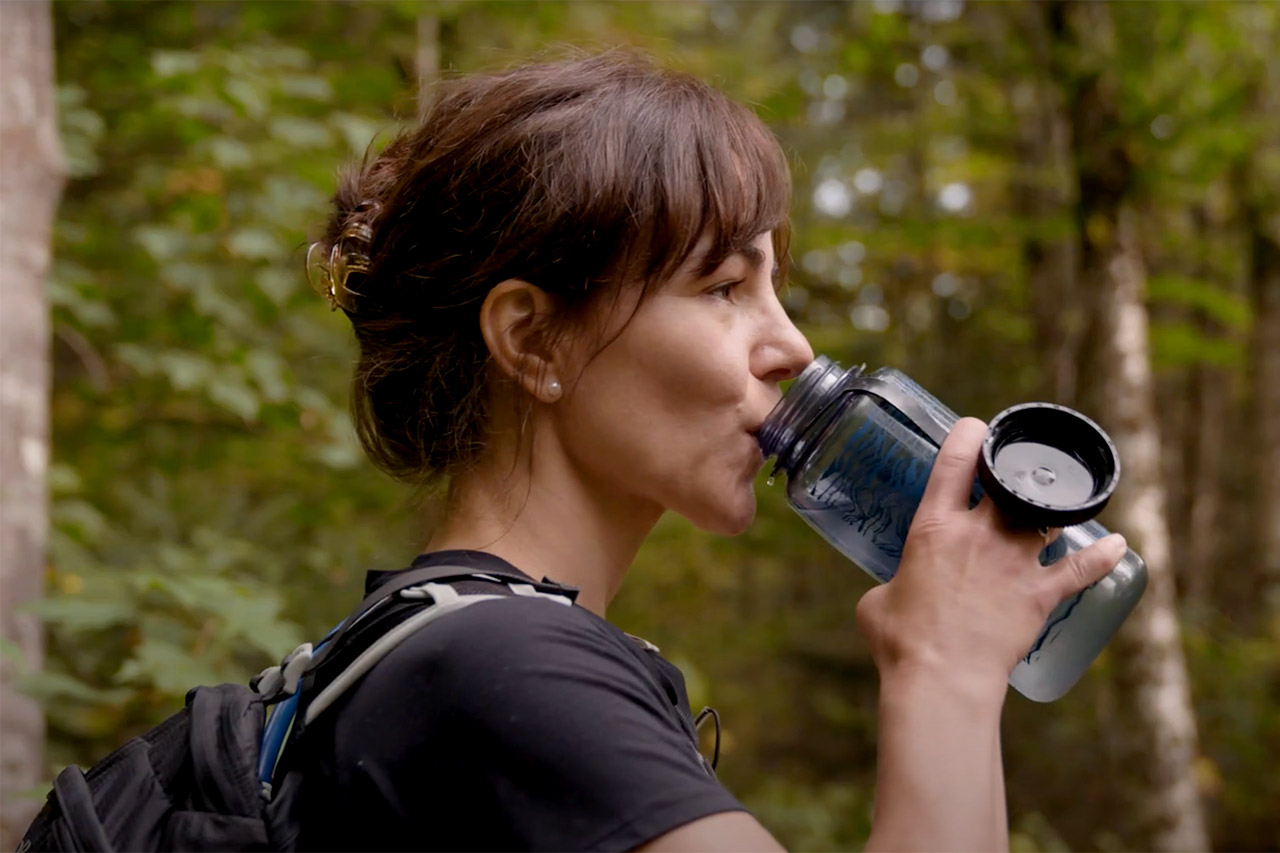 Here's a little checklist for a perfect experience:
Have in hand your daily right of access or annual national parks card, purchased online via our virtual ticketing service.
Check the weather forecast before setting off and bring clothing and footwear suitable for the conditions and weather.
Download the Avenza Maps application and the plan of the sector you intend to visit. Click here for all the information you may need.
Mother Nature provides so many benefits. How lucky we are to be able to enjoy them! To take care of her in return, here are some simple habits to adopt in the great outdoors:

Although it's tempting to cozy up to the animals, make sure you watch them from a distance and do not feed them, as their welfare depends on your abstaining in this regard.
To preserve the flora so it can regenerate, stay on the trails. In any case, these pathways are often laid out so as to offer the most beautiful views!
Last but not least, make sure you pick up all your rubbish. A granola bar wrapper will blow away in the blink of an eye...

Above all, have fun and soak up the beauty and fresh air!