Gearing up for long-distance winter hiking
Contrary to popular belief, long-distance winter hikes, those lasting more than one day, require very little equipment. Good winter clothes and a few accessories for cooking are enough. And if you already go camping during summer, you probably have everything you need!
To help you make sense of all this, we asked our colleague Ariane, an outdoor and long-distance hiking enthusiast, to share her best tips acquired over the course of her experiences.
Are you ready? Follow the expert!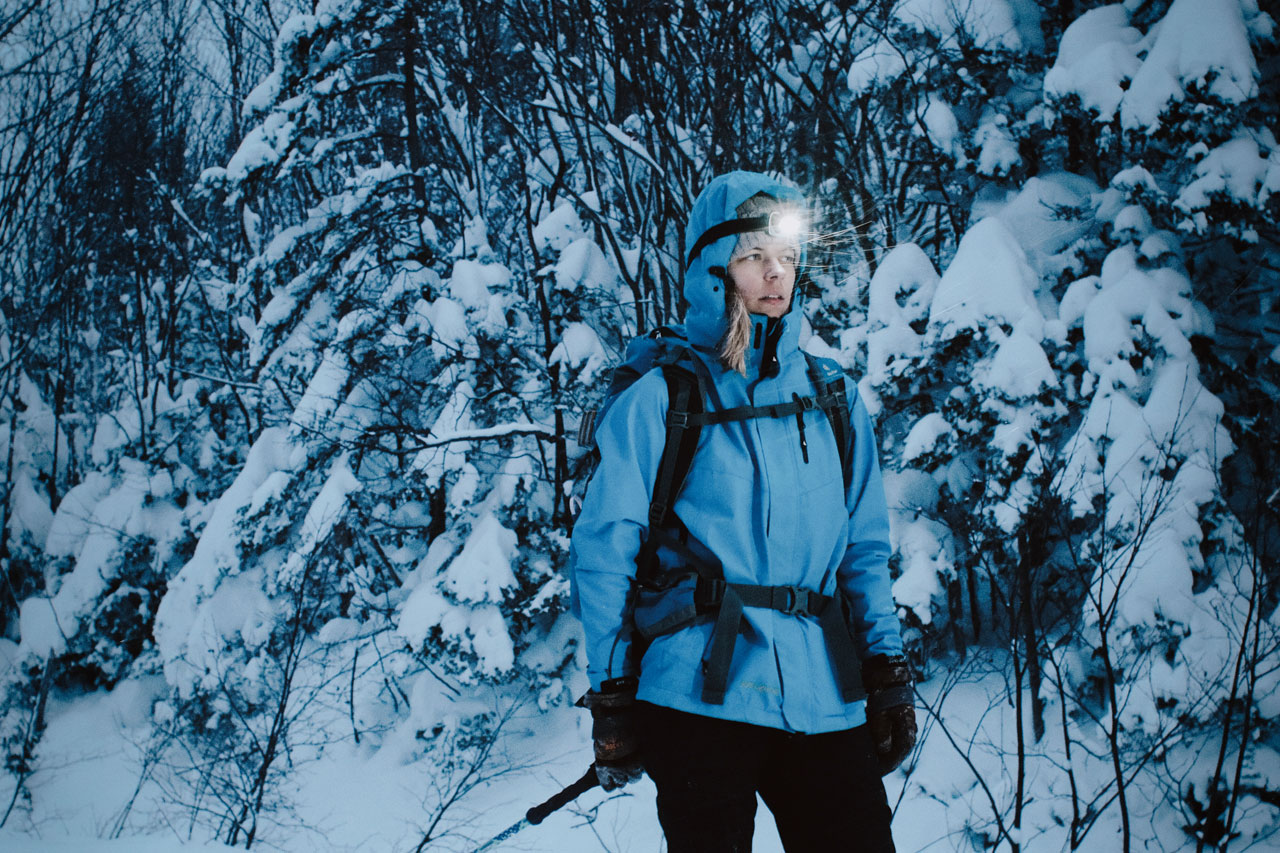 About d'Ariane, our guide for a day
A long-time long-distance hiking fan, Ariane has been on fabulous expeditions across the planet. From Chilean Patagonia to New Zealand, via Quebec national parks, Ariane stays fit as a fiddle and is forever seeking the most beautiful mountains to climb and the nicest landscapes to be discovered throughout the world.
How to dress?
First step when planning a long-distance winter hike is choosing what you'll wear. To make wise choices, keep these three ground rules in mind:
Wear many layers. This is probably the most important rule. The principle is simple: add or take off clothes according to the intensity of your physical effort and based on winter conditions.
Prioritize synthetic fibres, such as polar fleece or polyester, which are fabrics known to breath well and dry faster. If you have a merino wool sweater, it's the perfect time to wear it. In addition to having all the properties of synthetic fabrics, merino wool does not absorb smells, which is absolutely fantastic.
Bring a single set of spare clothes, regardless of the number of days that your expedition will last. You'll be happy to put on fresh clothing when you arrive at the hut, while your day's apparel dries.
You think you have to dress very warmly when setting off on a long-distance hike? Wrong again! It's recommended that you dress quite lightly and even that you be a bit cold when setting off. You must remember that when snowshoeing, with a full backpack, you'll naturally warm up after around 15 minutes.
And what are gaiters exactly?
Gaiters are small pieces of equipment covering the lower leg and top of winter boots. They're used to prevent snow from getting into your boots and soaking your feet and pants. They're not essential but can be very practical.
If you don't have any, please note that you can rent them at most Sépaq discovery and visitors centres, along with snowshoes, spikes, and walking sticks.
Ariane's hot tip
As soon as you start to sweat, even a bit, you must step in and remove a layer to avoid getting wet and then getting cold. Later on, if you stop for a snack break, you can add an extra layer, such as a warm down jacket.
What's on the menu?
To cook delicious recipes in huts, the key to success is not sophisticated equipment or the chef's culinary talents but simply preparation.
Wild mushroom risotto, cheese fondue, spicy chickpea curry, pasta with pesto and sun- dried tomatoes… all you need to cook these delicious gourmet recipes is a small pot and a burner. You'll have to do a little bit of preparation beforehand though. Mixing your spices in a small bag, opening a can of chickpeas and rinsing them before leaving, blanching your vegetables, grating the cheese, and preparing your seasonings are all good tricks to avoid lugging too much stuff in your backpack.
No need to bring tons of water
To stay well hydrated throughout the adventure, you don't have to bring a massive amount of water. Enough for a day will do the trick. Huts all have a big pot which will be useful for melting that beautiful snow. You'll then have to boil the precious liquid for a few minutes on the wood stove to replenish your drinking water supplies. Please note that some folks prefer to bring chlorine tablets to treat the water without having to boil it.
Take your garbage with you
Attention! In a hut, you must take away your garbage, so bring along an empty garbage bag to take home at the end of the adventure, and keep in mind that the less waste you drag along, the better.
Ariane's menu
When camping or staying in a hut, Ariane likes to eat well. That's why on these occasions she's a big fan of comfort food, part of the fun of the adventure.
For lunch
For your first day hiking, bring good sandwiches made with fresh bread purchased from a bakery on the way. A well-wrapped sandwich is very portable, delicious, and a great source of energy. For the next day's lunch, cheese, sausages, nuts, and fruit are easy to bring and will recharge your battery.
For dinner
A cheese fondue from Quebec with pieces of baguette, broccoli, cauliflower, apples, and sausages. Another option? Risotto with dehydrated mushrooms. Whatever the case may be, you'll need melted cheese.
For breakfast
A nice bowl of oatmeal, with apple and banana pieces, nuts, dates, and raisins. Delicious and nutritious!
A good coffee to start the day of hiking is a must, and you'll only need a small pot. In a hut, we go with the tried and tested cowboy coffee method. If you prefer your coffee with milk, opt for small formats of Grand Pré or other fridge-less milk which don't need to be kept cool.
Snacks
Nuts, bananas, apples, cheese, chocolate, dried fruit, homemade galettes, cookies, and crusty cakes. Whatever makes you happy and you like to share!
What do I need for a good night's sleep?
Huts have beds and mattresses. You just have to bring something to sleep in for the night. A rather thin sleeping bag will do the job since, generally speaking, the huts are warm. If you have a camping pillow, you can use it too.
You have neither? A thin rolled blanket in your backpack and a fleece sweater used as a pillow will be just dandy.
Ariane's tip
A small inflatable camping pillow takes up little space, is inexpensive, and is useful for this type of adventure. You can find them in all outdoor stores.
How do I transport all this?
Now that you know what to bring, you have to put all of it in a backpack. Once again, preparing your backpack is not complicated.
Three tips:
Place heavy things, for example, the mess kit and burner, against your back.
Put the things which won't be useful during the hiking day, such as the sleeping bag, change of clothes, and ingredients to prepare dinner at the bottom of the bag.
Put at the top of the bag what you want to keep handy: lunch and snacks, the down jacket, another pair of mittens, etc.
And if you want simplicity, we remind you that baggage transport is offered at some of our destinations!
Ariane's observation
"We always bring too much." The only things we never take too much of on this kind of adventure are spare socks and mittens.
Important: little treats
It's not because you're setting off to a hut that you have to rough it! Here are a few items which take up little space but are worth their weight in gold.
A small speaker. Download your list of favourite songs before leaving and you can play music all evening long.
Small lanterns to create a pleasant atmosphere.
A deck of cards for the mandatory card game.
A good bottle of wine. Not essential, but it goes wonderfully with cheese fondue and risotto.
Plan a little surprise for the gang! For example, bring waffles rather than toast for breakfast, or anything that'll add a touch of magic to your adventure among friends.
Safety tips
Long-distance winter hiking is no riskier than winter hiking in general. But you must adopt safe habits. Stay on the trails and make sure to always check the map of the territory before heading down a new fork in the road.
But especially, don't underestimate winter conditions. Before planning your adventure, check the weather forecast, make sure to bring suitable clothing, and be vigilant if there's heavy snowfall.