Six activities to make you love winter
Are you one of those people who feels nostalgic for the warm season as it slips further and further away? Who sighs wistfully when thinking back on those beautiful outdoor moments of summertime spent in nature? Summer will return of course, but until it does, nature still has many little pleasures to offer. Here are six very simple activities that will help you spend nothing less than the best winter of your life!
These suggestions don't require much gear and are suitable for all fitness levels. To take full advantage of our hot tips, first of all you need to adopt onion peel clothing so you can remove layers when you've warmed up or to add some when it's time to take a break.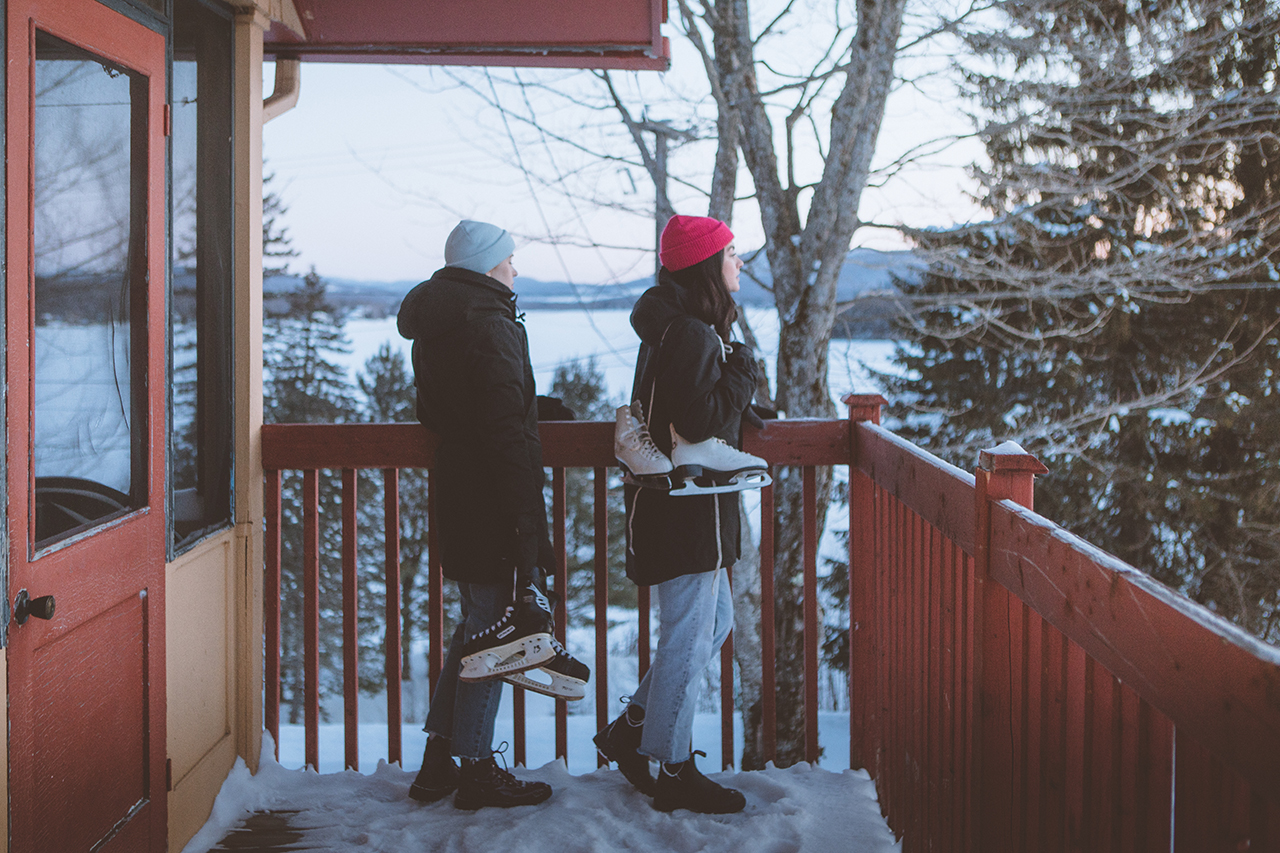 1. Trail walking
Just like in summer, you can immerse yourself in nature during a wintery walk and discover the breathtaking landscapes that abound here in Quebec. In search of inspiration to plan your next outing? Look at our winter trail map. Here's a special seasonal bonus: the snow covering the trees makes the scenery even more magical! Draped in white, the forest sparkles in the sun and envelops us in an atmosphere that is both invigorating and soothing.
2. Snowshoeing
Speaking of calm, time takes on another dimension when you strap on snowshoes to explore the snowy forest. You can then get around easily, without sinking into the white cover. Scattered along certain trails of the Sépaq network are heated huts, serving as perfect stopovers during winter hikes! For further information, discover our snowshoeing destinations.
3. Snow tubing
It's the perfect activity for the young…and the young at heart! Snow tubing requires little physical effort and provides a big hit of happiness. To maximize pleasure, a number of destinations even offer snow tubing trails. Fasten your toque good and tight!
4. Skating
As soon as the temperatures allow it, Sépaq sets up outdoor skating rinks near certain cabins. Skating is the ideal activity if you're looking to get some fresh air and exercise without having to go very far afield or lug lunches, drinks, and snacks. You can play outside, enjoy the ice time, and when you're tired, head inside to warm up by sipping a nice hot chocolate. Follow this link for the list of establishments offering an ice rink.
5. Wildlife watching
Some folks will be surprised to hear it, but winter is a splendid season for wildlife watching. Clues left by animals can be more easily spotted and identified. The wildlife photographer Julie Audet shares her best tips for successful wildlife watching. Don't forget to keep your distance, as safety and respect for the animals comes first.
6. Cross-country skiing
You have a tendency to shiver, regardless of the winter activity you indulge in? Well, cross-country skiing may be just the solution for you! As one's body is always in motion, it doesn't have time to cool down. In addition, Sépaq offers ideal destinations to introduce your family to cross-country skiing as many beginners trails are available and a number of destinations are located a mere stone's throw from your town or city. To know everything about cross-country skiing, consult our complete file.
Enjoying winter activities can be learned at an early age. So much the better since at most of our establishments, trail access and equipment loans (snowshoes and cross-country skis) are available for children absolutely free of charge. You'll find all the information you need right here.
Here's a short checklist for a perfect experience:
Capacity may be limited, so arrive early! In order to preserve the quality of the experience for visitors and employees alike, you may be denied access to a particular sector, trail, or activity if the parking lot is full or if the maximum capacity is reached.
Check the weather forecast before you leave; it's often colder in the mountains than at home.
Dress warmly and in layers. The idea is quite simple, you add or remove a piece of clothing according to the intensity of your physical effort and the winter conditions.
Have on hand your national park access rights and, if needed, your cross-country skiing day pass.
Download the Avenza Maps app and the plan of the sector you intend to visit. For all the information, click here.
Find out about snow conditions at your destination by downloading the Sépaq:Neige mobile application available on the App StoreTM and Google Play StoreTM or visit our website.
Fill a thermos with your favourite hot beverage: total comfort guaranteed!