Cross-country skiing for dummies
Complete file
In collaboration with Protégez-Vous
The popularity of outdoor activities, especially winter sports, has been growing steadily in recent years. Are you a recent cross-country skiing convert or just thinking about getting started? Here's what you need to know before you hit the trails!
In addition to being suitable for families, cross-country skiing can be practiced by beginners as well as by athletes who want to surpass themselves and progress. Whether you're looking for a sport for a relaxed outing while admiring the scenery or a sustained activity to help you enjoy the chilly season, cross-country skiing will be your cup of tea.
Cross-country skiing styles
Classic cross-country skiing
For which skiers?
Less demanding and less difficult than other versions of the sport, classic cross-country skiing is the most common type. It fits the bill for everyone, even beginners and children.
On which trails?
Suitable for groomed trails with marked tracks, classic cross-country skiing can be enjoyed in many municipal, regional, or national parks. You don't usually have to drive long hours to enjoy this sport.
What's the technique?
It consists of sliding one ski after the other, forward, in a sliding push motion. A part of the ski's base under your foot, called the grip zone, sticks to the snow to allow you to push. Then, as you transfer your weight to the other ski, this pressure zone on the snow is released to allow the ski to slide forward.
Skate skiing (or freestyle)
For which skiers?
Since cross-country skate skiing is quite demanding, it's more suitable for athletic skiers than for beginners.
On which trails?
This sport is designed to be practiced on groomed trails, often located next to trails with marked tracks. Not all ski resorts or parks have trails suitable for freestyle, as they take up more space.
What's the technique?
It consists of a diagonal skating motion, with the foot pushing off the side of the ski, accompanied by a powerful pole plant. The skis don't have a grip zone like those designed for the classic technique.
Cross-country touring (or off-piste)
For which skiers?
It's suitable for sports enthusiasts who literally want to go off the beaten track.
On which trails?
Off-piste skiing is practiced on snowy terrain or on slopes that can be climbed or descended.
What's the technique?
It's the same as the classic style. However, the skis are more solidly built and have a shorter and wider profile, which allows skiers to navigate virgin terrain, even climb peaks or descend slopes with tight turns.
Choosing skis with or without wax
If you're new to this sport, you'll probably choose the classic version of cross-country skiing. Before you buy the necessary equipment, you should know that there are two categories: skis with and without wax.
Skis with wax
These models are prized by purists and competitive athletes for their performance potential but can also be used by the average person. All you have to do is learn the right basic techniques for maintaining and waxing your skis.
Skis of this type do in fact require a certain preparation before each outing, namely tried and true waxing, i.e. applying wax to ensure that the skis solidly adhere to the snow.
Waxing is a time-consuming and complex task, but it can be mastered. The type of product to use and the number of coats to apply depend on the snow conditions, the temperature, and the expected duration of the activity. Incorrect waxing can reduce the performance potential of the skis and, more importantly, ruin the experience.
The area of application
Grip wax should be applied only to the ski grip zone, also called the wax pocket. The size of the pocket varies depending on the individual and their equipment. Beginner skis may have a larger grip zone than skis for experienced skiers.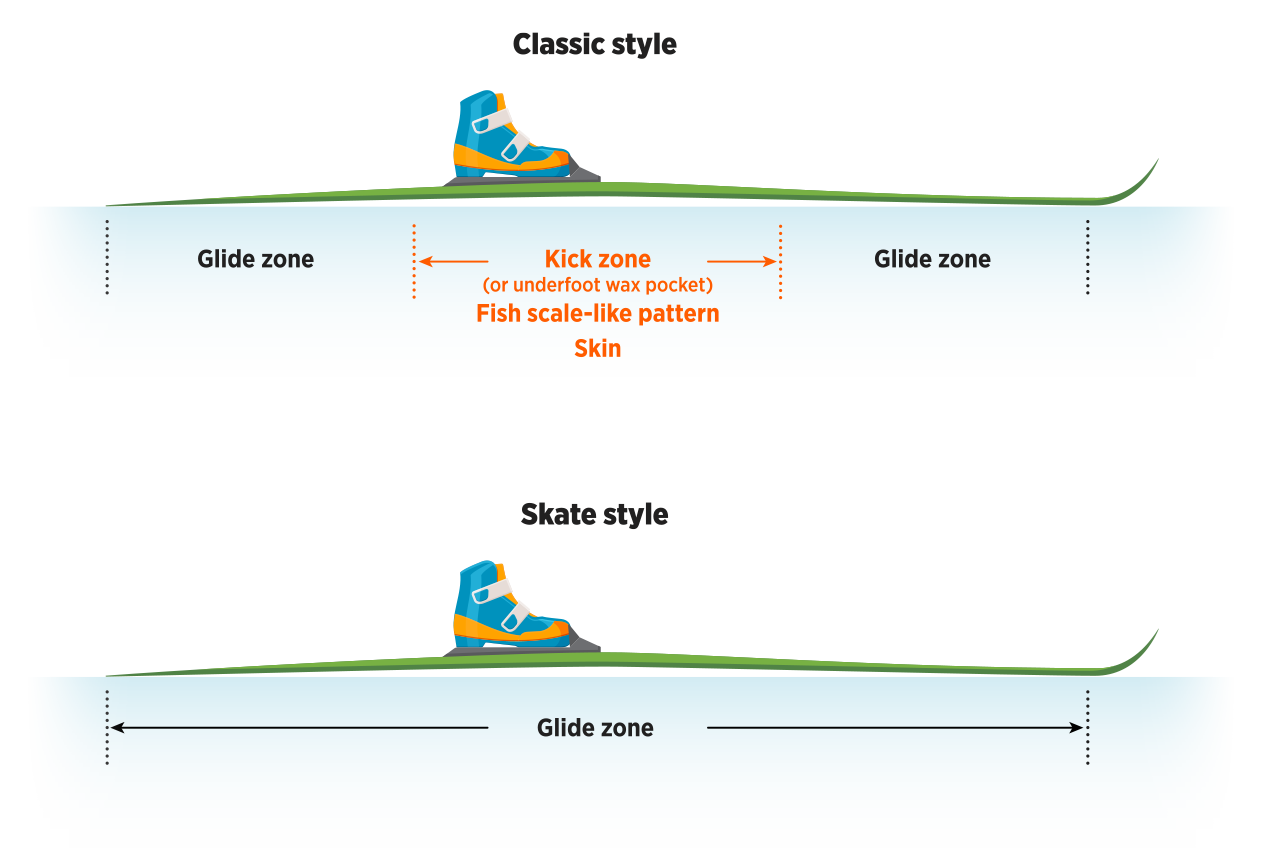 Technique
The most common application technique is to pencil the wax on and then rub it between coats with a small block of synthetic cork to spread it out and work it into the skis, along the entire length of the grip zone. The number of coats required can vary, but the minimum is usually three or four.
Products and their cost
A bar of wax costs between around ten and thirty dollars, depending on the type of product. Some waxes are designed for specific conditions. Generally speaking, soft waxes are for warm temperatures and hard waxes are for the cold. Soft wax can be applied on hard wax, but the opposite is not recommended. It's best to clean the grip zone every time you change from soft to hard wax. To do this, use a dewaxing product designed for this purpose, which is applied to the grip zone only (not to the sliding zones at the front and back). After cleaning this zone, a new wax can be applied in the same spot, adapted to the temperature and the outdoor conditions.
Here's a hot tip: If you're unsure of which wax to use, first apply the harder of the two, i.e. the one for the colder temperature, and if the result is poor, switch to the next one. Remember to always carry your waxes and cork block with you. If you realize that you haven't used the right wax, there's always time to remedy the situation once you're on the slopes with all the necessary equipment.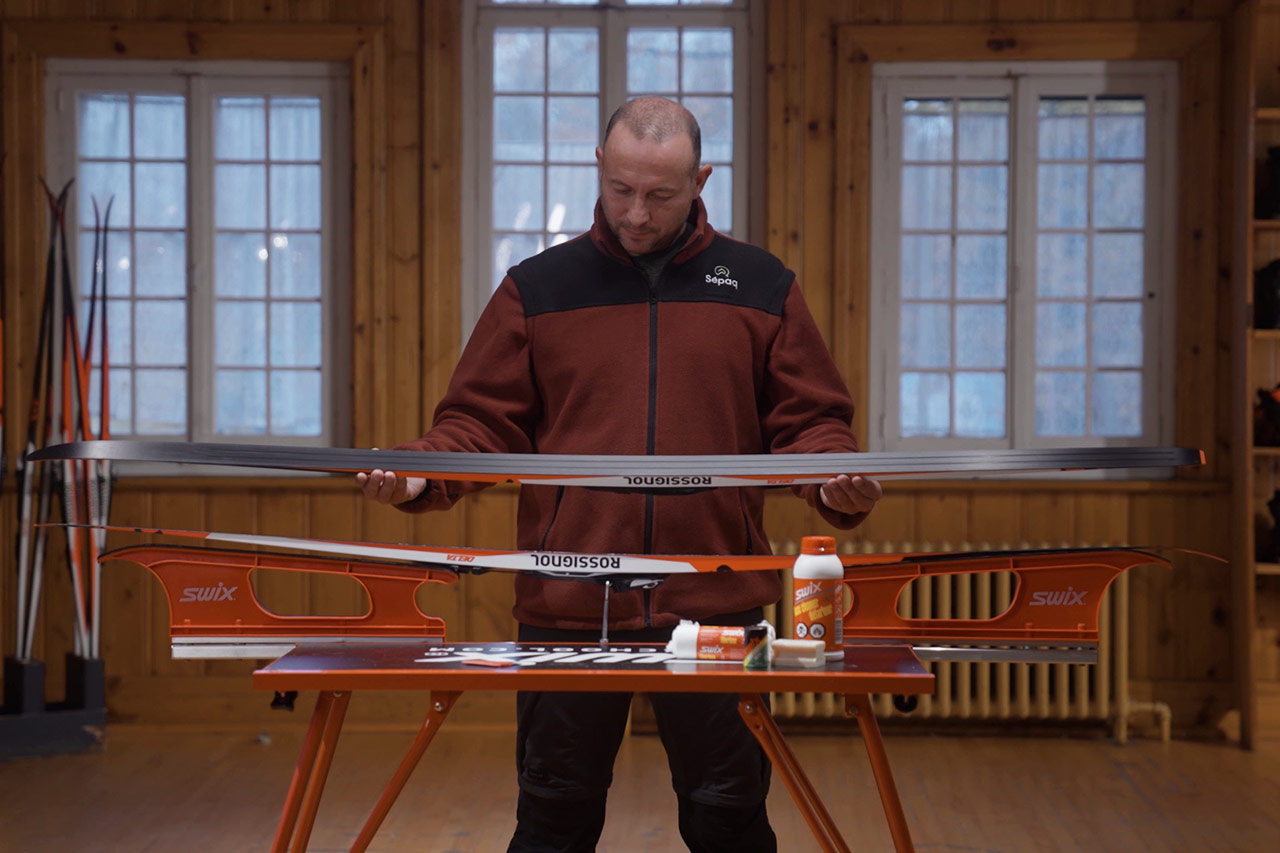 How to prepare your skis before the season
Before planning your first ride, your skis need some basic care. It is important to clean them well and apply a base wax (VG35) at the beginning of each season.
---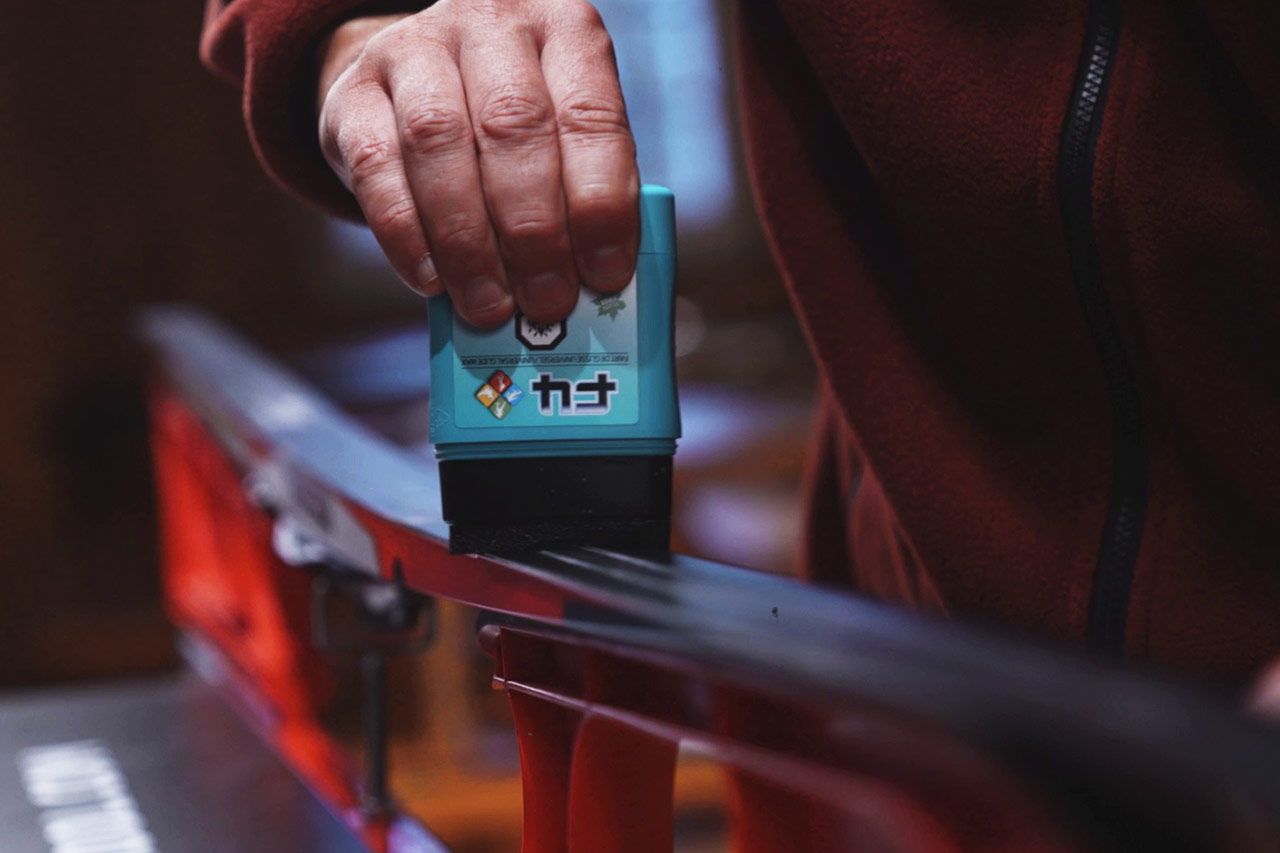 How to wax your skis
There are several waxing techniques, but to get started without too much hassle, we'll show you a simple and effective way to ensure that your skis glide and grip well.
Skis without wax
Wax-free models are an alternative that simplifies the sport for many people, especially beginners. They're suitable for most users.
Waxless skis are divided into two categories: scales and skins.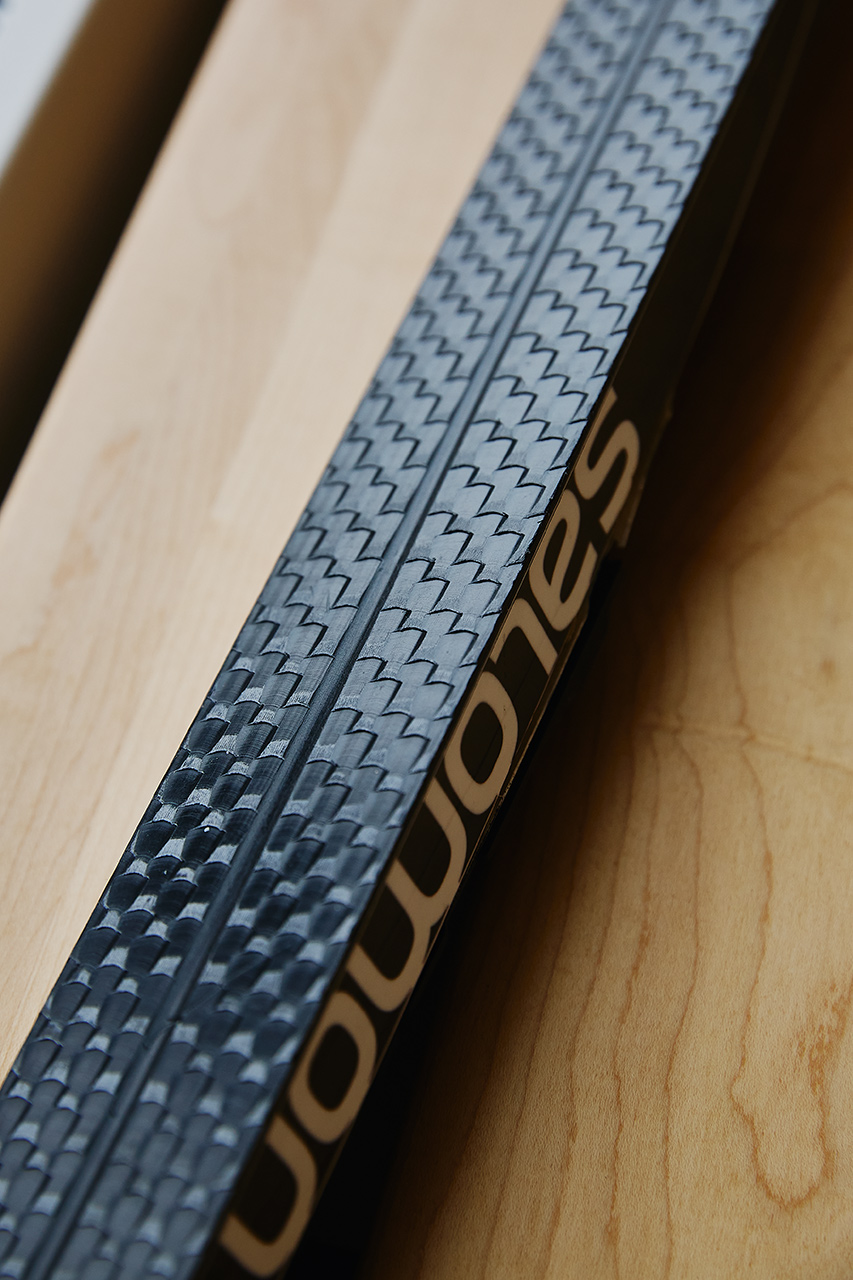 Scaled skis
These are the most common. The scaled finish, cut into the base of the ski, is smooth on one side and rough on the other so that it grips when pushing and climbing.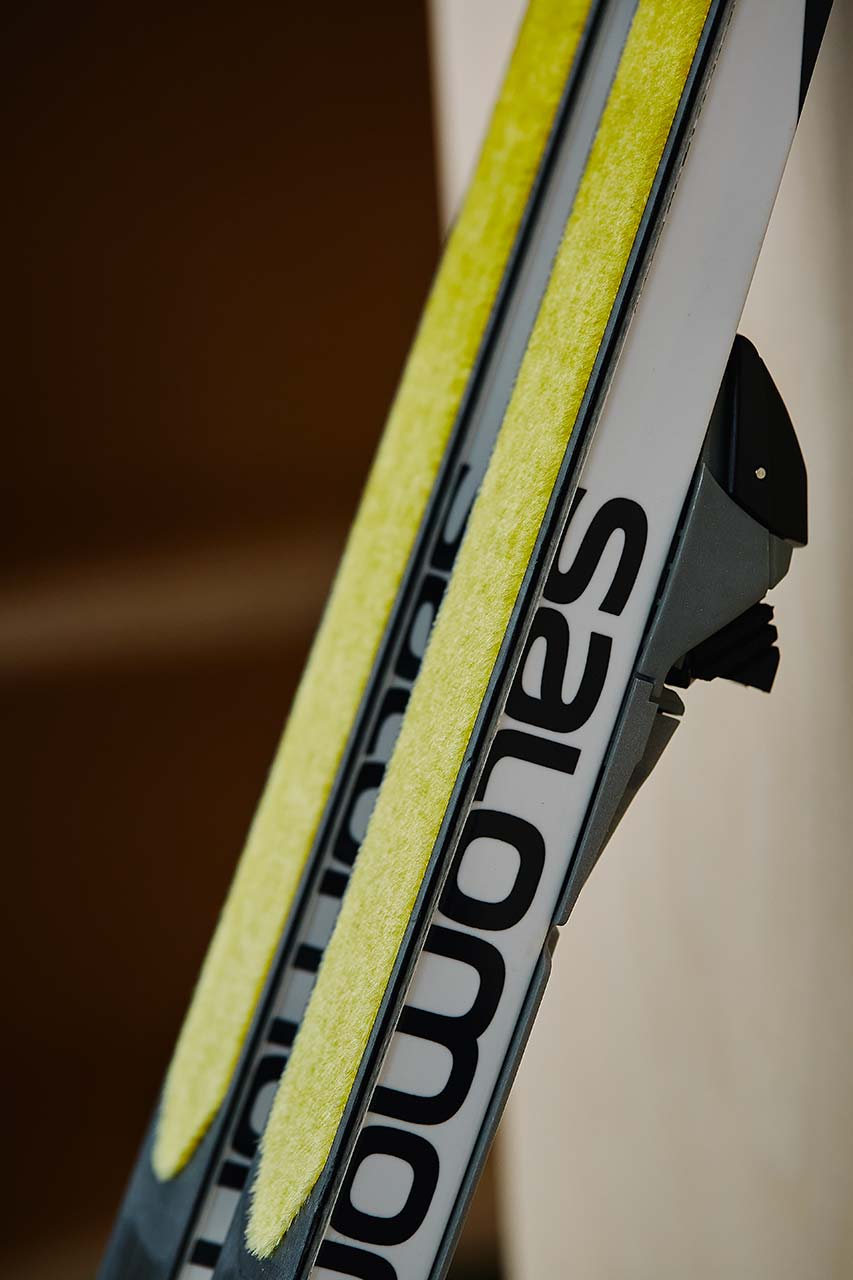 Skin skis
The "skin" is made of fibers that are smooth in the direction of the glide. It's usually made from mohair or nylon, or both. The removable skin is usually glued (a bit like a sticker) against the base on a zone that's slightly recessed in the ski.
The skin provides a better grip on long, steep climbs and improves gliding movement as the water in the snow can circulate through it.
There are different types and qualities of skins. For example, some products will offer optimal gliding performance due to their smaller size and shorter bristles.
Since skins wear out, they need to be changed from time to time. Most skiers will do this after 1,000 to 1,500 kilometres of skiing. The specific conditions in which you practice the activity can also affect their lifespan. To avoid wearing them out too quickly, avoid crossing the street or going to the parking lot on your skis.
Replacement skins cost about $50 to $80.
Improved glide
As the name implies, waxless skis do not require waxing. However, you can improve their gliding performance by applying a wax treatment before each outing. There are all purpose liquid products that can even be spread over the entire length of waxless skis.

Choosing the right size of skis
This is more difficult than it sounds. Techniques that were once used, such as raising your arm and measuring the distance between your wrist and the ground, are obsolete. Now it's all about your weight, height, and skill.
Based on your weight
All skis come with a weight chart. The stiffness of the ski's camber (the area under the foot where the grip zone is located) increases proportionally with the weight of the skier. The heavier you are, the stiffer the camber.
If you're too light for your skis, you'll have difficulty pressing forward without sliding back. Conversely, if you're too heavy, the grip zone will flatten out against the ground and make it difficult to glide.
The length of the skis also tends to be proportional to your weight. The higher your weight, the longer the skis. Be careful, though: skis that are too big will be difficult to maneuver if you're short, while models that are too small won't offer optimal glide. You'll need to find skis that fit your body type.
According to your abilities
The length and profile of the skis can also vary depending on the level at which you practice the sport. Some models are shorter and wider – especially in the front part called the tip – which makes them easier to maneuver, especially during descents. They're ideal for beginners.
On the other hand, more advanced skiers will prefer long, narrow models.
Taking good care of your skis
All skis, waxed or waxless, must be treated with glide wax at one point or another, to glide better on the snow while protecting the base of the ski.
When to do the maintenance?
When the underside of your skis, which is usually black, turns white and becomes less smooth, this is a sure sign that your skis need looking after.
At the beginning of the season: Do a first maintenance as soon as winter arrives, before you hit the slopes. Spread the wax over the entire length of the ski, except for the grip zone (i.e. the wax pocket, whether scaled or skin).
During the season: Reapply to both ends of your skis only every 50 to 100 kilometres, depending on the conditions you're skiing in. Powdery snow wears the base less than sticky or lumpy spring conditions.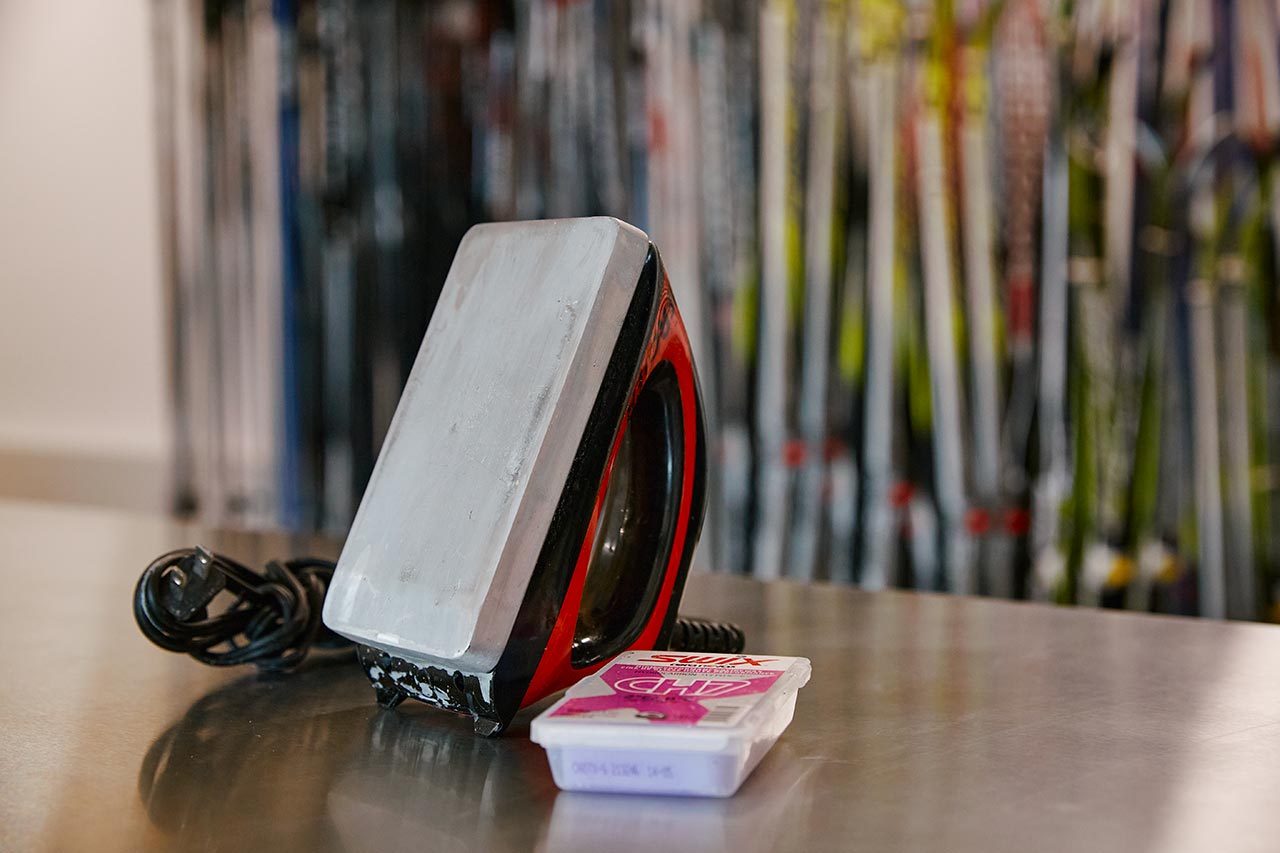 How to do the maintenance?
Apply one or two coats of hot wax with a waxing iron (available for $50 to $90). Then scrape off the excess and polish the surface.
This can be a complicated process for a novice skier, so you can have experts do it in-store for about $25. Some shops have an "oven" that allows the wax to be absorbed more slowly.
Hot tip: You can also get liquid glide wax that you can easily apply yourself with the foam pad tip. Perfect for beginners!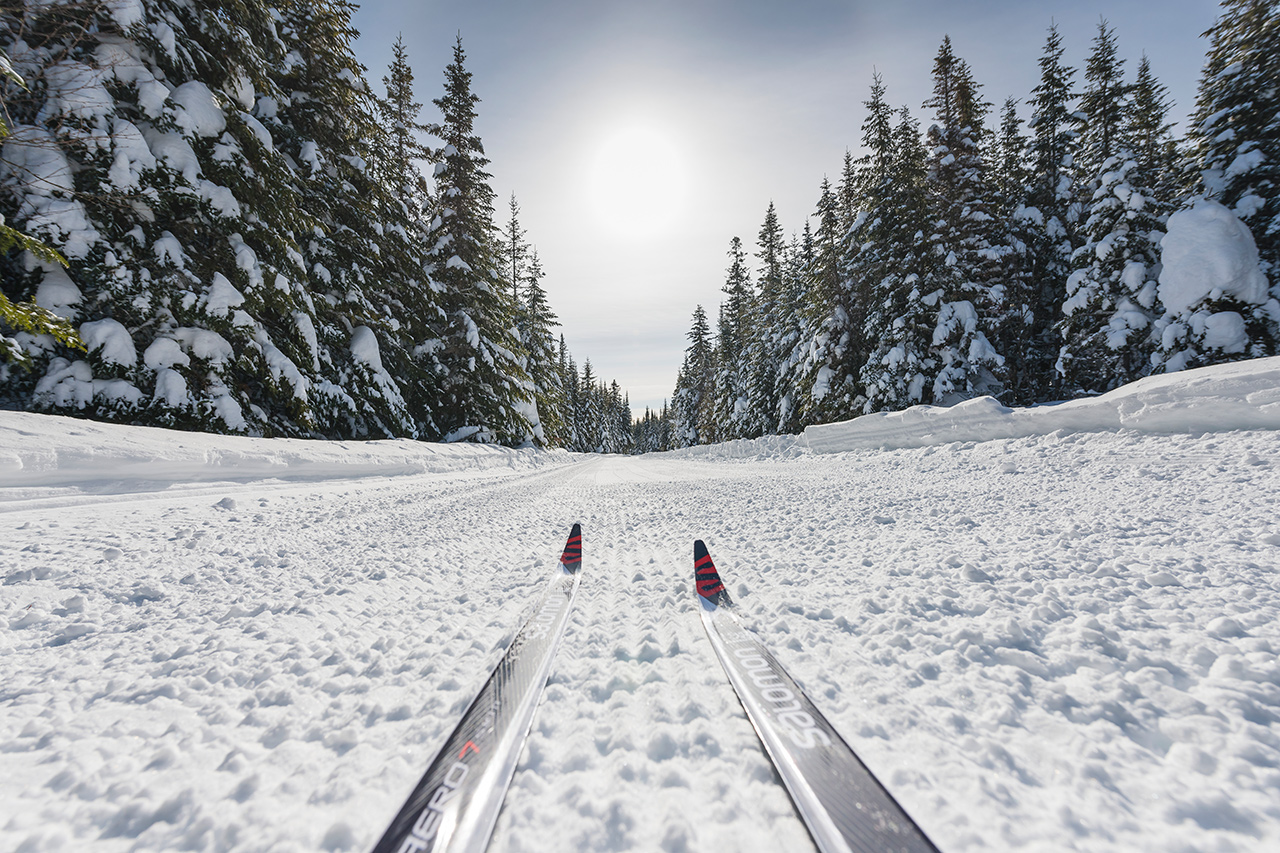 Tip for skin skis
If you have skin skis, you should regularly apply an anti-ice wax (liquid or spray), which prevents the skin from freezing. You should also use a dewaxing agent to remove the glide wax that the skins of your skis have absorbed from the skis of other skiers on the slopes. The frequency of cleaning depends on how clean the snow is.
Choosing your boots
The boots you choose must be adapted to the style of cross-country skiing you practice. In classic skiing, your ankle must be mobile. Most boots extend high on the ankle, but with a flexible fabric that doesn't interfere with mobility, so they're more comfortable and enjoyable to wear. Some may offer a little more lateral stiffness to help with control on descents.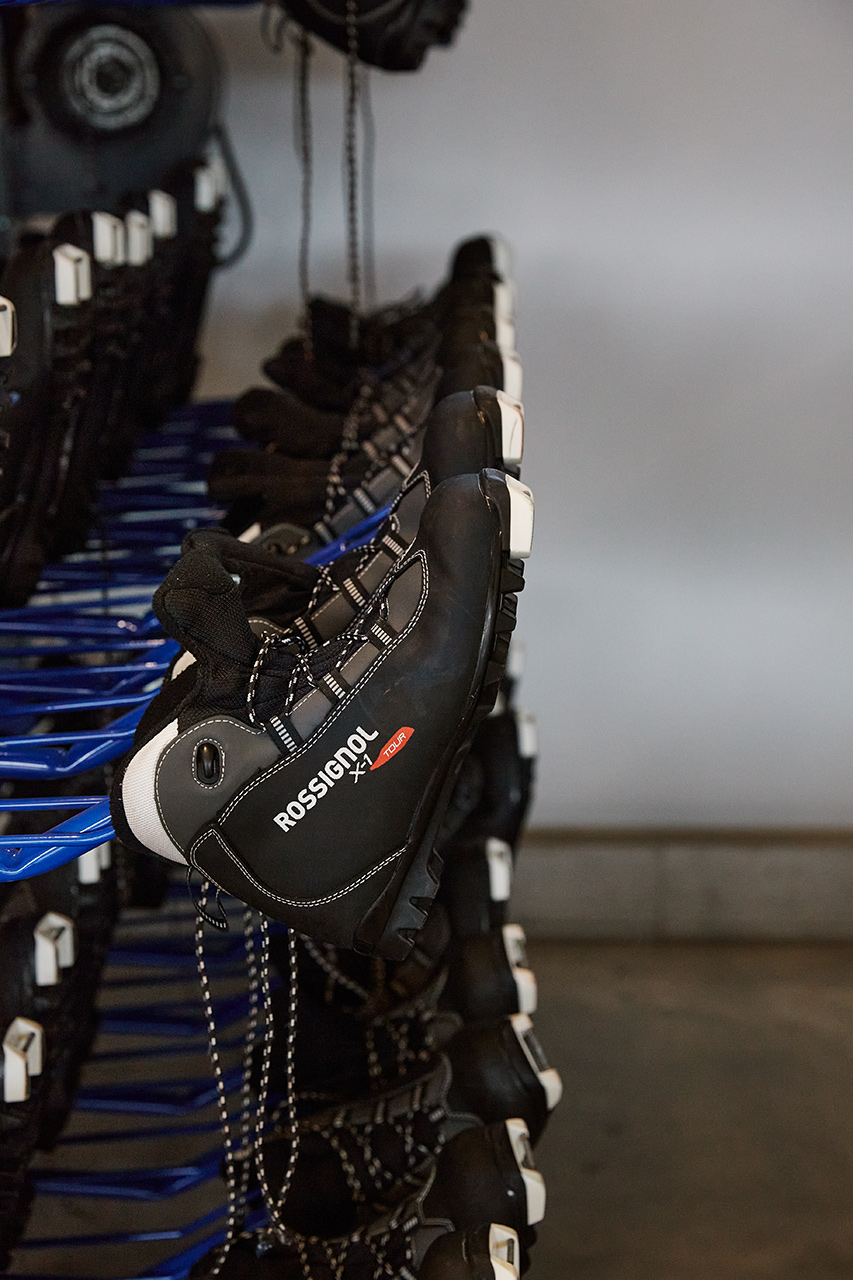 Compatibility
Make sure your boots, bindings, and skis are compatible, especially if you buy them second-hand.
In the shop, the boots can fortunately be paired with most bindings, regardless of the manufacturer. For example, equipment with NNN, Prolink, and Turnamic standards are compatible. However, the SNS bindings on some Salomon products are only compatible with their own standard footwear and thus require SNS cross-country ski boots.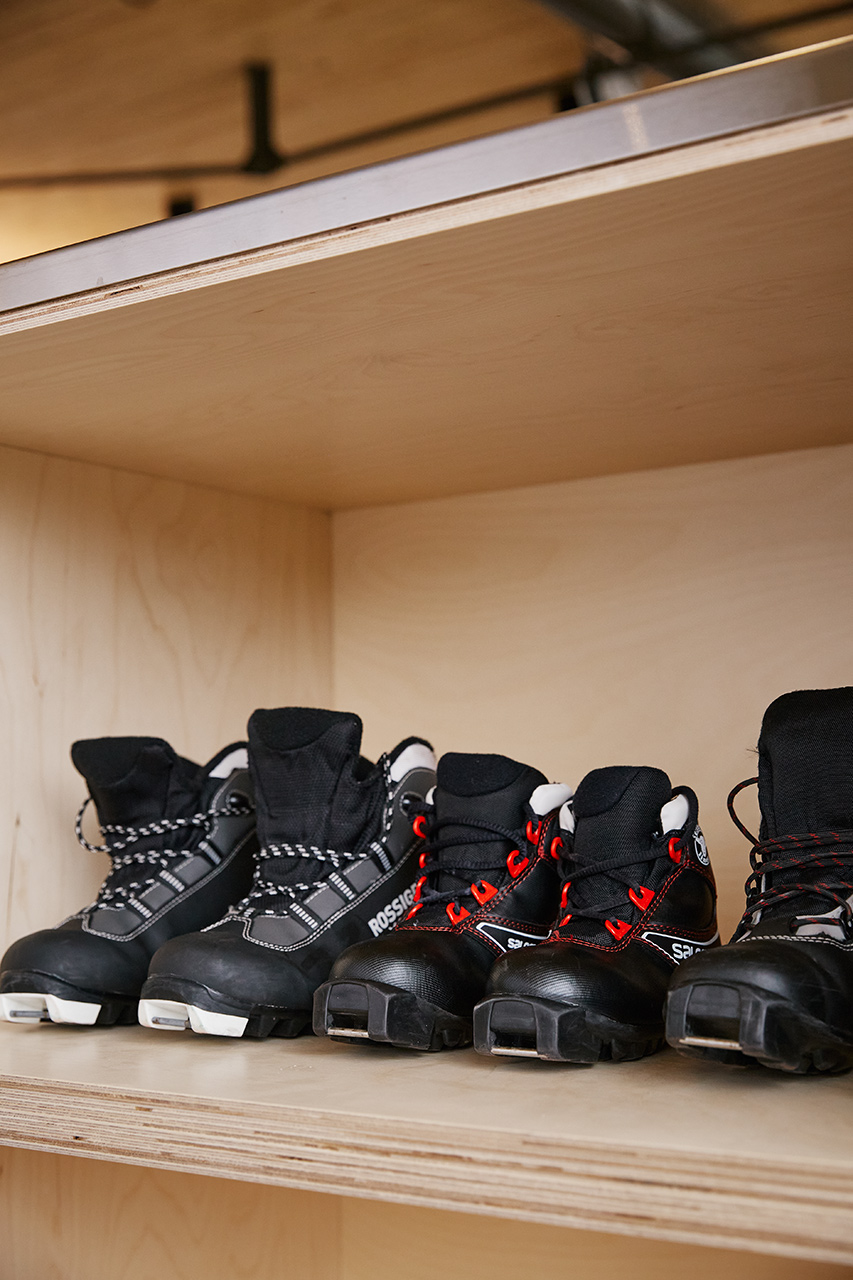 Comfort
Try your boots on in the store to make sure they feel comfortable. Wear a sock that's suitable for winter sports, such as merino wool. You need to be able to wiggle your toes, but your heel should not move. Your foot should be neither too loose nor too tight.
Choosing your poles
Ski poles have different characteristics, some of which, such as length, being more important than others. Details can make a difference in terms of comfort.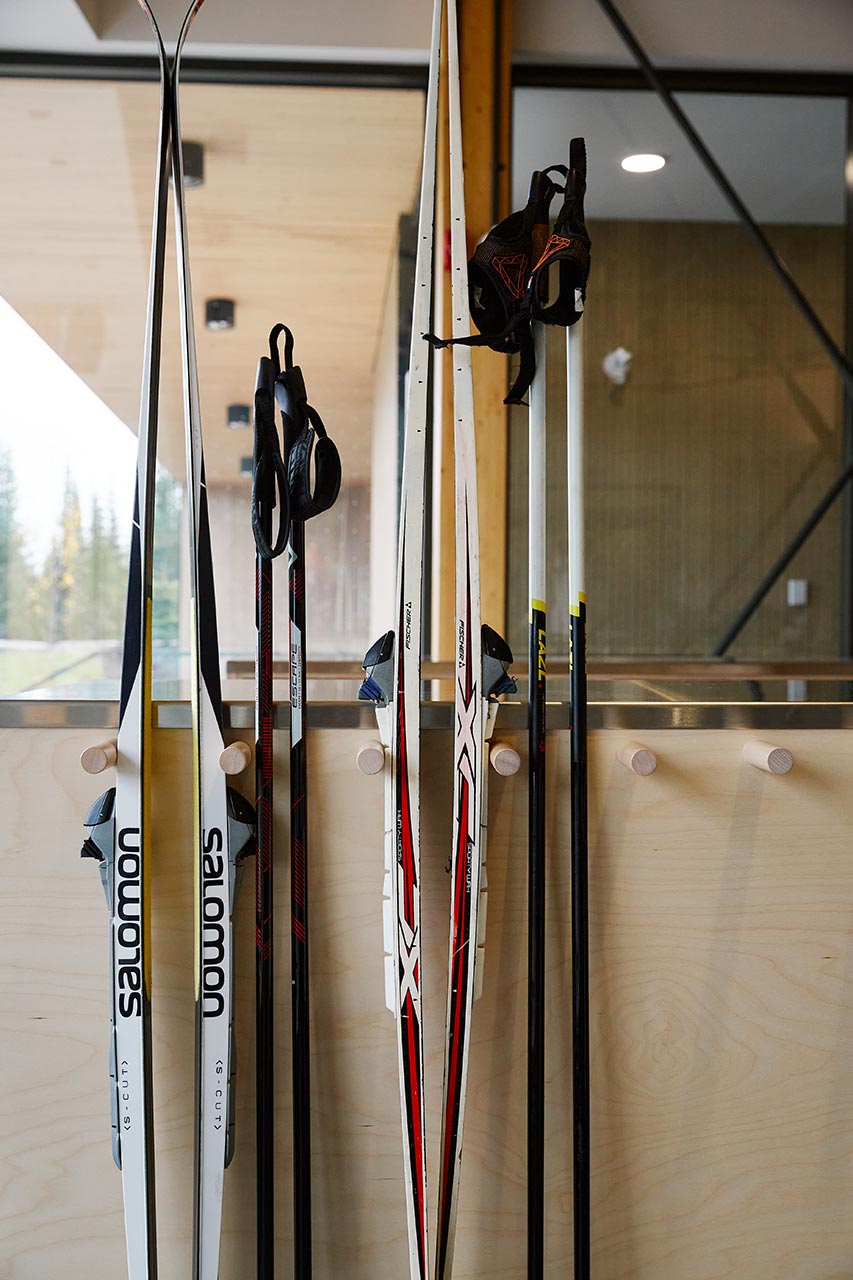 Lenght
Poles should be long enough for you to perform all the movements without being too bulky. In the classic technique, the top of the grip should be level with your collarbone when the tip of the pole is pressed against the ground.
Materials of the shaft
The shaft of the poles is often made of carbon fiber or aluminum. While carbon fiber is the lightest material, it's also the most fragile and expensive. All-carbon fiber poles are more likely to break. Aluminum poles are suitable for most skiers.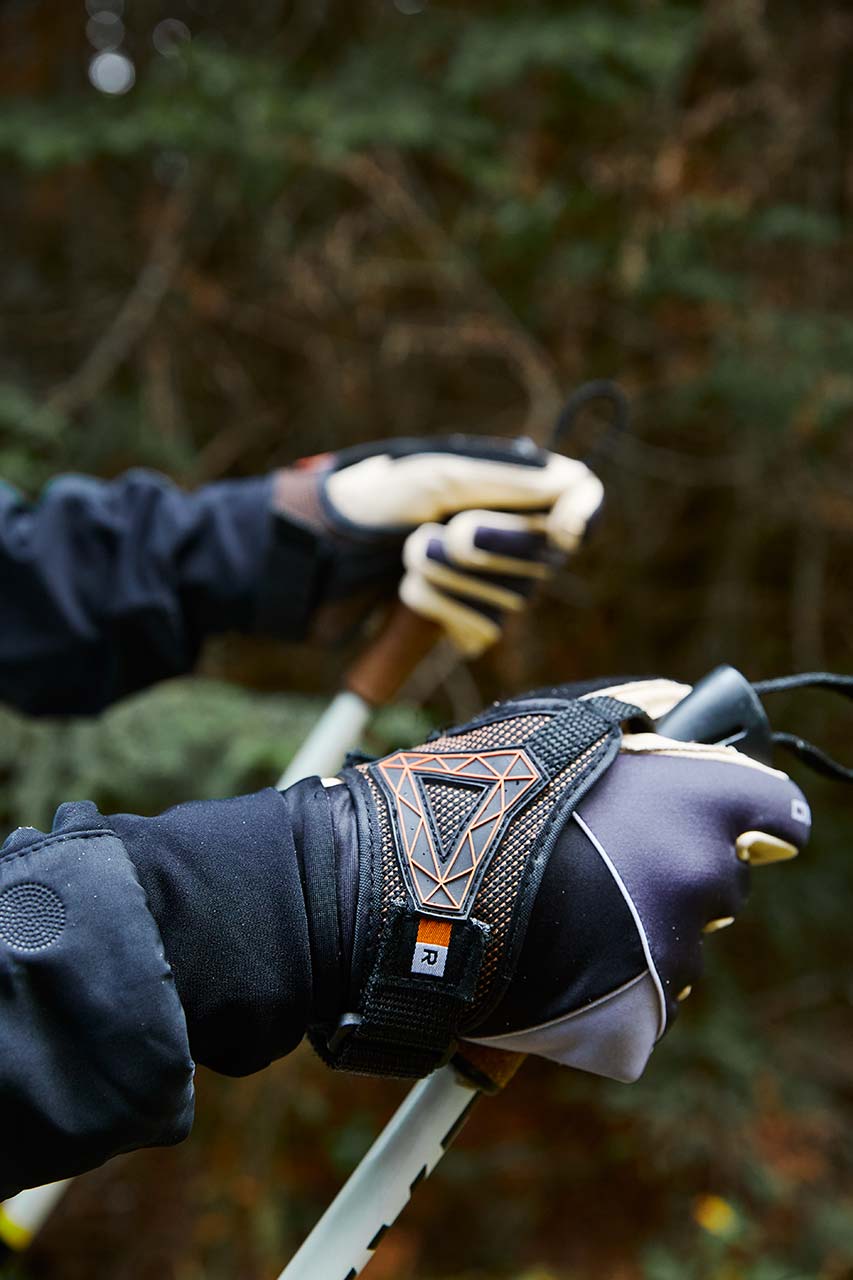 Grip materials
Grips can be made of soft plastic, foam, rubber, or cork. Cork is not only comfortable, but also, unlike plastic, insulates from the cold. On the other hand, cork is less shock absorbing than other materials.
Type of strap
The lanyard is the strap that you put your hand through to prevent you from losing your pole on the trail.
Some models of poles have a strap that looks a bit like a glove with a space for your thumb. This type of strap allows you to relax your hand, or even let go of the grip, without affecting your movement.
Other straps can come off the pole completely without you having to stop to undo the fit in your hand.
Renting or buying your equipment
Rental
To see if the sport has appeal and to determine which criteria are most important to you, start by renting equipment. Some shops offer both new and used equipment rentals, for a short period of time or for the season. A used set of scaled skis will cost, for the entire season, around $80 for a child, and about $100 to $120 for an adult.
Trying out skin skis from a specialty shop is also a great way to analyze the difference between these skis and scaled skis. This will help you determine if this is a product you like and are willing to pay for.
You can also rent cross-country ski equipment at a number of Sépaq establishments.
Buying
New equipment
If you want to buy your own equipment, expect to spend about $300 to $800 for a basic new set (for beginner or intermediate skiers). This includes skis, bindings, and poles. For higher quality, more durable equipment, budget $500 or more. Add $120 to $200 for boots.
Used equipment
In shops, the search for used equipment may be difficult since stores often prefer to rent such equipment rather than sell it due to the high demand.
You may be able to find poles or boots that suit your needs by way of private sales. For skis, however, the help of an advisor in a specialized shop that sells new or used equipment will help you find the product best suited to your weight, size, and use profile.
What clothing to wear?
For sports to be enjoyable and comfortable, it's important to be properly dressed. The insulating qualities of materials and their ability to let air through and wick away moisture play a major role in comfort.
Down ski jackets
Since these models are very warm, they'll work well if you're not a very athletic skier or if you tend to get cold easily. When you're hot or sweaty in a down jacket, the moisture inside can become a problem.
Carrying a quilted jacket or padded coat in your pack can be handy. Just wear it during your breaks for a quick warm-up.
Synthetic fibre jackets
They're slightly less warm than down jackets. The insulation is usually made from polyester or polypropylene fibres. This type of insulation retains heat and thermal properties even in damp climates. It dries faster and is more breathable than down.
Shells
Typical soft shell and hard shell coats often lack insulation and must be combined with other garments, using the multi-layer principle.
Soft shells
Made of soft, supple fabric or thin, lightly laminated fabric, soft shells are highly breathable. They may be the product of water repellent and windproof technology, but do not provide wind resistance or real waterproofing in prolonged rain.
Hard shells
Made of a waterproof coating or a waterproof-breathable membrane, such as the renowned Gore-Tex, hard shells are windproof and waterproof. They're well suited to cold or windy conditions.
The multi-layer technique
This technique consists in combining several layers of clothing by taking advantage of the properties of different materials.
Base layer
The primary function of the base layer is to draw moisture away from your skin and wick it away. Choose a comfortable, snug-fitting garment, such as a track suit. Wool, especially merino, is recommended, as are synthetic materials such as polyester. Never opt for cotton, which retains moisture.
Middle layer
This is the layer that keeps you warm, much like the insulation in a coat. It can be polyester fleece or a jacket made of down or synthetic fibres.
Outer layer
This layer protects you from the wind and keeps you dry, whether it's snowing or raining. Hard shells, soft shells, insulated jackets with water repellent, or even windbreakers will do the trick, depending on the type of activity you're doing.
That said, to ensure that you don't get too hot or too cold, you need to adjust your clothing as you go along. In particular, you want to avoid sweating and then getting cold from the moisture against your body.
For example, you can wear several intermediate layers when it's cold or, on the contrary, when the weather is milder, avoid using all three layers at once.
Trousers and tights
As with coats, what you should wear on your lower body depends on the intensity of your practice and the weather conditions.
Soft shell pants are ideal for low to medium intensity or cold weather outings. They provide good thigh protection from cold, snow, and wind while you're on the move. Thinner at the back, they allow heat to escape and keep moisture at bay.
If your pace is more intense or the weather is mild, tights are a good option. Slimmer and more fitted to the body, they'll make moving around a whole lot easier.
Pants and tights should be water resistant to protect you from snow if you should fall.
Toques and gloves (or mittens)
As with clothing worn on the upper and lower body, you'll need to choose accessories that protect your extremities depending on the conditions outside.
To avoid sweating too much, getting your hair wet, and then getting cold when you stop, opt for a thin merino or polyester fibre toque.
Bring two pairs of gloves or mittens. Wear the warmer pair to start with, and once your body warms up, switch to the lighter pair. Choose lined and windproof gloves or mittens that are thin so you can get a good grip on your poles.
--
This article is based on our purchasing guide written by Amélie Cléroux and published on the website protegez-vous.ca.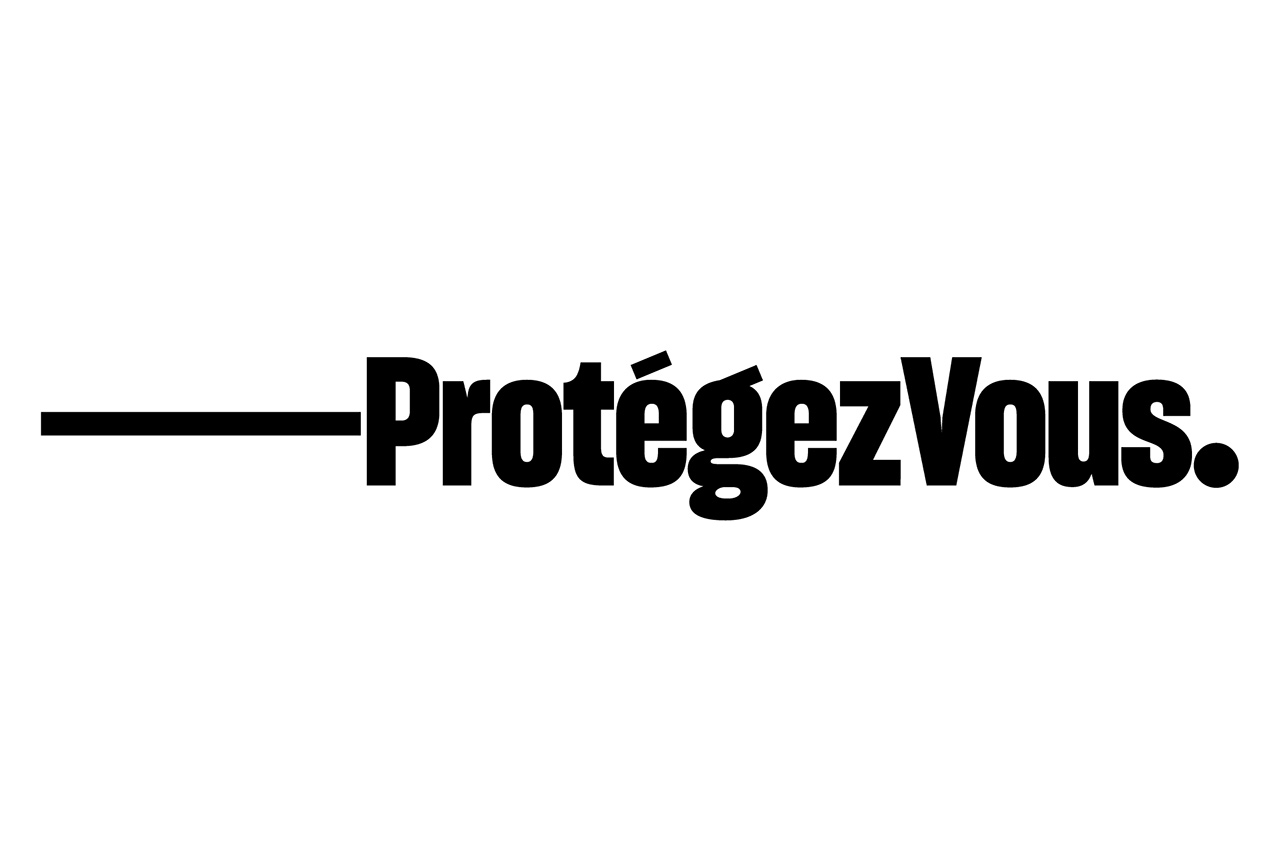 About Protégez-vous
Protégez-Vous is a non-profit, self-financed, and independent organization that informs, educates, and supports consumers in making informed and responsible choices.