Duchesnay: new Oxygène cabins
Duchesnay
New Oxygène cabins
Station touristique Duchesnay is more than ever a must for a dream vacation with your family! For nature stays on the edge of magnificent Lac Saint-Joseph, 14 new, modern, and cozy cabins are offered to holidaymakers.
These Oxygène cabins can receive between 4 and 16 people and offer peace and comfort to all those who wish to get away from it all. In the roofs of the cabins, visitors will recognize the architecture of Auberge Duchesnay, which greatly inspired the new constructions. The large windows let plenty of light into each unit and offer a stunning view of Lac Saint-Joseph and the enchanting landscape.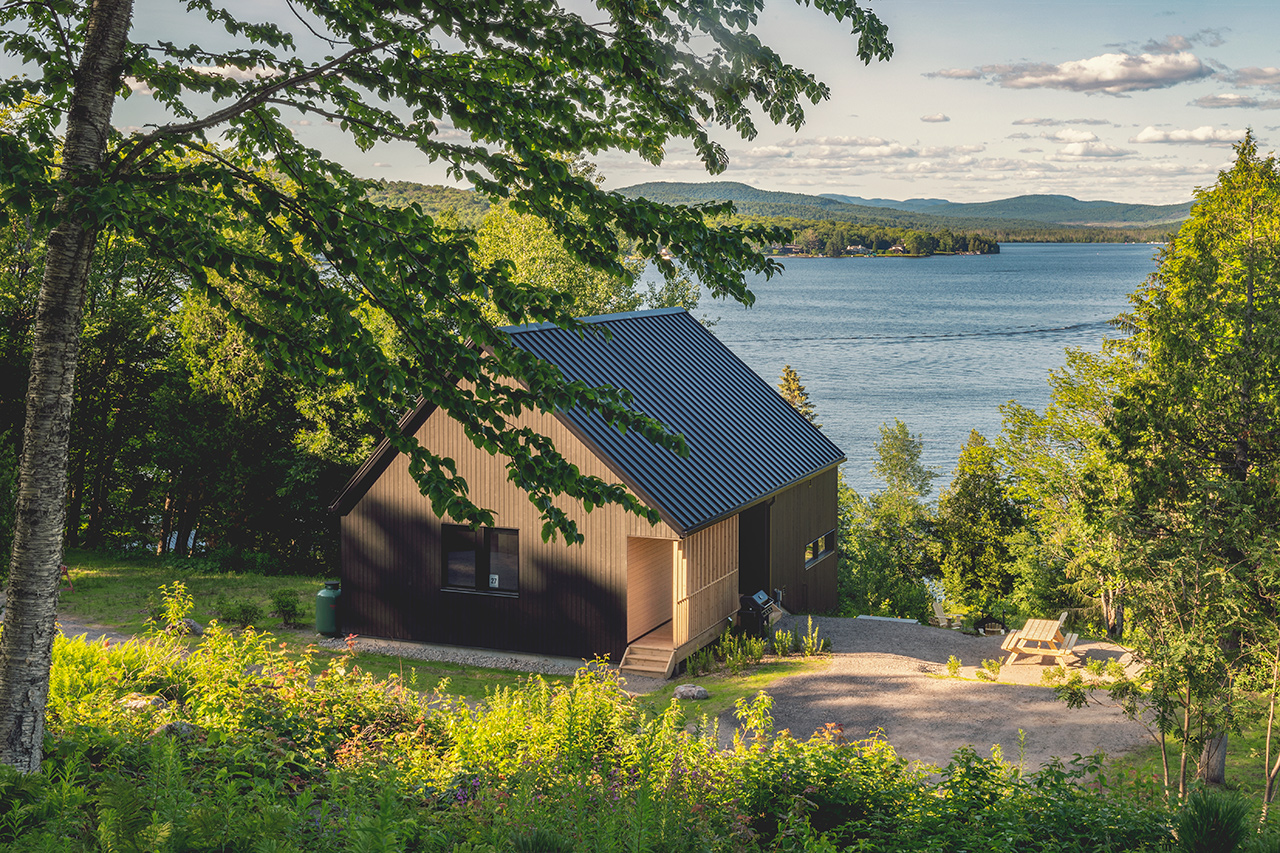 New
Oxygène cabin
Cabin accommodations

Each Oxygène cabin is equipped with a gas-burning fireplace, spacious beds, television with cable, Internet, air conditioning, a bathroom with a shower, a washer and dryer, bedding, and everything needed for cooking (dishes, pots and pans, a dishwasher, fridge, cooker with oven, microwave oven, etc.).

Outdoor living area (fireplace, picnic table, barbecue) - during summer only
Technical specifications of the Oxygène cabins
Important instructions (regulations and course of the stay)
Your cabin rental also includes access to all hotel services and a number of activities, including bicycle and watercraft rentals during summer, as well as access to cross-country skiing and snowshoeing trails during winter.
Oxygène cabins occupation policy
Customers who have a reservation that does not meet public health instructions are invited to contact us to regularize their situation. A flexible policy for modifying, relocating, or refunding reservations will be enforced, similar to what was the case during the first wave of COVID-19.
The exact number of occupants per cabin is required. If there is a discrepancy between the number of occupants confirmed at the time of booking and the actual number of adults and children staying in the unit, the pricing of your reservation will be adjusted accordingly to the real occupancy.
All our Oxygene cabins are located in the same area and built identically according to their category (2 bedrooms, 3 bedrooms, 4 bedrooms). The unit number that will be assigned to your reservation will only be confirmed upon your arrival.
From $269 /night/cabin
Taxes not included.
A spruced up playground for summer fun!
It's an open secret: Duchesnay is the ultimate all-in-one nature destination for enjoying the best that summer has to offer. The cherry on the sundae is the new festive sector near the lake.
For those who like to stay active, three different sandy areas are developed, including a bigger beach and a volleyball court. There is also two playgrounds for children, a space for slackline enthusiasts, a grassy area for playing frisbee or soccer, and a rock-climbing installation.
Do you need to cool off? In addition to swimming, you can enjoy canoeing, kayaking, pedal boating, or paddle boarding; a brand-new rental centre provide the equipment you need to make the most of the lake and have fun in the water. Meanwhile more contemplative souls will perhaps prefer the deck chairs set up in different areas, including on the massive 100-foot floating wharf or in the covered space with a terrace, also featuring washroom facilities with showers.
Even more activities
During summer: Arbraska Duchesnay, hiking and biking trails, and organized activities, to name only a few!
During winter: cross-country skiing and snowshoeing trails, ice rink, snow tubing, and much more besides!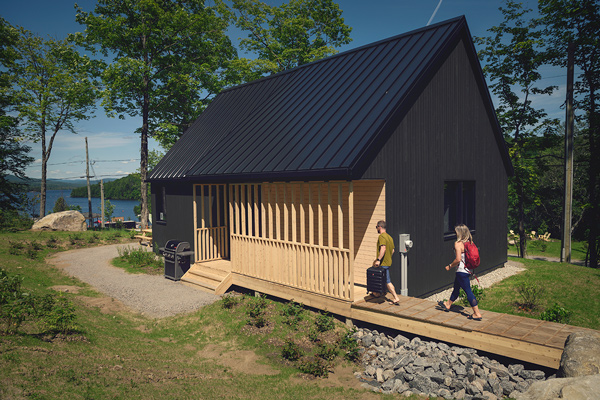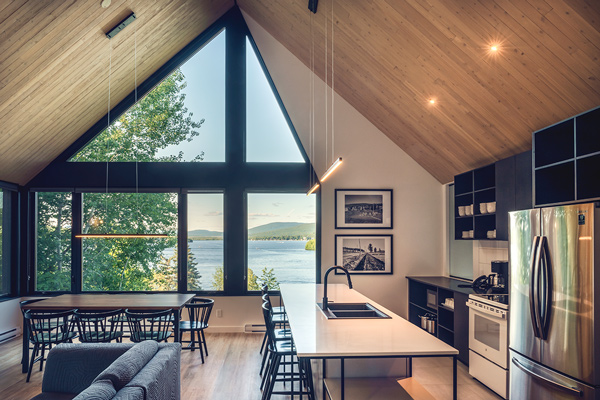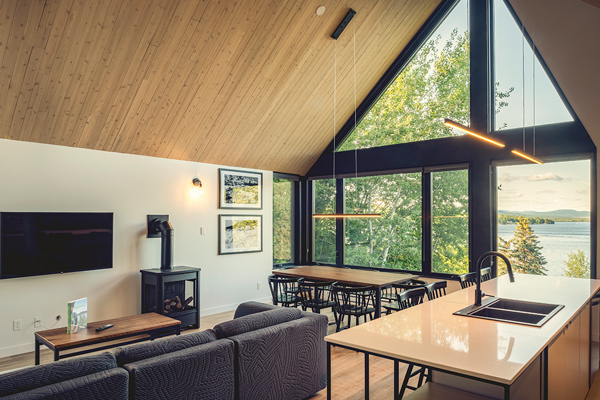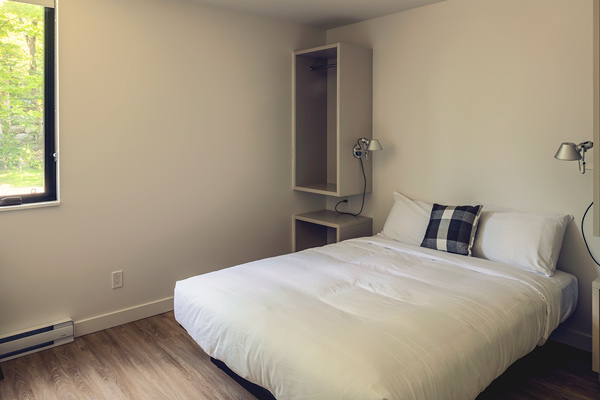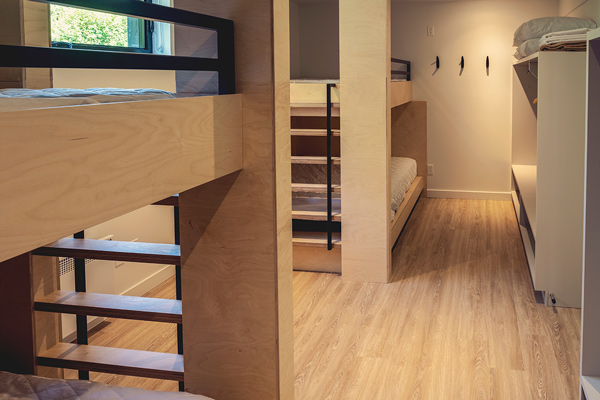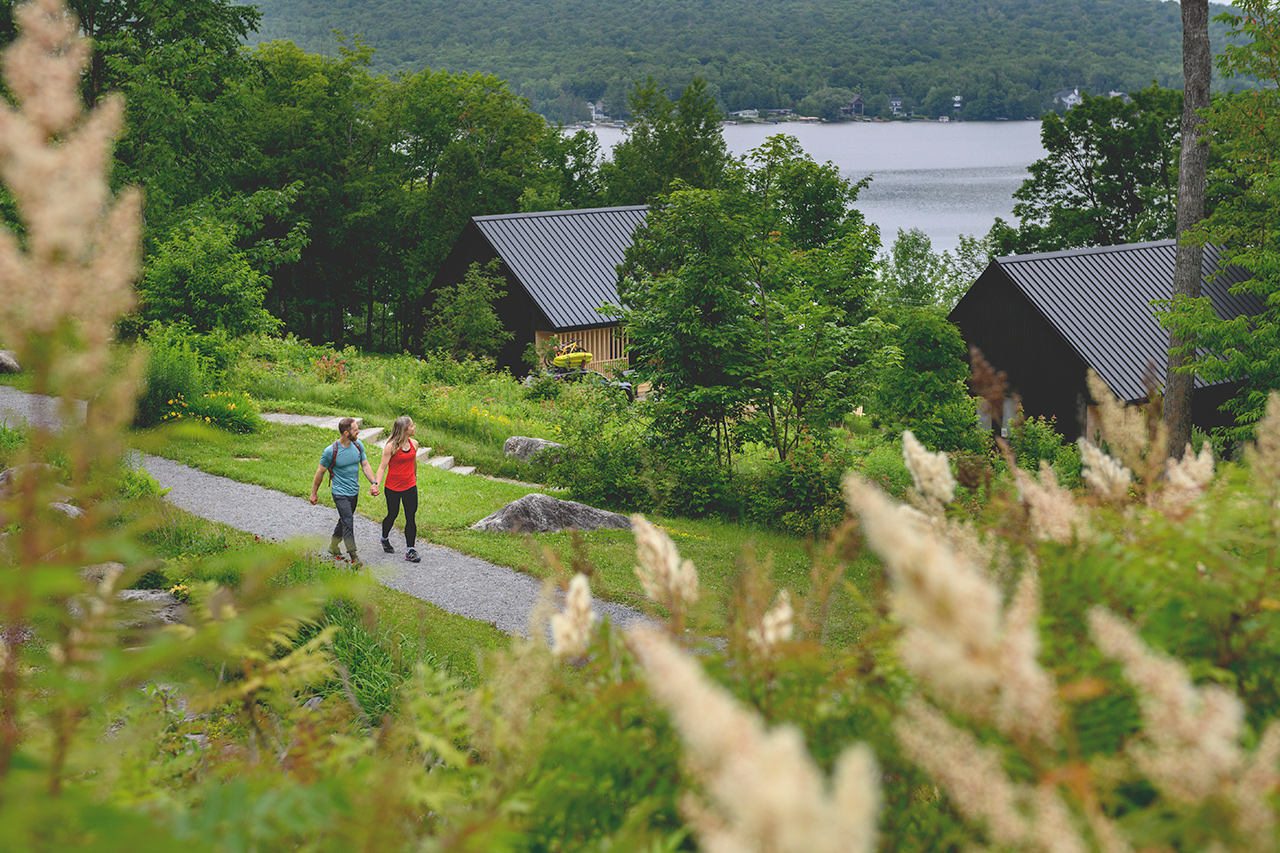 Duchesnay: the art of showcasing a view
When he gazes upon the vast expanses of Lac Saint-Joseph, David Deslauriers is simply blown away by the panoramic view. Inside the hotel, which serves as the heart of Station touristique Duchesnay, the director emphasizes at every turn the view that never fails to charm visitors to the site.

In this regard, revamping the buildings and landscaping on the lakefront right below the hotel was a major challenge indeed. A balance had to be struck between the modern accommodation function of the cabins to be built, the promotion of nearby sports activities, and access to the lake, all without defacing the site or spoiling the view. In short, the view had to be showcased at all costs!