Stay guide
Sépaq Anticosti - Summer vacations
The big moment is nearly here! Your stay on Anticosti Island is fast approaching. Soon, you will be among the privileged few to discover this little corner of paradise in Quebec. To ensure that you have an extraordinary experience on the island, here is some useful information to help you plan your stay.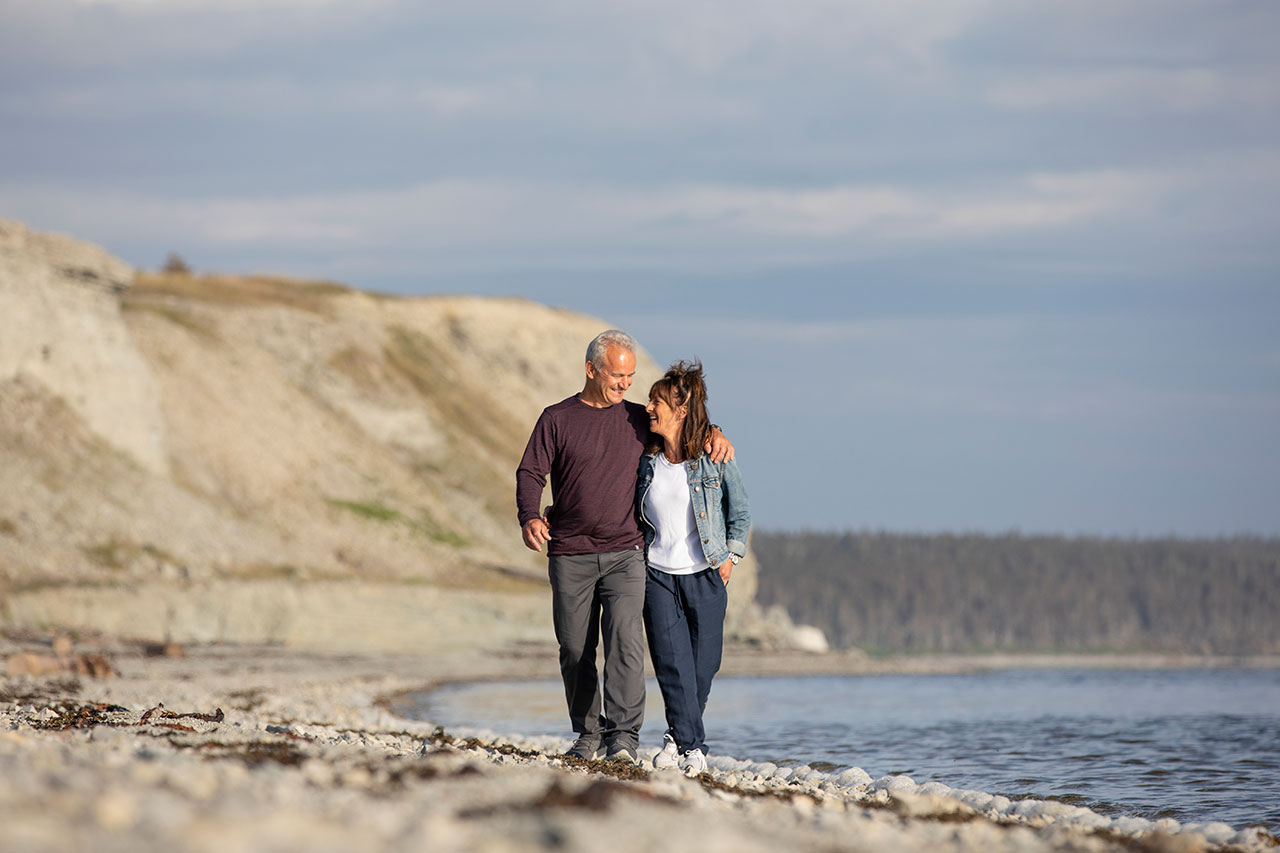 Before you leave home
Two very important points to check
Cancellation of a stay
No refunds will be granted, but we accept replacements at any time. Sépaq Anticosti is not responsible for major causes (sickness, flight delays, disasters, death of a close relative), including flight delays caused by poor weather or other conditions beyond its control.
Sépaq Anticosti therefore strongly recommends that you purchase cancellation insurance before your stay begins.
If your package includes a vehicle: you need insurance
Check with your insurance broker to find out if you have QEF no. 27, covering a vehicle valued at $45,000. Each driver must provide a photocopy of this proof of insurance. To prevent flat tires, respect the speed limit and do not drive on the shoulders of the road. There is no charge for a normal flat. For a reparable split on the side of the tire, you must pay $150, and if the tire cannot be repaired, $300 will be charged.
Plan your flight
An agent will contact you one week before the departure to confirm your flight time. Arrive at the airport an hour and a half before departure time. Your return time will be confirmed when you register at the Port-Menier reception office.
Delayed? Let us know!
If you are running late on your way to the airport, please let us know. We would greatly appreciate it.
Montreal: 1-866-230-1288 (Air Inuit) 
Quebec City: 418-877-6708 (AvJet TSAS)
Mont-Joli: 418-775-3875
Anticosti: 418-535-0231
Important for your baggages
Maximum 50 lb (22.5 kg) /pers. 
Maximum 10 lb cabin luggage /pers. (1 item of hand baggage)
No excess weight accepted.
If you are not travelling with us…
You reserved your flight with a company other than Sépaq Anticosti; it is very important to let us know what time you will be arriving so that we can meet you at the Port-Menier airport.
Check-list
What to bring to Anticosti
With Anticosti's sub-boreal climate, the sunny days are very hot but the nights are quite cool, perfect for sleeping. Average temperatures range from 10 °C to 25 °C. For your comfort, plan on bringing warm clothing. The island is ideal for picnics, more elaborate suppers, or snacks around a fireplace. Think about this when you buy your groceries!
Personal items
Fire starter (Zip)
Wooden matches/lighter
Toothbrush and toothpaste
Compass
Camera, batteries
Fishing rod
Life Jackets (for fishing)
Candles
Auto accessory charger
Pocket knife
Rope and string
Mess kit (for picnic)
Binoculars
Flashlight and batteries
Books to read
Personal medication
Watch
Paper and pencil
Scotch tape
Backpack
Sleeping bag (for cabin and camping packages)
Soap
Towels (for cabin and camping packages)
Pillow cases (for cabin and camping packages)
First aid kit
Toiletries
Sun glasses
GPS
Headphones
Clothing
Wool socks
Hiking boots
Waterproof boots
Cap/hat
Sweaters
Sneakers
Rain suit
Windbreaker
Pants
Shorts
Underwear
T-shirts
Cycling shorts (packages at Auberge Port-Menier - helmet provided)
Wool jacket
Your arrival at Port-Menier
You are now on deer island! As soon as you arrive in Port-Menier, there are three essential stops to get your stay off on the right foot.
1. At the Port-Menier Airport: pick up your vehicle
A member of our team will be there to greet you. To speed up the vehicle rental process, make sure to have all of the necessary documents on hand: driver's licence, copy of your insurance, including endorsement QEF no. 27. The onsite staff will explain Anticosti's particular road conditions and the use of radio communication. Then, head directly to the Sépaq Anticosti office in the town of Port-Menier, about five minutes away.
Are you staying at Auberge Port-Menier? You'll be warmly welcomed and transported by shuttle from the airport to the inn. Please note that your room and luggage will be accessible only as of 4 p.m. Please bring a small backpack with a few essential items that may be useful on your arrival day.
2. At the Sépaq Anticosti Reception Office: registration
It is mandatory for all visitors to register at our reception office in the village to ensure safe travel throughout the Sépaq Anticosti territory. You must fill out the stay forms for each member of your group. This is also the time to buy your fishing licences if you want to go fishing while here.
3. Port-Menier village: shopping
Before heading to your place of accommodations, you can stop in at one of the Port Menier stores to make your purchases and a good meal:
Auberge Port-Menier: Restaurant, accommodations, boutique and Espace découverte
Reception Office: Reception Office and boutique
Boutique des Artisans: Écomusée, CRMI (gas station), Caisse Populaire, Accommodeur Malouin (convenience store)
CCIA Grocery: The Port-Menier grocery store-butcher shop offers a surprising variety of foods (fruits, vegetables, cheeses, meats,
breads, pastries, etc.). For a small deposit, the store will lend you a cooler to transport your purchases. CCIA grocery store is also a SAQ dealer.
Accommodeur Malouin: ATM open every day, from 8 a.m. to 8 p.m.
Additional information according to your type of stay
How you get around the island, your meals, and your itinerary will vary depending on your chosen stay. Check out the details provided below.
Cabin, camping, and Auberge McDonald stay Auberge Port-Menier stay
The must-sees
Parc national d'Anticosti, the jewel of a mysterious island
Parc national d'Anticosti has an area of 572 km2. It was created by the Québec government in 2001. This park groups together all of the elements of the natural region called Anticosti Island, and magnificent components of Québec and Canada. A jewel of Québec's natural heritage, this park's breathtaking scenery, easily observable wildlife, and unique plant life will charm everyone who partakes of its spectacles and mysterious circuits. A network of short, medium and long hiking trails wind through the park, offering over 45 km of enchantment.
The tall tales of Port-Menier and its surroundings
Follow the cultural circuit to discover the well-kept secrets of Anticosti Island, from the excesses of Henri Menier to the many shipwrecks, not to mention a sorcerer's tale! Download as of today the five podcasts (in French only) produced by Télé-Québec's La Fabrique Culturelle in collaboration with Sépaq Anticosti and listen to them in the places where the tale unfolded.
Day fishing
Wading: $20.78/pers./day
On a lake (Sépaq watercraft): starting at $40.50/pers./day*
Motor rental (2.5 hp): $39/day
Bait available in Port-Menier: CCIA and Accommodeur Malouin
You can book 24 hours ahead by radioing the Port-Menier Visitors Centre. Complementary activity subject to quotas and dependent on weather conditions; it must therefore not be considered the main objective of your stay.
*Prices vary depending on the choice of activity and its duration. Subject to change without notice. Plus taxes.
Practical tips
Protection and conservation of our heritage
During your stay on Anticosti Island, we ask you to show the same respect for the environment as you do for your friends. We would be very grateful. We believe that this milieu preserves something of great value. We respect it and we are happy that you can enjoy it.
Animals
So that visitors can freely admire the white-tailed deer from up close, a municipal regulation prohibits dogs on the island. Thank you for your understanding.
Using drones
In order to minimize the impact on wildlife and on the customer experience, Sépaq does not allow recreational drone use at the establishments it manages.
Concerning drone use for non-recreational purposes, authorization must first be obtained from the director of the establishment concerned and this is conditional on various factors: location, time of year, reason, and more. The reasons for drone use could be related to the production of photographic or cinematographic material, scientific partnership research, or security or inventory needs on the part of recognized authorities. Authorization could be revoked in the event of a disturbance to on-site peace and quiet or non-respect of the privacy of other users. Compliance with Transport Canada stipulations will also be required.
In nature, my safety is my responsability
Outdoor activities may involve certain risks. You must ensure that you have the skills and abilities required to undertake the chosen activity. It is important to know the risks inherent to this activity, respect your abilities, and have the appropriate equipment. For more information, we invite you to visit our Security section. Moreover, while not representing a considerable danger, activities undertaken in an isolated natural environment clearly present greater risks on Anticosti Island due its distance from health services.
Stay guide
Sépaq Anticosti - Summer vacations
The big moment is nearly here! Your stay on Anticosti Island is fast approaching. Soon, you will be among the privileged few to discover this little corner of paradise in Quebec. To ensure that you have an extraordinary experience on the island, here is some useful information to help you plan your stay.