Cycling and camping
On track for upgraded getaways
Your heart is vacillating between a cycling escapade and a camping stay for your next outdoor adventure? Who says you have to compromise? Cyclists and campers - beginners and experts alike - can easily combine their two favorite activities at Sépaq's national parks, wildlife reserves, and tourist establishments. Pack your camping gear and your bikes… here are a few suggestions for upgraded getaways!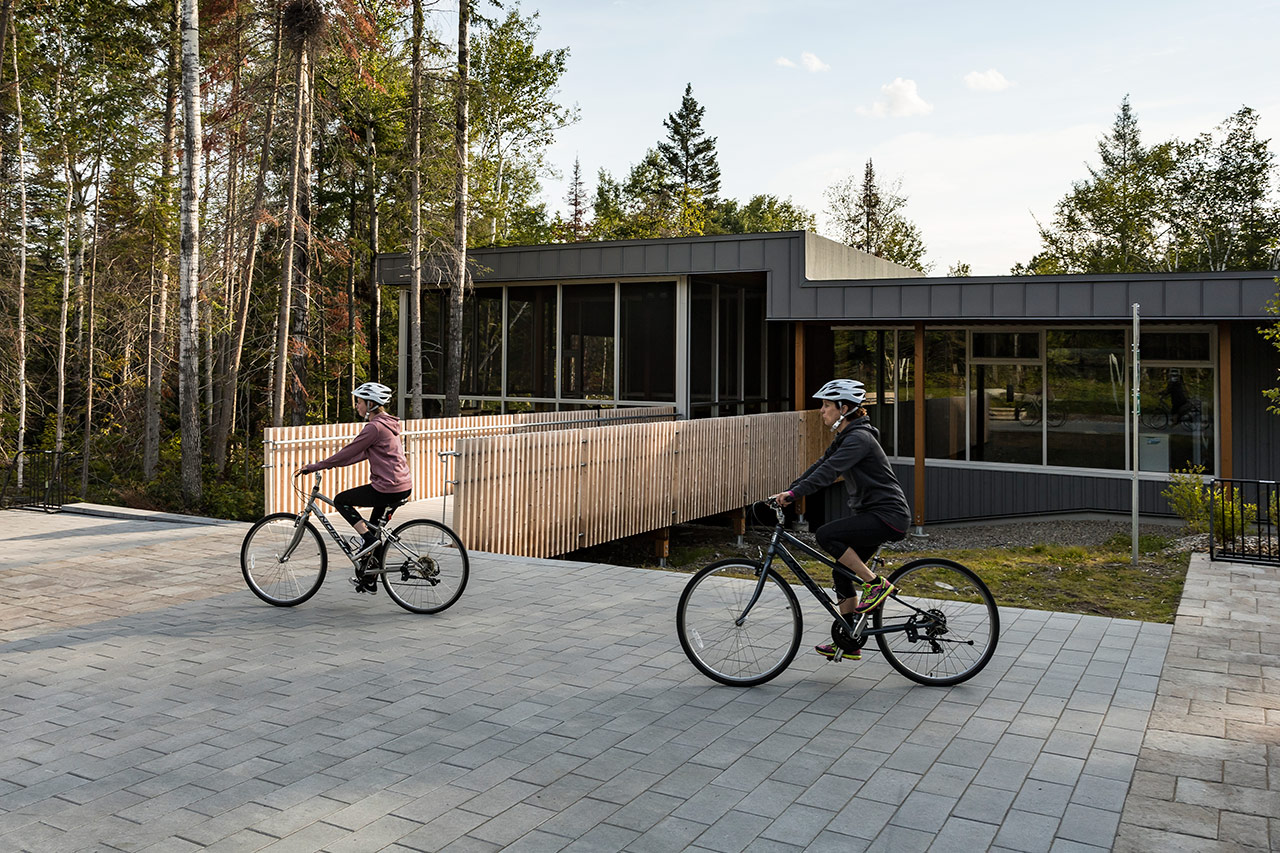 1. Notching up the kms in Lac-Saint-Jean
Beginner to intermediate (depending on the distance)
The reputation of Véloroute des bleuets - which circles Lac Saint-Jean over a distance of a little more than 250 km - is well established and Parc national de la Pointe-Taillon offers you privileged access to this cycling highway. Whether you're looking for a super self-guided adventure where you plan to spend the night in the park on a bicycle tour, or a family outing where Pointe-Taillon will serve as a base camp for accessing the park's 45 km cycling network, 16 km of which are linked to the Véloroute, there's something for everyone. After waking up in a tent on the shores of a majestic waterway and going for a quick dip at the beach, there are plenty of options to enjoy while notching up the kms by bike.
2. Riding in the middle of the St. Lawrence
Beginner
A true nature oasis a mere stone's throw from downtown Montréal, Parc national des îles-de-Boucherville offers you nothing less than an opportunity to ride in the heart of the St. Lawrence! The 21 km network of bike paths offers access to the most beautiful panoramas of the park's various islands. The flat terrain facilitates family outings, while public transportation and river shuttles multiply the options for disembarking and inventing original stays. A bicycle is the perfect way to get to Camping Grosbois in just 20 minutes. At your destination, once you've set up your tent, you'll have to pinch yourself to believe that nature can be so exotic, when you're so close to the bustling action of the city.
3. Merrily rolling through the valley
Beginner to advanced (depending on the type of trail)
There's something exhilarating about simply cycling along Rivière Jacques-Cartier in the heart of Parc national Jacques-Cartier, north of Québec City. You can venture out with the family on the various easy sections and even combine a hike with a bike ride. The more adventurous will appreciate the possibility of exploring less frequented sectors of the valley on two wheels. For gravel bike enthusiasts in particular, dozens of rolling and hilly kilometres are awaiting at the exit of the three main campgrounds. Add to this more than 30 kilometres of forest trails accessible in the areas nearby! Bring your tent and your meals by bikepacking to remote campsites that await you for stays you'll never forgot!
4. Explore the Chic-Chocs differently
Intermediate to advanced
Hiking, sleeping... and biking? And why not in Parc national de la Gaspésie? During your next stay in the heart of the Chic-Chocs mountain range, add your bike to your hiking boots and camping gear. Discover the park in a different way, by way of accessible gravel roads that are perfect for mountain bikers or gravel bikers. As you kick up the dust under your spiked tires, you'll feel the uniqueness of the place. The western part of the park is especially good for biking. Here you'll find the exciting Le Noroît trail, which is closed to automobile traffic for kilometres on end. A perfect challenge to (re)discover Parc de la Gaspésie and its 1000 metre high peaks, one pedal stroke at a time!
5. A regal realm of cycling that's yours to discover
Beginner to advanced
For an active cycling vacation, Parc national du Mont-Orford, in the Estrie region, stands out for its wide range of activities. From the bike path that's sure to please families, to the recent narrow trails set up for mountain bikers, to the Route verte that crosses the park from east to west, there's no lack of options at your disposal! Cyclists have an advantage both in terms of accessing the national park and in getting around. Bicycle tourists will be welcomed with open arms at either the Lac Stukely or Fraser campgrounds. For mountain bikers, there are a dozen or so trails around the pond called Étang aux cerises, more than enough for a fun-filled outing. After enjoying a well-deserved rest under your tent, a return trip will be your number one priority!
6. Pleasure behind the handlebars in Plaisance
Beginner
Parc national de Plaisance lives up to its name when it comes to cycling. A truly pleasant little secret to discover on two wheels, there are some 40 kilometres of easy trails in the national park located on the Ottawa River, east of the city of Ottawa. You can cross the landscape along the river in complete tranquility on stone dust trails that lead to the most beautiful lookouts. Pack a snack in your saddlebags in preparation for a picnic. And while you're at it, you might as well stay and camp!
Freewheeling advice
Take full advantage of the Camping - Bienvenue cyclistes / Cyclists welcome offer: In association with Vélo Québec, Sépaq offers exclusive campsites for bicycle tourists. These sites are easy to access and available without advance booking. It's up to you to take advantage of them!
Rent or borrow your bike: In many national parks, wildlife reserves, and tourist establishments, you can rent bikes adapted to the trails of the place being visited. What's more, for children 17 years and under who are visiting with their families, bikes can be borrowed absolutely free of charge!
Leave well prepared: No matter what cycling program you're planning, make sure you leave fully prepared with well-maintained bikes and by bringing everything necessary to make basic repairs and adjustments. Your safety is at stake, but so is your enjoyment, which shouldn't be spoiled by a flat tire in the middle of a ride!
Take advantage of your mobility: Capable of transporting you quickly from one place to another while offering a close contact with nature, your bicycle is the perfect tool to explore and appreciate the territory and its attractions. Don't hesitate to take detours and stretch your rides to discover the splendours and flavours of the region you're visiting.