Extend your family's summer at Parc national d'Oka
By Isabelle Leclerc – Au Québ
The red leaves have already arrived! Summer has flown by, once again too quickly. For our little family, September inevitably means the return of routine. Over the years, we've found a sure-fire way to keep the house from going grey when fall arrives, namely by extending our summer getaways as long as possible. That's why almost every weekend in September and October, we hit the road together as a family to spend some quality time in nature. Parc national d'Oka is definitely one of our favourite destinations for a fall road trip, and I'll tell you why.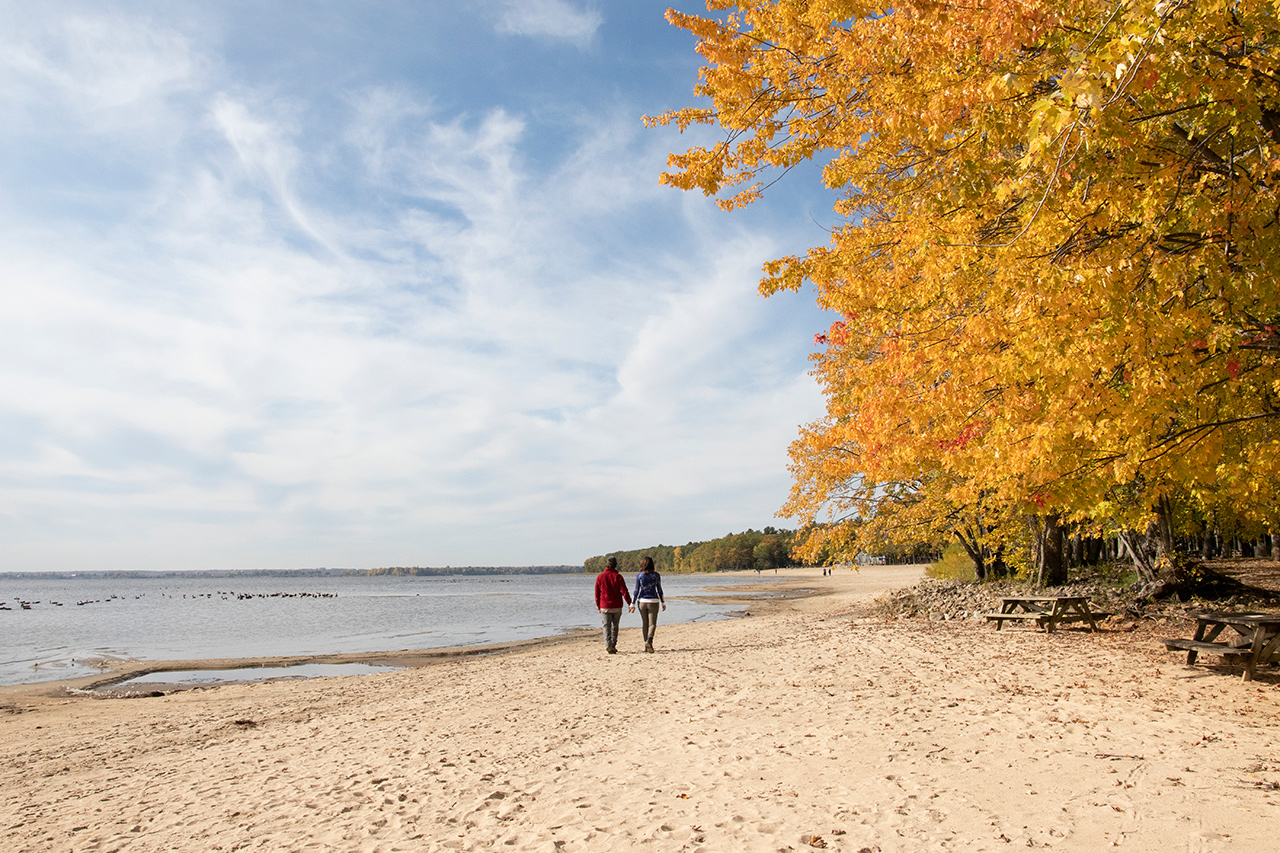 An adapted routine
Fall getaways are short, so adaptability is the order of the day. That means leaving the small tent, the makeshift heater, and the tarp at home, and preferably renting ready-to-camps and cabins. Parc national d'Oka offers a wide range of such facilities. There are about sixty ready-to-camp sites (four to six people) in Les Dunes campground and about ten Compact cabins (four people) in Le Méandre sector. What are the advantages of the cabins compared to the ready-to-camps? They have running water, toilets, and showers. This is not to be sneezed at for sure!
The heating is really efficient (much better than in our tent), which is not a bad thing given the cooler nights. And all kitchen items are included with the rental, so that problem is out of our hair. We can even order up a cheese fondue meal with local specialties during a Compact cabin stay. What a treat!
The shortening days also mean an adapted holiday schedule: building campfires at cocktail hour, eating marshmallows right after dinner, and hitting the sack at the same time as at home. This is what works for us with our five year old. No siree... we don't sing songs around the campfire embers until 11p.m., but the early bedtime allows us to have a much smoother return to routine on Sunday night.
A ton of activities for the whole family
It's well known that Parc national d'Oka has done everything possible to make life easy for families. We love the extensive beach, which is 11 km long. Shallow for several dozen metres, the sandy shore is the perfect place for swimming in the summer. In the fall, it's great for long walks with the kids and offers multiple options for picnic stops.
We also like to ride our bikes through the park. The bike path is quite flat and is perfect for getting the kids used to longer rides. We usually leave from the beach and cycle to La Grande-Baie registration centre, by way of the wetlands and Lac de la Sauvagine. There's ever so much to see!
Many water sports activities are available on site. Lac des Deux Montagnes is a great place for canoeing, kayaking, pedal boating, and paddle boarding. Don't forget to bring your own equipment, as water sports equipment rentals end on Labour Day.
Near the beach there's a huge playground with many modules for kids of different ages.
Accessible hikes
There are also a number of hiking trails that are easily accessible for the kids. We like L'Érablière, which you can even do with a stroller, if it has big wheels of course.
Our favourite is without a doubt Calvaire d'Oka trail, where we can learn more about the rich historical heritage of the park. With a length of 4.4 km round trip, the trail is in fact a way of the cross built by the Sulpicians on which we can observe four oratories and three chapels. Every time a monument appears in the distance, the kids are invigorated and run to get there first. The view at the top of the trail is absolutely breathtaking, featuring a panorama of Lac des Deux Montagnes and even the Adirondacks. With all its colours, fall is the perfect season for this hike. Depending on how fast the kids are walking, allow about 1.5 to 2 hours to do the entire trail.
Looking for a little more peace and quiet? Head to Lac de la Sauvagine, which is a real hidden treasure in the park and our favourite place for a picnic. It's also one of the best places for wildlife watching. Fall is a great time to admire the many diving ducks. Keep an eye out for white-tailed deer, raccoons, turkeys, geese, and many other creatures. There are over 200 birds at the site. Print out the list (in French only) before you leave and try to spot as many as possible with the kids!
Hot tip! In order to enjoy the activity with the whole family, please note that dogs on a leash are allowed on l'Érablière, Du Calvaire d'Oka, and Du Sommet trails and on La Route verte.
Ready, set…go! It's time to extend the summer!
Whether in Parc national d'Oka or elsewhere in the Sépaq network, don't hesitate to follow our example and extend the summer season with your family. The getaways may be shorter, but they're so worth it! You'll see that the gloom of the new school year will easily fade away with a good board game by the campfire, cheeks flushed after a pleasant day of hiking. Our province is beautiful in all seasons. Let's take full advantage of all it has to offer!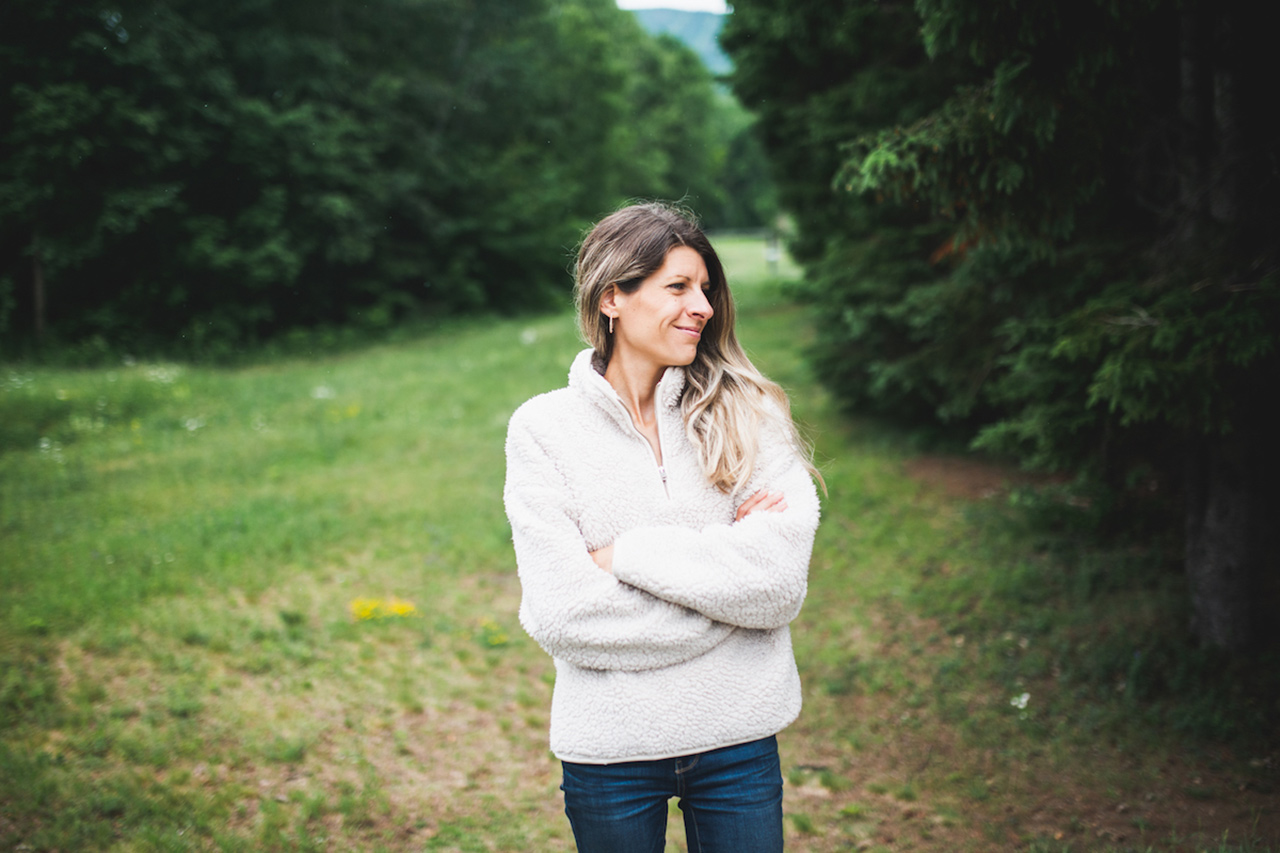 About Isabelle Leclerc
Isabelle Leclerc is the traveler behind the Au Québ project. She is self-employed in the field of sports events, as well as an avid traveler. In love with Quebec, she enjoys sharing her favourite places in our beautiful province.