The latest version of Pêche en herbe: towards a new generation of ethical and sustainable sport fishing
Since its inception in 1997, the Pêche en herbe (budding angler) program has introduced no fewer than 340,000 young people to sport fishing. After a two-year hiatus due to the pandemic, the Fondation de la faune du Québec and its partners are hoping to attract 20,000 new enthusiasts with a completely revamped version of the program.
Sépaq met with Raphaël Dubé, program manager at the Fondation, to talk about this exceptional project. Summer and winter alike, Pêche en herbe allows thousands of apprentices to experience the pleasures of a fishing trip. Let's take a look back at this revised and enriched 25th season.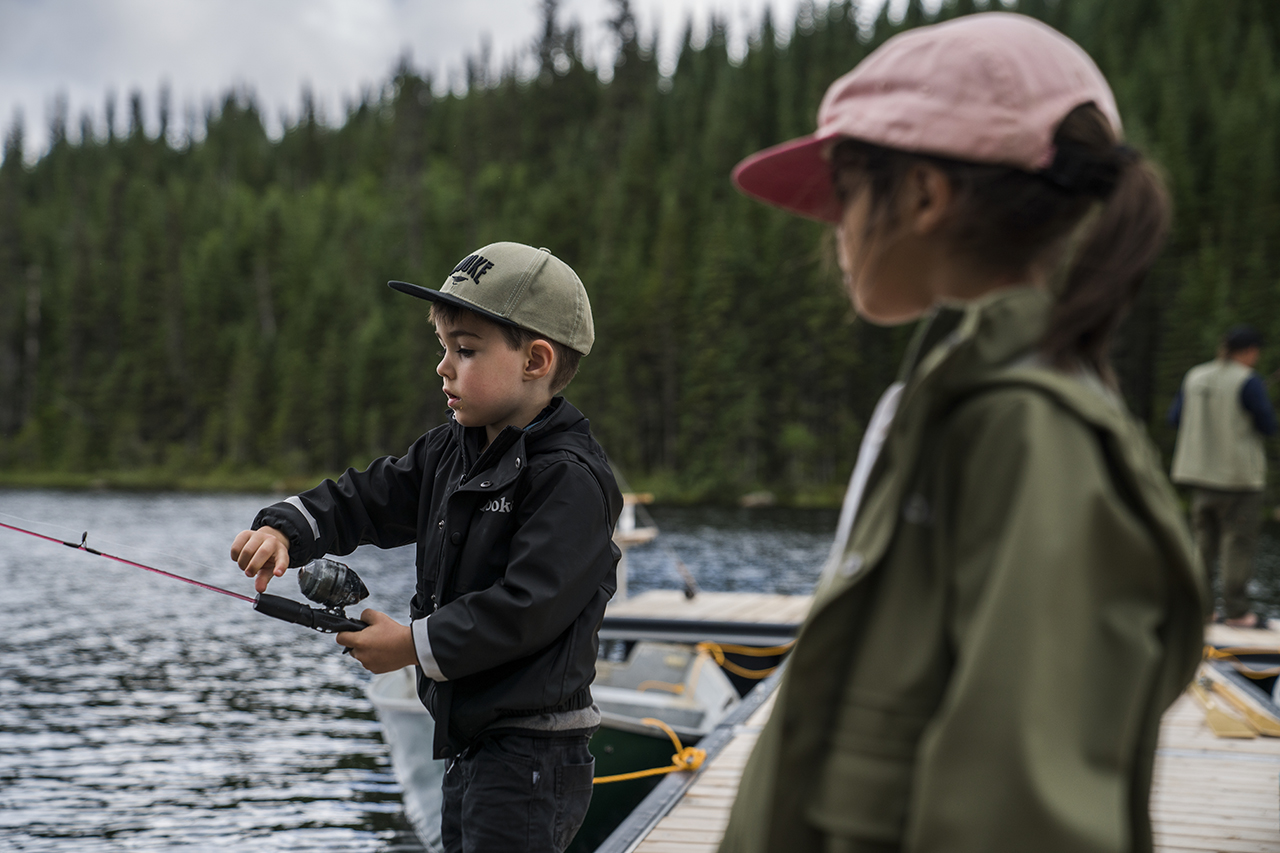 Democratizing fishing
The Fondation's mission is to conserve and enhance wildlife habitats. More concretely, this parapublic organization, which receives the support of the Ministère de l'Environnement, de la Lutte contre les changements climatiques, de la Faune et des Parcs, supports organizations throughout Québec in carrying out their activities related to this vocation.
"At the Fondation, we offer 14 assistance programs, including the Pêche en herbe program. This program is mainly intended for promoting organizations and partners in the community, such as municipalities, schools and hunting and fishing associations," describes Raphaël Dubé. "Each year, through the Pêche en herbe program, they can propose a project to us in order to obtain financial and material support for the planning of an introductory sport fishing activity for young people aged 6 to 17."
When the program was created, it was with the ambition of making fishing accessible to all young people, who were rather reluctant to try out the sport back in the day. "We noticed a decrease in the number of anglers, especially among young people. That's why the MFFP and the Fondation wanted to develop different partnerships to encourage the next generation of anglers in Québec," explains Raphaël. "And of course, we wanted to help young people from less privileged backgrounds to have access to the knowledge and equipment they'd need to take up the sport. We really wanted to democratize fishing."
Since then, that wish has gained a whole lot of traction. The Fondation team has improved and adapted Pêche en herbe to offer the quality training we know today. What's included in the program? Turnkey content on the art of catching fish, including notions concerning habitats, a description of various techniques, valuable advice on safety and environmental protection, and a guide to good sport fishing practices.
2023 version of Pêche en herbe
Once again this year, the 2023 edition of the program will appeal to novices eager to launch their first line in the water. The interactive online training courses will also continue to be offered.
"The main challenge of such a program is to adapt to the needs and contexts of the clientele, both with respect to young people and to sponsoring organizations and partners. So the Fondation was keen to develop different approaches, and interactive training is a good example of this," says Raphaël. Whether they live in the city or in the regions, young people can now learn the basics of fishing thanks to the entertaining texts, videos, and online facilitators of Pêche en herbe.
By the end of the summer, the youngsters who have registered will have received a free certificate (licence) valid until their 18th birthday. Those who succeed in participating in a wilderness activity (coveted spots!) will benefit from discounts at Canadian Tire, the main partner. They'll be able to purchase a fishing kit or accessories at a special price.
But beyond the training offered, whether in person or virtually, Pêche en herbe confirms that young people represent a new generation that's ready to shake up mentalities and old ways of doing things. "Our greatest hope is that the newly initiated will take up fishing with an ethical and sustainable approach that integrates the needs of wildlife. This is how future generations will be able to practice this activity for a long time to come," insists Raphaël.
Sépaq: 13,000 good reasons to cast your line
As a long-time partner of the Fondation, Sépaq offers close to 13,000 splendid fish-filled lakes that can be visited by beginners and experienced anglers alike. A great opportunity to build on the momentum of your learners!
"The Fondation collaborates with twenty sites in the network that offer introductory fishing activities throughout the season. So families who book a stay with Sépaq can take advantage of adapted sport fishing in an ideal setting. They have access to quality waterways and priceless resources," says the fishing enthusiast.
In short, this project is a unique opportunity to familiarize your offspring with a sport that goes far beyond fishing stories. Because fishing is a way to learn, to have fun in the outdoors and, above all, to have a good time as a family. Catching a fish is just the icing on the cake!
The Pêche en herbe experience
A project of the Fondation de la faune, in collaboration with Canadian Tire, the main partner, and the Ministère de l'

Environnement, de la Lutte contre les changements climatiques, de la Faune et des Parcs

More than 180 organizations (municipalities, associations, environmental organizations, etc.) throughout Québec
An introduction to sport fishing offered to young people from 6 to 17 years of age, both in summer (May to end of September) and in winter (ice fishing)
No equipment required (fishing rods and accessories are available for loan on site)
A quality training course offered free of charge online to learn how to fish in preparation for a stay at SÉPAQ.
A supervised activity in a natural environment, now also available online
A licence valid until 18 years of age
An experience not to be missed!