Everything you need for small game hunting
By Patrick Campeau, with the collaboration of Claude Bissonnette, hunting enthusiast and Category Manager – Fishing and Hunting at SAIL
Many enthusiasts look forward to the arrival of fall to venture into one of the province's numerous game-filled wildlife reserves.
It's really pleasant to go into the backcountry and practice what many call small game hunting. Don't be misled by the term small, however, as this type of hunting activity can generate great adventure and excitement.
A specialist
Whenever he has a free moment, Claude Bissonnette, head buyer of the hunting and fishing department of SAIL stores, escapes into the world of nature. Over the past three decades, he's tried his luck in the Ashuapmushuan, Mastigouche, Rouge-Matawin, Papineau-Labelle, Saint-Maurice and Portneuf wildlife reserves. "Every year, I take a cabin and spend a whole week hunting with my better half. Then, I go back on four or five other occasions for some day hunting with my spouse or friends. I make sure to spend 12 to 15 days in the woods in October and November harvesting game birds and beasts," explains our connoisseur. I had the pleasure of speaking with this affable Davy Crockett about his must-have gear for small game hunting.
Comfort above all else
It's important to choose high-performance attire that will keep you warm and dry. Depending on the prevailing temperature, Claude favours the principle of multi-layer clothing that can be removed during the day. As the weather gets milder, we adjust. It's also crucial to remember that when hunting small game, we walk a lot. Our bodies warm up more quickly than if we were sitting in a deer or moose blind.
For the sake of your feet, you should choose comfortable walking boots. Claude recommends leather and polyester models with a light waterproof membrane. A sole with good grip on surfaces such as wet or damp rocks is a definite plus. According to this expert, rubber boots should be avoided because of the poor ankle support they provide.
What to lug
In his backpack, Claude likes to carry a water bottle, spare socks and gloves, a compact first aid kit, and some energy bars. The backpack should be as light as possible and have a polyurethane coating inside to make it waterproof.
Preparing the ground
When our enthusiast wants to explore a new sector, he first consults the digital map of the wildlife reserve with his portable GPS. This way, he can discover potentially productive sites before he even gets there. If necessary, he can save points of interest. The good old paper topographic map can be very useful as well.
Think safety
In addition to following the basic rules, wearing a bib, and prioritising the safe handling of weapons, Claude never ventures off the beaten path alone. He makes sure he always has his trusty compass around his neck (not in his haversack); his GPS* on his belt; and a detailed map of the hunting grounds in his pocket. He told me that he once got lost because all his orientation tools were stuffed in his backpack. To increase the safety of his excursions, Claude has also developed the good habit of saving the exact position of his vehicle each time he parks it somewhere.
In addition, the buyer from Sail always wears an orange cap to make himself visible to his partners and other hunting enthusiasts. He strongly recommends shooting glasses to avoid getting a poke in the eye from a branch when barging through the bush.
On the auditory side, Claude isn't a big fan of hunting earmuffs or other such devices, as it's important to be able to hear birds drumming or hopping through the leaves before they see us. "I hunt a lot by ear," he says.
*If you don't have a GPS, consider downloading the free Avenza Maps mobile application on your device (via the App Store® or the Google Play StoreTM). Most of the maps are georeferenced, so you can always know where you are, even if there is no cell signal.
Firearms for hunting
How should you choose the choke of your firearm with an eye to the surrounding environment? " I prefer a 20 gauge semi-automatic with a 26-inch barrel or overlaid with a 28-incher. The medium choke and improved cylinder provide a good pattern for shooting on the fly. It's really lighter and easier to handle than the traditional 12 gauge, and also less of a burden when you're moving through dense woods," says the expert. He also prefers pellet rifles with more than 500 fps in .177 or .22 caliber format.
Preserving your harvest
The best way to preserve venison is to lug the carcasses in a game bag or in a ventilated backpack and clean them at nightfall.
Game species
Ruffed Grouse
This bird is a member of the extended Phasianidae family, which includes more than 200 species, including the pheasant, wild turkey, and domestic chicken.
The male, whose average weight is about 500 g, stays in the same territory all his life and keeps other suitors away through drumming and fighting. Females are usually a little smaller.
Tips for outwitting the Ruffed Grouse
At the beginning of the season, Claude mainly exploits the edges of wooded roadways characterized by aspens, birches, or bushes laden with fruits such as blueberries or highbush cranberries. From the end of November, he concentrates his efforts on looking under the fir trees where there's less snow and the Ruffed Grouse can easily take refuge.
People who prefer to venture off the beaten path need only seek out edges of forests or fields, clearings, berry sites, stream banks, ravines, bonfire sites, fire regeneration areas, and other such locations.

After bagging a grouse, our expert suggests examining its stomach contents to find out what it ate. You can then try to find the right locations where the same type of food is found. Remember that its diet changes throughout the fall.
Every time Claude locates a good hunting site, with numerous birds, he saves the GPS coordinates. He contends that flocks that haven't been culled stay in the same sector year after year.
Hunting techniques
The easiest way to hunt these spotted and striped gallinaceous birds is on the roads, on foot, by ATV, or by car, because they're much easier to locate in the open than in the forest, especially when the trees have not yet lost their leaves.
Another technique Claude likes to use is to move in pairs. One person walks slowly down the path and the other follows alongside through the woods, no more than 30 metres away. If any winged game take off, the hunters can communicate by radio transmitter in an attempt to identify where the creature was headed.
---
Spruce Grouse
This 38 to 43 cm sized woodland hen is found from the extreme south of the province to the tree line in the north. About the same weight as its cousin the partridge, it's somewhat sedentary, solitary, and very shy.
The plumage of the male is dark, with fine stripes. The upper part of his body is black with white borders, and the wattles above his eyes are red. The colouring of the female's coat highlights cryptic feathers that allow her to hide in the forest with great success. The female's plumage is often reddish brown, grey, black, or other darkish colours.
The prairie chicken, as some call it, prefers environments composed of firs such as pine and spruce, new conifer plantations dating back 10 to 15 years, and conifer dominated stands.
Hunting techniques
As regards Spruce Grouse harvesting techniques, Claude indicates that they're hunted in much the same way as Ruffed Grouse, except that our intrepid hunter needs to keep on looking upward, as this prairie chicken frequently roosts on branches with its fellows.
This gallinaceous bird species, known to be less skittish, represents about a quarter of the global population of feral chickens.
---
Snowshoe Hare
This prolific, essentially herbivorous species can have up to four litters annually. Contrary to popular belief, Thumper the Hare doesn't create a burrow, but rather a flattened nest, called a form, on the surface of the ground. When a hare feels in danger, this speedy runner can reach top speeds of 45 km/h and make jumps of more than 3.5 m in length.
Cecotrophy is very common among these rodents, i.e. the hare eats part of its own excrement, as it still contains semi-digested plants, to complete its digestion.
As for habitat, look for young conifer stands, plantations, regrowth areas, former burn sites replete with raspberries, dense woodlands, tightly packed fir stands, frozen marshes, swamps, and other such locations.
Tips for outwitting the hare
A lone hunter should move slowly while stalking the prey, keeping a close eye on the low horizon. When the ground is covered with vegetation or leaves, you need to scrutinize all potential hiding places, not forgetting to give a few kicks when passing over large clumps of branches, old tree trunks, and the like, to draw out wild rabbits trying to camouflage themselves within. If there's snow, it's often productive to follow fresh tracks that inevitably lead to the desired game. Hunting with a well-trained dog offers a whole new dynamic and often makes the experience even more fun and interesting.

One of the best approaches is to do drives in groups of three, four, or even five hunting enthusiasts. Form a straight line and move forward to cover all potentially productive locations. Always follow the safety and precautionary rules taught in your hunter certification courses. Don't be afraid to remind your companions that their guns must be on safety at all times.
From the beginning of October to the arrival of snow, hunting is usually productive since hares are easy to spot due to the photoperiod. During this time, their grey-brown coat gradually changes to white. The complete transition can take up to 74 days. These small rodents then stand out in the forest and become easier prey for both hunters and predators to locate.
--
Happy hunting to one and all!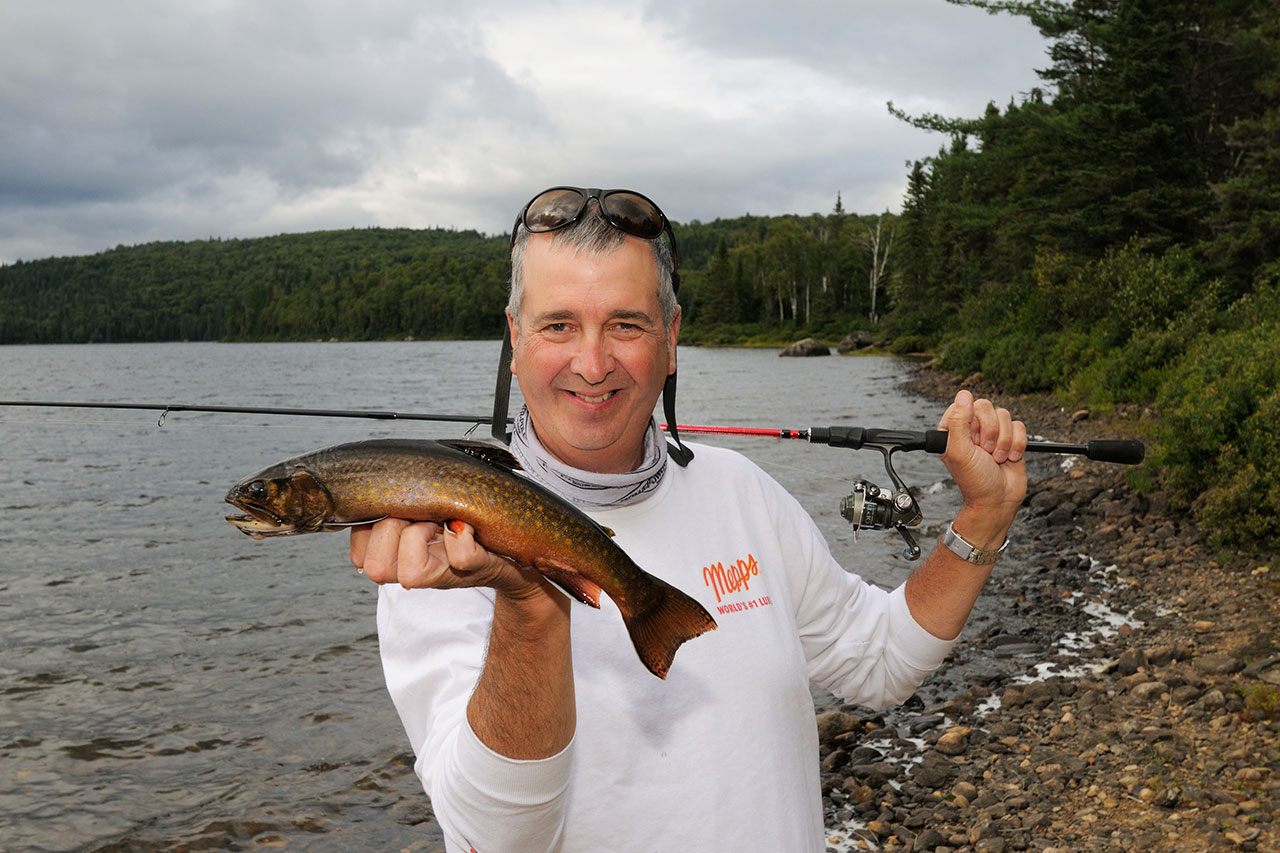 About Patrick Campeau
Three-time Quebec champion and the only Quebecer inducted into the Canadian Fishing Hall of Fame, Patrick Campeau is celebrating his 35th anniversary as a full-time professional angler. He is recognized as a leader in the field. The Canadian Sportfishing Industry Association presented him with an honorary award in recognition of his involvement and of his dedication to the promotion of this activity. Patrick Campeau shares his passion, his experiences, and his adventures with the readers of a dozen magazines and specialized newspapers, including the Journal de Montréal every weekend.