A Leucan Family Respite in Duchesnay
When nature soothes and strengthens
The struggle is constant. Completely absorbed in their common mission to find a way to recovery, children with cancer and their loved ones very rarely have the opportunity to take a break from the immense challenge imposed on them. A break for the body and the mind gives them strength to deal with an illness that has turned their daily lives upside down. Like a lighthouse that shines in the storm, Leucan's Family Respite is a time to breathe and find peace in nature at Station touristique Duchesnay.
"This is my holiday of the year," confides Catherine Gagnon, mother of 12‑year‑old Elliott, during our phone call. In November 2021, her budding outdoor sports enthusiast was diagnosed with acute leukemia. A few hours before the start of Respite 2022, the mother was excited about the idea of a break in the forest with her two sons.
Since 2010, Leucan Québec has been holding these respites for families whose child has been diagnosed with cancer or its recurrence in the past year. These short organized holidays offer them a moment to break the routine of treatments. After a year on hold and a second year disrupted by the pandemic, Leucan's Family Respite has returned to its original formula this fall.
It's a time for families to let their guard down in a relaxing, controlled environment, a chance to take their minds off the worries of cancer and recharge their batteries. "[With the disease], the way you holiday changes," declares Judith Riopel, mother of Léanne, who has combatted leukemia diagnosed in September 2018. The family participated in Respite 2019.
The four members of the clan are camping enthusiasts and had to rethink their habits while the teenager ‑ now 16 years old and in good health! ‑ was immunosuppressed due to treatment. Respite then offered them "a bubble," describes François Vachon, Léanne's father. "We found ourselves in a safe environment," adds Judith.
Appearance of normality
Respite is a safe space where children and parents can experience a semblance of normality. "It allowed us to see the parents in a setting other than the hospital. We were able to talk to each other in a different way than through the illness," enthuses François. In particular, he has excellent memories of these meals and discussions where the couple found themselves with parents who were going through the same ordeal and with whom they had a unique complicity. "We laughed together…and cried together," he adds.
And while the adults socialize with each other, the afflicted children and their siblings do the same, under the protective wing of the Leucan team and its collaborators. Outdoor activities, massage therapy, various workshops, swimming, billiards, ping‑pong... fun is the order of the day and bonds are formed right away. "She felt normal," recounts François about Léanne. During Respite, cancer is a little less real and everyone vibrates to the rhythm of an infectious energy!
"It was truly exceptional," asserts Catherine, who has just arrived at her home in La Malbaie after her stay in Duchesnay with Elliott and Ulysse. At the time of our conversation, the mother of the family was still on a Respite 2022 high, despite a quick return to everyday life. The blood tests, the chemo, the house, the work…all forgotten during this very special stay!
"It allowed us to take a break, to enjoy some quality family time, and to breathe a little," admits the mother. It was also an opportunity for Ulysse, 16, to "give time to his little brother," to be by his side and perhaps even to better understand what Elliott is going through, Catherine believes.
Warm enchantment
The trio was charmed by the place as soon as they arrived in Duchesnay. "What struck us was the grandeur, but at the same time the warmth of the main cabin," reports Elliott's mom. "We felt right at home!"
"We want to organize our respites in an enchanting and exotic setting," stresses Nathalie Matte, Director of Major Gifts and Partnerships for Eastern Québec and Director of Planned Gifts at Leucan. And the tourist resort located in Portneuf, near Québec City, offers the perfect balance between isolation in nature and access to the comfort, security, and care that these important visitors require.
Because beyond the varied accommodation offered at Duchesnay, which suits every family context and meets all the needs of the young people in question, nothing is left to chance during a Family Respite , Nathalie guarantees. From the proximity of hospitals to the impeccable cleanliness of the premises, not to mention the reception, activities, medical staff on site, meals, and assistance and support for guests, every detail is thought out so that families don't have to worry. "The stress level is at its lowest," declares Judith, Léanne's mother.
At all times, families are also free to enjoy the stay as they see fit. "Everything is planned with respect. There's no judgement. It's a safe space," Judith reveals, describing the caring that is felt throughout a Family Respite.
"It's comforting," adds Catherine, who also derives great satisfaction from meeting other parents. "We all face the same challenges, so it's easy to bond," she avows. Elliott particularly enjoyed this human aspect, as he was able to develop his social skills and have fun with other children.
Outdoor wow effect
Then there's the omnipresent world of nature to sooth the soul. "A huge wow!" summarizes Catherine, who was able to enjoy beautiful fall days with her two boys. "For my children, nature is part of their values. It's a way to regain energy," she asserts. The beauty of the landscapes, the colourful foliage on the trails, the calm of vast Lac Saint‑Joseph... all the ingredients were there to recharge their batteries.
"Nature lets us get away from it all. The world of technology is far away. And even if you come from a rural region, you still get a change of scenery," explains the Charlevoix native. "You can't get the same feel in a simple hotel!"
Respite can even be a time of adventure that gives the children wings. "It takes them out of their comfort zone," Judith recalls, referring to Léanne's experience on the Arbraska Duchesnay aerial circuit. Once again, the context and the chaperones allow the children to stretch their limits in an environment that's perfectly safe.
"A year before, Léanne could hardly walk," recalls an emotional François, who followed his daughter to the treetops. He was impressed by her ease and capability up in the heights: "These kids have energy to burn!"
Once back home, Léanne and her family continued on a roll. "[It was] a bit like saying, 'Okay, now I'm moving on to the next stage'," her father observes today. Then the months went by and the good news trickled in. Léanne is now finishing her last year of high school. Her health has returned and she's playing elite volleyball, learning to drive, and finally enjoying a normal life. All these victories to the delight of her parents and her little brother!
As for Elliott, this time‑out with the family has helped him to gather strength for the battle ahead. The treatments will continue for the next year. However, his mother predicts that they will be less intense.
The next important step is Elliott's return to school, keenly awaited by his first‑year high school classmates. And here again, Leucan will be on hand to offer the family guidance and support. If all goes according to plan, Elliott will return to school some time in November.
A joyful event to be savoured to the hilt while awaiting full recovery, which everyone hopes will follow soon.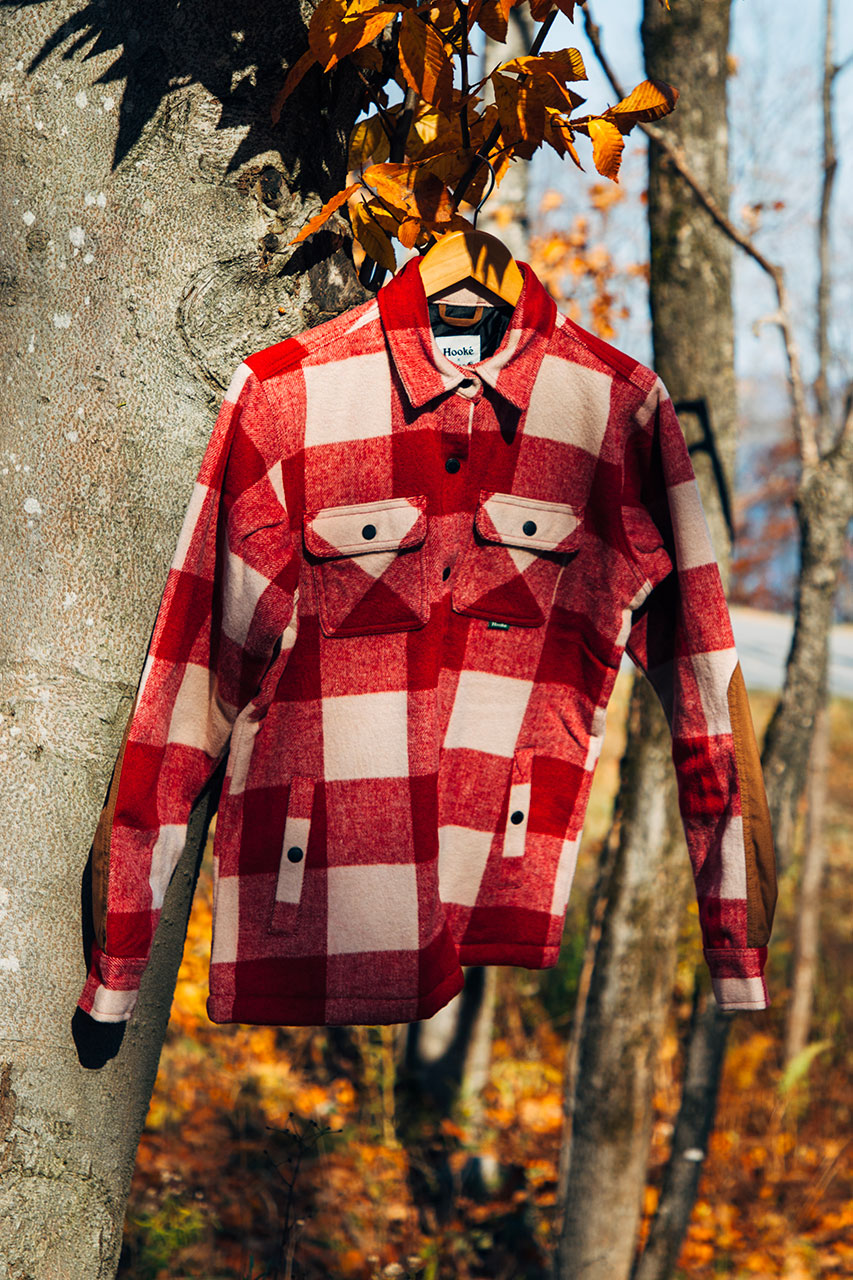 A shirt that makes things happen
Since last spring, a collaboration between Leucan, Hooké, and Sépaq has enabled the public to contribute directly to outdoor respites for children affected by cancer and their families. The philanthropic campaign The Force of Nature was conceived and implemented by two Leucan volunteers from the Québec City region.
Designed by Hooké, a comforting plaid shirt for men, women, and children is on sale for the benefit of Leucan. All profits from The Force of Nature shirt are used to finance socio‑recreational activities such as Family Respite at Station touristique Duchesnay. The garment is also available on Hooké's online shop. It goes without saying that generosity has never been so comfortably and beautifully clothed!