Discovering bicycle camping in Réserve faunique des Laurentides
By Emmanuel Moisan
Are you a bike fanatic? This summer, discover the new bikepacking offer in Réserve faunique des Laurentides! A great challenge that allows you to cross wilderness areas on unpaved arteries. The twelve tours offered, lasting from two to seven days, will take you along roads, trails, and pathways, making it possible to camp in a rustic and minimalist way in order to live a real adventure in nature! Curious? Let the adventure story of Emmanuel and Jean‑François inspire you.
It's a scorching Friday in August. On the road between Québec City and L'Étape, Jean‑François is making all sorts of calls with his colleagues while I'm frantically typing on my phone to answer some emails before the weekend. Another week of work is coming to an end and some great cycling adventures await us. On the agenda: three days riding through the eroded peaks of the Lac Jacques‑Cartier mountain range, in Réserve faunique des Laurentides.
The celebrated "park" has been feeding my fantasies of expeditions for a long time now. Louis Hémon wrote in Maria Chapdelaine about a "vast wilderness that awakens a distant atavism of wandering and adventure."* This is exactly the feeling I had when we checked in at the Sépaq registration centre, under the intrigued gaze of groups of anglers and campers with shiny RV caravans.
Our objective is to reach Lac Champlain and sleep there the first night, to go to Lac du Grand Chien the next day, and to complete the loop on Sunday, adding up to about 100 km in all. We're riding in complete autonomy and are therefore loaded like mules. With the heat and our late departure, this distance will be more than enough for our first experience on one of the many adventure bike circuits recently developed by Sépaq.
*Our translation of un vaste pays sauvage qui éveille un atavisme lointain de vagabondage et d'aventure…
Day 1: La Loutre registration centre to Lac Champlain
31.4 km, 625 m D+.
https://www.strava.com/activities/7676346747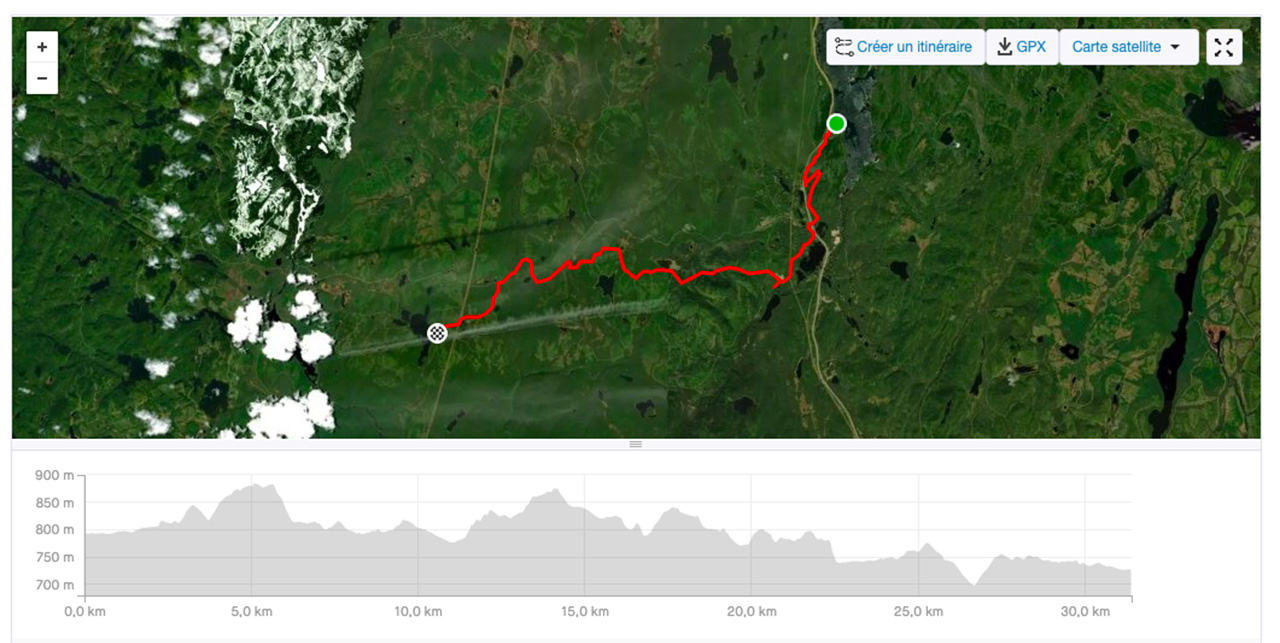 Already 3 p.m. We finish fixing the luggage to the bicycles, good and solid, and start pedalling. Immediately, the certainties and comfort of civilization disappear behind us. And ahead lies the promise of a new adventure in what the Wendat call Nionwentsïo, "our magnificent territory."
With each turn of the wheels and click of the gears, we head deeper into the heart of one of the last wild territories of southern Québec . The sun is scorching the woodland path and already sweat is pouring down our faces. Despite the fact that we're in the highest sector of the Laurentians, at an altitude of about 800 metres, the air is suffocating. The deer flies are voracious and we're not advancing fast enough to lose them.
For me, stays in the forest are not opportunities to conquer it, to subdue it, or to survive in it, but rather opportunities to inhabit it, to experience it, to tame it, and to be part of it. But even if we're experienced in these expeditions, the forest tests our ability to adapt, our resilience, and our humility… each and every time.
The circuit presents some stiff challenges, forcing us to cross sandpits and face steep climbs. We've even taken abandoned roads, completely washed out by erosion, where we've had to push the bikes. Fortunately, the last few kilometres of the day are on a downhill trajectory and, at the stroke of 6:00 p.m., Lac Champlain gradually reveals itself through the spruce trees. We choose to set up camp on a sandy point exposed to a light breeze that we hope will keep the insects at bay.
The evening light quickly fades while a breathtaking sunset accompanies us in the last tasks of the day: setting up the tents, collecting wood for the fire, and cooking some hearty food to replenish our strength.
Day 2: Lac Champlain to Lac Honorine
48.8 km, 629 m D+.
https://www.strava.com/activities/7676331228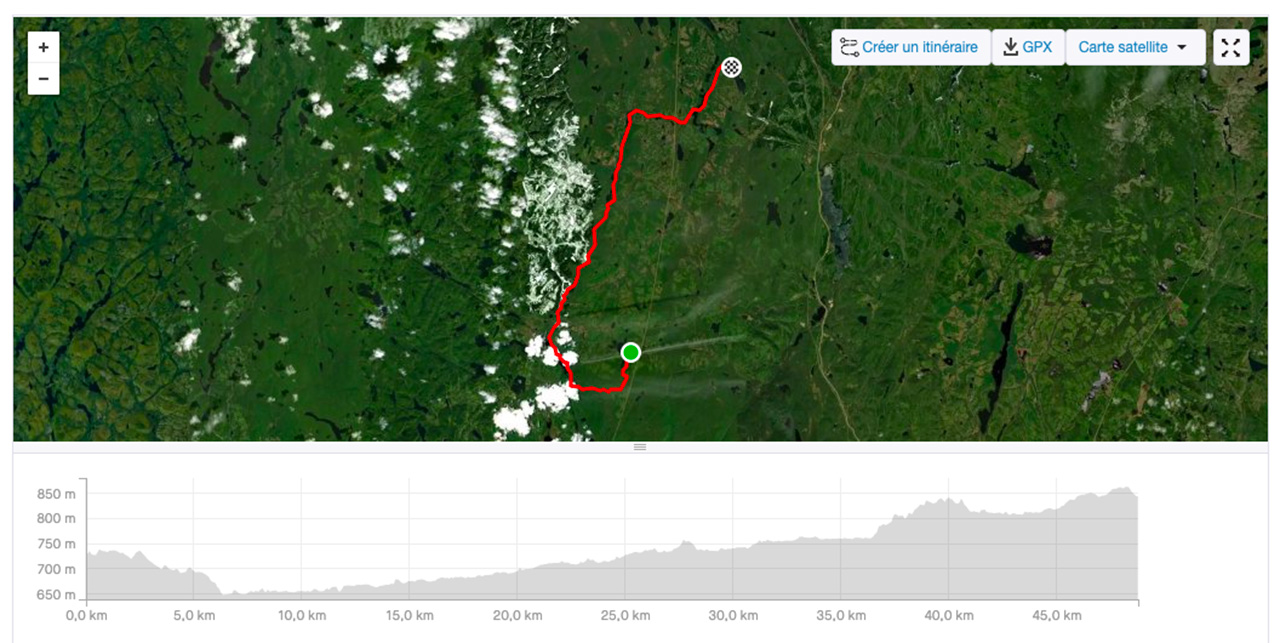 The first 5 km are quickly "downed" – as is our breakfast– but the rest of the day is mostly about climbing up the Rivière Cavée waterway, a tributary of Rivière Jacques-Cartier Nord-Ouest. The river is peaceful, but wedged into a narrow valley, and the path that winds along its side is rough. We move ahead slowly under the precious shade of the forest cover, taking a break in a beautiful spot between Lac Soucy and Lac Chagnon for a swim and a wholesome lunch.
We're only a few dozen kilometres from civilization but we feel far away, almost insignificant in the midst of the natural world that surrounds us. Two humans among the vast array of species that populate this territory without fanfare. A land of traditional hunting, rich in moose, which also shelters one of the last herds of woodland caribou in southern Québec , the Charlevoix herd. Wolves, lynxes, bears, cougars, and many other species are also discreetly present in the wildlife reserve.
Energized by this little respite, we're ready to hit the trail again, heading for the shores of Lac du Grand Chien where we want to camp for the night. Once there, the quality of the site does not impress us much and convinces us to push on a little further and to spend the night at Lac Honorine, a few kilometres away.
Great decision! The camping site is nothing special, the sunset will turn out to be forgettable, but the swimming is pleasant and refreshing and there's no shortage of dry wood. And then we experience something surreal, an anecdote worthy of the 6/49 lotto commercials: in the space of five minutes, out of the blue, the first two humans we have seen in over 24 hours appear. These guys don't know each other but both have a dog named Enzo with them! What are the chances of that? A huge German Shepherd with a hot temper and a tiny, affectionate, playful Pomeranian, not at all impressed by his Germanic namesake, who is five times his size.
Once these good folk have gone on their merry way, the quietness envelops our camp once again and we spend the evening laughing by the fire, cooking freeze-dried delicacies (!), and sampling the litre of boxed red wine which will gently nudge us into restful slumber.
Day 3: Lac Honorine to La Loutre reception
21 km, 229 m D+.
https://www.strava.com/activities/7676324444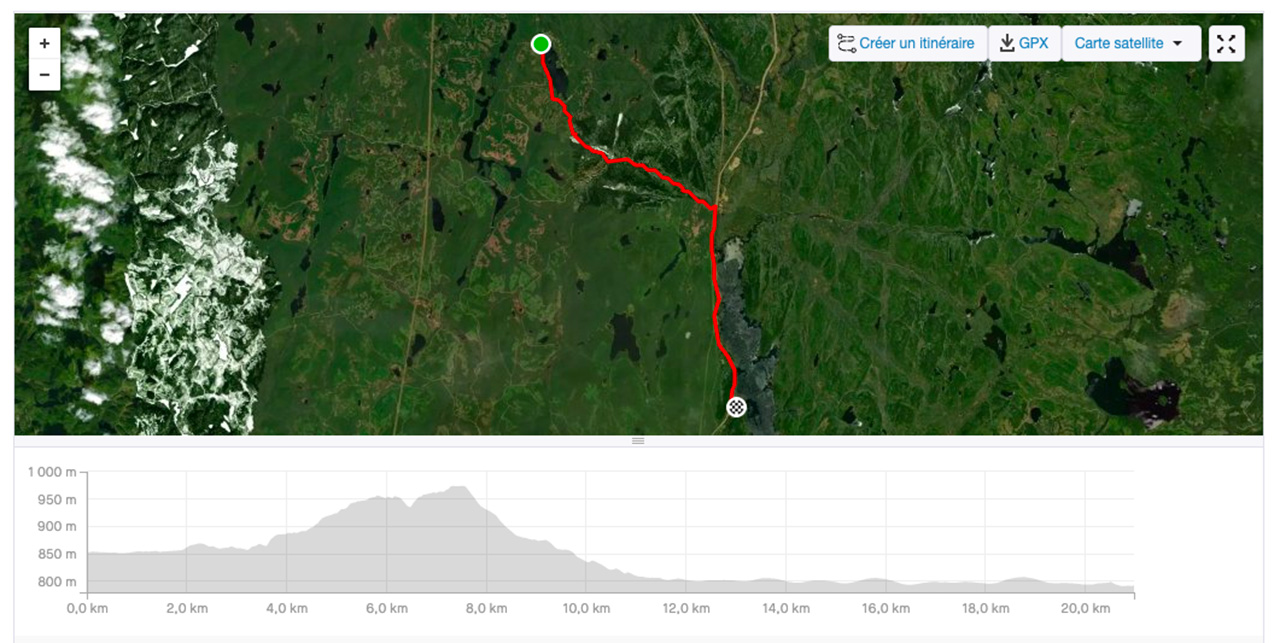 Despite the fact that the floor mats are remarkably comfortable these days, we get up a bit stiff on this beautiful morning. The dew has soaked the canvas that we dry while cooking breakfast, and very quickly, we're ready to hit the road for the last segment of our journey.
A few kilometres of cycling along flat ground gives our legs time to shake out the kinks, then slowly but surely the road begins to ascend. With a clicking of the gears, we climb to 1000 metres of altitude, where we're treated to spectacular views of the neighbouring treetops of the boreal forest. After the mandatory photo break, we begin speeding downward toward Route 175 and our return to civilization. The descent is exhilarating, dotted with long, fast curves that require sharp-eyed steering. Although euphoric, we have to stay focused so as to avoid being ambushed by patches of loose dirt and gravel.
This beginning of the day in the saddle of my bike is an instant of grace, etched in my mind forever. These are the moments I'm searching for and they're worth all the effort and discomfort expended to achieve them. You never know when they'll happen, but they become instantly unforgettable, feeding the desire for new adventures.
And then, almost without realizing it, we're back at the starting point on this beautiful Sunday noon. In the hustle and bustle of the renowned rest stop, fifth wheelers are leaving the campground in droves and groups of motorcyclists are filling up their tanks for their own Sunday excursions. We sit down at a picnic table to enjoy the famous bacon sausages from the convenience store, already discussing our next bikepacking adventure in Réserve faunique des Laurentides.
ADVENTURE BIKING LIST: ITEMS AND GEAR
Bike
A bike in good mechanical condition with 700 x 50 or 29 x 2.0 tires or larger
Items to repair punctures (tubes, pump, tire wrenches, patches)
Allen key set
Bags for the transport of all your gear
Rubber straps to secure what you're bringing along for the ride
Navigation
Paper map
Map downloaded on phone (Avenza or Ride with GPS or other)
Camp
Lighter, matches, fire starter
Small saw
Rope and carabiners (to hang the food in the evening)
Headlamp
Garbage bag
Clothing
Bike kit adapted to the season for the daytime
Replacement kit adapted to the season for the evening
Waterproof kit
Swimsuit (or not!)
Water friendly lightweight shoes (Crocs style)
Sleep time
Tent or bivvy bag
Sleeping bag
Floor mats
Tarpaulin
Chow time
Food for meals and snacks
Bowl, utensils, and a good sharp knife
Portable stove
Eco-friendly dish detergent
Filter or tablets for water treatment
Keeping clean
Wet wipes
Eco-friendly laundry detergent
First aid kit (Polysporin, diachylons)
Digging tool (to bury human waste)
Mosquito repellent
Optional
Mini camping chair
Axe
Cast iron pan for wood fire cooking (yum!)
Spare tire + other components (spoke, speed cable, brake pad)
SPOT beacon (satellite communication and S.O.S. device)
Air-Medic insurance (evacuation, medical transport)
Bear repellent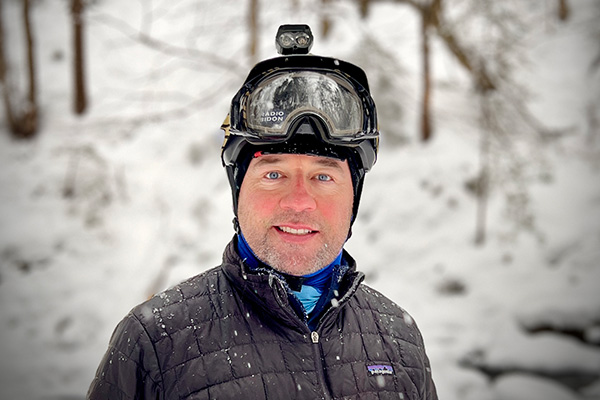 About Emmanuel Moisan
Summer or winter, and since his early childhood, Emmanuel is (almost) always ready to go play outside. Mostly biking, but also skiing and sometimes paddling, his adventures, big and small, are all opportunities for him to push his limits, recharge his batteries in nature, and have a great time with friends. With his partner, he co-directs the branded content studio la flèche, which they founded in 2014.