Heeding nature's call
Getting to know Vanessa Pilon
By Karina Durand
Whether it's on the red carpet at glamorous galas or on the glossy pages of women's magazines, Vanessa Pilon's luminous beauty is always dazzling. On the TV shows she hosts and on social media, where she is active, she is known for her boundless curiosity, her contagious energy, and her values surrounding responsible consumption, a topic she always addresses with a delicate touch.
Although she long considered herself a city girl, four years ago Vanessa decided to leave Montreal and settle with her family in the country, far from the cultural happenings and hip cafes of the big city. We wanted to find out more about what prompted her to get back to nature, so we invited her to come spend a few days with us in the great outdoors. Cross country skiing, snowshoeing, ice fishing… she immediately agreed, and it was beneath the snow-covered boughs of the fir trees that we fell under her charm.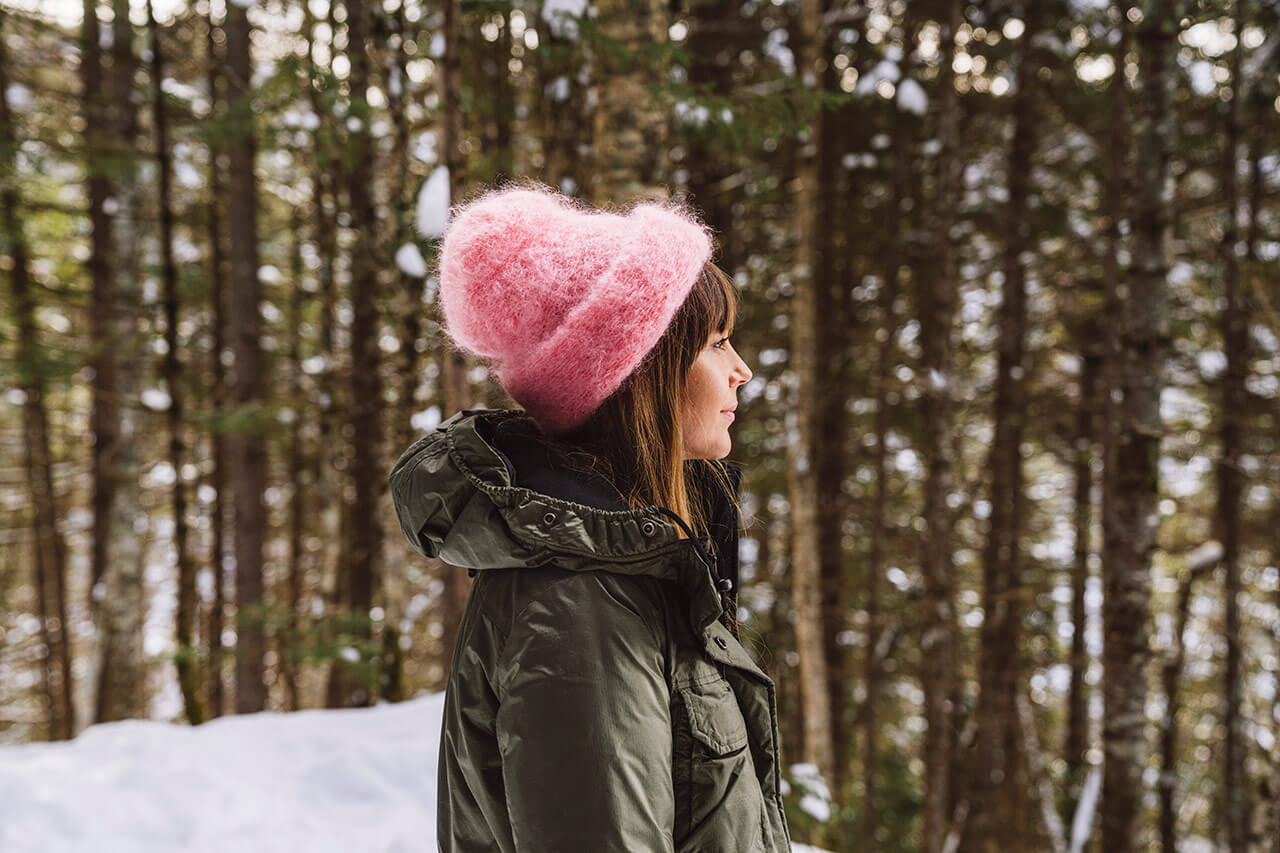 Three days of outdoor fun
Vanessa arrived at Bistro-bar Le Quatre-Temps at Auberge Duchesnay shortly after we did. We'd suggested meeting up for a chat over a cup of tea before embarking on a three-day nature adventure just outside Québec City.
We knew she loved winter, so we put together a full program: a day-long introduction to cross country skiing on the trails at Duchesnay, which is renowned for its excellent snow conditions. Next, we headed out for a snowshoeing expedition at Parc national de la Jacques-Cartier, where the trails are definitely worth a visit. Then, to top it all off, a day of ice fishing with the family at Portneuf Wildlife Reserve, an activity Vanessa had been keen to try for some time.
Right from the get-go, she was full of enthusiasm. "I'm so happy you reached out to me," she exclaims with a huge smile. "It's exactly my kind of invitation," she adds, her eyes sparkling with excitement.
In the cozy atmosphere of the bistro, we sat down at a table near a fireplace and she talked about moving out of the city, her love of nature, her travels around the world, and her eco-awareness.
From city to country
A graduate in journalism from Université du Québec à Montréal, Vanessa Pilon became a public figure in 2012 when she began hosting a segment of the daily TV show Salut Bonjour on TVA. In the years since then, she has done a range of TV hosting stints, including with channels VRAK, Évasion, ICI Tou.tv, and, more recently, Télé-Québec.
A much-admired fashion and beauty icon, Vanessa has upwards of 168,000 followers on Instagram, where she posts about the projects she's involved in, the causes dear to her heart, her favorite fashion looks, and her musings about family life in rural Québec.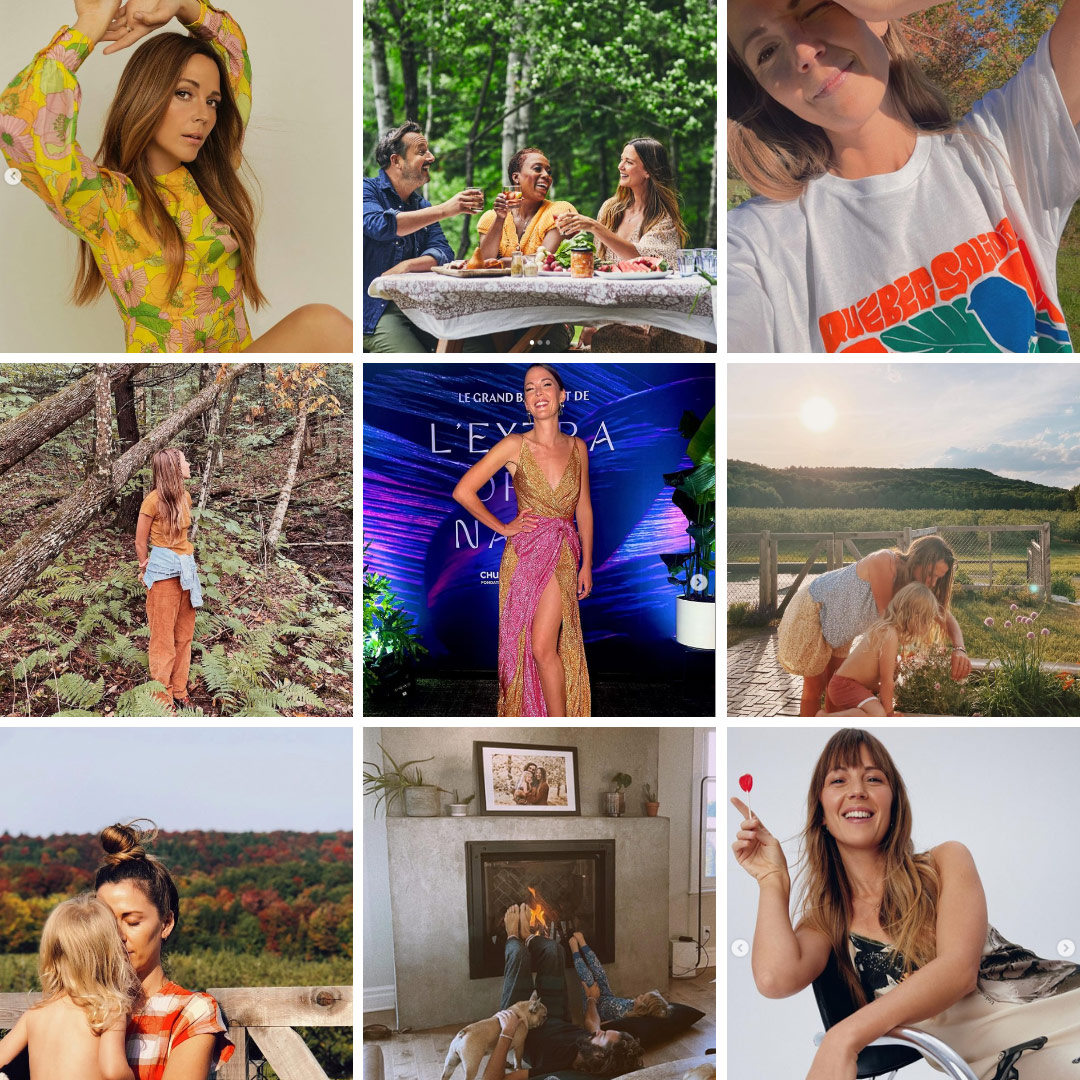 Photos courtesy of Vanessa Pilon's Instagram account.
The host and influencer, and her partner, singer-songwriter Alex Nevsky, have a young daughter, Claire, age four. In 2018, when Vanessa was a few months' pregnant, the couple, who are well known in Québec's artistic community, announced they would be relocating with their new baby to a rural area, far removed from the bustling streets of Montreal, where they were often spotted.
Having grown up in the suburbs, Vanessa long considered herself a died-in-the-wool city girl. "My parents were real city slickers, and outdoor activities were just not part of our life. But in my heart, I've always had a deep connection to nature," she confesses. And when she found out she was going to be a mom, that connection grew even stronger. "Wide open spaces bring me a real sense of relaxation. I wanted my daughter to grow up in world of calmness and serenity, surrounded by trees and natural light."
"Life in the city is such a rat race," she explains. "There's always so much going on, and everything moves so fast. In Montreal, being super busy and having lots of projects on the go, and being everywhere all at once, it's kind of the norm. It's an exciting feeling, but it's exhausting, too."
Getting away from the city was a way for Vanessa to extract herself from that constant hustle and bustle, and to refocus. Moving to the countryside was an opportunity to build a cozy cocoon for her young family where, surrounded by nature, she could be part of their daily lives.
Choosing nature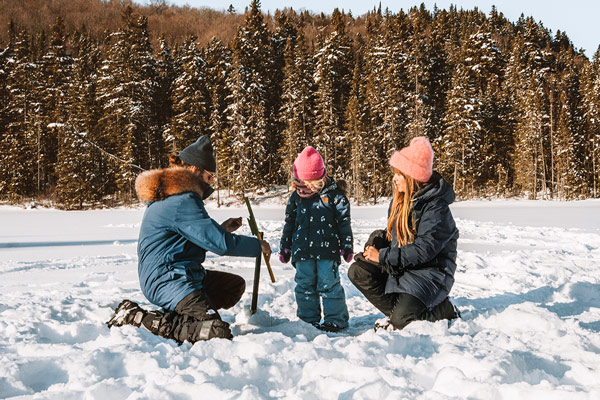 Video directed by Charles Boutin and Carol-Anne Tremblay (in French only)
In harmony with nature
According to Vanessa, being in contact with nature allows you not only to live in the moment; it also changes your perception of the world and of yourself. When you're in the forest, your ego is forgotten, you're no longer playing a role, you no longer feel the pressure to project an image or do what others expect of you. In a way, you rediscover your natural state. And it's the best way to reconnect with yourself, to learn to tune in to your inner voice again, that little voice that reminds us who we really are and what we really need.
Plus, nature forces you to slow down. "Because in the forest, everything moves slowly," she says with a laugh. In the city, you have everything at your fingertips, all the time. But when you decide to live out in the country, you learn to appreciate the slower pace of life, you become attuned to the natural rhythm of the elements, you adapt to the things you can't control, you learn to wait, and you learn to be patient."
"Getting back to nature really changed me," Vanessa admits. "It made me realize that life consists of cycles, and that simple observation gave me a more serene outlook on life. In nature, there's death and there's rebirth; it's the cycle of life. And with that awareness I became reconciled with death, with the idea that everything has a beginning and an end, and that in between, things change, too. They're transformed. Change is inevitable, and we have to come to terms with that reality over the course of our life. Because in the end, everything is cyclical."
Québec's distinct seasons are a good example of this. Vanessa described how she used to hate winter, to the point where she would escape to the farthest corners of the world to get away from it. Every year, she would go off traveling from January to March. "I eventually came to the conclusion I suffered from seasonal depression," she confesses, with a giggle. It was while she was in Sweden one year that she began to see things differently. Rather than resist the changing rhythm, temperature, and light, she understood that she needed to adapt to them instead.
Now, when the mercury drops and the days get shorter, Vanessa looks forward to the first snowfall and considers herself lucky to be able to enjoy the four distinct seasons in Québec. "It's amazing to see how nature transforms right before your eyes."
Exploring the world
Interestingly, before working in television, Vanessa was a tour guide. She would accompany school groups to all four corners of the globe, especially in Europe. It was a job that required her to be extremely organized, to read up on the countries she visited, to learn about their culture, their traditions, and their history. It was a job she did for eight years, one that allowed her to experience many memorable moments with her young charges, and one that transformed her not only into a globetrotter, but also into a well-prepared traveler. "I had to plan for the unexpected, and make sure everyone was okay. I felt a bit like a big sister to those teens," she recalls.
For a long time, traveling the world was much more than a passion for Vanessa. It was a lifestyle. She got the travel bug at around the age of 18, after her first solo adventure to Peru. When she got home, she landed an internship in China, where she lived for several months. After that, it was a whirlwind of travel. "I always had a plane ticket to somewhere in my pocket! I visited a wide range of countries, from Thailand to Morocco to France, Italy, Mexico, Guatemala, Egypt, Argentina, and many others. And I traveled a lot on my own," she adds.
When she's exploring the world, Vanessa likes to immerse herself in other cultures, get to know people, and get out into nature. She intentionally seeks ways to go beyond her comfort zone and experience the unfamiliar. Her most memorable experience was a two-week yoga retreat in a tiny village in the middle of the jungle in Sri Lanka. With no electricity, cell coverage, or Wi-Fi, the village was completely cut off from the outside world. That unforgettable voyage changed Vanessa's life, making her aware of certain automatic habits that pull us away from the present moment. "Now, when I get up in the morning, I start my day by admiring the mountain, not by reading my emails, the way I used to," Vanessa explains.
Since she's become a mom, Vanessa now travels with her family, only at a different pace. "We travel in a slower mode. It's not so much about visiting tourist destinations and having long lists of things to see and do. We settle somewhere, we go with the flow, we improvise. It's a different way of discovering the places we visit, and it's a way of traveling that I'm growing to enjoy more and more," she notes.
These days, Vanessa's list of dream destinations includes Iceland and Japan, and also Bhutan, a little-known Buddhist country in Southeast Asia. "I'm intrigued by and drawn to Buddhism. I'm always on the lookout for experiences that offer me a new perspective and broaden my horizons. I'm fascinated by temples and monasteries," she says, her eyes shining.
Taking eco-awareness to heart
While Vanessa has always been committed to protecting the environment, her move out of the city only heightened her eco-awareness. Being rooted in nature on a daily basis, she realized that everything we consume comes from nature and, ultimately, returns to nature. "To make a wooden table, you have to cut down a tree. And growing a tree takes resources and time. Lots of time. Living in nature has strengthened my values about responsible consumption," she says.
For a number of years now, she has not merely sought to reduce her ecological footprint; instead, she tries to give back to nature, to co-create with nature. "Now, I try as much as I can to make environmentally friendly choices, and I also try to give back to nature. We have a big garden at home, and we compost, for example. I also want to use my voice to influence people, to help them reflect on the choices they make," she stresses.
For instance, Vanessa has started to take advantage of her celebrity to voice her opinions on ethical fashion, notably via her Instagram account. What exactly is ethical fashion, you may ask? It is an approach that considers the consequences of our consumption of clothing and beauty products on the economy, human beings, and the planet.
"I first developed an awareness of this issue when I was in my early twenties. I was living in China at the time, and my apartment was right next to a textile factory. The working conditions of the employees there were terrible, and it troubled me. That's when I realized that when we make the decision to buy clothes that cost next to nothing, someone somewhere is paying the price."
Over time, she became more aware of the environmental impact of our consumption habits. After watching a number of shocking documentaries and reading up on the hidden side of the fashion industry, Vanessa came to understand the severity of the problem. And the role she could play as a public figure by setting an example and sharing what she had learned about the issue.
"Now when I buy something, when I buy anything, I try to check as many boxes as possible on my list of criteria for responsible consumption. But it's not always easy. We live in a world where there's enormous pressure to consume. There's always the urge to buy something new. You always feel like you need more," she remarks. "We need to quell that insatiable urge and unlearn those reflexes that do nothing in the way of good for humans or the environment."
What habits does Vanessa suggest people adopt to consume more responsibly? First, buy less: ask yourself whether you really need whatever it is you have the urge to buy. Next, check that the raw materials contained in the items were produced fairly and sustainably. Then, as a rule of thumb, take your time before making a purchase. Read up on the companies that manufacture the goods, encourage local businesses, and opt for sustainable, superior quality products that can be reused or recycled. And lastly, remember that every gesture matters, no matter how small. "If millions of people take small actions, it will lead to better results than if only a handful of people make perfect choices," she insists.
Closer to the elements
Even though Vanessa has opted to get back to nature, she doesn't necessarily define herself as an outdoorsy type. "I love being outside, but I rarely have a set goal when I'm out of doors. I enjoy the moment, I soak up the natural light, I contemplate my surroundings." Her favorite activities include going for walks in the woods, picnicking, sitting around a campfire, cycling, and swimming, because they require little advance preparation and equipment. As Vanessa puts it, "When I'm out in nature, I switch modes. I go from doing to simply being."
And it's that state of mind she tries to instill in her young daughter. When they play together outside, it's not always in the form of an organized activity. They like to touch and observe things, to identify plants, mushrooms, and trees, and to enjoy the natural playground the forests offer. In short, what Vanessa seeks is the feeling of well-being that a close connection to nature can provide. "Being close to the elements makes me feel free, and that feeling helps both to relax and revitalize me at the same time," she says in a gentle voice.
Whether she's striding down the red carpet in a chic made-in-Québec creation or enjoying a cup of tea at a café, sporting a cozy wool sweater, Vanessa Pilon always cuts a stunning figure. But with her cheeks rosy from the cold and her long hair shimmering in the winter sun, she's as radiant as can be. She's happy being outdoors, and it shows. After all, the great outdoors works its magic in many ways, and making one's natural inner beauty shine is just one of them!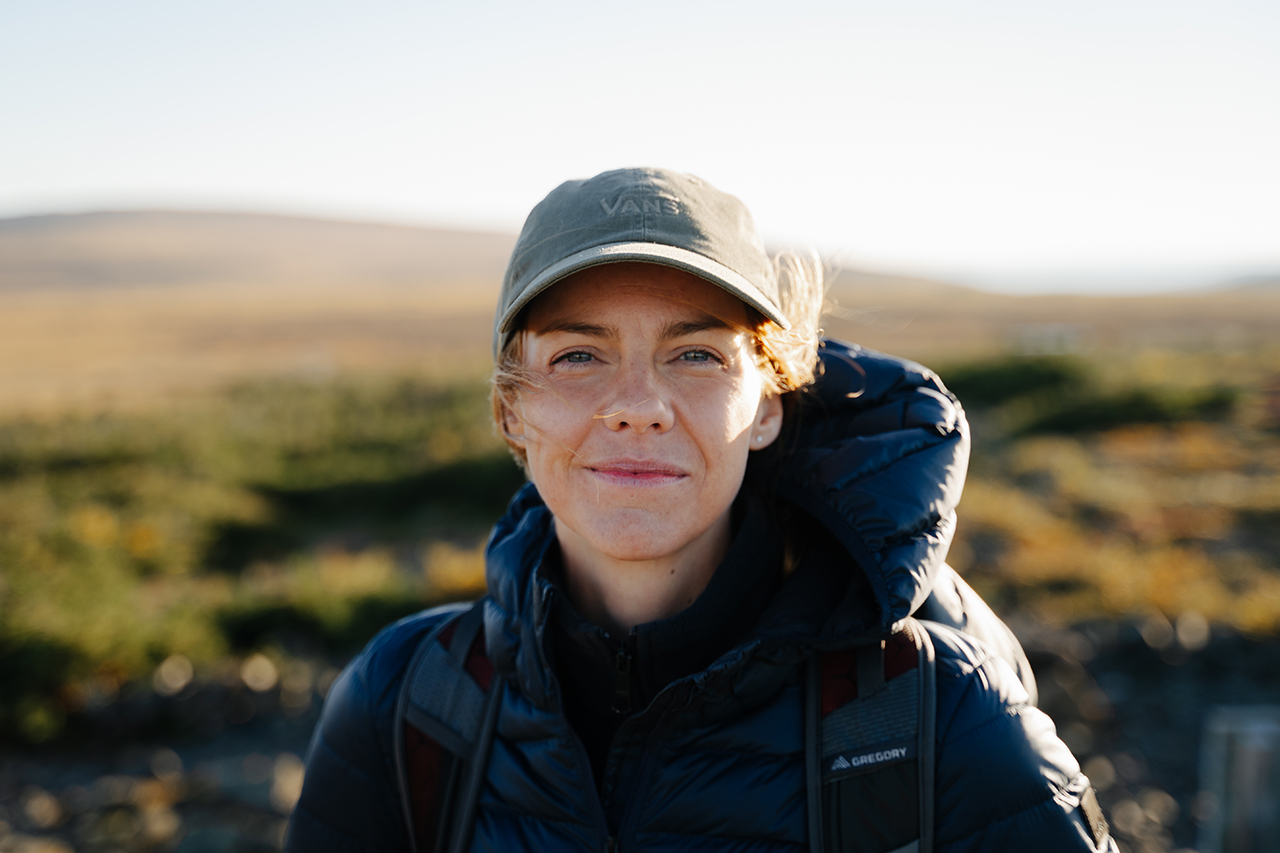 About Karina Durand
Aside from walking alone in the forest, Karina enjoys trying her luck at fishing, grilling hot dogs over the coals of a campfire, reading at the end of a dock, and swimming in a lake when it rains. She has been Sépaq's content strategy director since 2017.