Additional information: cabin, camping, and Auberge McDonald stay
Additional information
Cabin, camping, and Auberge McDonald stay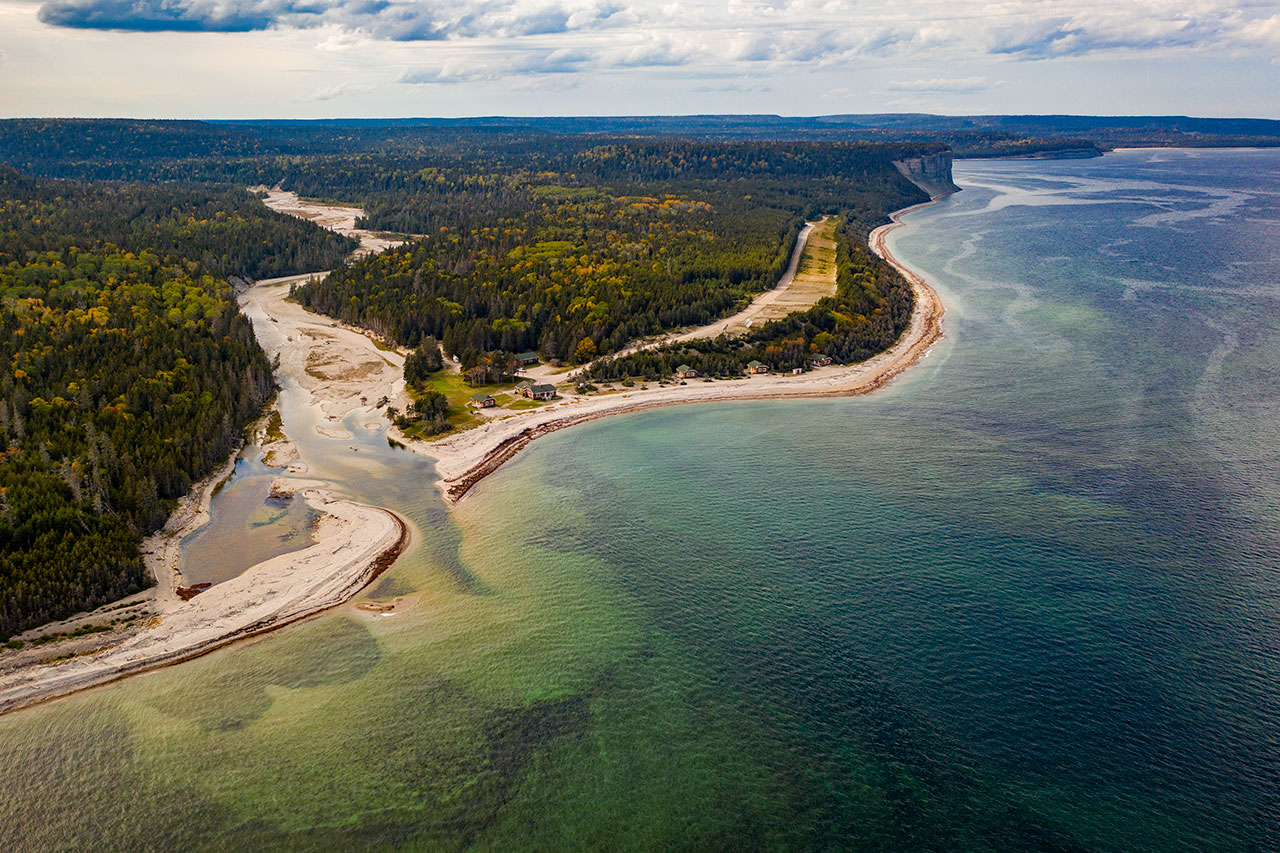 Getting around the island
On the day of your arrival, go straight to your place of accommodations. Take advantage of the daylight to travel, as the distances are sometimes long. Be careful on the roads, wildlife is abundant. Your vehicle is equipped with a radio so you can communicate with the Sépaq Anticosti team should the need arise.
You'll probably find the island to be much bigger than you imagined. To appreciate you stay and to enjoy the beauty and riches of Anticosti nature, make your way to the McDonald or Port-Menier Visitors Centres to better plan your activities and save time when you travel on the island. Don't worry, it's impossible to see everything on your first visit.
Play it smart and download your maps in advance as the cellular network is not available everywhere on the island:
Note that the Avenza Maps allows you to geotag your location on our territory maps. To read one of our maps using Avenza Maps, download the maps from the Avenza Maps mapstore.
Gas stations
If you're passing by, fill'er up!
Chicotte-la-Mer Visitors Centre: open from 7 a.m. to 8 a.m. and 4 p.m. to 6 p.m.
Town of Port-Menier: open from 8 a.m. to 5 p.m.
Family stay
Are you bringing young children along with you? Call us at 1-800-463-0863 to reserve a car seat, highchair, or playpen.
Food services
For guests staying in cabins or who are camping, the two inns offer gourmet meals.
Staying at Auberge McDonald? Delicious meals are included in your package and served in the large dining room of the inn. Boxed lunches will be prepared for your daily excursions at no extra charge.
Auberge Port-Menier
Located in Port-Menier village. Discover the menu.
Auberge McDonald
Located about 50 km from Parc national d'Anticosti. You can book by radio communication 24 hours in advance. Discover the menu.
Lunch from 11:30 a.m. to 1:30 p.m.
Dinner from 6:00 p.m. to 9:30 p.m.
Suggested itinerary
Day 1: Arrival in Port-Menier
Cultural visit to the village of Port-Menier and its surroundings:
Anticosti ecomuseum
Château Menier site
Gravestone of Sorcerer Gamache
Stroll through the village along its picturesque streets, exploring Rue du Cap Blanc, the wharf, and the entire length of the canal.
Day 2: Vauréal Canyon sector
Hiking in Canyon-de-la-Vauréal
Stop at the Vauréal waterfall observation deck
Hiking Les Pins-Blancs trail
Day 3: Baie-de-la-Tour sector
Hiking Les Télégraphes trail
Exploring the seaside at Baie-de-la-Tour, an ideal site for a picnic
De la Chute trail
Day 4: Canyon Observation sector
Hiking Les Falaises and Le Brûlé-de-1955 trails
Day 5: Grotte-à-la-Patate sector
Hiking Grotte-à-la-Patate trail
Visiting the cave
Day 6: Departure
Return home, with enough memories to last a lifetime.