Additional information: Auberge Port-Menier stay
Additional information
Auberge Port-Menier
By staying at Auberge Port-Menier, you'll benefit from a turnkey package offering a gentle outdoor adventure and discovery of many treasures of Anticosti Island. At the end of each day, you can gather at the reception desk of the inn where a member of our team will provide all sorts of tips to help you plan meals, activities, and modes of transportation for the day ahead.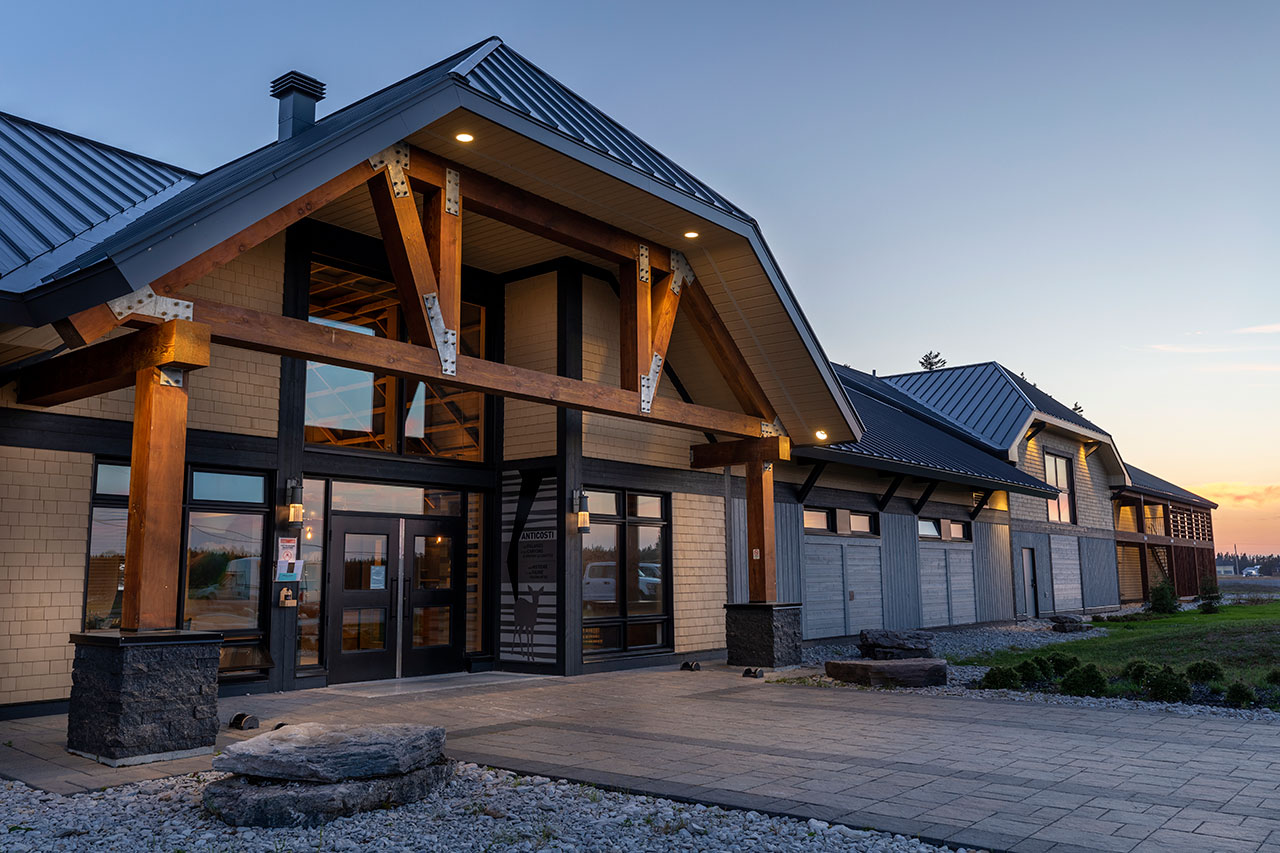 Getting around the island
The day after your arrival, you'll be offered e-bikes and fatbikes to discover the attractions surrounding the village. These points of interest are located at a distance varying from 25 to 40 km round trip on a forest road. Safety helmets will also be provided.
You can also rent a vehicle* to check out the island. Vehicles can be booked on site only. The rental cost is $150/day (plus taxes) and gasoline fee applies (approximately $125). Take advantage of daylight to travel; distances on Anticosti are sometimes vast. Be careful when driving on island roads; Anticosti is teeming with wildlife.
*Check with your insurance broker to find out if you have QEF no. 27, covering a vehicle valued at $45,000. Each driver must provide a photocopy of this proof of insurance.
Be smart and download your maps in advance as the cellular network is not available everywhere on the island:
Note that the Avenza Maps allows you to geotag your location on our territory maps. To read one of our maps using Avenza Maps, download the maps from the Avenza Maps mapstore.
Meals
Delicious meals are included in your package and served at the inn, which includes a large dining room with a fireplace and a terrace overlooking the bay. Box lunches for your daily excursions will be prepared at no extra charge.
Kitchen hours
Breakfast from 7 a.m. to 9 a.m.
Lunch from 11:30 a.m. to 1:30 p.m.
Dinner from 6:00 p.m. to 8 p.m.
Equipment in the rooms
The rooms of the lodge have the following facilities:
Double beds
Extra beds
Desk
Mini fridge
Keurig coffee maker
Telephone
Alarm clock
Television
Umbrella shower
Hair dryer
Samples for personal hygiene
Drinking water
Suggested itinerary
Day 1: Port-Menier sector
Cultural visit to the village of Port-Menier and its surroundings.
Château Menier site
Gravestone of Sorcerer Gamache
Stroll through the village along its picturesque streets, exploring Rue du Cap Blanc, the wharf, and the entire length of the canal, where you can check out various species of birds and exceptional terrestrial wildlife.
Day 2: Baie-Sainte-Claire and Pointe-Ouest sector
Exceptional places for wildlife photography, including foxes, deer, and birds of all kinds.
Site of the lime kiln
Old cemetery hidden in the forest
Wreck of the Calou
Day 3: Parc national d'Anticosti sector
Day trip by shuttle accompanied by an experienced guide.
Important: the date of this visit is pre-assigned during the stay. The departure is at 8 a.m. and the return at 6 p.m.
Chute Vauréal waterfall
Canyon de l'Observation river canyon
Shipwrecks and seaside
Day 4: Lac du Ruisseau sector
Pedal along the seaside in search of unique water phenomena.
Visiting and hiking at Chute-à-Boulay waterfall
Nautical activity (kayak, canoe, or paddle surfing) on the Anticosti trademark clear waters of Lac du Ruisseau
Day 5: Anse-aux-Fraises sector
Contemplation and geological discoveries.
Exploration and pleasure stroll
Remains of a village
Fossil zone at Cap-de-la-vache-qui-pisse
Visit of the new oyster farm facilities (oyster cultivation)
Day 6: Departure
Return home, with enough memories to last a lifetime.