New hunting territories for Sépaq Anticosti
New hunting territories for Sépaq Anticosti
New hunting territories totalling nearly 1500 km2 and located at the heart of the "Pearl of the Gulf of St. Lawrence" are accessible since the 2022 season. Sépaq Anticosti operations encompass nearly three quarters of our deer island, a national treasure of great value to Quebecers that is be more accessible than ever to one and all.
The new high-quality facilities – 2 lodges and 15 cabins with a total of 51 rooms – as well as 6 new hunting sectors enable even more hunters to realize their lifelong dream of stalking deer on the natural jewel that is Anticosti Island.
In keeping with its commitment to the island community, Sépaq Anticosti promote and make use of local expertise and purchases from nearby businesses.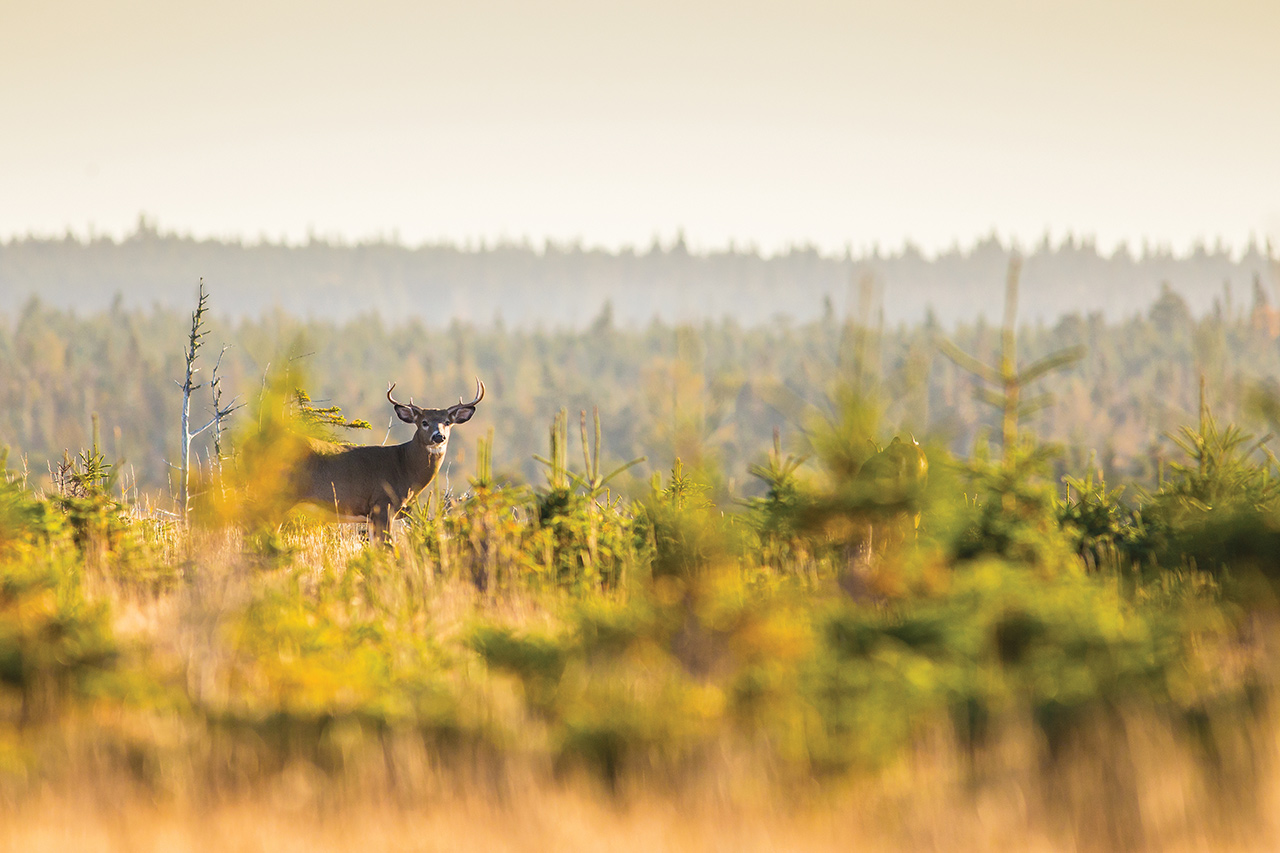 New hunting sectors
Map of sectors acquired by Sépaq Anticosti
Frekently asked questions
What will Sépaq own as of December 5, 2021?

Exclusive operating rights for hunting, fishing, and trapping encompassing a territory of 1,500 km2 divided into six hunting sectors (Chaloupe, Rivière-Bell, Aquila, Dauphiné (north and south), Box, and Lac-Renard), including two lodges and 15 cabins with a total of 51 rooms, all of which are of high quality and in excellent condition. The agreement also provides for the possibility of long-term use of Rivière-aux-Saumons airport, owned by the Safari Anticosti outfitter, for Sépaq customers and employees, and the use of existing infrastructure (bridges, roads, trails).

What will be the impact on Sépaq Anticosti's current customers?

There will be no impact on Sépaq Anticosti customers. Sépaq will contact Sépaq Anticosti customers to inform them of the situation. Those who wish to ask specific questions on this subject can call 1-800-463-0863. The timing of the sale of stays in the new sectors is still to be determined.

What will be the impact on Safari Anticosti's current customers?

There will be no impact on stays booked in the fall of 2021 for Safari Anticosti customers. Those affected by this transaction and who are interested in continuing with Sépaq will have the opportunity to do so. Safari Anticosti will contact its customers to inform them of the situation. There is no impact on Safari Anticosti clients who stay in the Saumon and Relay sectors.

How can a hunter who has never been hunted at Sépaq Anticosti have access to a package?

Each year, a number of Sépaq Anticosti packages are offered during the big game random draw. Interested parties can sign up to try their luck. Over the next few months, Sépaq will be analyzing the possibility of adding more offers and packages in the new Sépaq Anticosti sectors. The offer available after the hunting season at Sépaq Anticosti will be announced around December 10, 2021.

Are you going to develop resort and fishing activities in these new sectors?

The possibility of further development will be analyzed in the months ahead. Sépaq is currently concentrating on a harmonious and respectful transition for employees and customers who wish to continue with Sépaq.

How does this make Anticosti Island even more accessible to Quebecers?

Sépaq Anticosti offers stays over a longer period during the fall, particularly in September, October, and November. This means that more hunting enthusiasts will have the opportunity to come and enjoy a Sépaq Anticosti stay. Sépaq will apply its price list and packages to the entire new territory, including eventually the introduction of certain more economical non-guided stays in this new sector.