Day fishing
A practical guide for apprentice enthusiasts
Learning to fish isn't rocket science! Sépaq offers hundreds of lakes for a first single-day fishing experience. To help you plan this outing, our experts have put together a short guide that identifies the steps you need to take to make your fishing day an honest-to-goodness success.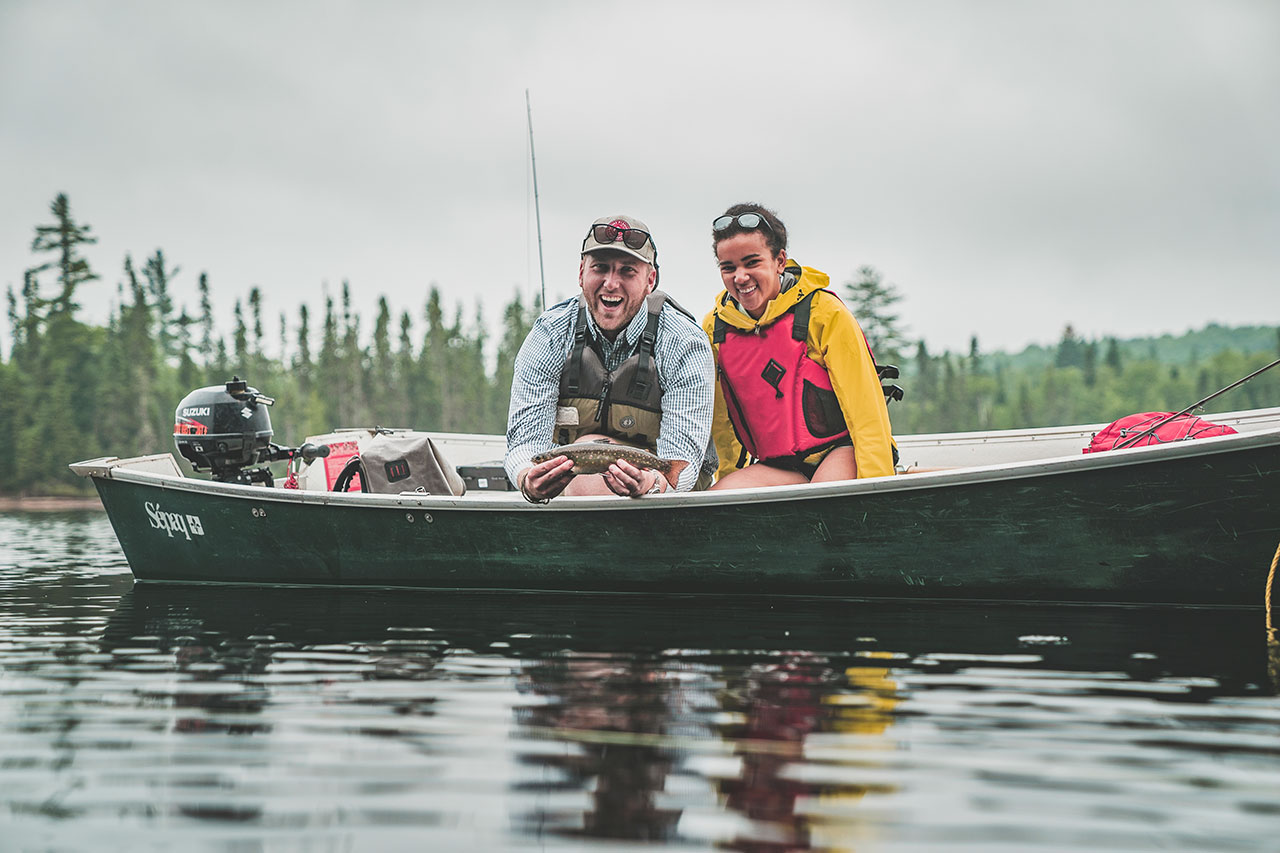 Steps to follow for a successful fishing day
At home
Use virtual ticketing
Rights of access to day fishing
By printing your own right of access or downloading it to your phone, you'll avoid going to the registration centre so you can hit the lake at the time that suits you best.
Tricks of the trade:
Add filters to optimize your search for a waterway that meets your needs (fish species, distance to travel, vehicle type, etc.).
Check the specific information for the waterway you're eyeing before confirming your booking. For example, access to certain bodies of water requires portaging, and a sport utility vehicle (SUV) is needed to navigate some roadways.
Did you know…? You can choose from 12 species of fish on our 500 lakes offered exclusively for day fishing. The speckled trout is certainly the favorite species for initiates. It is also the most popular fish species in all of Quebec.
Buy your fishing licence
Make sure you have a fishing licence and proof of navigation proficiency if you're considering using a motorboat. If you don't have a fishing licence, please note that we sell them at all our registration centres. You can also purchase it online.
Plan your visit
Be smart and download your maps in advance. Most of the time, the cellular network is not available where you're fishing. You can download:
Maps of the territory via the Avenza Maps app

This mobile application lets you geolocate exactly where you're at from our different maps of the territory. To read one of our maps through Avenza Maps, just download the maps from the Avenza Maps Mapstore. You can access the maps directly in the app or by way of their website.
On your fishing day, you'll probably be driving on gravel roads. Assess in advance if your vehicle is suitable for this type of terrain.
Check out our digital tools
What to bring
Gear
Consult our checklist to make sure you don't forget a thing!
Motor
To make your fishing experience a resounding success, we suggest that you bring or rent a motor in advance if you visit a wildlife reserve. Please note that electric motors or 2.5 hp superlight gasoline motors are available for hire. They're ideal for small and medium-sized lakes. We rent out a number of higher power motors as well.
On site
Enjoy the moment
Sport fishing is primarily about the pleasure of the activity itself. Patience, experience, and knowledge can make for a better catch.
A great way to enjoy the experience in the most down-to-earth way is to cook your own freshly caught fish. Take a look at the advice of our experts:
A few notes:
Any fish you cook must be included in the permitted catch limit.
Lakeside fires are prohibited in national parks.
Catch and possession limit
The maximum number of catches, kept or otherwise, for each of your chosen species is indicated on your booking confirmation.
Throwing back a catch
For conservation purposes or due to the regulatory measures in place, "throwing back" is a common practice. To help these catches survive after they've been thrown back, a few simple precautions can be taken to minimize injury to the fish. Learn about the best "throwing back" practices (video in French only).
Following your fishing day, you're required to register your catch. Please follow the guidelines for the Sépaq establishment you're visiting.
You have questions?
Call us! Our fishing experts are there to advise you.