Accessible and rewarding activities
10,000 specimens representing hundreds of different species of marine mammals, fish, invertebrates and amphibians. A playground that is full of life!
Inside the main pavilion, freshwater galleries feature a number of Québec species. In the deep ocean tunnel, underneath 350,000 litres of salt water, you will instead discover the Pacific Ocean and the universe of scuba diving. Children can visit a amphibian exhibition and also touch, with their very own fingertips, a wide variety of invertebrates, such as starfish, in the Coastal Zone. In the deep-water pavilion, children will be amazed by jellyfish and seahorses. They can also stroke the rays in their pool.
Outside, you can see our harbour seals, polar bears, arctic foxes and birds of prey all year long. On beautiful summer days, you and your family can enjoy the water games, play modules, and Hebertism circuits that are safe and suitable for young people. Stroller-accessible trails criss-cross the site. Bring a picnic and enjoy the view of the St. Lawrence River and Québec Bridge.
To satisfy any appetite, large or small
Inside the main building, sandwiches, salads and snacks are available at the Aqua Bistro. During summer, Alizé restaurant, with it beautiful terrace, offers cafeteria-style meals, including daily specials, salads, and much more. The dairy bar is near the terrace, and the Espace BBQ snack-bar, not far from the playground, features a BBQ-style menu. Several picnic areas are also available on site.
Are you planning a family gathering or children's party? The Aquarium halls can receive and lay out a feast for groups of all sizes.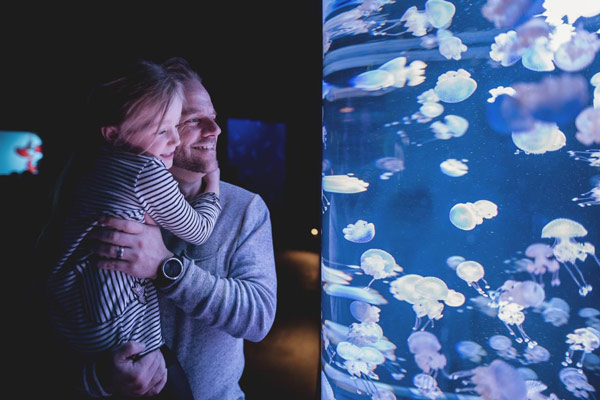 In winter, the family is always more than welcome
The Aquarium du Québec is open all year round. Many activities take place inside, sheltered from inclement weather. Outside access ways are cleared on snow and so it's easy to explore the site with your children on foot, by stroller with big wheels or sleigh.
More services to simplify your life
Please consult the list of equipment loaned without charge or for rent.
A private and comfortable nursing room and a lunch room with a microwave oven, tables, and high chairs are available in the main building. Please consult our family services.
A children's menu is offered at Alizé restaurant and the Aqua Bistro.
Changing rooms are located near the water games.
Don't forget the souvenirs
A vast array of souvenirs, clothing for adults and children, discovery products for the young, and outdoor merchandise can be found at the shop at the reception pavilion.

What is the Sépaq Family Experience?
Affordable prices and a number of complimentary activities for youngsters 17 and under
A vast array of rewarding activities adapted especially for the family
Equipment provided free of charge to simplify your life (in most destinations)
A warm welcome and a flexible family-friendly approach
Accommodation options for each and every budget
Look for the seal that identifies experiences especially designed for families!