Grandparent Fridays
For a successful family outing
Great news! Access to all national parks is now free of charge for grandparents with their grandchildren on the last Friday of each month.
From September 27, 2019 until the end of June 2020, the 23 national parks of the network will open their doors to grandparents who want to seize these precious moments of quality time with their grandchildren. And it won't cost anyone a dime!
Here are some activity suggestions to take advantage of this brand-new offer.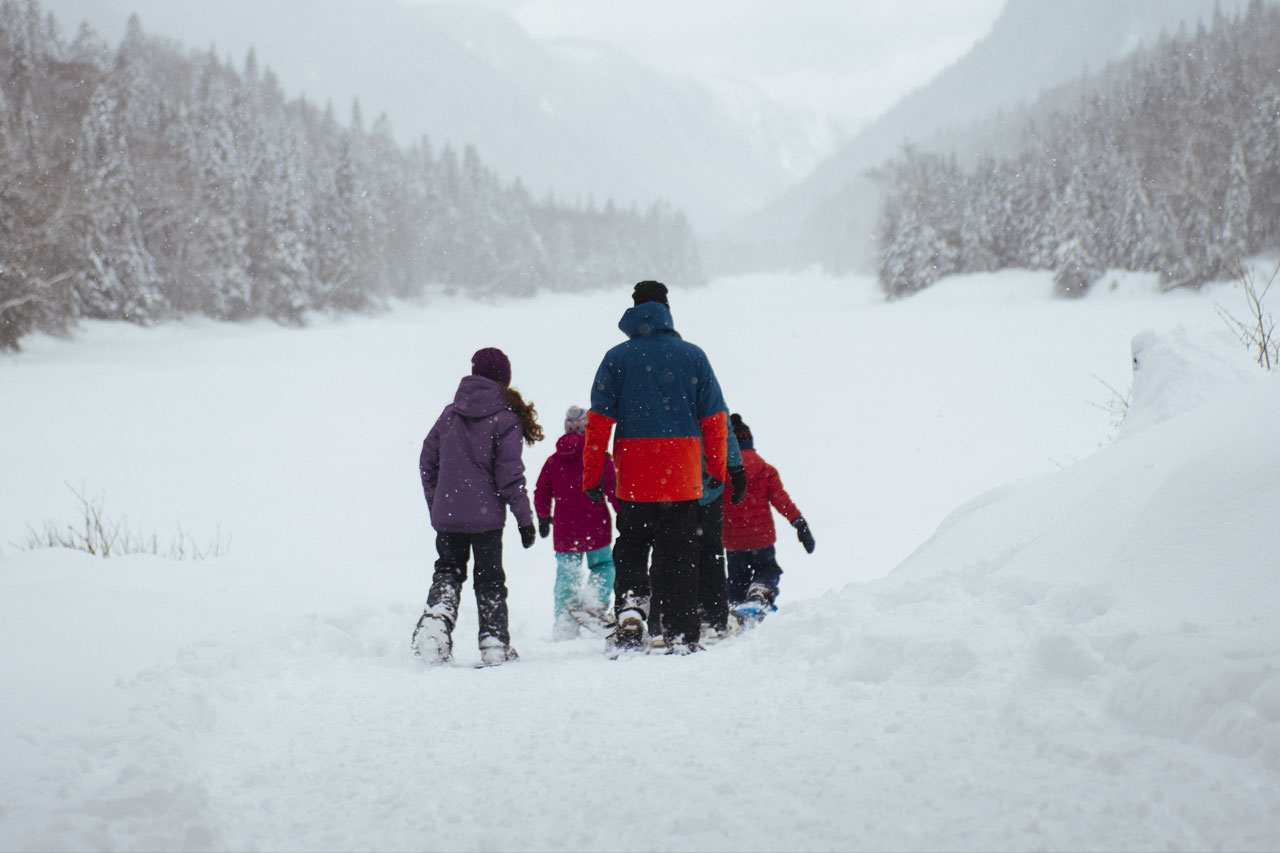 During fall
There's nothing like an outing in Quebec's most beautiful world of nature to enjoy the season of colours. In addition to discovering our national parks absolutely free of charge, your grandchildren aged 17 and under will have complementary access to a host of equipment normally available for rent. A nice way to discover a new outdoor activity!
An intergenerational hike among the leaves
The forest, leaves, clean air, and the pleasure of getting together with your family… a wide range of hiking trails in national parks will set the stage for this perfect scenario.
Meanwhile at Parc national d'Oka, big-wheel-stroller-accessible L'Érablière trail will charm young and old alike during the magnificent fall colour season. After this short 25-minute hike, you can stop for a while at the beach to build a sandcastle, while dreaming about the summer that just ended.
At Parc national du Mont-Saint-Bruno, a 45-minute stroll down Saint-Gabriel trail is a must for walkers of all ages. Complete your outing by swinging by the orchard to pick crisp and yummy apples.
Two wheeling in colour
If you'd rather opt for a bike ride, Parc national des Îles-de-Boucherville and its La Grande-Rivière trail await you only minutes from downtown Montreal. You don't have a bike? No problem! You can rent one on site, and they're free of charge for youngsters 17 and under.
Regardless of your choice of destination, always keep your eyes peeled! Wildlife is very active during fall in our national parks. You might even be lucky enough to spot some superb specimens with your family. Your grandchildren are sure to be mighty impressed!
Please note as well that play modules for children are available in a number of parks. A perfect way to top off a day after a nice hike!
During winter
In winter as in fall, outdoor equipment rental and access to winter trails are free of charge for youngsters 17 and under. This way you can introduce your grandchildren to cross-country skiing or snowshoeing and show them YOUR true colours!
Snowy trails in the heart of the forest
Snowshoe down these magnificent snowy trails with your family and take advantage of the best that winter has to offer. For an outing near Quebec City, Parc national de la Jacques-Cartier is a must. Less than three kilometres in length, La Tourbière trail will take you to a peatbog, a birch stand, and a hardwood forest. You'll have the impression of being in contact with an authentic world of nature.
Closer to Montreal, Lac-des-Femmes trail, in Parc national du Mont-Tremblant, remains a classic for snowshoeing in the woods. This less-than-five-kilometre-long loop is perfect for young walkers, and for their grandparents as well!
Meanwhile if you're a cross-country skiing enthusiast, consider swinging by Parc national du Mont-Saint-Bruno to try the brand-new Sur la piste des Cubes énergie circuit. Developed in collaboration with Grand défi Pierre Lavoie and La Petite Expé, this pleasant formula is a perfect way to familiarize youngsters with cross-country skiing in an enjoyable and relaxed context… absolutely free of charge! The park includes a learning area for equipment trials and for sliding too. Once they feel confident, a 600-metre loop is at their disposal: a no-pressure way to get acquainted with the pleasures of track-set trails.
Skating, snow tubing, fishing, and biking!
Your grandchildren's batteries are still fully charged? No worries! Our national parks offer even more activities where they can spend that excess energy during winter!
For example, there's the 350-metre ice pathway at Parc national de la Jacques-Cartier where they can skate in a simply magical setting. A heated cabin is available on site. Remember to bring your skates as this type of equipment is not available for rent. You can also combine this outing with a stop at the inner tube slide located right by the ice pathway. A good chuckle is guaranteed for one and all!
If you're an angler wishing to continue the tradition in winter, please note that you can do some serious ice fishing at Parc national des Grands-Jardins. This unusual but very original activity is sure to charm your grandchildren!
Finally, young people and grandparents who are a little more athletic will be delighted to learn that fatbike trails for snow cycling are offered in a number of national parks. In the Eastern Townships region, Yamaska and Mont-Orford national parks stand out due to their array of trails for all levels surrounded by the magnificent forests of the region.