An urbanite on the run... during the night at Îles‑de‑Boucherville
In collaboration with Mathieu Charlebois.
Mathieu was born in the city, grew up in the city, and expects to die in the city, falling into a pothole two metres deep. He went into the woods once, in 2011 or thereabouts, because of a mix-up with Google Maps. Since then, he has been living in the shade of the city's cement trees and only venturing out into the wild by accident.
Sépaq managed to send him to play in the snow by luring him with a hamburger and fries.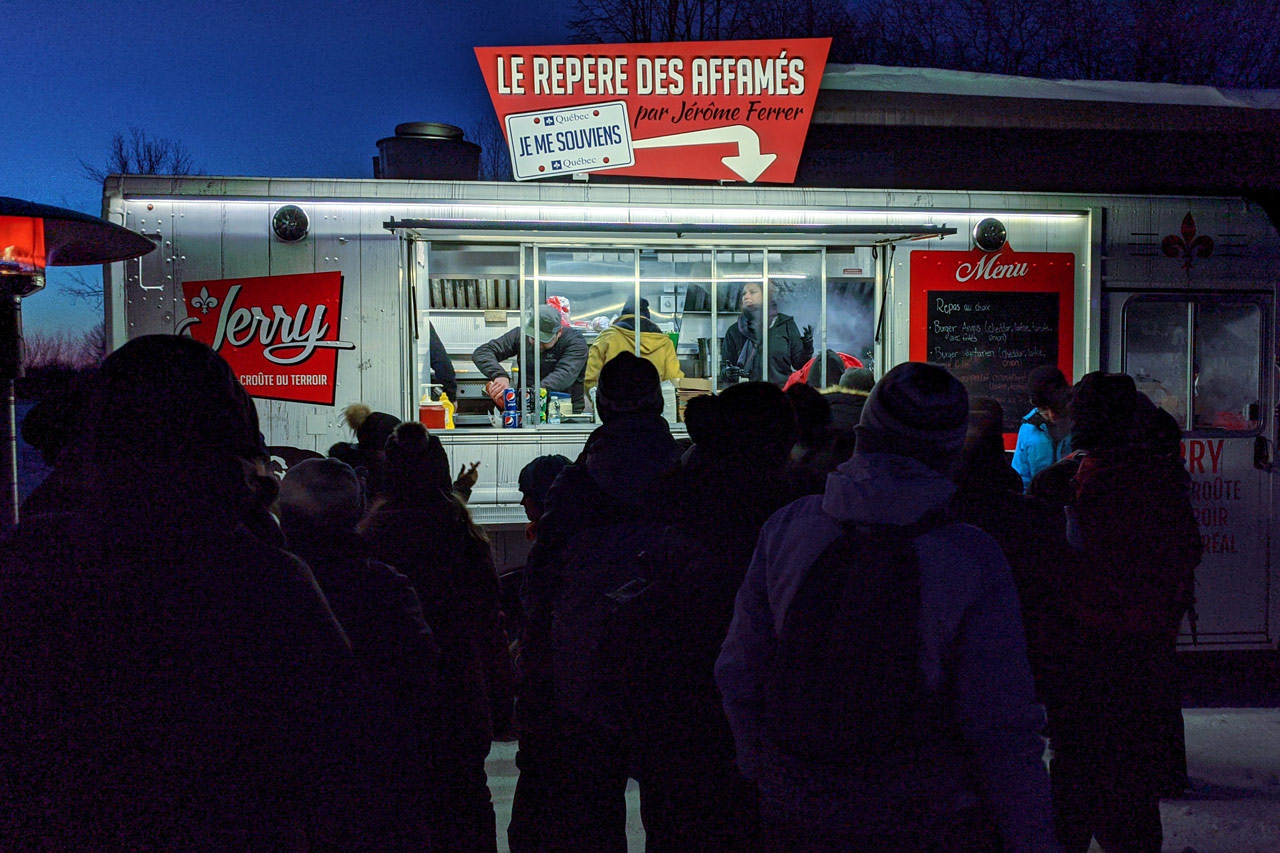 It's 8:00 p.m., it's cold, and I'm walking along a path in the shade of the lights of the refinery that's smoking up a storm across the water. In the sky, the moon is as full as my nose is cold, and I can hardly believe that this is how I'm spending my Saturday night. I have to confess: this is not exactly where I thought the glamorous author's life was going to lead me.
How did I get here? It all started a few weeks ago, when Ms. Sépaq (Sylvie Sépaq, full name) called me.
- Hey Mathieu! Do you want to go walking in Parc national des Îles-de-Boucherville on Saturday night?
- Well...
- There's gonna be food.
- I'M ON MY WAY!
In winter, Parc national des Îles-de-Boucherville organizes "Mobile Cooking and Hiking on the Islands" evenings (in French only), where you can enjoy street food before heading out on the illuminated trails. I couldn't refuse this generous offer, which combines my two passions: eating and stuffing my face. And walking, too. Since I have to.
Just to be a cool uncle, I invited my nine-year-old niece to join me for a hot chocolate and marshmallow party. You can't attract foodie flies with balsamic vinegar!
Fried food before exercise
That night, Jerry Ferrer's truck was feeding the assembled and refrigerated crowd. On the menu: poutine with truffle sauce, assorted meatballs between two loaves of bread, and tasty deep-fried French fries. After all, just because you're going for a walk in the wilderness doesn't mean you have to eat healthy grub.
It's the "squirrel" technique: if it's -28 degrees Celsius, a little coat of fat under your real coat is not too much of a cushion.
Also not too much: those little pouches that warm up by themselves when you take them out of their packaging.
I didn't know about these wonders until my sister slipped them into my mittens and boots and oh my God, how did I survive until I was 38 years old? Do you know what it feels like to sit on a heated car seat? That soft warmth that makes your butt feel like a delicious little grocery store roast chicken under the red lights of a display? These pouches are the portable version of that sensation. True magic!
And so, with a vegetarian burger under my belt, armed with foot warmers, mitten warmers, and two of those little pouches tucked into the back pockets of my jeans (because why not), we set out on a five-kilometre walk.
Hit the road, Matt!
The instructions are simple: follow the path lined with small lanterns.
The full moon, also known as the space lamp post (No? Am I the only one to see it that way?), lights up our path as much as it can. Really, it's the perfect activity to do with people you don't really want to see.
The sinister silhouettes of the trees transport us to the set of a Tim Burton movie. Their shapes are frightening. Here, it's like a monster with big arms. There, a giant ready to devour us. The tree in the distance? It's like a Rush fan who insists on playing the band's greatest hits. Terrifying.
My niece, on the other hand, is not afraid. For a good half hour, she named every tree we passed. If you go to this park, say hello to Stéphane, Pelle, and Chou-fleur from us. Especially Chou-fleur. He was really swell!
A well-deserved little break
Midway, a fire and tales await us. One warms our bodies, the other warms our minds, and the whole thing completely transforms me into a two-bit poet.
As we recover some sensation in our limbs, a guide reads us texts by Serge Bouchard, where the lives of different animals are told from the point of view of the animal in question. My niece loves to hear about the raccoon, and here we are ready to set off again for another two kilometres, at the end of which we'll find the promised hot chocolate and marshmallows.
The return trip
The trail, punctuated with cries of "Are we there yet?" courtesy of my niece, is bordered by treeless landscapes that look like lunar plains. It's like being on another planet, or on Earth in 50 years if we don't deal with climate change.
The main interest of the activity is here, in this change of scenery. Trees and shrubs and trails, we've all seen it before... in broad daylight. But at night, it's a whole other kettle of fish.
It's all beautiful, enigmatic, and undeniably chilly at the same time. Hot chocolate will be a necessity, not just a treat!
The next morning, when she woke up, my niece said, "It was really cool last night. We walked for a long time in nature and at one place we could sit and listen to a lady around the fire telling things. After the walk I ate marshmallows and drank hot chocolate."
Mission accomplished, for cool old uncle Matt.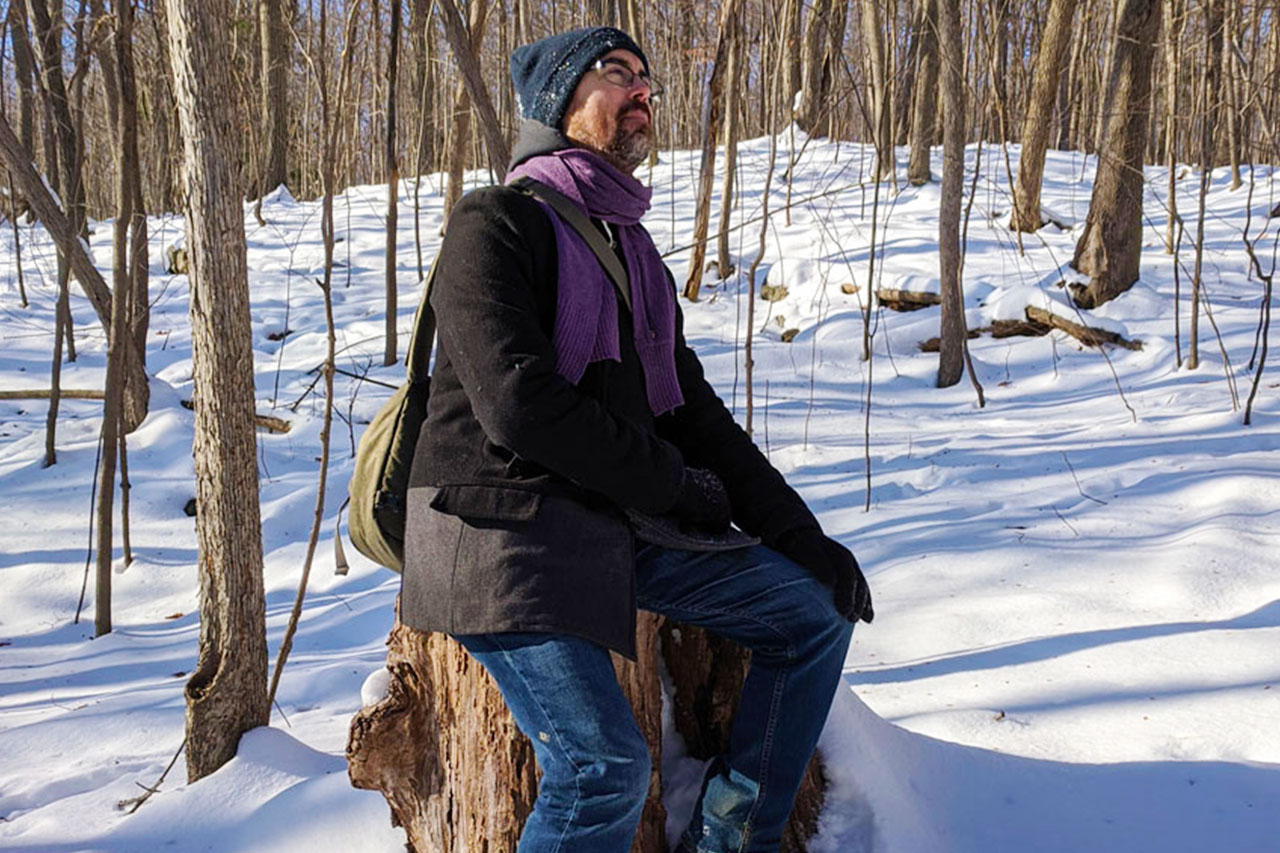 About Mathieu Charlebois
AFormer musician turned journalist, turned political columnist, turned author of humor, Mathieu Charlebois regularly writes for Curium and L'actualité magazines, in addition to making podcasts (including Comment être drôle, with Julien Corriveau) and posters of photos of food on Instagram.