The well-kept secret for walleye fishing
Réserve faunique La Vérendrye
A true corner of paradise for anglers, Réserve faunique La Vérendrye features waters of untold richness. This magnificent territory is renowned for the quality of walleye fishing on its huge reservoirs.
So that you may have an incredible experience, our team is sharing tips as well as best places to catch some gorgeous walleye at this destination.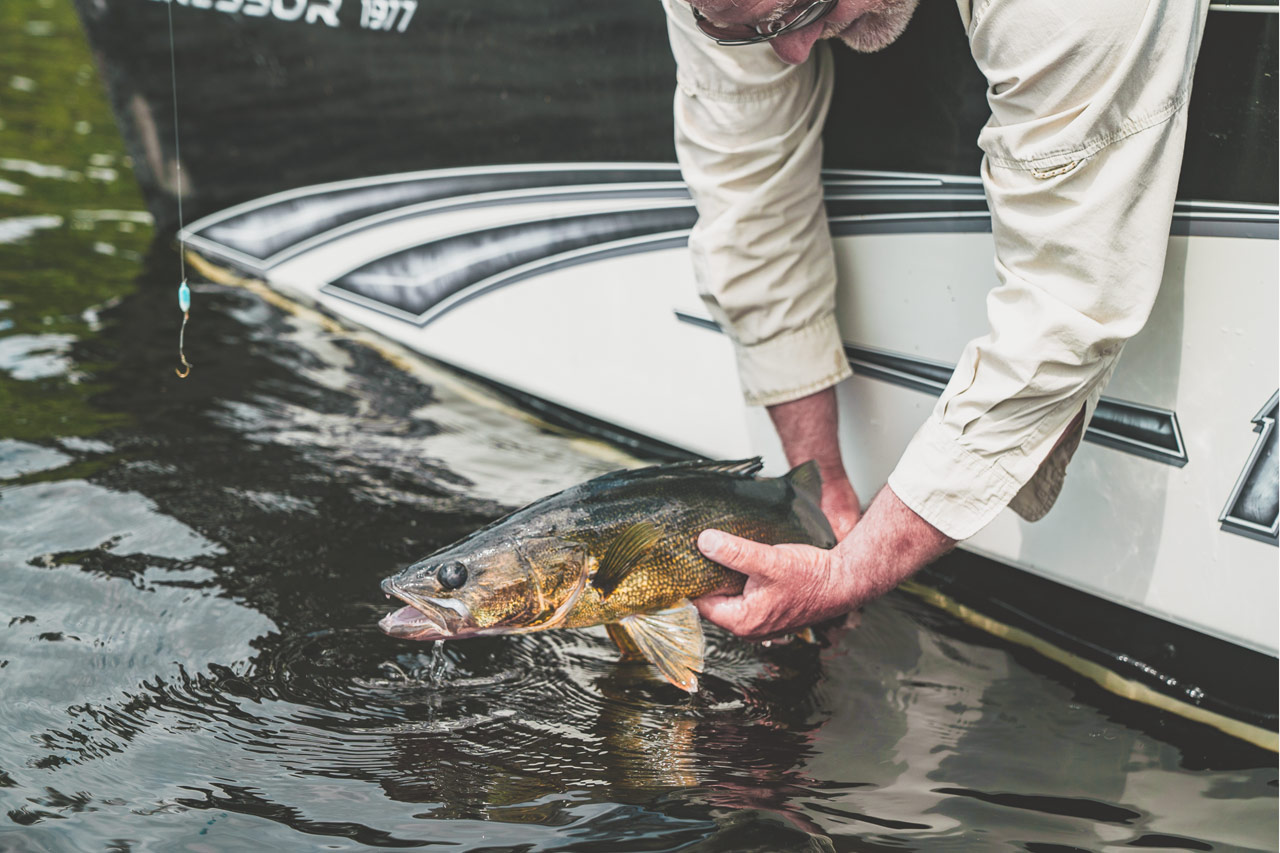 Must-haves for your tackle box
As is the case for any other fish species, it's important to have a few specific items in your tackle box so as to reel in amazing catches. We think first of bottom bouncers which, as their name suggests, are designed to rub the bottom of the lake. The sound of the rubbing will attract walleye who will then be tempted by your lure. Interesting fact: this technique can be very effective even during hot weather.
We also recommend that you use worm harnesses or Slow Death hooks on a leader to catch walleye. If you'd rather do some trolling, a few decent minnows will be essential to outsmart those clever fish. Thin Fin minnows are very popular on the lakes of the wildlife reserve.
To take stock of different walleye fishing techniques, have a look at Daniel Robitaille's tips (in French only).
Also, please note that purchasing a sonar (portable or fixed) is a very good investment if you want to fish for walleye on a regular basis. With a sonar, it's easy to see the depth of the waterway, to adjust according to ambient and water temperatures, and to properly identify the structures in the lake.
Lake maps, offered free of charge on our website, are also a must. They offer much more than a bathymetry of our waterways; they also target favourable fishing sites identified for successful angling by our experienced guides. This Sépaq exclusive is a first in the industry!
Choice walleye-fishing sectors
Abitibi-Témiscamingue sector
Outaouais sector
Réservoir Giroux: Rustle up some walleye while enjoying the tranquility on this vast waterway. Serious peace and quiet await you!
Lac Poulter: This beautiful big lake will provide an opportunity to rustle up some walleye and also to fish for lake trout and pike. The waterway is accessible only with a personal watercraft, so it's a bit more remote, but we hear that the catches are hard to beat. Offered with the fishing package with accommodation in Le Domaine sector or for day fishing.