Rediscover the joys of winter at Duchesnay
In collaboration with Karina Durand, Sépaq's content strategy and social media manager.
Even if you're someone who normally likes the cold season a whole lot, winter is one of the times of the year when we're all a bit short of breath, a bit at the end of our rope. The aftermath of the holiday season, the lack of light, the very cold weather, and those awful colds take their toll. We all need a break, a moment of respite to disconnect from the daily routine.
While some choose to flee in search of the warm rays of the tropical sun, I prefer to stay here to take advantage of the best of winter: snowy landscapes and activities that put colour in my cheeks.
That's why every year, in February, I go to Auberge Duchesnay to reconnect with winter and recharge my batteries. I love this place because it provides the best of both worlds: an all-inclusive resort that also offers the tranquility of a pretty snowy forest a mere stone's throw from the city.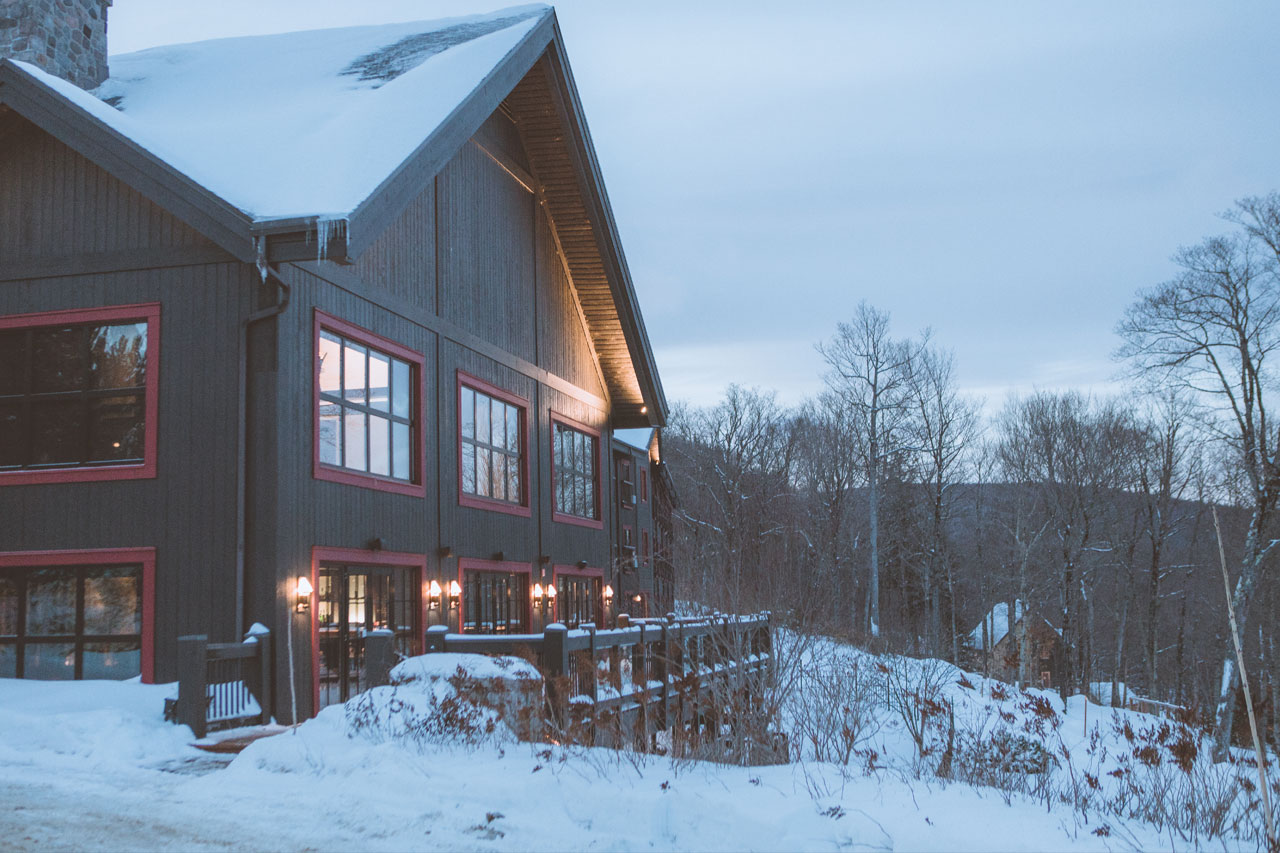 Zero planning required
Auberge Duchesnay is located just 30 minutes from Quebec City, so you can plan your weekend at the last minute, even on the same day if you're lucky and rooms are still available. No need to plan your getaway three months in advance or take a whole week off.
In addition, the planning required to enjoy a perfect stay is minimal. Some warm clothes, tuques, mittens, a toothbrush… and that's all there is to it! I don't even bring my snowshoes, as rental is included for guests staying with packages at Auberge Duchesnay.
A comfortable night's sleep in the forest
Four-star Auberge Duchesnay is nestled at the very heart of the forest, on the edge of magnificent Lac Saint-Joseph, which stays frozen during winter. The atmosphere is so calm and cozy.
As soon as you arrive, you can feel the nature effect: you'll immediate relax and get that holiday feeling even if you're only staying for the weekend. Also, the rooms are so comfortable that you're sure to sleep like a baby.
Being pampered at the heart of nature
During winter, I love renting cabins in nature. But this type of getaway requires some organizing as you have to plan meals and bring your own food, sleeping bags, and pillows. At Auberge Duchesnay, you can bring the bare minimum and let yourself be taken care of throughout your stay. We can all agree that, from time to time, being pampered is super relaxing and does us a world of good.
A huge 89-km2 playground
There's no secret miracle cure for the winter blues. The best way to enjoy the cold season is simply to dress warmly and go play outside. At Duchesnay, the winter activity offer is so varied that even those easily chilled types will be surprised by their desire to go play outside. Snowshoeing, cross-country skiing, dog sledding, ice fishing, skating, snow tubing, hiking down trails. Alone or with family or friend. There's something for everyone to enjoy for a few precious hours in the great outdoors.
And if you don't have the equipment required for all these activities, you can simply rent your gear on site.
Cross-country skiing for the very first time
For true cross-country skiing enthusiasts or for newbies, Duchesnay is one of the nicest cross-country ski centres of the greater Quebec City area. The site offers 50 km of well-maintained trails and superb snow conditions.
For those who're curious and want to try cross-country skiing for the first time, all the necessary equipment is even available for rent on site.
Another nice perk: For youngsters 17 and under, equipment rental and daily access to cross-country skiing are offered entirely free of charge.
Comfort food
After a day on the snowy trails, we all have one idea in mind: to recharge our batteries with a delicious hot meal. To the great delight of our hearty appetites, Bistro Les Quatre-Temps, the hotel restaurant, has just what the doctor ordered to tickle the taste buds.
To satisfy your daring inner foody, there's lamb shank braised in red wine and rosemary, Nagano pork medallion with chorizo from Viandes Bio de Charlevoix, Lobster and shrimp papardelle or fresh and smoked salmon fillet.
To wash it all down, treat yourself to a tasty microbrewery beer or a nice peppery Bloody Caesar. If you're feeling more epicurean, you can instead choose a good bottle of privately imported red wine.
Everything needed to go back to your room with a full tummy for a good night's sleep.
The joy of simplicity
Duchesnay offers the perfect formula for improvised getaways and easy little weekends, namely great comfort and sweet winter pleasures without the headaches of all that planning and organizing.
All the better because we want to keep everything simple.
Especially during winter.