Getting closer to nature through plants
By Marc Champoux, horticulture and outdoor enthusiast.
I remember when I was a child, my mother used to go to one of our plant suppliers with a pickup truck. She would take me along sometimes and to maximize the space, she would literally surround me with plants from head to toe, so much so that I was almost unable to move!
To store them, the basement of the family home had been entirely set up as a "greenhouse" of tropical plants. In this interior space, there were so many plants that I could play hide and seek. I ventured into it like an explorer in the jungle. How lucky I was!
Over time, the company had to relocate and the basement "greenhouse" was moved. Believe it or not, after the plants were removed, my father and I had some breathing problems. Coincidentally or not, the plants certainly helped with the air quality.
Outside, I was lucky enough to live in the country. So I was constantly immersed in nature and the great outdoors: the fields, the forest, its trees, and everything that inhabits it. We had a farmhouse where I had the chance to see all kinds of animals according to the seasons. I was even interested in insects, so much so that I had made a collection of them.
There was no lack of life and the outdoors, plants, and living things were therefore part of my daily life for a long time. Eventually, I moved to the city and lost some of that special contact I had unconsciously maintained with nature.
Being in contact with nature: an innate need
Historically, humans have been in contact with nature much more than they are today. Today, the vast majority of Canadians live in urban areas. And we spend most of our time living in our homes, in our cars, at work. This brings with it a certain practicality, of course, but it also carries physical and psychological disadvantages. More than ever, we're confined inside, hyper-connected to technology, but disconnected from nature.
Described in 1984 by E. O. Wilson, an eminent biologist and Nobel Prize winner, the biophilia hypothesis suggests that humans have a fundamental love for living organisms and need them to flourish. Therefore, it would be in our DNA to be in contact with nature. After all, it is only recently, historically speaking, that we have been living in an urban environment.
This hypothesis, which is increasingly being studied by science, would explain why we feel so good when we're in nature. What makes us feel good could be explained in various ways, such as the sight of plants, trees, natural light, textures, and elements as varied as a waterfall, wind, odours, and more.
Contact with nature has a much greater impact on us than we think.
Unsuspected psychological benefits
A few years ago, like a lot of people, my life was unfolding at a frantic pace. I was going through a difficult time professionally, on a psychological level. An overload of work combined with stress had dragged me into a slight depression. At one point, I was able to let go while staying in a hut and snowshoeing at Parc national des Grands-Jardins (might as well name it here!). Surprisingly, this difficult period really stopped at that point. The psychological benefits of nature were then revealed to me. I have since integrated hiking and forest outings into my lifestyle on a fairly regular basis. Each time, I instantly feel the physical and psychological benefits.
We don't all have the chance to go for regular walks in the forest or in the mountains. With the current lockdown, it's even more difficult for the vast majority of us.
But it has been shown that the simple fact of having visual contact with natural elements brings psychological benefits. Looking at a plant or trees through the window brings a certain well-being.
In interior design, the term biophilic design is now on everyone's lips. The idea is to bring nature indoors, in order to diminish the impression of confinement and to blur the line between inside and outside.
How to feel less confined?
By integrating into your living or working space elements that bring you in contact with nature.
For example, by
Getting as much natural light as possible.
Using natural-looking colours and patterns in your surroundings.
Integrating natural textures and materials such as wood or stone.
Including natural plants in your daily life.
Making sure that there are many plants.
The advantages of biophilia:
Improved health
Improved morale and sense of well-being
Better productivity
Reduced stress levels
Decreased mental fatigue
Improved employee engagement
Reduced employee absenteeism
Beautiful plants, beautiful life!
Adding houseplants to your surroundings is probably the cheapest and easiest way to get back to nature. You don't even have to do any renovations or take out the paint brush! The good news is that with a modicum of observational interest, anyone can have a green thumb. Just keep in mind the adage: "the right plant in the right place". By knowing your plant's light requirements (thanks to professional advice, books, and references found on the Internet) and understanding the types of light (low, medium, bright), you'll soon succeed and have the urban jungle of your dreams.
In spring, the hours of sunshine increase and the plants are growing. So it's the perfect time to fertilize, prune, repot, or learn how to care for them, and who knows, maybe discover a new passion?
The free time we have now is a great opportunity to beautify our living space and make it a welcoming and relaxing place.
You can propagate cuttings in recycled containers and thus get plants in all shapes and sizes. The creations, layouts, and arrangements you'll create are as vast as your imagination, considering that there is something for absolutely all budgets and tastes.
Looking for ideas? Take a few minutes to get inspired by the plant design accounts on Instagram and Pinterest and fill up on concepts for your new horticultural project! And don't forget that you can now have plants delivered safely and easily from online stores right in the comfort of your own home.
There you have it: your hands in the ground, visual contact with the foliage, and you're on your way!
You're back in touch with nature!
You're already feeling a whole lot better.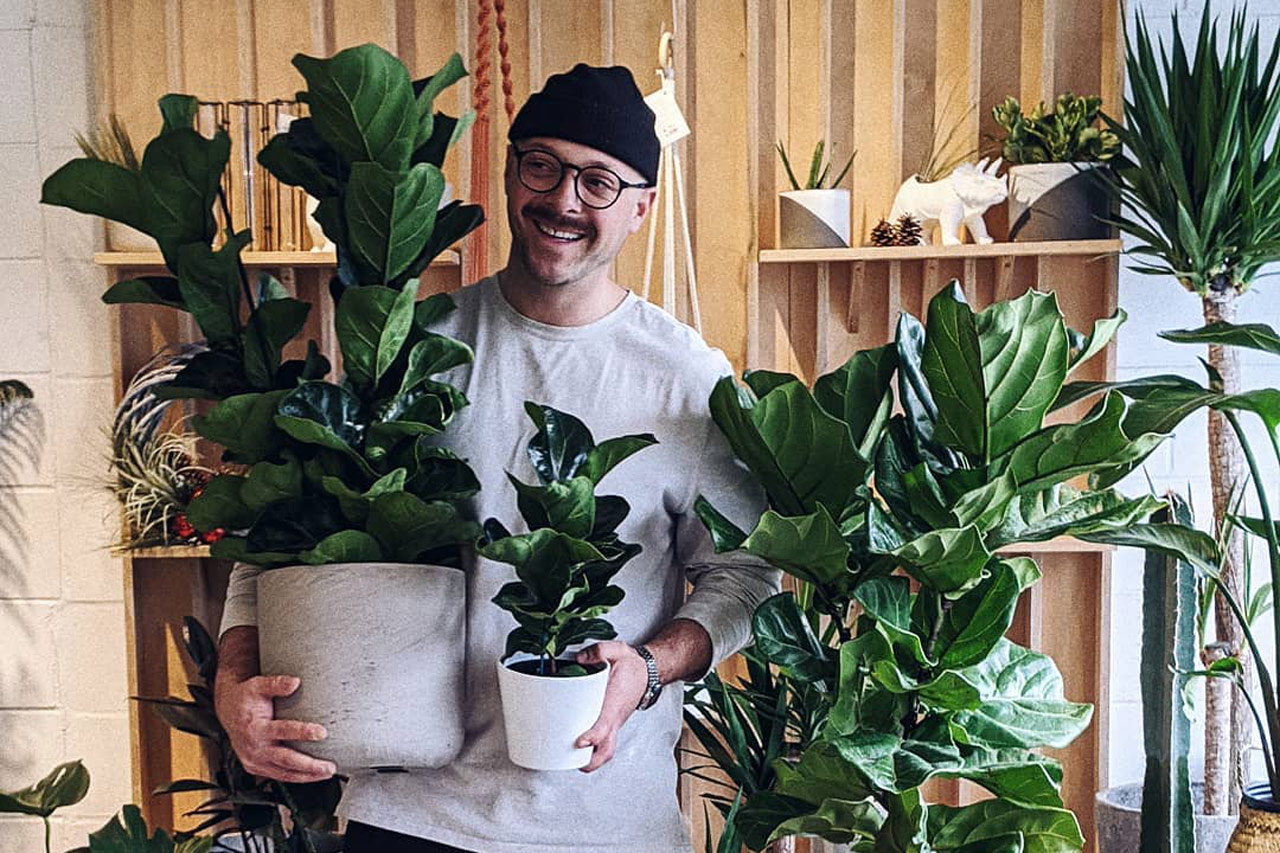 About Marc Champoux
A lover of nature, plants, and travel, Marc Champoux likes to recharge his batteries in the forests here and elsewhere, particularly through hiking, mycology, and other outdoor activities. His passion for entrepreneurship has led him to take over the reins of FOLIA Design, the family business, and to combine several interests in this adventure. His goal: to reconnect people with nature within interior living spaces.