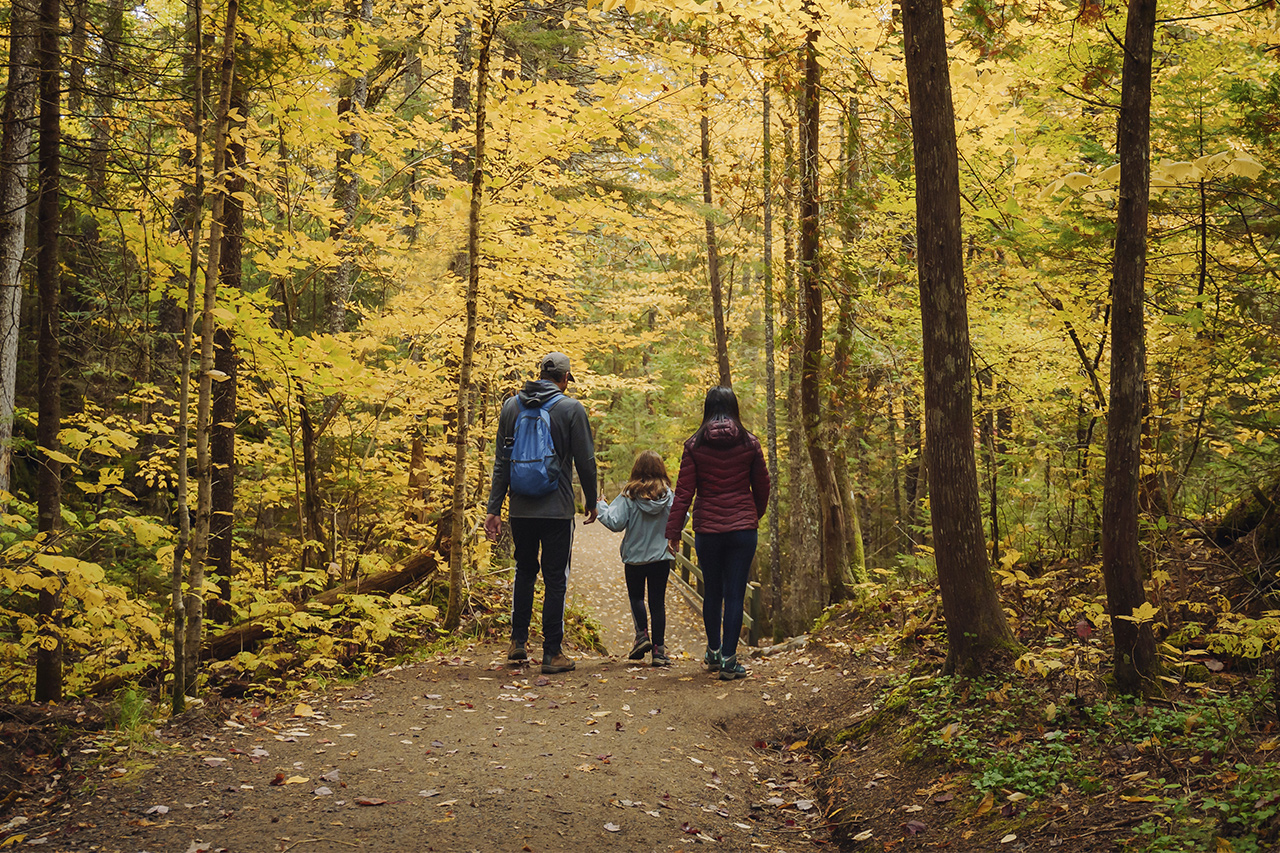 Parc national de Frontenac (Chaudière-Appalaches)
De la Tourbière trail (Saint-Daniel sector)
Esther's favourite, registration centre agent.
Saint-Daniel beach in Parc national de Frontenac was a hive of activity this past summer, but De la Tourbière (bog) trail will bring zenitude this fall. It could also stimulate curious minds! Esther, a registration centre agent, recommends it highly and often goes there herself. "I'm a big fan of the park," she says. "I'd go to the bog every week!"
The 5 km trail is open from mid-May to mid-October and takes on different looks depending on the season. In spring, soft green is king, whereas in fall, one's eyes feast on yellow and red, colours that come not from the leaves of the trees, but from the moss on the ground! And also from the mushrooms, especially in September.
"The thousand-year-old bog is indeed beautiful and well preserved," says Esther. "It's impressive to see the flora surviving in this environment." The two types of carnivorous plants and the many kinds of native orchids particularly arouse the curiosity of young and old alike. "People come back to the registration centre with their photos and ask what they've snapped," she reports. Once they discover the place, they're sure to come back.
The trail also features signage documenting the formation of a bog, among other interesting occurrences. "You learn a lot," says Esther. Being flat and mostly on a boardwalk, the trail is easily accessible. There are two observation points providing an overview of the bog.
The site is also home to the spruce grouse, a bird similar to the partridge, but less shy. And pint-sized explorers will also be delighted to come across toads and frogs!
Parc national du Mont-Tremblant (Laurentides)
Le Lac-Poisson trail
Alexandre's favourite, reception coordinator for La Diable and La Cachée sectors.
With its four sectors and vast territory of 1510 km2, Parc national du Mont-Tremblant offers many possibilities for fall hiking. Alexandre, the reception coordinator for La Diable and La Cachée sectors, recommends Le Lac-Poisson trail. This little jewel, well hidden and located at the heart of La Diable sector, is a must for anyone looking for peace and quiet nearby.
The trail is accessible year-round, whether for hiking or trail running in summer or fall, or cross-country skiing in winter. It offers interesting levels of difficulty, including a succession of eskers and small continuous climbs with some false flats to give tired lungs and calves a break.
There are two options: an intermediate 7.4 km round trip from the discovery centre via La Roche Trail, or a 13.6 km loop from the same trailhead toward Le Boulé (service road 15), with an increased level of difficulty. This loop is described below.
"At the beginning of the season or when it rains, a succession of ephemeral waterfalls appear, much to the to the delight of admirers," says Alexandre. "You can even bathe right up to your chest, while sitting down of course, weather permitting."
Next the trail crosses a maple grove with yellow birch, the habitat of the black bear, leading to La Perdrière hut at the edge of Petit lac Poisson. On some rainy days, the scenery is so breathtaking that it's like being in a foreign country. Then, the trail continues to Grand lac Poisson which also offers, in all seasons, views worthy of the greatest adventure photography magazines. From there, the pathway follows the lake to a depression that provides access to the Holy Grail of the sector: Des Cascades trail leading to a lookout.
To get there, the trail follows Lac Poisson crosswise for a stretch before revealing a thin, high waterfall. You can climb to the top of the waterfall before taking a well-deserved break. On the way back, you'll quickly cross a wetland where the high grasses and the few petrified trees stand out from the rest of the trail. Soon, you'll reach La Roche trail and carefully descend on a scree to the trailhead where you'll conclude your day's outing on the shores of Lac Monroe by sipping a hot beverage or quaffing a hearty ale from the Saint-Arnould microbrewery, on sale at the discovery centre.
Parc national du Fjord-du-Saguenay (Saguenay‑Lac‑Saint‑Jean)
De la Pinède trail
Martin's favourite, park warden patroller and wildlife protection assistant.
Divided into several sectors on either side of the majestic fjord, Parc national du Fjord-du-Saguenay can be discovered in bits and pieces during various visits. Petit-Saguenay sector, on the south shore, is among the best kept secrets. De la Pinède trail can be described as a hush-hush hike!
According to Martin, a park warden patroller and wildlife protection assistant, De la Pinède trail is simply gorgeous and offers something for everyone. It starts near Anse Saint-Étienne beach, crosses a flood plain at very high tide (another trail allows you to bypass the water), then follows the fjord and Anse à la Goélette along the rocks for 1 km, before starting to climb toward the pine forest.
A beautiful white pine welcomes hikers at the entrance to this 1 km loop featuring several red pines and two lookouts on the fjord. Shortly before the first lookout, vestiges of the 1900 fire can be seen. The trunk of a tree still holds charred blades inside. "It's mighty impressive," says Martin.
Another attraction of this 8-km trail (round trip): the belugas! "From up above, you can see them breathing at the surface and even underwater," says the park warden. "They do a lot of traveling between Tadoussac and Baie Sainte-Marguerite." At low tide, you can return by way of the sandy shoreline.
Rated intermediate in terms of difficulty, this hike is also suitable for active families. It takes about three hours to complete. The trail is accessible until Thanksgiving, from the parking lot on Chemin St. Stephen.
Parc national de la Gaspésie (Gaspésie)
Mont-Joseph-Fortin and Mont-Richardson trails
Raymonde's favourite, registration centre agent.
Parc national de la Gaspésie has no shortage of high peaks, but not all of them are as well known as Mont Albert or Mont Jacques-Cartier. For a more secret hike, Raymonde, the registration centre agent, suggests Mont-Joseph-Fortin trail, while expert hikers may also add Mont-Richardson trail.
Mont-Joseph-Fortin trail is a sustained climb leading to a taiga-like plateau. A loop circles the peak, culminating at 1080 m. Le Surplomb observation deck offers a view of Lac aux Américains and the surrounding mountains, including the peak of Mont Jacques-Cartier. The hike is described as difficult, with an 11-km round trip and a 490-m climb. You should plan on a 5-hour hike.
Mont-Richardson trail has the same starting point as Mont-Joseph-Fortin trail (from the parking lot on Route 160), but climbs higher to the peak at 1180 m, a 705 m elevation gain and a distance of 11.6 km for an expert level hike lasting 6 hours. The trail offers 360-degree views of the surrounding peaks. "As you approach the top, there's a small lake that's sometimes frozen," observes Raymonde. "Also there's often frost on the ground and on the shrubs, which tend to shrink as you climb."
In both cases, on the shared stretch of trail, a detour to La Falaise observation deck is a must. Raymonde says it offers an incredible view of Mont Albert.
The most highly motivated hikers can combine the two trails for a total of 16.2 km and 7 hours of hiking. However, they'll have to leave early (before 9 a.m., recommends Raymonde) to return before sunset, as the fall days are shorter.
However, the registration centre agent warns hikers about the cold and even the snow, which can arrive fairly early in the mountains. "In October, there can be snow and strong winds," she says. "You have to be well prepared and equipped: winter clothing such as a down jacket, lunch in a thermos, and the like. You also have to be careful with the walking surface, which can be slippery."

In short, a great challenge lies ahead!
Station touristique Duchesnay (Capitale-Nationale)
Le Rocher trail
Pierre's favourite, outdoor activities coordinator.
At Station touristique Duchesnay, Le Rocher trail crosses a maple grove with white birch as well as several stands of hemlocks and mature cedars. According to Pierre, the outdoor activities coordinator, "it's an exceptional trail, accessible to all ages and close to the hotel."
The 1.7 km hike (30 minutes) offers a really pretty circuit where you can wend your way above the shelters under rock with the help of wooden stairs and footbridges. "You have to be careful because the wooden platforms are really slippery after it rains," warns Pierre. Two interesting lookout points provide vistas, first of Lac Saint-Joseph and then of the Station's forest territory. Deer are often spotted on this trail, especially near the small maple trees.
The trail is a great place to check out or take part in all sorts of activities. In particular, you can watch Arbraska participants set off on several circuits, and you can also join the animal rally, a do-it-yourself activity for people five years of age and up. There's even a legend about a pirate's treasure at the beginning of the trail... but only a Duchesnay guide would be able to reveal the whereabouts of a secret map!
For those who train in trail running, the trail circles the rock (le Rocher), making it possible to accumulate hundreds of metres really quickly, by doing return trips.
According to Pierre, this hiking trail is particularly impressive at the end of the day, during the "blue hour" of twilight. The trail is however closed in winter.
Parc national du Lac-Témiscouata (Bas‑Saint‑Laurent)
Montagne-de-Chert trail
Michel's favourite, head of the conservation and education department.
Where can you best admire the fall colours? In a maple grove, of course! That's why Michel, who heads the conservation and education department at Parc national du Lac-Témiscouta, suggests Montagne-de-Chert trail, which he describes as magnificent at this time of year.
Criss-crossing a venerable maple grove, the trail passes through an old forest populated by mature maples. The ground level is also covered with young, tender green maples. "You have the intense feeling of being at the intimate heart of the forest, with all its smells and colours," says Michel. "On hot days, it's also a refreshing place to be."
The 5.5 km loop features an elevation gain of 100 m and offers views of the Touladi lakes and surrounding hills. According to Michel, this easy to intermediate level circuit can be enjoyed with the family and is well suited to trail running.
This little-known trail is accessible until the first snowfall, but the colours peak as September comes to a close. The light is particularly beautiful at the end of the day.
History 101: The mountain was frequented by the first humans to walk the land. A deposit of Touladi chert (a stone similar to flint and used for thousands of years by the First Nations) was discovered in its bowels (but not visible on the hike); hence the name of the trail. A beer launched last summer by the microbrewery Le Secret des Dieux in Pohénégamook pays tribute to the peoples who shaped Touladi chert to secure their way of life.
The annual card: a winning purchase
If you love hiking and you are planning to visit several national parks this year, you should know that it's worthwhile to acquire the Annual Québec National Parks Card. This card provides unlimited access to all of the province's national parks and also offers exclusive benefits.