Preparing your camping season
By Lucas A. Holmes, adventurer and outdoor enthusiast.
That's right; it's finally here… The camping season is upon us! We can already imagine ourselves in the tent, wrapped up in a cozy sleeping bag, lulled by the sound of frogs and leaves rustling in the wind...
While awaiting that first night under the stars, why not combine business with pleasure by taking the time to check your gear? That way, you'll avoid the little bit of extra stress that inevitably accompanies the first nature adventure: Am I forgetting something? Is my tent still waterproof? Are there any missing pegs? Does my floor mattress have an unpleasant surprise in store? Oh no, don't tell me I forgot the coffee again!
Does all this ring a bell? Here are a few things to do at home, right now, at your own pace. The goal is to preserve your peace of mind when the time comes to set up the first campsite of the year...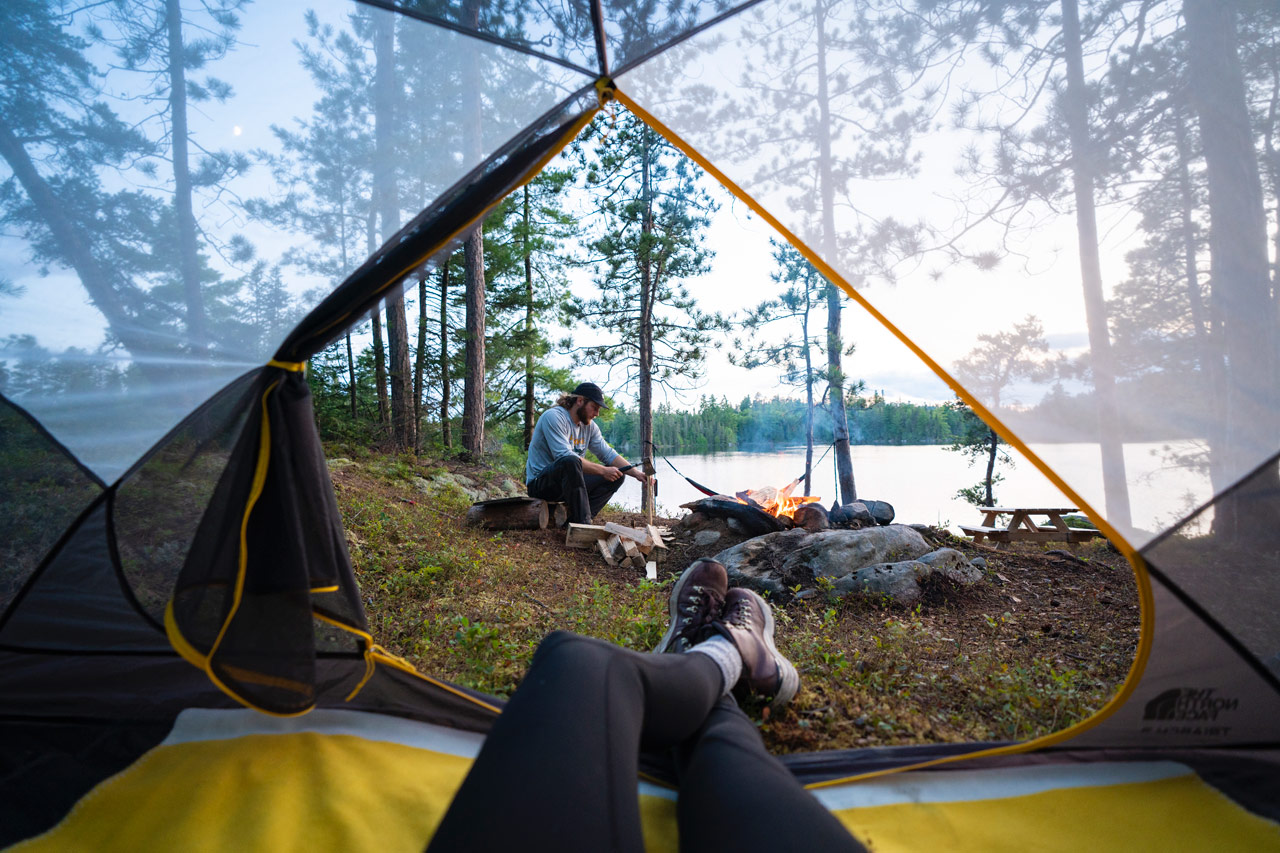 Camping can be done at different levels and in all sorts of ways. Whether you arrive in a vehicle or with boots on the ground after following a multi kilometre trail; whether you're a comfort lover or prefer to travel extra light, each camping experience requires a minimum of preparation in order to take full advantage of your tenting stay. For those wondering what ultra-light camping entails, well it's simple: you take every camping item that has a connection to comfort and remove it from your backpack! Regardless of your camping style or the adventure project that turns you on, here's a short checklist which can be adapted to all types of campers:
Do an overview of your first-aid kit to ensure that everything used up has been replenished.
Have on hand a tube of sunscreen as well as mosquito-repellent. Also, a hat to protect yourself from the sun can be very useful indeed!
Ensure that your camp mattress is still functional, that it isn't sagging, or riddled with air leaks. Your mattress is one of the main sources of comfort when camping, in addition to being a very significant factor of insulation.
Check your tent and pegs to make sure that there are no holes and that the structure is complete. In addition, certain tents need re-waterproofing at the beginning of the season.
Try your cooking systems (stove, burner, mini BBQ, or other) to make sure your first BBQ is a flaming success! Also, take advantage of the opportunity to make an inventory of your combustible materials.
Verify that your different light sources (headlamp, lantern, LED-style lights, etc.) are still working and that the energy level is up to snuff.
Take a look at your sleeping bag. Does the zipper zip the way it should? Does the distribution of the insulating material seem uniform? Ensure that the temperature rating of your sleeping bag meets your needs as a camper. At the beginning and end of the season, as well as at higher altitudes, nights can be rather nippy.
Gather up your tools (axe, small saw, pocketknife, lighter, matches, fire starter, newspaper, etc.) to safely prepare a fire.
Prepare your different cooking items: small cutting board, mess kits, cups and utensils, favourite camping coffeemaker, coffee, and a small container of dishwashing liquid as well as little sponges to wash these crucial things. It's very important not to forget to take what you need to bring back your garbage.
Prepare your small personal hygiene kit: toothbrush and toothpaste, soap, toilet paper, deodorant, and wet wipes.
Make sure you have everything you need to store or treat water (filtration system or purification tablets).
Do an overview of your miscellaneous not-to-forget items list: corkscrew, can opener, multipurpose knife, camping chairs.
Have fun getting ready to roll!