My first long-distance winter hike
The story of a first adventure in a hut
In collaboration with Karina Durand, Sépaq's content strategy and social media manager.
I had walked in the forest many times. I had snowshoed a few times. But sleeping in a hut without electricity or running water, in the midst of a long two-day winter hike, had never crossed my mind. I thought I was neither fit enough nor did I have the equipment needed to set off on such an adventure. That's why 24 hours before leaving, I prepared my backpack half-heartedly, far from imagining that this weekend would be one of the nicest of the year.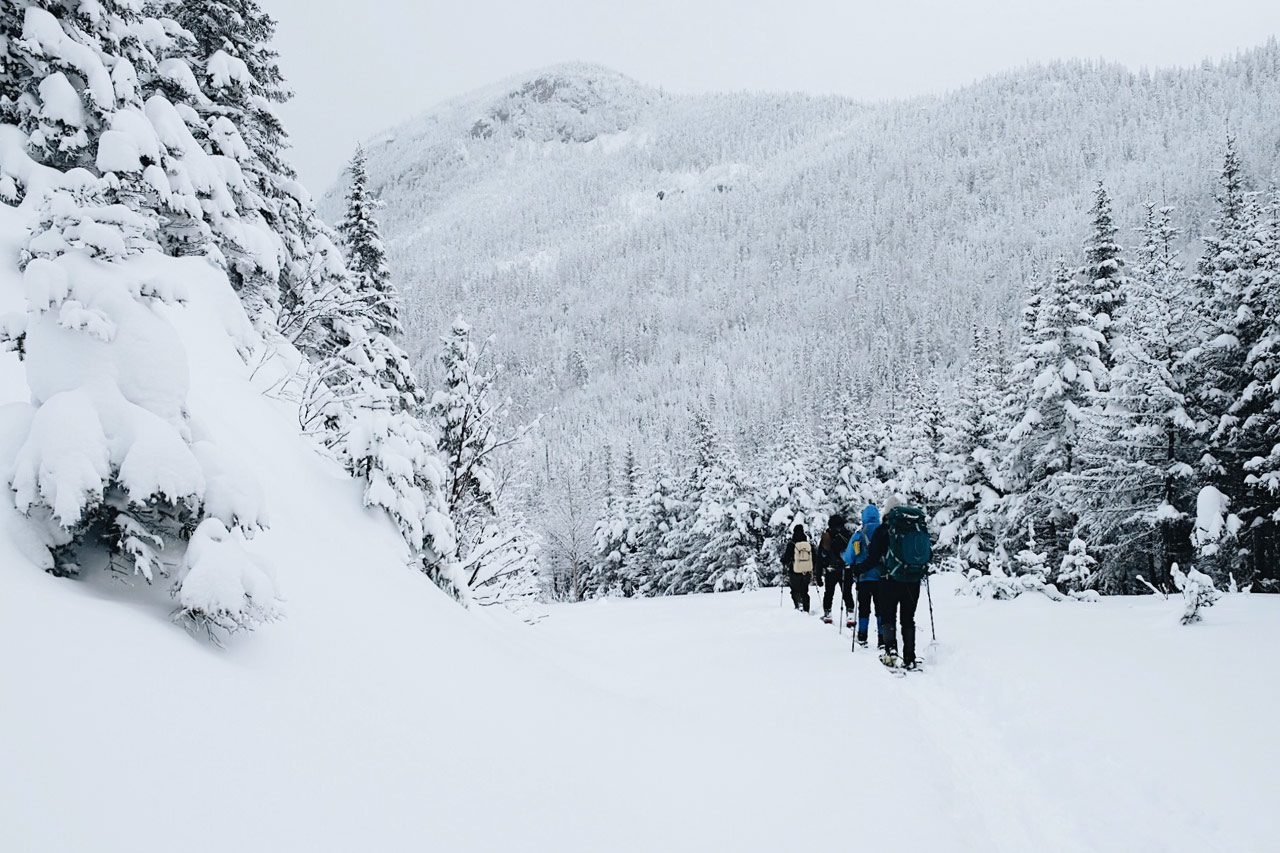 Preparation: stress
A few days before departure, I was tormented by 1,001 questions. Would I be cold? Would we have to eat dehydrated food for two days? Would my toes get frostbitten? Could we run out of water? Should I bring a compass? How does a compass work? But above all, silently fretting, would I be cold?
Setting off on a two-day hike in the middle of winter was a little scary to me, firstly because I can't handle cold weather, and because I felt like this kind of expedition was reserved for experienced hikers, those who know how to start a fire without matches or a lighter and who know how a compass works. But my colleague Ariane, a fan of this kind of adventure, who is such a cool and laid-back girl, reassured me that this was not the case. More or less convinced, I invited my best friends, we agreed on a weekend in December, we chose a trail, then come what may, I booked the hut.
That's how on December 6 in the morning, I gathered some essentials in my backpack: a sleeping bag, dry clothes for the arrival at the hut, a big water bottle, a borrowed burner and lunch box, cheese fondue, a bottle of wine, and plenty of snacks. And then, backpacks strapped on, wearing many layers as recommended by old hiking hands, my friends and I slipped on our snowshoes and set off toward La Paruline Hut, nestled at the heart of the mountains in Parc national de la Gaspésie.
The adventure begins
I had yet to travel 100 metres and I already felt the cold settling in.
"It's normal," I had been assured.
"You have to be a little cold at first. After around 15 minutes of backpacking, you'll see, you'll warm up. Otherwise, add a layer."
I wasn't convinced initially, but as it turned out, less than 20 minutes after my departure, I felt warm, perfectly comfortable in my polar fleece sweater, with a thin windbreaker as my only coat.
One step after another, a few snowflakes fluttering above our heads, we travelled around 10 kilometres in the powdery snow, at the heart of the forest. We didn't need a compass to guide us despite the thick layer of snow covering the trail. The park map was, however, useful on a few occasions, helping us make sure that we were still going in the right direction.
Along the way, the scenery was breathtaking: beautiful snow-covered firs, pretty streams to the left and right, moose traces in the snow, mountains as far as the eye could see. What I hadn't realized before leaving is that long-distance hiking trails are not at all busy, so we can access little corners of virgin forest that are practically unexplored.
After a few hours of walking in this breathtaking scenery, just before nightfall, we saw it in the distance. It was there, as promised by the map from the beginning. At the very end of the trail, it proudly stood before us, the pretty rustic cabin, our shelter for the night.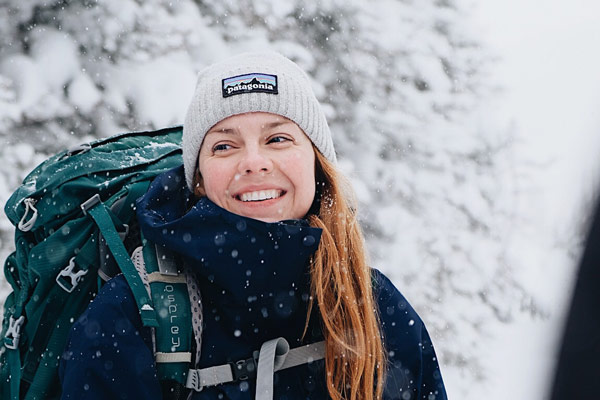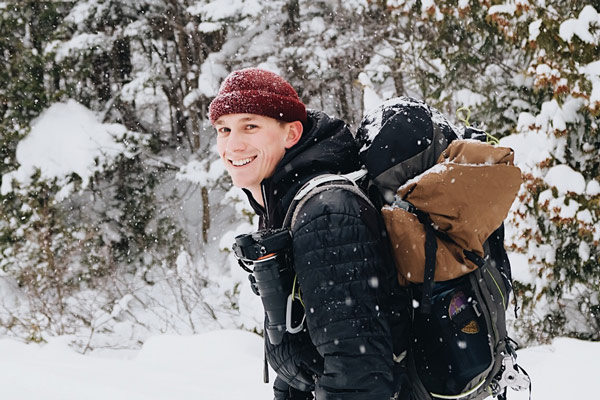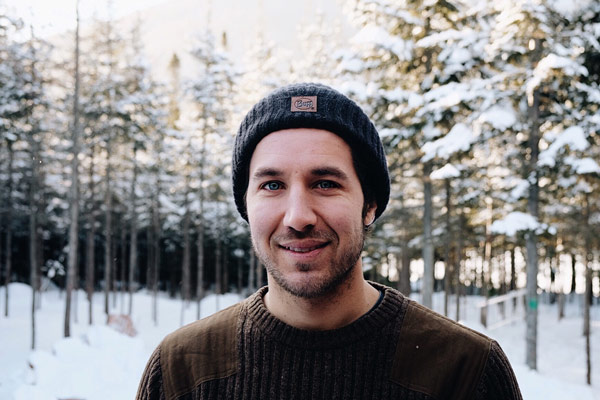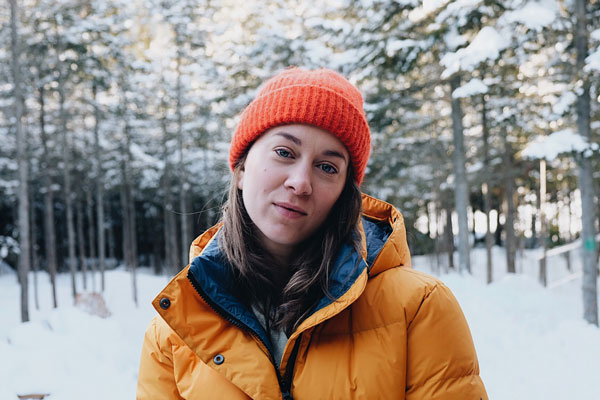 Our arrival at the hut: wood fire, great food, and lots of laughter
Our arrival at the hut was followed by a feeling of immediate happiness. That's because we knew that what awaited us was very comforting: rest, a wood fire gently crackling all evening long, a glass of wine, and especially, a nice big meal.
After a long-distance hike in the forest, we clearly feel the nature effect: a sensation of calm and relaxation. But we feel a little tired all the same, because we've expended a lot of energy and we're hungry. Before beginning to prepare dinner, however, we have to get organized. Firstly, we have to start the fire to heat the hut. Then, collect beautiful snow which we'll melt and boil to eventually replenish our drinking water supply. Next, we must hang our winter clothes so they can dry and put on dry clothes, to be really comfortable for the rest of the evening. Finally, we have to create atmosphere – light a few lanterns, bring out the mini portable loudspeaker, click on the playlist downloaded for the occasion, and let the magic happen before getting down to business, i.e. devouring a hearty dinner.
On the menu for our adventure, no little bags of dehydrated food, but rather a delicious fondue with local cheese simply prepared on a small burner. With the main course, pieces of baguette, crunchy apples, broccoli and cauliflower, salty sausages, and a nice glass of white wine to wash it down. Seriously, I never thought it was possible to eat this well in a rustic cabin without electricity or running water. And here I was thinking that we would eat peanut butter all weekend! I was impressed, to the great delight of my colleague Ariane, who kept winking my way since the beginning of the adventure.
Many fits of laughter and a few secrets revealed around the fire later, everyone was quickly fast asleep in their sleeping bag with as a bonus, the feeling of having the starry sky of Gaspésie all for themselves.
Waking up: oatmeal, coffee, and Blue Christmas
Waking up in a hut is a bit magical, with the early morning light gently entering through the windows and the silence of the forest seeping through the wooden walls.
On the second day of our adventure, we had to recharge our batteries before putting on our snowshoes again. A bowl of spiced oatmeal, bananas and diced apples, cheese cubes and cowboy coffee were on the menu. We ate breakfast with gusto, while smiling, not only because it was delicious, but also because we knew that the day ahead would be punctuated by extraordinary scenery and fresh air. It must also be said that Blue Christmas was playing for the 12th time since the day before and we had just realized that it was the most beautiful Christmas song in the world.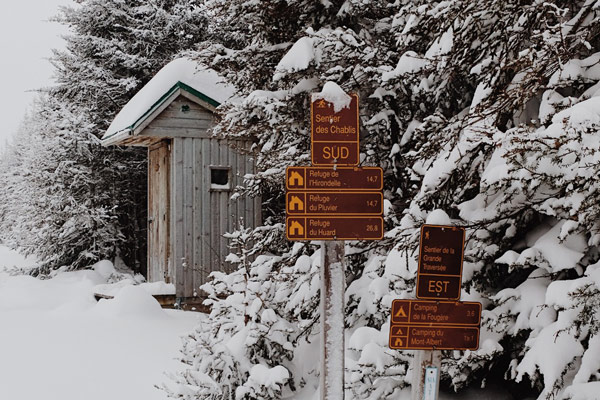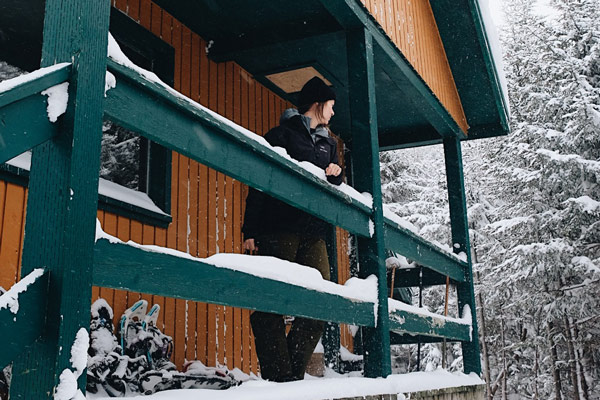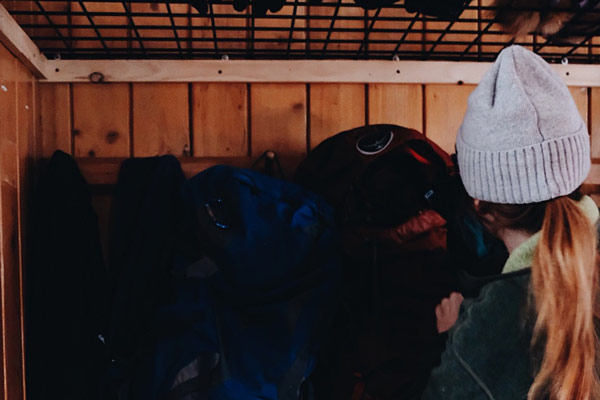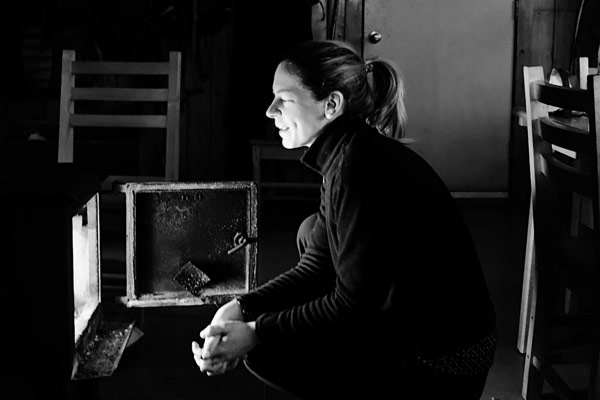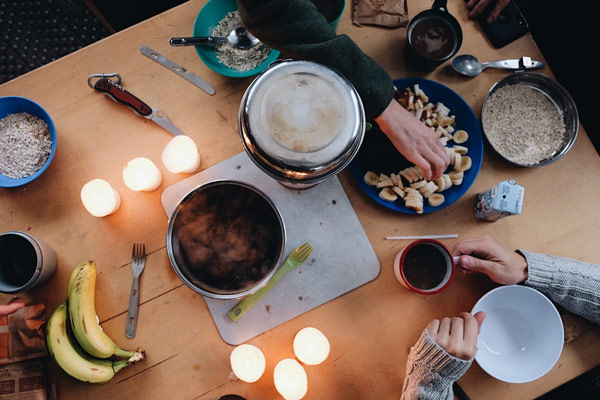 On the way back
After breakfast and a mandatory trip to the facilities, we were on our way for another 10 kilometres in the opposite direction.
The second day of hiking did us good, more so than the first. We felt in perfect connection with nature, anchored in the present moment. We noted that we had lost track of time and that we had completely disconnected, which is just as well, since in any case, there had been no cellular network for more than 24 hours.
Then, time flies without us noticing it, and we suddenly realized that we'd soon be arriving at the end of the adventure. A little tired, but delighted, lungs filled with oxygen, we walked the last 500 metres of the trail single file.
The end of the adventure
While 24 hours earlier, before the beginning of the weekend, I was preparing my backpack preoccupied by my imaginary frostbite, I made it to the end of the adventure recharged and happy. But also proud. Proud to have stepped out of my comfort zone and to have tried something new; proud to have pulled it off. And I would even say, slightly disappointed that the adventure was already ending. I would have liked a little more, it seems to me.
In the end, during these two days of walking in the forest, we did a lot more than merely snowshoeing. We laughed a lot, we feasted, we pushed our limits, we forgot what day it was, we told stories, we laughed some more, and, one thing leading to another, we realized that the present moment would remain forever etched in our hearts.
Best of all, I don't even know if I was cold because in the end, I didn't have time to think about the chilly temperatures at all.