PHOTOGRAPHING NATURE IN THE RAIN
Rain is not the most appreciated element in Mother Nature's repertoire. In photography, it's easily shunned, for many reasons. In my early days, like any novice photographer, I too tended to wait for the perfect conditions to head out with my equipment. But the more photography became a part of my life, the more I began to appreciate gray weather and its subtleties, especially for the special moods I could derive from it. There are some really interesting ways to deal with less-than-ideal weather. Photography in the rain can bring out unsuspected creativity and that's the beauty of it.
It's true, rain can easily become an obstacle in nature photography, both technically and physically. But it can also lead to magnificent successes if you approach the challenge in reverse, i.e. by transforming unfavourable circumstances into winning conditions! The main obstacle is probably the fear of damaging your equipment. To leave with peace of mind, a good preparation is therefore required: waterproof covers (for both the bag and the camera), a microfibre cloth, a UV filter and a sunshield for the lenses, among other accessories. In addition, the choice of clothing and shoes is crucial to enjoy the outing and avoid the rather unpleasant prospect of getting wet. Anything that is waterproof, dampness resistant, and dries quickly should be prioritized. A little tip: having a change of clothes and shoes on hand is always a good idea.
If rainy weather often brings low light, which reduces the pixel quality, interesting results can still be achieved. With the right settings and a different perspective, your shots can stand out from more conventional photos. This is a great opportunity to use your observation skills and creativity!
---
Here are three aspects that can turn the combination of hiking and photography in the rain into a very fruitful experience!
1. Macro photography
Macro photography makes it possible to highlight all the beauty - often even the fragility and the precariousness - of very simple subjects by foregrounding them. It also lets us take the time to stop and learn to look at things differently, by enabling us to translate the fullest transparency of a fleeting glimpse. Exploiting textures, looking for contrasts, using reflections – these are interesting points to work on in the rain, in macro mode.
2. Lulls
The lulls that follow or precede a rain shower are good times for photography. They are often accompanied by an opening of light that gives rise to an interesting duel between certain contrasting elements of nature, including darkness and light, hot and cold, and more. In many situations, these contrasts give the final result a richer glow and a more powerful tone.
3. Animal encounters
Even in rainy weather, animals are generally very active, because their vital needs remain. For example, feeding, hunting, raising young, and moving around continue despite rainy weather. The chances of observation are sometimes even better, because the rain reduces the number of human visitors, making certain sites less traveled by and therefore more favourable to encounters. In some cases, these chance meetings can be particularly rich in emotions.
Nature is an immense work of art, an inexhaustible source of inspiration! And water is one of the elements that play a determining role in its composition. Rain can give rise to a mysterious atmosphere, to an image with a striking ambiance. Some pictures awaken the senses by the sheer force that they exude, to the point where you can almost smell the wet bark or the freshness of the soaked earth! What is even more beautiful about nature photography in the rain is that it gives an authentic and natural value to experiences in the field. The rest depends on our state of mind.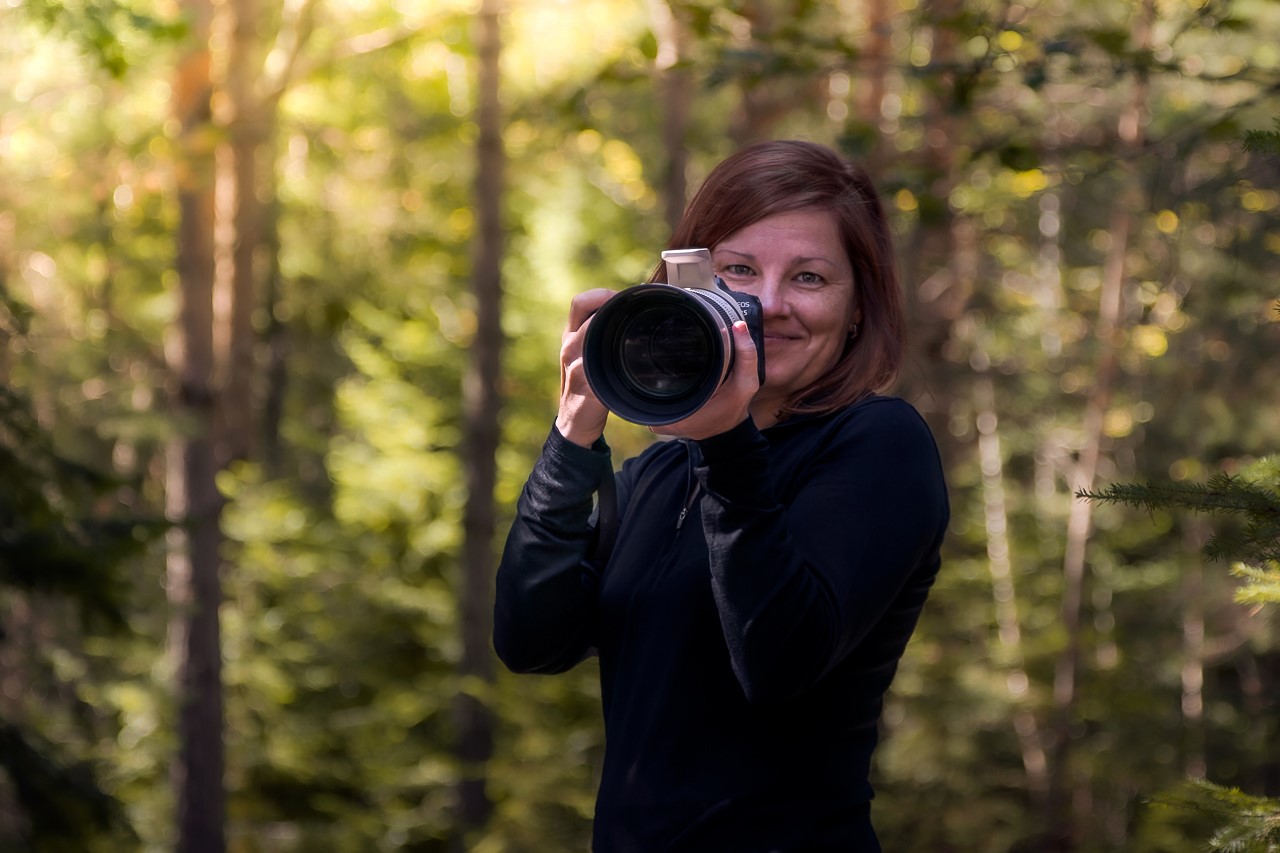 About Julie Audet
Julie likes to share her extraordinary passion for nature and wildlife through photos and words. The unique perception of nature that she captures in her camera's eye is both extremely personal and imbued with great sensitivity. From biology to photography, her work reveals deep values, at the origin of a very current objective: raising awareness about respect for nature.