Wildlife photography
Tips and tricks to get started
In collaboration with Julie Audet, wildlife photographer.
Wildlife photography is a hobby that can be practiced almost anywhere and isn't just for professional photographers. In fact, if you have any interest at all or if you're a wildlife enthusiast, you already have the first asset that will not only be important to you, but also essential for practicing this activity.
The foundation
Beyond your interest in wildlife and regardless of your comfort level with how cameras work, you'll need these three basic attributes to be able to photograph wildlife: patience, perseverance, and respect.
Why? Because wild animals are still wild animals and surprises, good or bad, can happen at any time! You have to be patient with nature and its unpredictable "nature" and be thankful for being able to enjoy this wonderful resource. Wildlife photography also means knowing how to accept failure and situations beyond your control, being motivated to wait, often under difficult conditions, and especially, starting over, again and again. And always showing the greatest respect for wildlife and the environment in which it's found, through the way you carry out each of your operations.
The complements
Secondly, three complementary but equally relevant criteria will help you to be better equipped: knowledge, observation, and approach.
Knowing the wildlife; examining the terrain; reading about nature, about your favourite species, their habitat, their way of life; knowing how to identify species based on physical features, cries, songs, and signs of presence – these are all points that'll help you once you're outdoors, often even before your outings. You should also know that the more you go out, the more your experiences will increase in value and enhance your personal knowledge. Observational skills will be a quality you'll learn to develop with experience.
The behaviour you'll adopt on the ground will also have to be in harmony with your environment. For example, silence is prioritized, not only to facilitate the chances of a sighting, but also as a sign of respect for the creatures that reside on the territory you're exploring. Accordingly, slow and muffled movements are the order of the day. That's where respect for nature takes on its full meaning, because you'll have to complete your travels and activities by prioritizing the preservation of the site, leaving no trace of your passage and placing this rule far above the need to photograph.
The equipment
Of course, the first item that will need to be included among your equipment will be a camera. For animal photographers, it's best to choose an SLR Camera. There's a huge range of casings and brands on the market, and our goal is not to review models here. On the other hand, please note that the following three factors are the most important points to consider when choosing your device: the performance of the autofocus, the speed of shots (burst mode), and a high degree of light sensitivity (ISO).
In addition to these elements, adding good lenses will be a must, preferably a telephoto lens, because for animal watching while respecting their comfort zone, you'll have to keep a safe distance. The longer the focal length, the better it will be. Two important things not to neglect when choosing lenses: stabilization and opening (the bigger, the better).
To complete your "equipment foundation," good memory cards and a few spare batteries will also be among the things not to be forgotten. The tripod, for its part, can be very useful to gain more stability when shooting and indispensable if you want to make videos. Binoculars will also be an interesting tool, albeit optional.
That said, the quality of the equipment is one thing, but it obviously doesn't guarantee successful photography. You have to think of all this as a merry mix between mastery of the mechanics (camera settings), technique (the basic rules of photography), adaptation to the subject, and the magical ingredient, namely your creative and personal outlook. In other words, equipment alone doesn't do the job!
Where to go?
You're just starting out and you're wondering where to go? You want to see everything you've never seen before? You'll have to be a little patient! Like anything else, you'll need to start from the beginning, sharpen your knowledge, and prepare yourself well. Knowing where to go, what to photograph, when and how – it all comes with experience and practice.
It's also good to know that contrary to what many people are led to believe, it's not necessary to travel far from the city and go on long trips for wildlife watching. Everything depends on what you wish to see, of course! But if you're new to wildlife photography, please note that municipal and urban parks are the best places to become acquainted with this leisure activity. Why? Because they're nearby, easy to access, and offer a surprisingly wide range of wildlife activity. The observation context is easy because the animals live in an environment where the presence of humans is commonplace. As such, they're excellent places to learn about wildlife and nature as well as photography techniques that you can practice far and wide.
Observations from home
You're wondering if it's possible to do animal photography from home? Not only is it possible to do so, but it's also very formative, since in addition to taking advantage of the fauna on hand, you have an excellent opportunity to hone your techniques and even take up new challenges! Of course, everyone has to adapt to their own situation. But this is only positive, since it forces us to see things differently and increase our appreciation for the precious element that unites us all… nature!
Here are several activity suggestions you can enjoy at home in connection with animal photography, grouped into three main stages:
1. Sharpen your sense of observation
Birds: listen to them, watch them! Match songs to the right singers. Springtime is a period when they vocalize a lot and are especially active.
Pay special attention to nature's details: the arrival of buds, flowers growing, macroscopic life coming alive, habitats returning to life.
Analyze the outdoor surroundings of your home and try to locate and identify all signs of creatures, both new and less recent.
Take notes on the animals visiting you to better understand their behaviours and habits. You'll be able to replicate your techniques later on in the field.
2. Educate yourself
Check the Internet, read and expand your knowledge about wildlife near you and the creatures you'd like to watch.
Learn to identify birds by colour, lifestyle, flight, silhouette, etc.
Study a satellite map of your neighbourhood and city to discover the green spaces near you.
Listen to technical tutorials.
Re-read your camera manual and test the different modes.
3. Practice your techniques
Subjects in motion, birds in particular (speed management).
Macro shooting of nature's details (flora and insects).
The different lights (sunrise/sunset, noon, evening, night).
Overexposure, underexposure (how to fix).
Shadows, chiaroscuro, and silhouettes.
Cloudy and rainy conditions (settings management).
Compositions (be creative with the environment available).
Plans (expand the variety).
Background textures and depths of field.
Adjust your photos after their processing.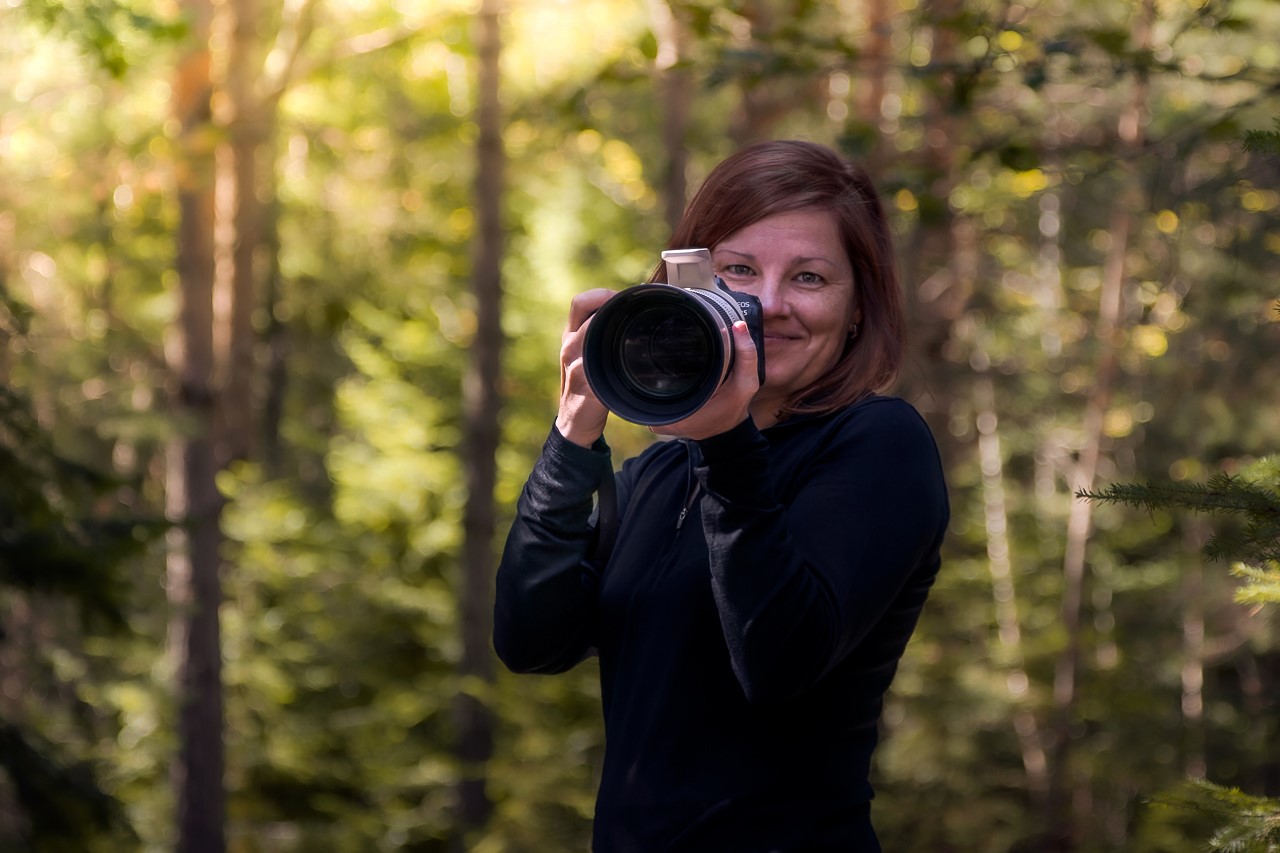 About Julie Audet
Julie likes to share her extraordinary passion for nature and wildlife through photos and words. The unique perception of nature that she captures in her camera's eye is both extremely personal and imbued with great sensitivity. From biology to photography, her work reveals deep values, at the origin of a very current objective: raising awareness about respect for nature.