Caring for nature: a brief guide
The popularity of the outdoors is on the rise, and once again this year a great many people will take advantage of our open spaces to enjoy a wide range of activities, escape to the great outdoors, do some wildlife watching, and fill up on fresh air. It's no surprise that people are so keen to get out in nature: it's a fountain of youth, a source of vitality, relaxation, harmony, and comfort… So, why not pay it forward? Here are a few simple ways to help take care of nature. If we all do our part, we can make a huge difference!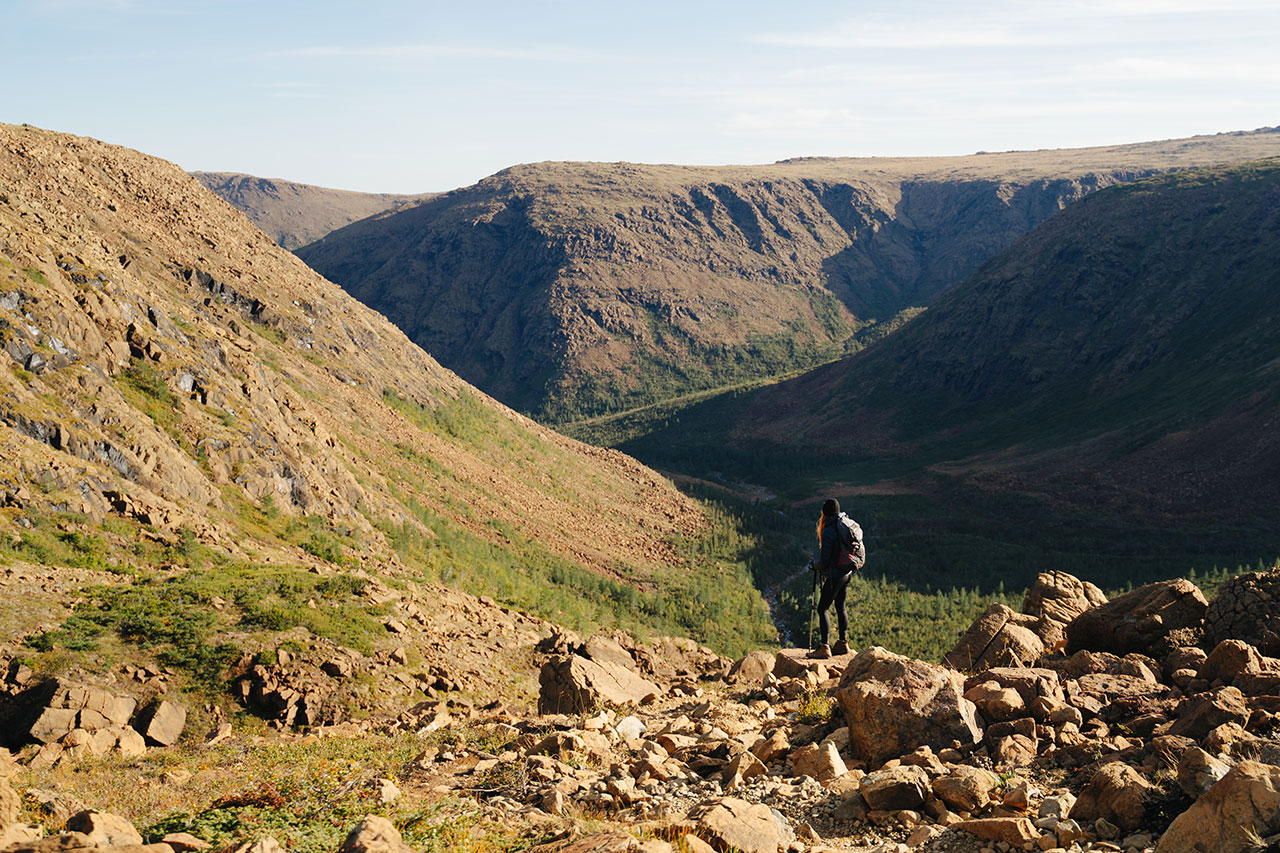 Let the trails guide your footsteps
There are trails for every taste: wide and even, winding and steep, trails that weave through the trees, and others that meander along riverbanks. There's nothing haphazard about trails in nature—they're designed to provide access to breathtaking viewpoints and offer the ultimate experience to hikers of all types.
However, those who venture off designated trails risk trampling flora and preventing it from regenerating, or disturbing sensitive wildlife areas like nesting zones. Even in winter, park users who head off-trail can damage smaller trees buried beneath the snow. It's best to avoid shortcuts and stick to the middle of the trail—even if it means getting your boots a bit wet or muddy—to avoid erosion.
Want to learn more? Rando Québec offers an array of training as well as a toolbox, including a hiker's code of conduct (in French only). These handy resources are well adapted to our environment and context, and are updated regularly with new content.
Leave no trace
After climbing the mountain, what could be better than admiring the view while enjoying a delicious picnic lunch? Everything seems more flavorful out of doors, even that ham 'n' cheese sandwich tastes better! While you're basking in the magic of the moment, remember to keep an eye on your garbage. A granola bar wrapper can be whipped away by the wind before you know it. Just like the water bottle that slips out of your backpack and falls unnoticed on the side of the trail, or the plastic container that ends up floating in the middle of the lake… Not only does waste tarnish the experience of other visitors; it also represents a danger for animals that could accidentally swallow it. Here's a handy tip: Pack a bag—a washable and reusable one is even better—for your garbage and any leftover food. And before you hit the trail again, do a quick visual check to make sure you haven't left anything behind. (Psst! If the trash cans and recycling bins are full, avoid adding anything else and simply pack out your waste.)
What about apple cores, banana peels, and bread crusts? Sure, they're biodegradable, but when left behind, they upset the natural balance of the ecosystem. So, instead of chucking them into the woods, just slip them into your garbage bag and bring them back with you. What could be easier!
Want to do more? Rando Québec and Vélo Québec organize volunteer work parties on Quebec trails. To find out about volunteer work parties in your area, check out the Bénévolat en plein air au Québec group.
Keep away from wildlife
Wildlife observation is a fascinating hobby, especially when the animals watch you back! It's hard to resist the sight of adorable squirrels, white-tailed deer with their big gentle eyes, seals basking in the sun, or a fox, its snout quivering inquisitively. But even if it's tempting to get close for a better look, it's not a good idea, according to Sépaq conservation specialist René Charest. "Why not? Because when you get too close, you disturb them. And when wild animals are repeatedly disturbed, their behavior can change and they may then have difficulty to find food or they may become bolder, which increases their odds of being hit by a vehicle or ending up as a meal for a predator." What's more, when you get too close to a wild animal, or allow it to approach you, it may eventually lose its fear of humans, endangering animals and humans alike.
So, how far away should you stay to preserve the animal's peace? As a rule of thumb, stay 50 meters (imagine 3 city buses) away from large animals like moose, white-tailed deer, caribou, and seals, and 100 meters (roughly 10 buses, just to be on the safe side) from a bear or wolf. For ducks, foxes, and squirrels, the recommended distance is approximately 10 meters. But it's about more than just respecting a distance; the idea is to avoid disturbing the animals. So, if the animal shows signs of distress, it's best to stop or go back the way you came.
That doesn't mean you can't enjoy the moment! Grab your binoculars or a camera equipped with a good telephoto lens before heading back down the trail, and your wildlife sightings will be even more rewarding, while you stay at a distance. Want to improve your photographic skills Click here for advice from nature photographer Julie Audet.
Don't feed the animals
How many times in movies have we seen that idyllic image of children throwing bread crumbs to ducks on a pond! But in nature, it's another story altogether. Some of the foods we eat can make animals seriously ill, alter their natural behaviors, and erode their survival instincts. Sépaq conservation and education officer Mireille Boulianne describes how at one of Québec's national parks, "the racoons had grown so accustomed to campers that they managed to open the outdoor fridge of an RV. They must have been gourmet racoons, because they left behind the hot dog wieners, and made off with the filet mignon!"
When they lose their natural wariness, wild animals tend to wander more often into areas designed for and occupied by humans, which increases the chances of road accidents and other unfortunate incidents. So, while it may be tempting to share your snack with that cute little squirrel, it's best not to. Animals are hard-wired to find everything they need in nature, so why not let them do their thing, and simply admire them from a distance.
Keep your supplies out of reach
The same precautions apply when you're camping: make sure you pack away all food and other fragrant products (toothpaste, deodorant, etc.) in airtight containers, to seal in the smell, and store them in a locked vehicle (whatever you do, don't leave it in your tent, or you could have an unexpected visitor in the form of a determined racoon or a hungry bear!). "All it takes is easy access to food or garbage for animals to get into the habit of frequenting campgrounds and sticking around," notes Boulianne. When wild animals get too close, their behavior can be unpredictable, jeopardizing the safety of park visitors. If the animal continues to venture too close, it may need to be captured and relocated, which can threaten its survival. So, keeping your food out of reach can avoid all kinds of problems!
Being out in nature does us all a world of good. So, let's do our part to take care of it. Love and respect nature so that future generations can enjoy the same benefits and happiness it brings us.
First aid checklist for mother nature
Stay on the trails
Keep away from wildlife
Don't feed the animals
Store food in a safe place
Pack out all waste
Do not gather plants, driftwood, or other natural objects
Camp in designated areas only
Opt for biodegradable soap
Make fires only in designated areas and comply with fire danger warnings