A little guide for a perfect hike
In collaboration with the Atmosphere team.
If you're an outdoor enthusiast, you've just got to love fall! In Quebec, it's the very best season for hiking, featuring colourful scenery of breathtaking beauty and temperatures just cool enough to make your pleasure complete. You couldn't ask for more!
Are you well equipped to enjoy your most beautiful hike of the year? Atmosphere will help you find everything you need!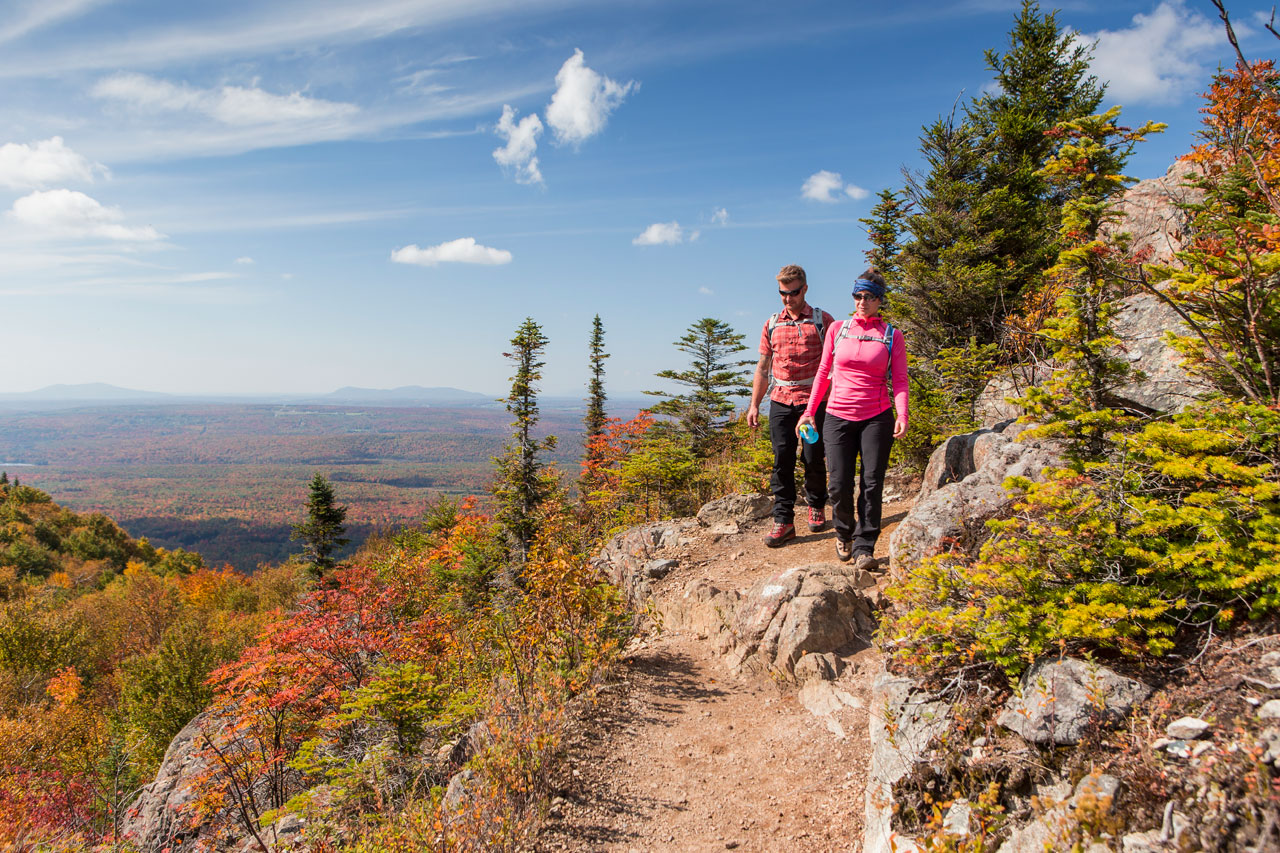 Choosing the right hiking boot
The hiking boot is perhaps the most crucial element in your quest. For a comfortable activity from start to finish, you need a strong boot that will support your ankles and let your feet breathe. There are several options available to you when it comes to choosing the right boot for your foot.
On the material side, leather is often to be preferred since it's flexible, resistant, breathable, and with proper maintenance, relatively waterproof. In other words, as the kilometres go by, the boot adjusts to your foot for maximum comfort. For a cheaper option, you can also choose a synthetic leather boot. The footwear certainly won't be as durable, but synthetic leather still has advantages similar to the real thing.
You'll often need to set aside some time to break in your hiking boots. It may be a good idea to plan a few relatively easy walks before leaving for the most difficult hike on your list.
The right backpack for you
Without being too big or too small, the ideal backpack should be able to hold at least the bare essentials. Depending on your needs (duration of the hike), several size options are available to help you transport your load as comfortably as possible.
For example, if you're going on a several-day expedition, you should choose a 75- to 100-litre bag. If you're going away for the day, there's no need to bother with such a large object. Instead, choose a 15- to 35-litre bag that can hold a water bottle, raincoat, spare items, snacks, and the like.
For maximum comfort, the bag should have a waist belt to help maintain stability or an arched frame. Also, it will always be useful to have a small waterproof cover that can protect your belongings in case of rain.
Walking sticks anyone?
Whether you're a novice or a seasoned hiker, walking sticks can be helpful. Not only do they improve your balance in rough terrain, they also help you distribute your weight more evenly - especially if you carry a full backpack - while better absorbing knee and hip impacts on the way downhill. It's estimated that hikers who use walking sticks can reduce muscle fatigue by 30%. In addition, their use allows you to exercise your upper body and thus burn more calories.
Being telescopic, most of today's models are not cumbersome and can be adjusted to any type of terrain.
Get your equipment right
Hiking is a wonderful way to discover the beauty of our territory and admire the dazzling nature it offers us. To reach new heights this fall, don't hesitate to consult the best suggestions for hiking at Sépaq destinations all across Quebec. If you need a helping hand to get equipped, the Atmosphere team will be delighted to help you find the right elements to meet all your sporting challenges!