A passion for foxes
The story of an animal photographer
In collaboration with Julie Audet, animal photographer.
Animal photography can include some major challenges, mainly because the photographer must take nature's unpredictability into account. While being both favourable and a source of pure happiness, it can also lead to frustration. All sorts of energy may be expended prior to an outing and before snapping a scene, which also always and invariably leads to all kinds of stories.
The birth of a passion
The day I decided to combine my passion for animals with photography, my interest grew exponentially, because I started to discover an even more complete and near-limitless world. I then began to head into the field more often, which helped hone my observer's eye. Having the chance to observe wild animals in their environment is a huge privilege, and I'm very grateful to each and every animal that has crossed my path. Of all the animal species that I have had the opportunity to observe so far, foxes still fascinate me the most, even to this day!
When we take the time to observe a wild fox, the popular expression "being sly as a fox," which has existed for over three centuries, begins to make total sense. Whether they're used to the presence of humans or not (because their territory is often chosen in response to humans), foxes always manage to surprise me. A fox is an intensely curious creature which, combined with its intelligence, always lead to captivating situations which never fail to knock me out. Masters of adaptation and opportunism, they're one of the most common land mammals on the planet. So you'll understand that what I'm looking for when observing wild foxes is not rarity. In exchange, foxes offer guaranteed unique moments, which are far more precious than any special status, something wonderfully in line with my personal goal as an animal photographer.
An expressive animal
Each fox is unique. Variations in colour, whether of fur, mask, and/or eyes, as well as distinctive physical traits that spice up their behaviour patterns, which could almost qualify as "personality," mean that each individual is a totally unique being. The most special thing about this animal, well at least in my opinion, is without doubt the facial expressions that they convey. Without wanting to engage in anthropomorphism, it almost feels like we can guess the emotions in their eyes, as foxes are one of the few species to stop, sit, take the time to observe humans, and let themselves also be observed without feeling threatened at all. This kind of situation can even last for a good while. In this context, becoming the subject does not bother the photographer in me in the least! It's even the type of moment that charms me most, especially when a fox is relaxed and feels comfortable enough to settle in and take a nap a few feet away. This is a form of mutual respect and of spontaneously created non-verbal communication, when it's worth putting away the camera to fully appreciate this moment of happiness and appreciate the beauty of what nature is bestowing upon us.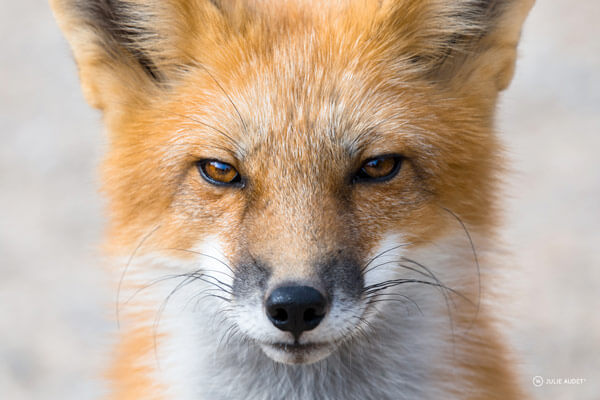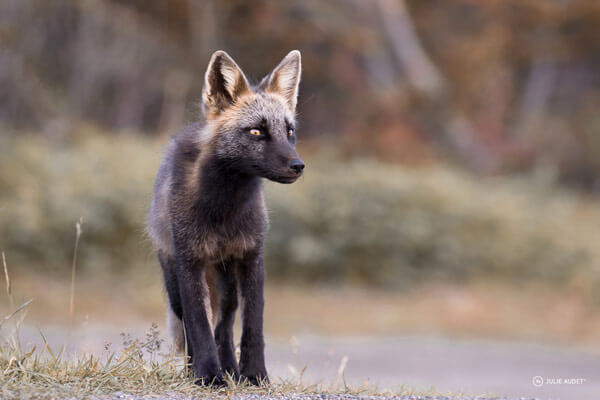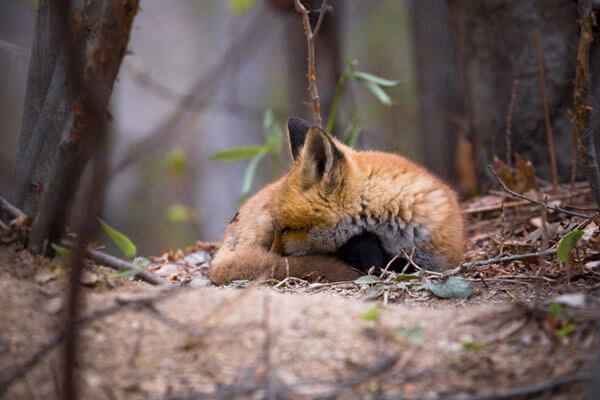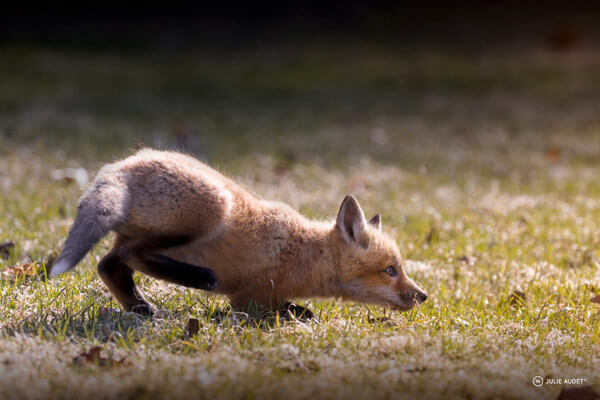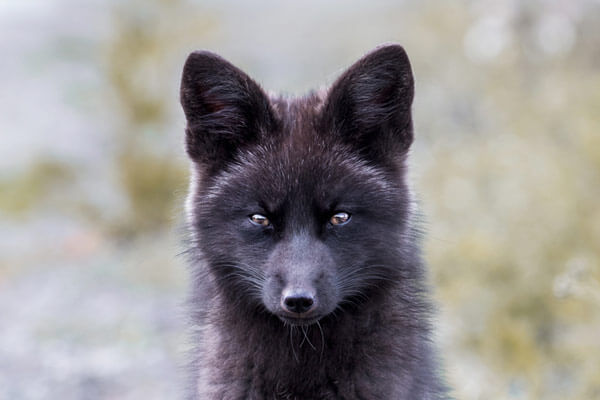 A most unexpected encounter
Among the many encounters I've had with foxes, here's one that I still like to reminisce about, which happened at one of my favourite Sépaq establishments no less, Parc national des Grands-Jardins.
My spouse and I had just arrived at the park to climb Mont du Lac-des-Cygnes. It was very early in the morning, the air was cool, and the sun wasn't fully up yet. With his easy and spontaneous humour, my spouse is the type of person who can't have a conversation without cracking a joke or two. While he had already gotten out of the car and I was still in it preparing my photography equipment, he said very calmly, "Julie, there's a fox behind the car." I didn't believe him. I didn't even look up. What were the odds that this would happen so easily? He then repeated this, just as calmly, and added "there are even two of them. There are two foxes behind the car, Julie." I laughed a little uncomfortably and only managed to respond "that's it. You summoned some foxes and just like that, two of them just magically appeared." He then had to say "Julie, take your camera and get out, there really are two foxes behind the car" for me to look up from the settings of my device. When I saw his face, I knew he wasn't kidding. There really were two foxes behind the car! One of them even had a prey in its mouth.
That day, we didn't bother with the hike. We instead took advantage of this beautiful totally impromptu show, during which we had the opportunity to observe two young foxes wandering about, scrapping, playing, grooming, and resting, during a solid two hour-period, before disappearing into the forest for the rest of the day. A lovely interaction between the pair, who never really cared much about our presence, being far too busy with each other, a perfect situation for snapping photos, despite the dawn's early light. In this case, the unpredictability of nature could be fully appreciated!
Three basic rules to be respected in the presence of foxes
Also applicable to any other wild animal
Always keep your distance, for safety reasons and to be respectful.
Don't feed wild animals; this can be much more harmful than you think.
Stay calm and enjoy the moment.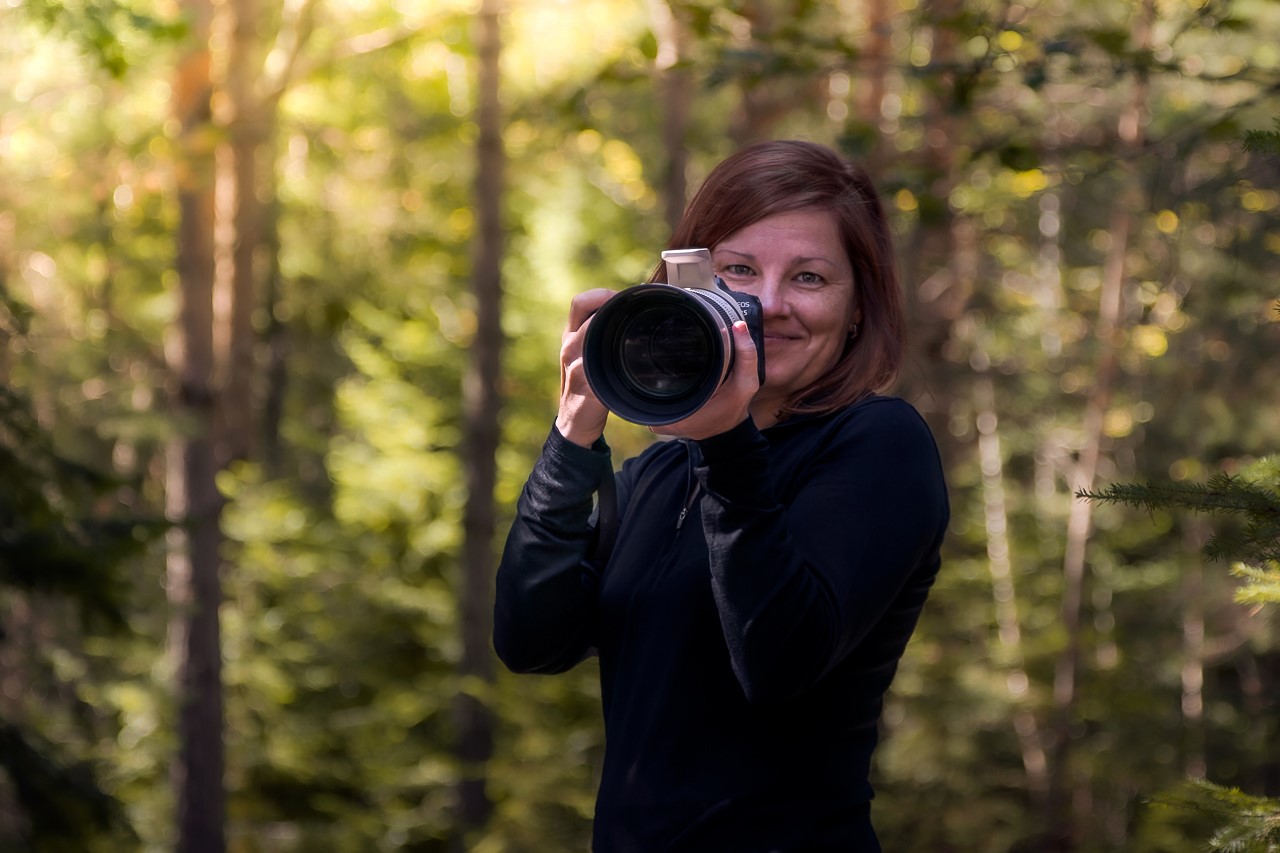 About Julie Audet
Julie likes to share her extraordinary passion for nature and wildlife through photos and words. The unique perception of nature that she captures in her camera's eye is both extremely personal and imbued with great sensitivity. From biology to photography, her work reveals deep values, at the origin of a very current objective: raising awareness about respect for nature.