PARC DE LA CHUTE-MONTMORENCY IN A WHOLE NEW LIGHT
Located only 15 minutes from downtown Quebec City, Parc de la Chute-Montmorency is a destination worth discovering for its neighbours from the region of the Capitale‑Nationale.
To help you discover the most authentic local colours of this destination, we called on the park's team, who shared some precious little well‑kept secrets.
So Quebec City friends, here are five reasons to play summer tourist at this spectacular historical site…right away.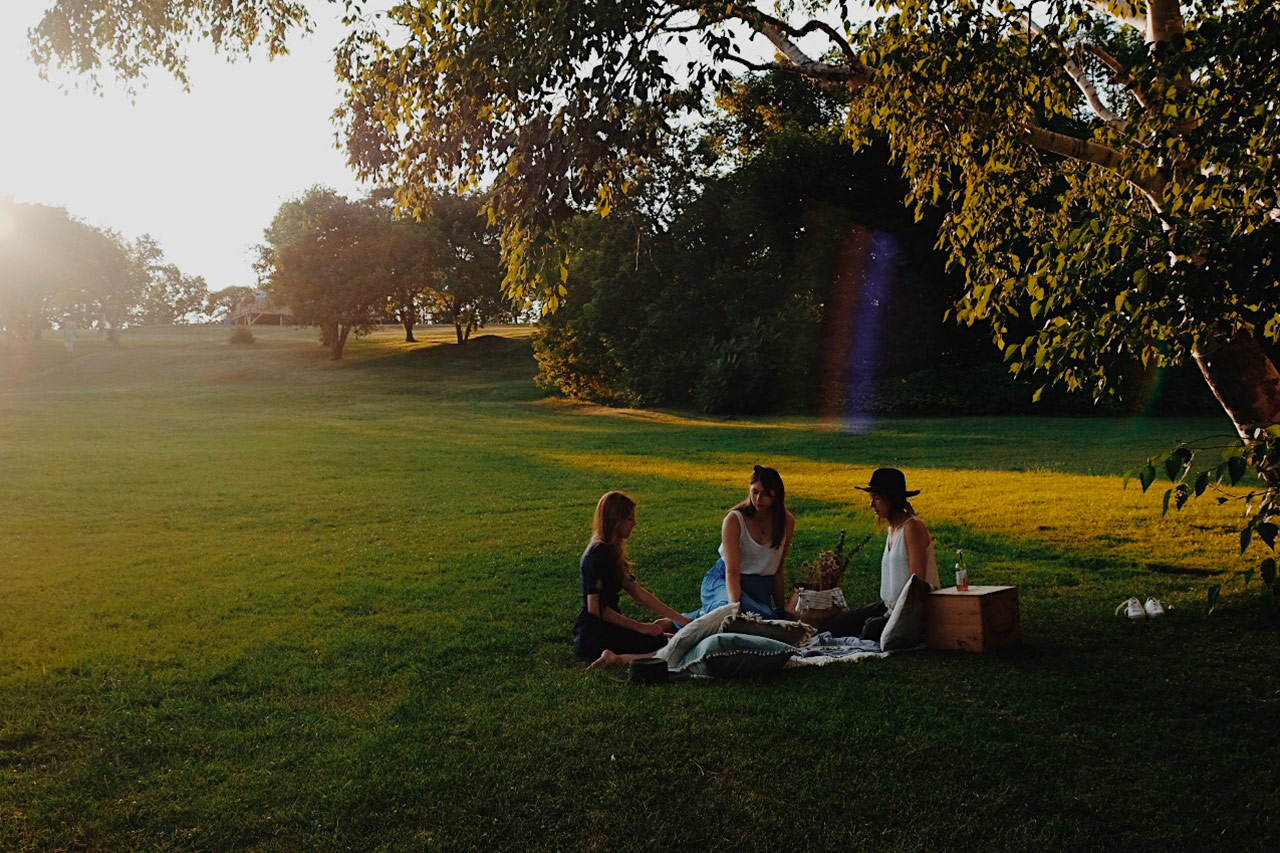 1. A NETWORK OF HIDDEN TRAILS
Considered a tiny perfect gem by its regulars, Résurgences trail is a wooded haven of true peace along Rivière Montmorency, upstream of the waterfall. From this trail, you'll also discover a pretty little network of forest trails that the locals have created over the course of their strolls. You'll quickly fall in love with its lush forest, its proximity to the river, and especially its tranquility. To access this little corner of paradise, head east of the suspension bridge behind the snack bar.
2. A HAPPY ENCOUNTER WITH THE ROCK WALL
This summer, we invite you to contemplate the waterfall differently and to approach it from a unique viewpoint, by daring to take up the via ferrata challenge. Set in the Boischatel fault, this activity, halfway between hiking and climbing, promises you a memorable experience and a truckload of thrills. You'll feel the rumble of the waterfall a few metres away, while admiring the St. Lawrence River and Île d'Orléans.
3. A DIFFERENT EXPERIENCE FOR EVERY SEASON
Regulars will tell you that Parc de la Chute-Montmorency offers both a unique and different experience each and every season. You fell under its charm during your visit last winter? Prepare yourself for more because this summer you'll be enchanted by the magnificent green panorama and impressed by the waterfall bed, which swells considerably during the summer season.
In addition, as soon as spring has sprung, Manoir Montmorency is decorated with large beds of beautiful tulips. During the summer, these give way to thousands of pretty flowers. To promote pollination, four beehives have been installed behind Manoir Montmorency. You can also buy harvested honey at the Manoir's gift shop… and word has it that it's simply delicious!
The raspberry bushes along Domaine trail are another well-kept summer secret. Given the vast array of berries that are ripe for the picking, we certainly understand why the locals are so crazy about them. Act quickly… and don't let the cat out of the bag!
4. WINNING COMBINATIONS
GOOD FOOD AND A BIT OF HISTORY
To satisfy small and big appetites alike, Parc de la Chute-Montmorency is the perfect place to combine culinary pleasures with a mini history lesson.
Located behind Manoir Montmorency, mobile restaurant Le 1759 is the perfect place to enjoy a delicious street-food-style meal from an extremely varied menu at an affordable price. Whether you treat yourself to the sparerib poutine, a veggie burger, or a lobster roll, a tasty delight is definitely in store.
History 101: The prelude to the Battle of the Plains of Abraham was the Battle of Montmorency, on July 31, 1759, when British troops, led by General James Wolfe, fought against a contingent of the French army, led by Louis-Joseph de Montcalm at the foot of the waterfall in the St. Lawrence Valley. Food for thought for your next discussions at the picnic tables of Le 1759!
Ice cream enthusiasts will be delighted to learn that the Pain de sucre dairy bar is now open. This new ice cream parlour owes its moniker to the renowned Sugarloaf, the extraordinarily impressive natural ice cone formed from the fine splashes projected by the waterfall when the weather is freezing cold. A delicious maple ice cream sundae even bears its French name and must be added to your must-try list this summer!
If you're the type of person who prefers to lounge in the sun while enjoying a fine microbrewery beer with a gourmet meal, the Manoir Montmorency panoramic terrace and its breathtaking view await you.
History 101: Manoir Montmorency was the very first Palladian-style villa in Canada. Back in the day, it was at the heart of a commercial empire, then a luxury hotel favoured by the aristocracy. Now the Manoir is a tourist establishment with a heritage vocation.
If these snippets of history have sparked your curiosity, you'll enjoy participating in guided tours of the park. Chock full of fascinating anecdotes, these highly colourful tours will take you back in time to the period of New France.
PICNIC WITH A VIEW
Picnics are really popular! And the timing couldn't be better since Parc de la Chute-Montmorency offers a number of superb spots to enjoy your meal outdoors. Our team's favourite spot? The orchard! Offering an extraordinary view of the river, this vast corner of the site is also graced with beautiful mature trees and a children's playground equipped with swings and slides.
You can also admire the many splendours of the site from the contemplative bridge crossing Rivière Montmorency. You'll also find a series of platforms on various levels where you can sit and enjoy your picnic.
5. AN OPEN-AIR GYM
Vast green spaces, a good many trails, and nearly 400 steps: Parc de la Chute-Montmorency features everything needed to create an outdoor training circuit of your very own. The orchard and its century-old trees also offer nice shaded areas to exercise without equipment or to leisurely stretch at the end of a workout, when the temperature begins to rise.
Hot tip: Morning and day-end workouts are a great way to beat the heat. During such special moments, the temperature is generally much milder and the site, especially the panoramic staircase, is a little less busy. You'll see…jogging on the steps during these golden hours will give you a second wind.
---
So, let's treat ourselves to a getaway in Côte-de-Beaupré?
Listen up: Daily access to Parc de la Chute-Montmorency is free of charge for residents of the Quebec City metropolitan area. One more reason to add this visit to your list of summer outings!