Our best destinations for short treks during winter
In Quebec, whether there's frost or powder snow, or the sun is out in full force, we can always find a reason to step outside and enjoy winter. Staying indoors is out of the question! And short treks are a really nice way to touch base with our very own magnificent national territories.
Our outdoor experts have identified a few snowy trails that are ideal for this type of hike. And now let's lace up our hiking boots, zip on our winter suit, and step outside to fill up on vitamin D!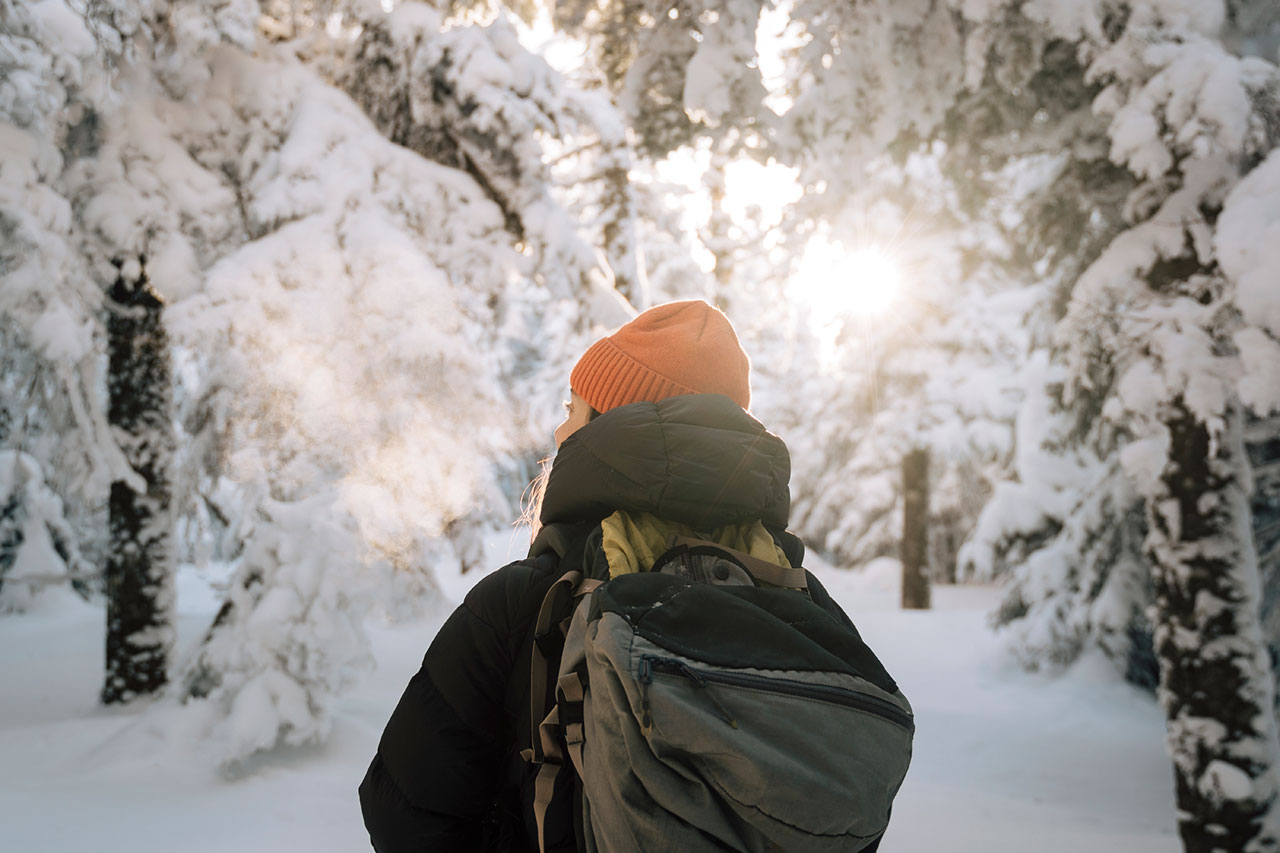 PARC NATIONAL D'OKA
A few kilometres from downtown Montreal, Parc national d'Oka remains an ideal winter destination for those torn between nature and city. Should you be bitten by the outdoors and adventure bug, why not try L'Écureuil trail? In barely an hour, you'll have the pleasure of criss-crossing this stunningly impressive intermediate-level trail featuring a forest cover of tall pines.
STATION TOURISTIQUE DUCHESNAY
30 minutes from Quebec City, nestled at the edge of Lac Saint-Joseph, Station touristique Duchesnay offers a nice variety of trails, but the classic choice for a short hike remains Lac Jaune (#55). Criss-crossing a mixed forest of sugar maple-yellow birch stands, the trail offers a superb lookout on a massive peatland. The withdrawal of the continental glacier also left glacial deposits and boulders forming curious rock shelters on the territory.
PARC NATIONAL DU MONT-TREMBLANT
An ideal pathway for a family romp, Parc national du Mont-Tremblant's picturesque Lac-des-Femmes trail is a must during the snowy season. While wrapped up nice and warm, winter hiking enthusiasts will have the pleasure of rubbing shoulders with maple forests and fir trees throughout this snowshoeing outing that takes barely 1.5 hours to complete. Along the way, there are magnificent views of splendid Lac-des-Femmes.
PARC NATIONAL DU BIC
For a deep breath of salty air, we head towards Parc national du Bic where, in a harmonious blend of forest and shore, the sometimes steep Anses trail will take you through Anses aux Bouleaux from east to west. A must for hiking enthusiasts! Especially with the river and its ice that sculpt a new panorama each and every morning.
PARC NATIONAL DE LA YAMASKA
During winter, it's not always easy to motivate our small fry to follow the hiking rhythm imposed by the group! That's why a self-directed rally for kids has been set up within the confines of pretty La Rivière trail at Parc national de la Yamaska.
We mustn't forget to mention the magnificent lookout on Rivière Yamaska Nord, a waterway that never freezes, even when it's minus 25 degrees! A true mystery that our best detectives will be able to solve on site.
Here's a short checklist for a perfect experience:
Capacity may be limited, so arrive early! In order to preserve the quality of the experience for visitors and employees alike, you may be denied access to a particular sector, trail, or activity if the parking lot is full or if the maximum capacity is reached.
Check the weather forecast before you leave; it's often colder in the mountains than at home.
Dress warmly and in layers. The idea is quite simple, you add or remove a piece of clothing according to the intensity of your physical effort and the winter conditions.
Have on hand your national park access rights and, if needed, your cross-country skiing day pass.
Download the Avenza Maps app and the plan of the sector you intend to visit. For all the information, click here.
Find out about snow conditions at your destination by downloading the Sépaq:Neige mobile application available on the App StoreTM and Google Play StoreTM or visit our website.
Fill a thermos with your favourite hot beverage: total comfort guaranteed!