Long-distance winter hiking
Myths and realities
For those who've never tried it, a long-distance winter hike, i.e. an excursion that takes more than a day, may seem out of their league. However, it's such a fun winter experience! And contrary to belief, you need little preparation or equipment to enjoy a pleasant outing.
To better convince you to try long-distance winter hiking for the first time, we've identified 10 myths that we often hear and that shouldn't curb your desire to hit the trail.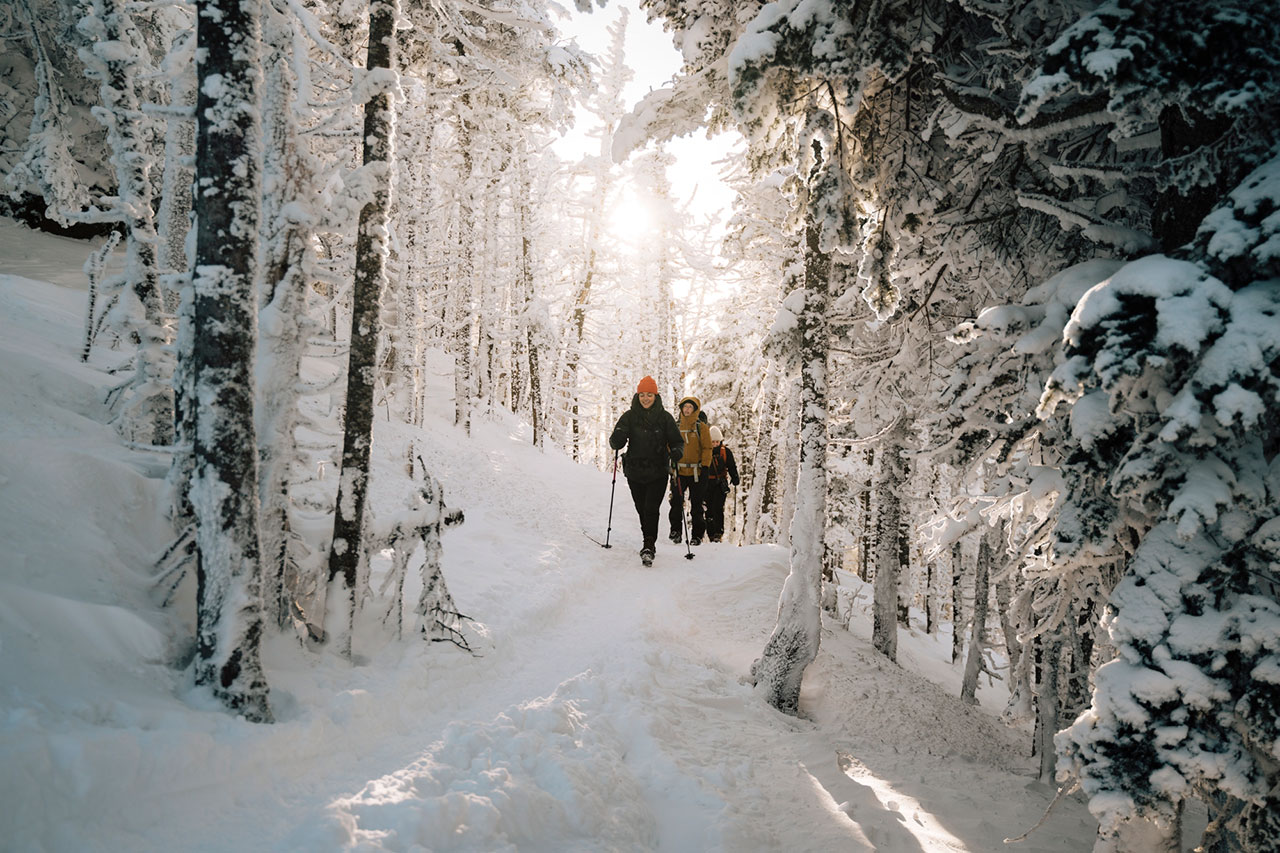 Long-distance winter hikes are physically difficult and only for very experienced hikers
False. There are long-distance hiking trails for all tastes and all difficulty levels. Whether you're an experienced hiker or simply a fit walker, there's a trail to suit your style. And if you don't want to carry your backpack during the whole trip, some destinations even offer luggage transportation.
Setting off on a long-distance hike requires a lot of specialized equipment
False. Contrary to belief, long-distance hiking requires little equipment. Good winter clothes and a few accessories to cook are enough.
In a hut, I can only eat little bags of dehydrated food
False. Depending on the number of days your expedition will last, you can cook delicious meals in a hut. As good as at home! Wild mushroom risotto, cheese fondue, chickpea curry, pesto pasta… all you need to cook these delicious recipes is a bit of advance preparation, a small cauldron, a burner, and your favourite tasters, of course.
I'll definitely have to walk for a very long time to reach my hut
False. Certain huts are located only a few kilometres from the starting point. If you want to walk for less than three hours to get to your destination, you can do so simply by choosing a trail that meets your criteria.
Long-distance hiking is risky; I might get lost in the forest
False… with a little note of caution. Long-distance winter hiking is no riskier than winter hiking in general. Stay on the trails and always make sure to check the park map before heading down a new cut-off.
But especially, don't underestimate winter conditions. Before planning your adventure, check the weather forecast, make sure you bring suitable clothes, and be vigilant if there's a heavy snowfall.
When setting off on a long-distance hike, I have to dress very warmly
False. We even recommend that you dress somewhat lightly to be a bit cool when setting off. Remember that when we're snowshoeing, with a loaded backpack, we naturally warm up after about 15 minutes. The best strategy remains wearing many layers, so you can add or remove a layer of clothing according to the intensity of your physical effort and the winter conditions. You should opt for wool (Merino wool) and fleece, as these fabrics dry faster.
You find it hard to bear the cold? Bring little heating pads, also called hot pads. For less than $5, your feet and hands will be warm throughout your hike, even when it's -30°C.
It's cold inside the huts
False. All huts are equipped with a good wood stove, and they're an excellent source of heat. On arrival, however, it's true that it's cold inside the huts. But once the fire is lit, just wait a few minutes to feel the heat spreading. After about an hour, the hut is normally good and warm. In fact, you need to bring a rather light sleeping bag, since, generally speaking, it even gets quite hot in the typical hut.
I won't sleep well in a hut
False. After a great day outdoors, hurtling down snowy trails in the heart of the forest, most people say that they feel "the nature effect" and sleep like babies in their sleeping bag.
There's a kitchen and bathroom in huts
False. Huts are generally equipped with a big counter to prepare food, but since there's no electricity or running water, there's no kitchen or bathroom. In the back of the hut, there's a dry toilet, usually with toilet paper. Small cleaning wipes can be useful for those who wish to freshen up after a day outdoors.
I can arrive in a hut without a booking
False. If you wish to set off on a long-distance hike and spend the night in a hut, you must book your accommodation in advance, same as for a campsite or a cabin.