Never without my thermos!
In collaboration with Geneviève O'Gleman, nutritionist and host of Savourer on ICI Radio-Canada Télé
I love winter and every year I find that it goes by a little too fast. I try to take advantage of every weekend of beautiful snow to play outside with my snowshoes, my cross-country skis... or my crampons. And in my backpack, there's always at least one thermos…and often two or three!
Insulated containers, better known as the popular Thermos brand, are one of my winter essentials. I use them to bring along hot drinks and meals, and also cold water to prevent it from freezing.
Here are some tips on how to choose, use, and maintain your thermos for extra pleasure during your winter outings. Enjoy!
How to choose a good thermos?
The key to buying an insulated container is to focus on quality. Cheap thermos jugs, often made of plastic, will not live up to their promise. And believe me, when it's cold outside, it's very disappointing to wolf down a lukewarm dish or slurp a hot chocolate that's not hot at all! For a quality thermos, you should spend $25 to $40.
Your insulated container should meet the following three criteria:
Be made of stainless steel (it is more resistant and more efficient).
Have a double-wall vacuum (this ensures good insulation, and therefore longer heat retention; check the product label).
Be waterproof. You don't want any leaks in your backpack!
To be good and practical, choose a bottle with a narrow opening for beverages and a container with a wider opening for food.
Quality containers can be found in outdoor stores, as well as in big box outlets, some supermarkets, and online. Among the most reliable and efficient brands are Thermos, Hydro Flask, Yeti, Stanley, MiiR, and GSI Outdoors. These six reputable companies offer insulated containers of equivalent quality.
As for the style, you can be seduced by a refined shape, a particular colour, or a practical accessory such as a spoon incorporated in the lid.
How to use your thermos?
In the morning, before leaving for your adventure, preheat your thermos by filling it with boiling water and let it sit for a few minutes. This small step will make all the difference! Your insulated container will store the heat from the water and keep your food and drinks hotter for longer.
You don't want to pour your meal into a cold thermos... or the other way around! In fact, you should reheat your meal so that it's too hot to eat right away. That way, your food will be at the perfect temperature when you're ready to tuck in. A quality thermos can keep your liquids hot for 12 hours, and your food hot for 6-8 hours.
To drink
It's so nice to arrive at a mountain lookout or a hut hidden in the forest and sip a hot chocolate, chai tea, or tasty chicken broth. It makes for a much better winter experience! For short sub-zero outings, make it a habit to bring a hot beverage to hydrate, warm you up, and give you a little push to keep going.
To eat
For longer outings, you'll need a lunch. In winter, forget the sandwiches; they'll freeze in your backpack. In the great outdoors, you rarely come across a cabin or chalet where you can have lunch, unlike in an alpine ski resort. So stop at the most beautiful lookout on the map, or in the shelter of a small rustic hut, and take out your lunch, usually to be eaten with mittens on. The thermos is then our best ally!
Here's a hot tip: start the slow cooker at night before you go to bed and when you wake up, just fill your thermos… and off you go. Here are my four favourite slow cooker recipes for outdoor dining (in French only): my sweet potato curry, my tequila chili, my lentil soup and my pea soup.
The best foods to keep in a thermos are soups and casseroles. They're often even better reheated and stay hot longer. Asian stir-fries, rice, fish, and grilled meats do not keep well in a thermos!
To prevent water from freezing
Have you ever brought a water bottle on a hike... and couldn't drink because it turned into an ice cube? I have... and since then, I always carry my water supply in a thermos bottle so I can quench my thirst during a winter activity.
How to extend the life of a thermos?
I learned the hard way: your typical thermos is not dishwasher safe, even if the manufacturer claims otherwise. An excessively high water temperature damages the seal and affects the container's ability to retain heat. In addition, the risk of leakage increases after a few trips to the dishwasher.
Instead, hand wash your trusty thermos in hot soapy water, let it air dry, and store it without closing the lid. This way, this invaluable receptacle will be part of your outdoor adventures for many years to come. A purchase that's worth its weight in gold!
Recipes of our collaborators to inspire you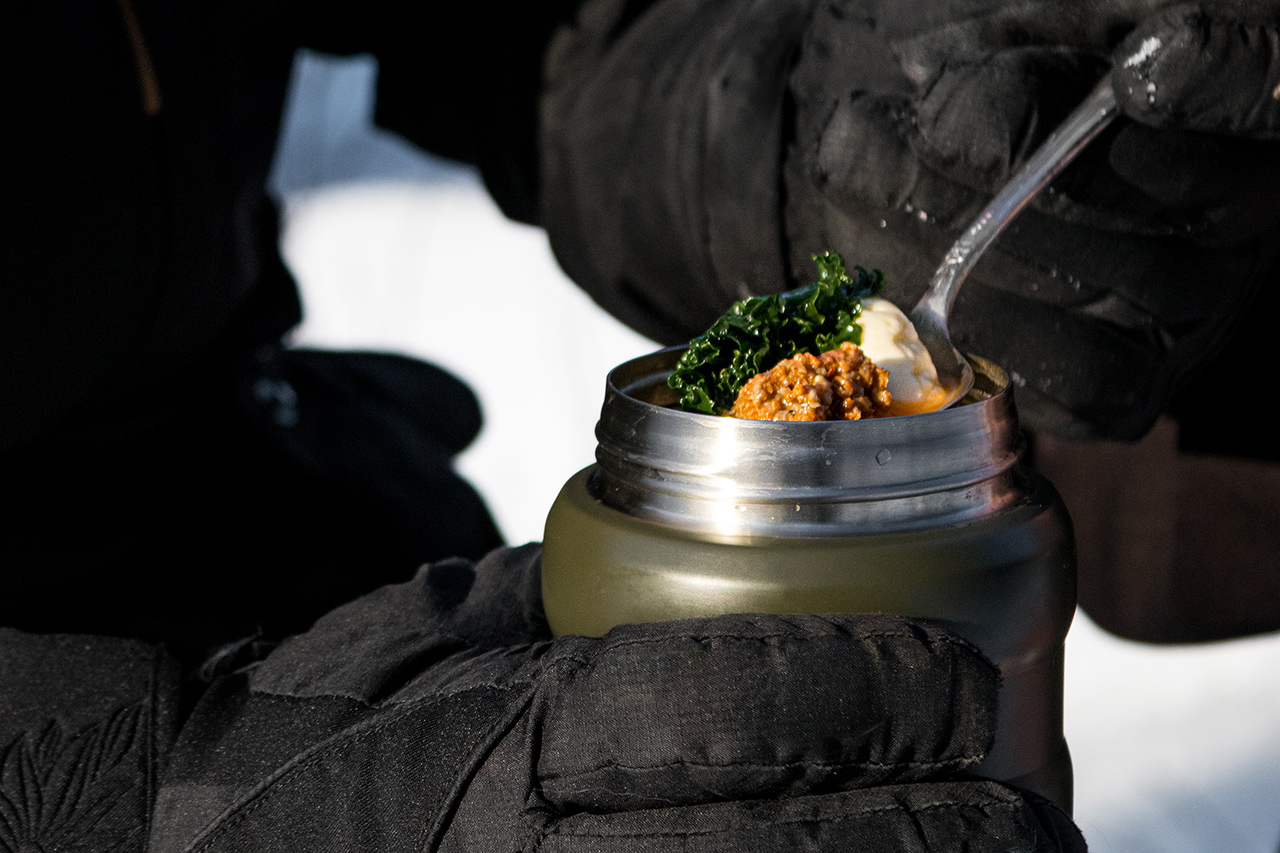 Hiker's soup
As usual, food blogger Petite Bleuette has come up with a recipe that's as comforting, nutritious, and tasty as we like. And let's face it, this soupy meal is even more delicious when savoured on a mountain peak.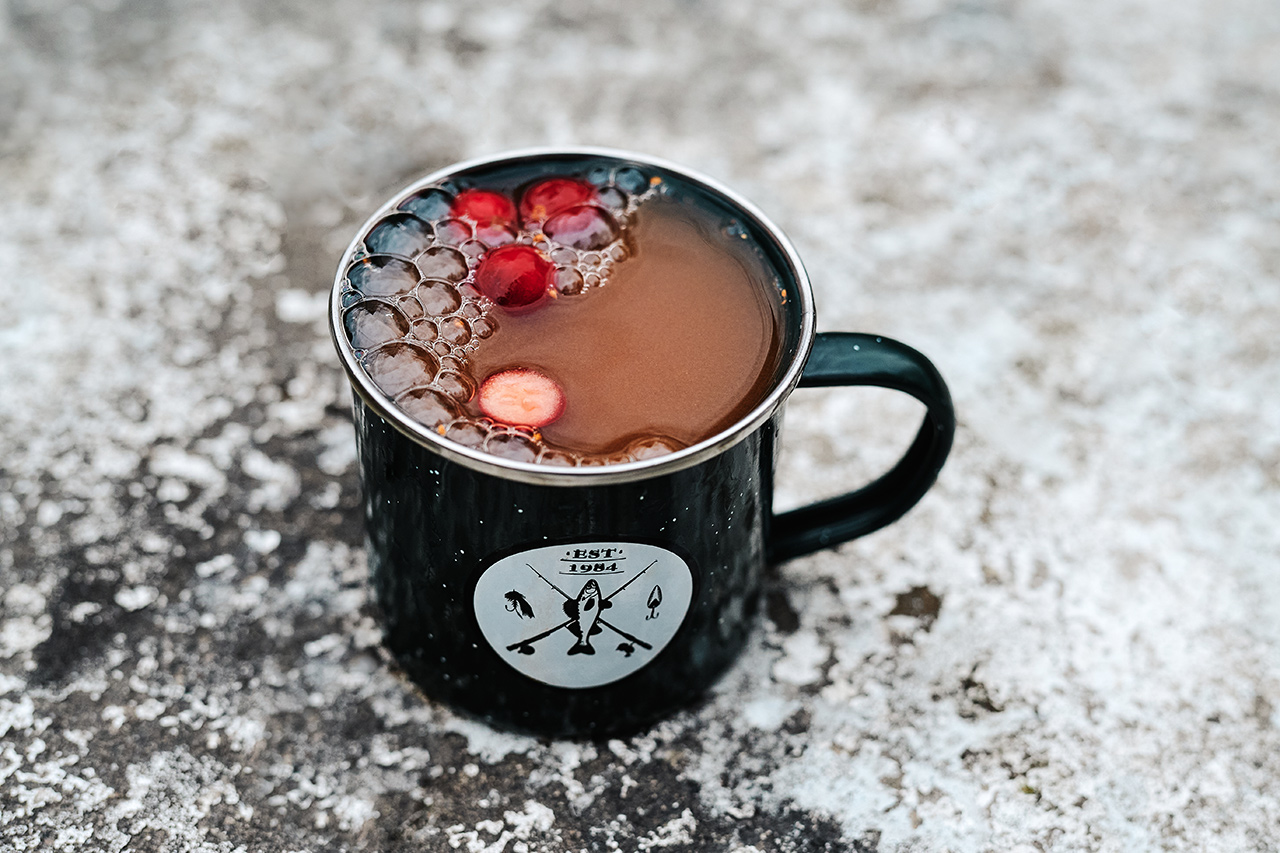 Hot apple juice with fir and cranberries
Say hello to your new favourite hot beverage: a 100% local hot apple juice with fir flavours. We must warn you, this stroke of genius from Caribou may officially dethrone your favorite brew. A must-try for all epicurean hikers!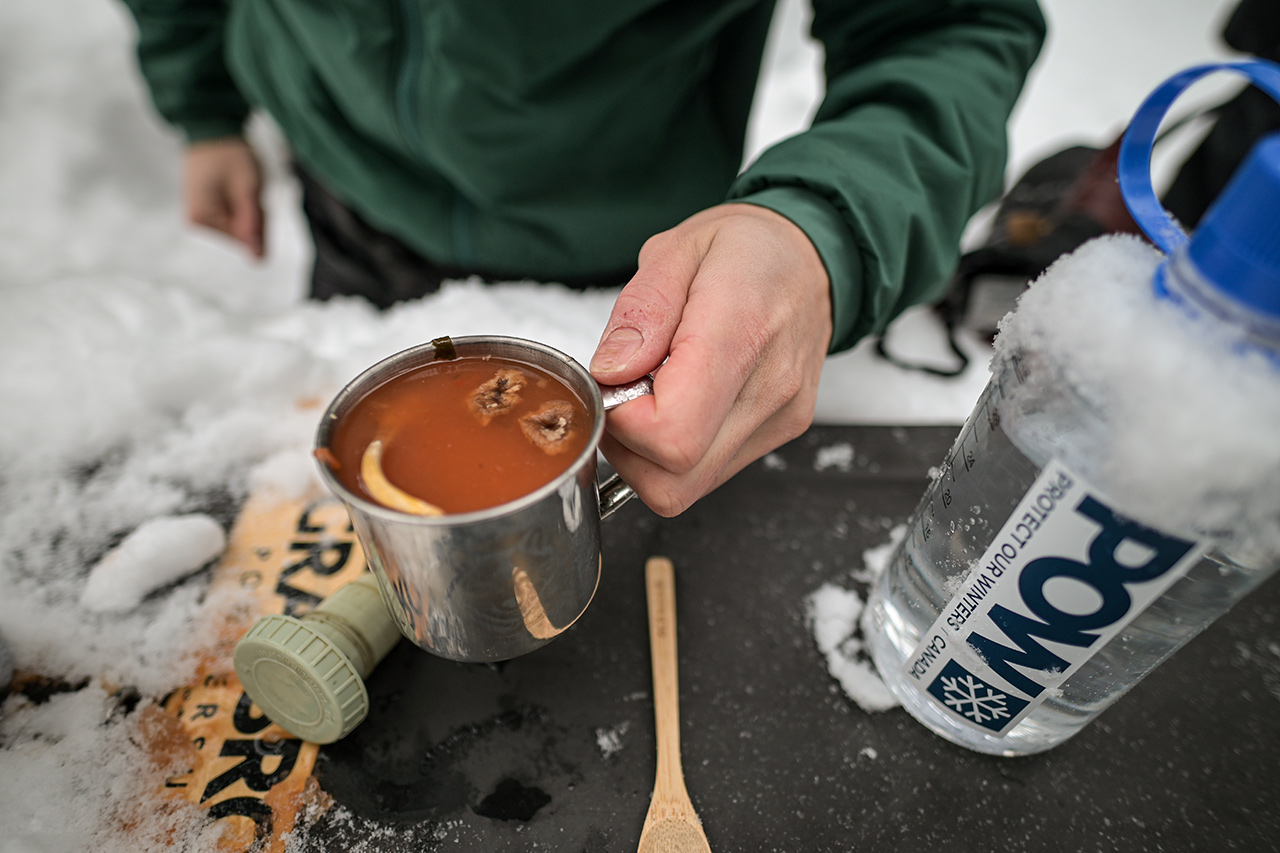 Woodland minestrone
Would you be tempted by classic "Italian vegetable soup" revamped with local flavours? That's exactly what Simon-Pierre Murdock, the founder of Morille Québec, is proposing with this minestrone inspired by our Québec forest. A pure delight, from the garnish to the last grains of rice at the bottom of the thermos!
About Geneviève O'Gleman
Geneviève O'Gleman is at the helm of the Savourer show on Radio-Canada and editor of the web magazine savourer.ca. She has just launched her recipe book Fast food santé, a best seller available throughout Quebec.