Trail running…getting off to a running start
In collaboration with Marline Côté, trail running enthusiast.
With our four vastly different seasons, our many mountains, and our panoply of lakes and rivers, it's not always easy to check out all the landscapes that Quebec has to offer. Although there are a multitude of ways to explore the potential of our backyard, doing so with hiking boots on the ground offers a certain freedom and closeness to nature, while being very accessible for the outdoor enthusiast.
Hiking has long since made its debut in Quebec, but in recent years, trail running has made giant strides among hikers. Why such a craze for this sport? Although still a fledgling culture in Quebec, more and more people are taking to the trails on the run. It's nice to see that the sport is thriving in the community and for the occasion, we took the opportunity to discuss the subject with Marline Côté, executive director of Trail Harricana UTHC, a major event in the Charlevoix region, which attracts high level athletes from here and around the world each year to take up the challenge of 125 km of trail running in the boreal forest, at the heart of a World Biosphere Reserve where river, peaks, fjords, and vast bays meet.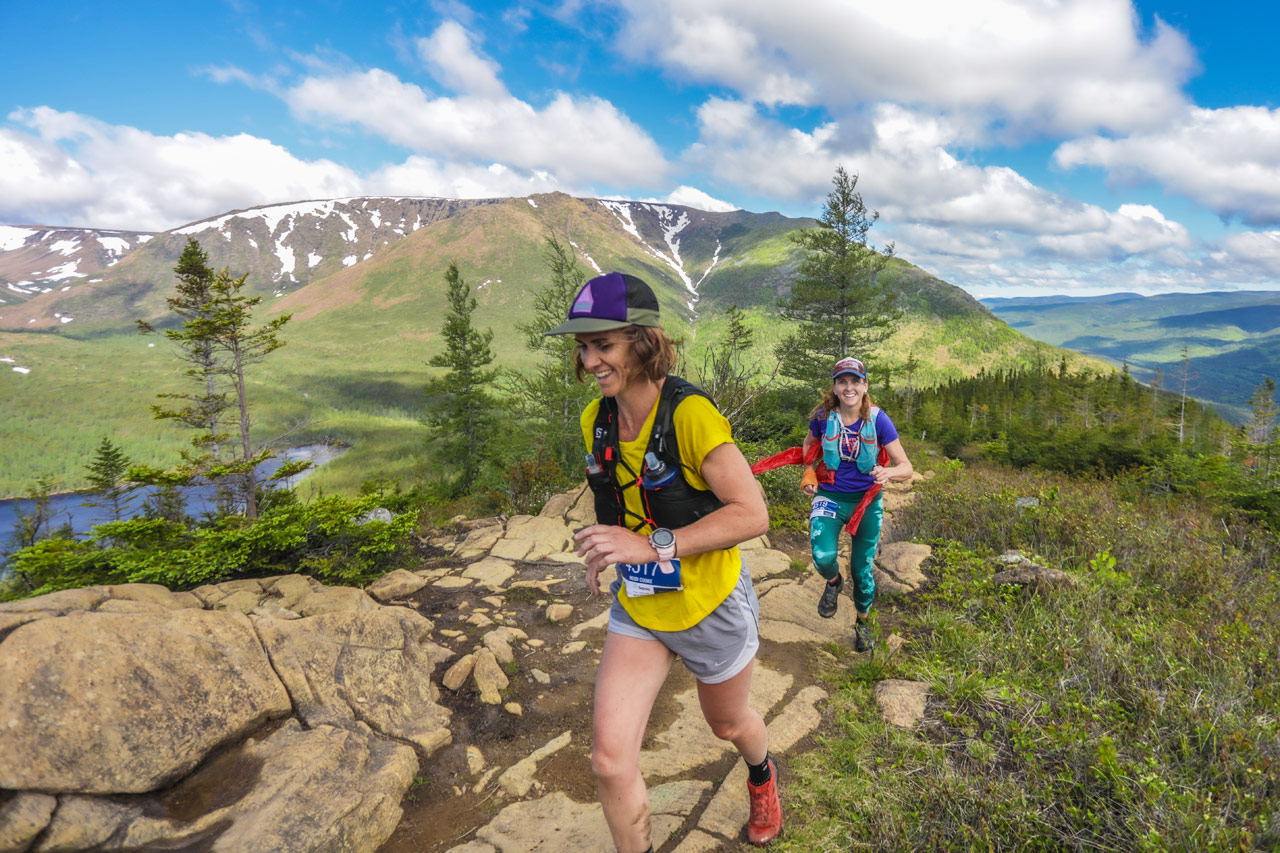 Passionate about the outdoors above all else, Marline has, for many years, been an ardent hiker. Enthusiastic about reaching the peaks, she would surprise herself by climbing the mountains at an increasingly rapid clip: "I was so eager to get to the top of the mountain that I would run!" The pace of her steps quickened, until she was jogging and eventually running. The passion to run on the trails was born at that very moment, with a light step and a well stimulated feeling of freedom. Really impressive distances can be covered using our body as locomotion. Involved in the development of trail running in Quebec for more than 10 years and used to ultramarathons, Marline detects inspiration in the people she meets: "I find my inspiration in everyone".
Quebec's national parks offer an incredibly beautiful range of well developed trails for all levels. Whether you're looking for technical or easier trails, short or long distances, or even challenges in terms of positive vertical drop, there's something for everyone, making the territory a true hotbed for trail runners!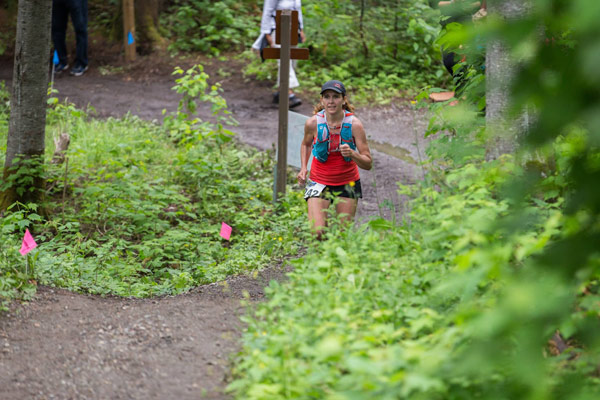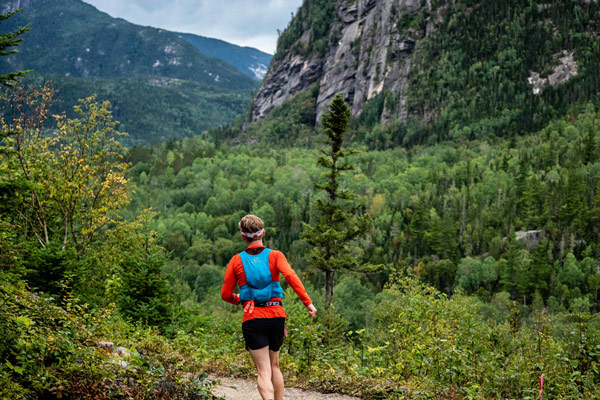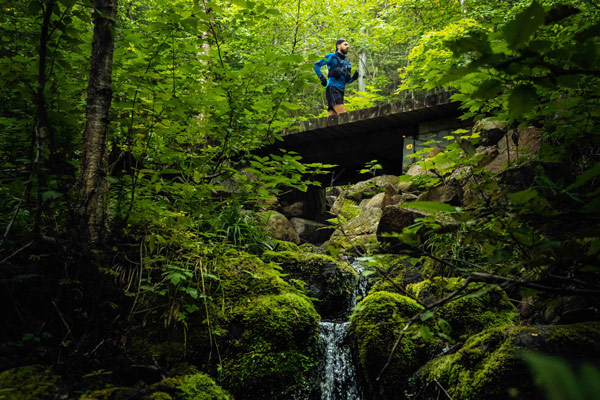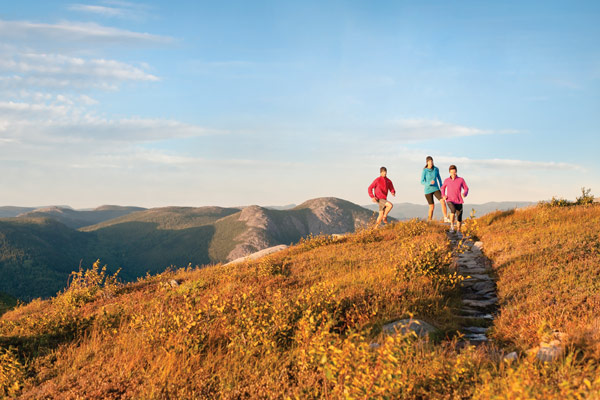 Why should we try trail running?
It allows for a different perspective on the trails and an additional challenge. With our busy daily schedules, it's sometimes difficult to find the time needed to get away from it all. Trail running provides a great alternative, enabling you to condense your physical effort and maximize your sightseeing, since more distance is covered in the same amount of time.
Trail running leads us to naturally lighten up in order to move more efficiently. Since distances are covered faster, the quantity of water and food as well as the number of "just in case" items you'll need will be adapted accordingly.
When we're subjected to physical exertion, moments of contemplation seem to proliferate. Without necessarily having any scientific data to bear this theory out , the fact that there is a greater gap between the active and resting levels seems to make us appreciate the resting mode all the more.
Running comes with an intense feeling of freedom. Being able to move more quickly and autonomously provides a great sensation of well-being and satisfaction!
Little tricks for newbies to get off the mark
Choose a trail that you know and have travelled before. This will allow for a better balance of energy and help you to anticipate the most challenging sections of the trail.
Allow yourself periods of walking and jogging between your running sequences. You can also start the running sequences when the terrain offers a negative slope (during descents). This will allow for a safer development of your terrain reading.
Before embarking on more engaging challenges, become acquainted with your running stride, shoes, clothing, and backpack. This will help you identify items that may cause injury and enable corrective action. Don't forget to wear proper footwear! Ask at your local outdoor store. They'll be happy to recommend shoes designed for running, as they are different from hiking boots.
Lighten your backpack as much as possible! Extra grams at the start become pounds along the way, which can greatly increase your energy expenditure and affect your endurance.
Take a few short breaks to hydrate and eat small snacks. It's important to consume calories to maintain your energy level.
There's a wide range of applications on the market that provide an analysis of your run (e.g. Strava). It can be interesting to analyze your physical effort data in order to better understand your body.
Rediscovering the trails in our national parks on the run is sure to turn you on. Moving about in a natural environment is simply magical! Climbing mountains, listening to the rivers, touching the rain, feeling the wind…every second deserves attention. Enjoy new experiences and have a whole lot of fun!
On your mark, get set…go!