Ideas for trails to discover in every region
You can't ignore the call of the great outdoors! Put on your hiking boots and come get some fresh air. Here are a few suggestions for trails to discover that are currently open in various Quebec regions.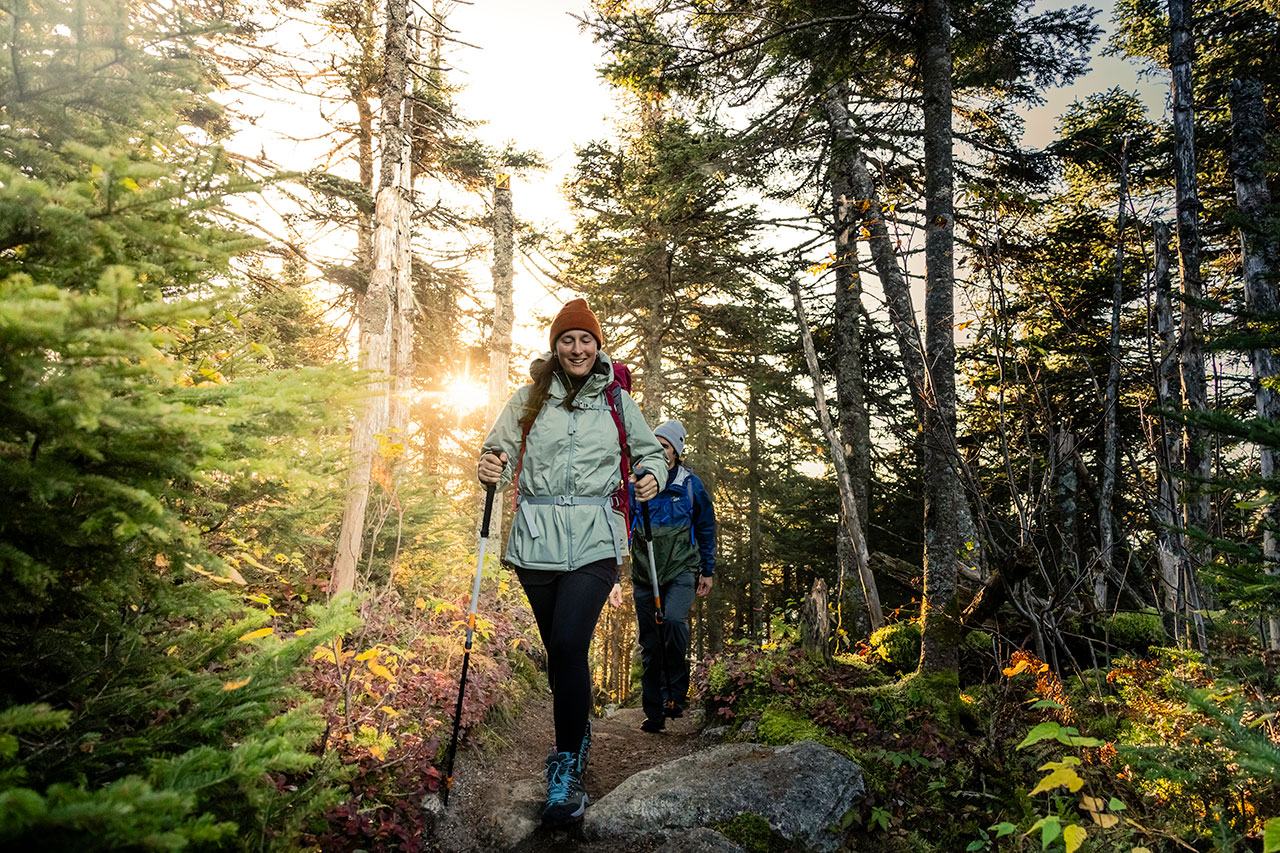 Gaspésie and Bas-Saint-Laurent
Parc national de la Gaspésie
La Chute-du-Diable - This trail runs along Rivière Sainte-Anne and a magnificent cedar grove to Ruisseau du Diable. The climb will take you to a lookout where you can admire the waterfall which in spring roars with tremendous power.
Le Mont-Olivine – This trail takes you to a barren ridge offering a splendid view of Mont Albert and the Rivière Sainte-Anne valley.
Parc national du Bic
Le Chemin-du-Nord – A must see to get the best view of the Cap-à-l'Orignal landscapes and the park's coves and islands. This family-friendly trail that you can even take with a stroller heads to Chalet Lyman, built in the early 1920s. The Chalet has a tea salon, where you can take a break in an enchanting setting.
Les Anses - You'll hug the shoreline and walk along the tombolo linking Cap Caribou and Cap Enragé. An ideal place to behold the sea and get your fill of salty air.
Parc national du Lac-Témiscouata
Montagne-du-Fourneau (Anse-à-William sector) - This is the park's most popular hiking trail. Montagne du Fourneau has an exceptional forest ecosystem (white pine-red pine forests) and offers breathtaking views of Lac Témiscouata.
Saguenay-Lac-Saint-Jean
Parc national des Monts-Valin
Le Pic-de-la-Hutte - You're invited to have a picnic way up high where you can get a bird's eye view of a good part of the region. With an elevation of 670 m and an altitude of 902 m, this trail is an excellent challenge for hikers.
Parc national du Fjord-du-Saguenay
La Halte du Béluga - It's a favourite spot for observing this extraordinary mammal. Scan the marine park waters in search of white figures... Who knows? You may even get the chance to see them for yourself!
Capitale-Nationale and Charlevoix
Parc national des Grands-Jardins
La Chouenne - This trail leads to a summit at an altitude of 730 m. Amazing vistas of the valley and the face of Mont du Gros Bras! A dazzling show right from the start of the hike!
Le Pioui - After the steep climb, the hike on the ridges will take your breath away. Notice the peat bog and the Alpine vegetation at the peak!
Parc national des Hautes-Gorges-de-la-Rivière-Malbaie
Les Rapides - In a number of places, you'll feel the rumbling of the rapids, hence the name. You have the possibility to take this trail from Le Cran campground to Le Draveur Discovery and Visitors Centre, via the Pin-Blanc campground.
Parc national de la Jacques-Cartier
La Rivière-Sautauriski - Let the moods of Rivière Sautauriski charm you...from calm to impetuous, from stony to sandy.
Estrie
Parc national de Frontenac
L'Érablière - A hill, a sugar bush, and a former beaver pond. A great hike for the whole family to enjoy!
La Tourbière (St-Daniel sector) - La Tourbière is home to a number of carnivorous plants and orchid species. The trail is built on boardwalks to enable observation of this flora that is typical of peatlands. Discovery panels punctuate the trail along which you'll also find two observation towers.
Discover by bike:
Les Passereaux – Les Passereaux trail connects the Discovery and Visitors Centre and the Baie Sauvage campground. The stream at Lac Barbue dam is a good spot for a picnic and for bird watching! Keep your eyes peeled!
Parc national du Mont-Mégantic
Les Escarpements - Les Escarpements trail opens up new landscapes and never seen before rocky caps. Le Pain-de-Sucre, the smallest of the mountains in the range will reveal itself in all its splendour: numerous cliffs, narrow faults, overhanging rocks, lush moss and lichen, and vertiginous vistas.
Parc national du Mont-Orford
Étang Fer-de-Lance - This trail hides a bog which receives highly mineralized groundwater and runoff. These particular ecological conditions support the development of marshland vegetation.
Mont-Chauve - This gorgeous trail can be a pleasant introduction to mountain hiking. It leads to the barren peak of Mont Chauve, close to 600 m in altitude. From there, you get a plunging view of Lac Stukely.
Discover by bike:
La Boucle des Trois-Étangs - An outing on the bike path along three of the park's ponds: Étang de la Cuvette, Étang de l'Ours, and Étang Martin (accessible with big wheel strollers).
Parc national de la Yamaska
Le Grand-Tour - By bike or on foot, exploring multifunctional Le Grand Tour trail is the very best way to discover the park. In some parts it runs along the Réservoir Choinière shore, then dives in the forest, and further on crawls up the hillsides of old field meadows. You'll learn all about the history of this great "lake" along the way.
Montreal
Parc national des Îles-de-Boucherville
La Grande-Rivière - From the plain to the forests, following the St. Lawrence River, this trail will take you to the heart of the major landscapes of Parc national des Îles-de-Boucherville.
Discover by bike: Starting from the Discovery and Visitors Centre, following the river, the park's 21 km-long bike trail loops around its main islands. Enjoy the family outing to take a break at one of our picnic areas dotting the trail.
L'Île-Sainte-Marguerite - By bike or on foot, alone or in a group, you can loop around the island via this family-friendly versatile trail.
Parc national Mont-Saint-Bruno
Le Grand-Duc - This most pleasant pedestrian beltway goes through several different environments, such as shrubby wildland, a sugar maple-hickory stand, and an intolerant hardwood woodland (birches and poplars).
Parc national d'Oka
L'Érablière - Discover the many secrets of this magnificent maple forest. This little known trail is ideal if you want to introduce the kids to hiking. There are a few small climbs and descents that make the family experience all the more fun. Accessible for big wheel strollers.
Laurentides and Outaouais
Parc national du Mont-Tremblant
Les Grandes-Vallées – A pleasant climb through a mature maple stand is rewarded with a view of the Lac de L'Assomption valley.
Discover by bike:
La Chute-aux-Rats - On foot or by bike, discover this trail leading to one of La Pimbina sector's main attractions: a 17.4-metre waterfall.
La Boucle des Chutes-Croches – On foot or by bike, take this path around Lac Monroe and enjoy the Chutes-Croches observation deck.
Parc national de Plaisance
La Zizanie-Des-Marais - Walk on water! The absolute top must-do of Parc national de Plaisance! Destroyed in the 2017 flood, this spectacular trail is once again accessible for unforgettable walks through the heart of the marshes. The floating boardwalk reveals a marsh teeming with life!
Abitibi-Témiscamingue
Parc national d'Aiguebelle
La Traverse – This trail offers breathtaking views of the Lac La Haie rocky cliffs.
La Castorière (Taschereau sector) – This trail is adapted for the mobility impaired. High concentration of habitats favorable to the beaver around the pond.
Parc national d'Opémican
L'Escatade - This trail of nearly 3 kilometres allows you to discover Pointe Opémican's key attractions. Hike along the mooring road and its sandy shoreline, then venture through the forest of tall pines along the charming White Creek and its crystal clear waters. You'll get a view of the entire Pointe-Opémican. A beautiful loop trail to discover the key attractions and services of the sector.