Our gift ideas for a 100% different (and 100% successful) Valentine's Day
Forget the traditional candlelight dinner, the movie in the theater and the famous heart-shaped box of chocolates, this year we're doing something different! With Valentine's Day approaching, our team has put together its best ideas for celebrating the holiday of love in an original way and pleasing your favorite valentines.
Here are a few inspiring suggestions to celebrate the festival of love just the way it should be!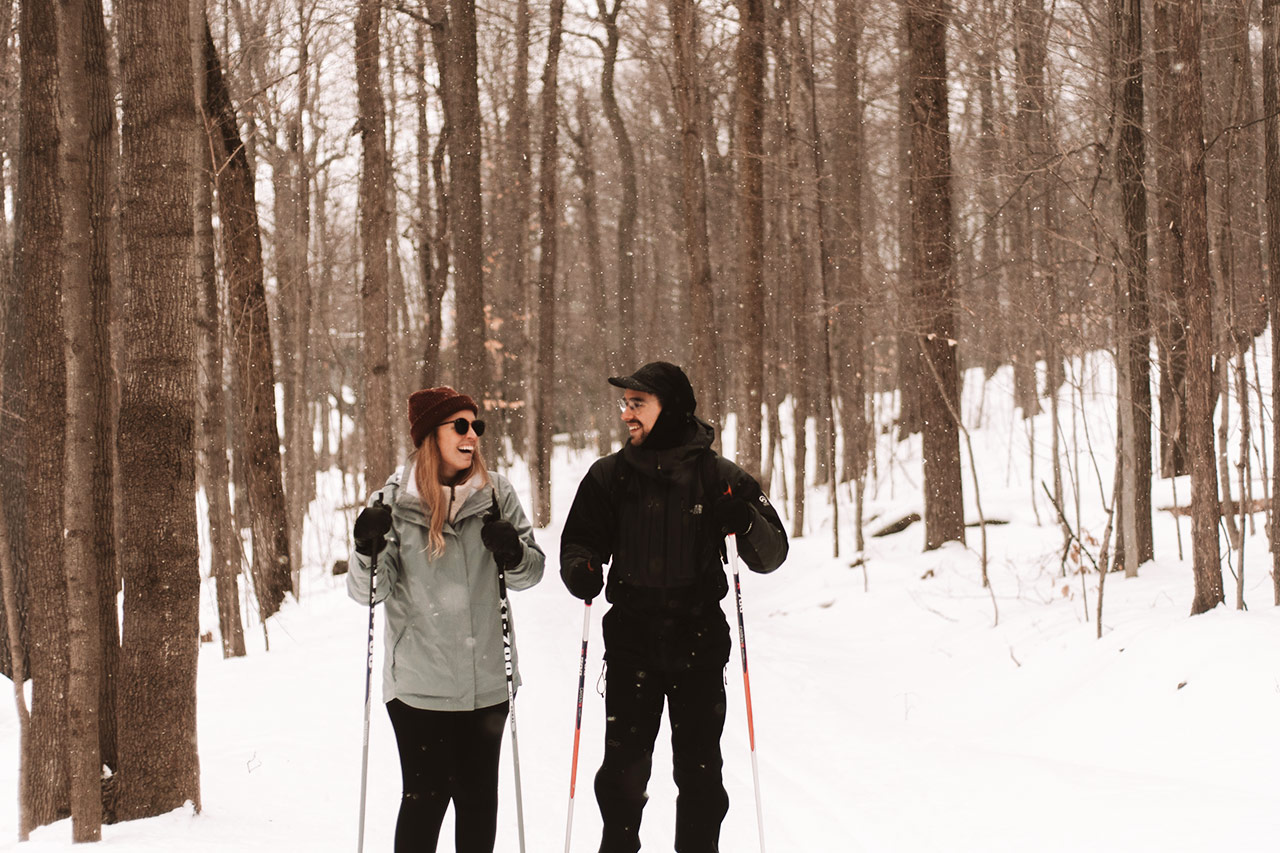 1. The winning formula
A day off during the week (to go snowshoeing
Have you accumulated a few vacation days in your holiday bank? Here's an opportunity to spoil yourself while the kids are at school: take a day off in the middle of the week and plan a snowshoe outing at the national park nearest you. You'll enjoy the tranquility of the snowy trails, while spending quality time with your significant other. Pretty neat, eh?
Good to know: if you don't have snowshoes, you can rent them on site.
Check out the map of establishments that offer this activity right here.
2. The gift of hope
A camping weekend next summer
Camping is without a doubt one of the most beautiful ways to rediscover one's true nature and get back to basics. Wooded and intimate spaces just a stone's throw from activities, evenings by the campfire, dreamy nights under the stars – this is quite a romantic scenario, all the same!
Surprise your Valentine by planning a camping getaway for next summer. You'll see their eyes light up as they discover this sweet gift, which will also remind them of better days ahead.
3. The great declaration
A "romance" package at Station Duchesnay
The height of romance! Set in a unique natural environment, Duchesnay invites you to enjoy the superior comfort of its hotel, where all rooms have a view of magnificent Lac Saint-Joseph. After enjoying this playground overflowing with activities, you can savour bistro cuisine that showcases Quebec's local products. The ultimate Valentine's Day gift!
Book your package right here.
4. The double whammy
A pair of Annual Québec National Parks Cards
You don't have your Annual Québec National Parks Card yet? Valentine's Day is a great opportunity to kill two birds with one stone: buy one for yourself and one for your sweetheart! The two of you will enjoy unlimited access to all of Quebec's national parks all year round (in addition to sharing the exclusive advantages that come with this card, including one night of free camping).
Buy your annual cards online right here.
5. The bold choice
A romantic fishing adventure
Your sweetheart has a fishhook tattooed on his heart? Your spouse dreams of practicing his light casting while he slumbers? Well then, take advantage of the love fest to offer him a fishing adventure in a wildlife reserve next season! The best stays are booked early, so it's best to plan yours without delay. You'll score points here, that's for sure.
6. The family format
For many of us, Valentine's Day will be celebrated with the family this year, as the babysitting option is not always available. But the timing couldn't be better, because in all the national parks of Quebec, access and equipment rental are free of charge for the kids. So, why not take advantage to experience a day of cross-country skiing with the family?
7. The sweet little surprise
For some, it may be a solo Valentine's Day this year. Do you know someone who could do with a long walk in the woods? Offer them daily access to a national park, accompanied by a gift box filled with hiker's energy balls that you've lovingly made yourself, according to Geneviève O'Gleman's recipe.
We bet such sweet attention will brighten the day of this very special person!
8. The miracle solution
A Sépaq gift certificate
Camping and fishing are both pulling at your lover's heartstrings? Well, why not opt for a Sépaq gift certificate and let your Valentine choose. Or take advantage of a Saturday lockdown evening to plan your next getaway in Quebec's most beautiful world of nature!
Happy Valentine's Day, lovers!