Gîte du Mont-Albert
My favourite place in the world
By Karina Durand, Sépaq's content strategy and social media manager.
It's really simple: Gîte du Mont-Albert is one of my favourite places in the world! I've been lucky enough to do some travelling and I've seen my fair share of magnificent places but I absolutely love this mountain lodge at the heart of Parc national de la Gaspésie. And when I really need to get away from it all, this is my go-to place.
Here are 12 reasons why this spot is definitely worth a visit.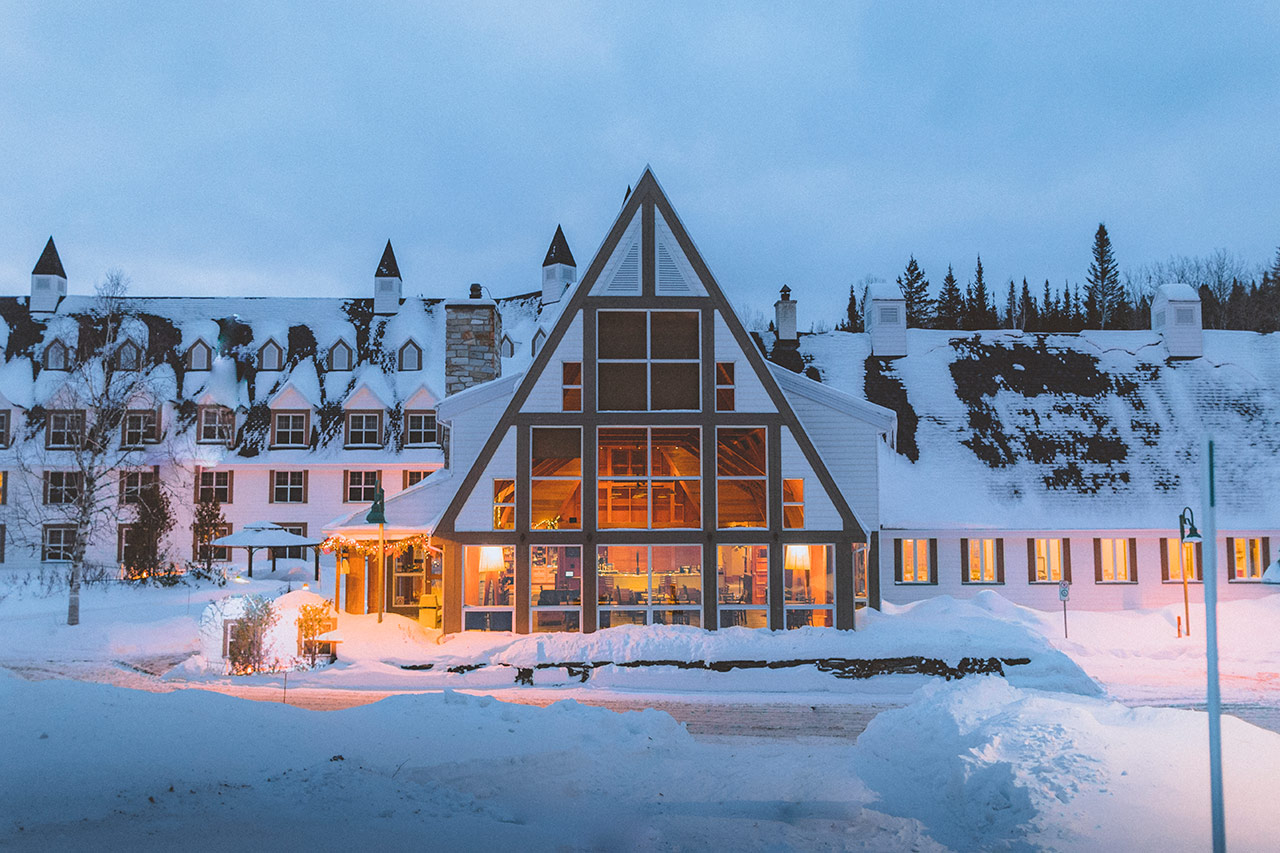 The hotel team
It's not by accident that Gîte du Mont-Albert is such a relaxing spot; it's thanks to the hotel's fabulous team. The director is an absolutely lovely person. And the rest of the team is as adorable as he is! You'll be given the royal treatment, so it's no surprise that you'll feel great from the word go.
Pascal and his team at Parc de la Gaspésie
Once you arrive at Gîte du Mont-Albert, you'll only have one thing left to do: hit the trails crisscrossing Parc national de la Gaspésie. Where to start? Where to go? What to do? The team headed by Pascal, the park director, has answers to all your questions. A stop at the Discovery and Visitors Centre will enable you to better plan your nature outings based on what you're looking for.
A vast array of activities to choose from
Snowshoeing to the top of Mont Olivine? Skiing in the most snowy areas? An afternoon of cross-country skiing at the foot of Mont Albert? Parc national de la Gaspésie is an immense playground and its range of activities is truly spectacular. Even after several days here, you'll never feel bored.
A cappuccino with a view of Mont Albert
At Gîte du Mont-Albert, a day outdoors starts with a cappuccino, a wonderful little treat providing some much-needed fuel before you head off to play outside.
Lunch boxes packed with love
Are you planning on spending the day in the forest? You can order a delicious little lunch for your noontime picnic! You'll find everything you need, including a coffee or hot chocolate to warm up during chilly mornings. Multigrain bars, fruits, and nuts are also on the menu.
Moose watching
Parc national de la Gaspésie is a favourite spot for moose watching. Ernest-Laforce trail, located right near Gîte du Mont-Albert, is one of the best places in Quebec to spot more than one of these majestic beasts. It's also a magnificent, very accessible trail offering a spectacular mountain-top view of Mont Albert.
A microbrewery beer and sporting a hoodie by the fire
After a pleasant day in the mountains, why not meet up at the Gîte's Bistro-Bar to enjoy a tasty local beer? Ideally, you'll keep that after-hike look, take a seat in front of the fireplace, and enjoy the incredible view of Mont Albert. The more daring can even play some cards and enjoy a bowl of chips.
Divine poutine
It's well known: the combination of beer and the great outdoors is sure to leave you with a healthy appetite. This is when the Bistro-bar's poutine comes into play. The secret of this dish would seem to be the sauce good to lick your fingers. Impeccablissimo.
One restaurant is all well and good but two is even better
You're not in the mood for poutine but instead would like an exquisite meal showcasing local flavours? That's perfect because there isn't only one restaurant at Gîte du Mont-Albert; there are two. And those with sophisticated taste buds will be delighted by the more refined menu proposed by the hotel restaurant.
Relaxing in a warm bath
One of the undeniable advantages of a stayover at the hotel is the high level of comfort to be enjoyed. After hours of walking in the wild nature of the Chic-Chocs, treating yourself to a nice hot bath is not merely quite the luxury; it's simply magical. By adding a touch of milk or a pinch of salt to the water of your bath (sold at the Gîte shop), you will experience a moment of pure relaxation.
The cozy rooms
Maybe its the effect of the mountains, but one thing is for sure, you'll enjoy a great night's sleep at Gîte du Mont-Albert. And to remind you how exceptional this environment truly is, please note that all rooms are oriented in such a way as to offer a splendid view of Mont Albert.
Gaspésie, it's spectacular and better yet, it's at home
Gaspésie is not only one of the nicest regions of Quebec, it's also one of the most beautiful areas in the world, and it's here, right at home. Discovering and exploring the spectacular landscapes of the Gaspé peninsula is a unique opportunity. You absolutely have to promise to treat yourself to this experience at least once in your life.