Geneviève, the adventurer
By Karina Durand
Geneviève O'Gleman is simply brilliant. Her revolutionary approach to healthy cooking has changed our lives. Her original recipes, always as nutritious as they are delicious, are guaranteed to be huge hits, both when entertaining our favourite guests and for those busy weeks when we don't have time to prepare meals. And don't forget her tips for eating well while out in nature. Think camping poutine and cinnamon buns baked over the coals!
But Geneviève is not only amazing when she's cooking, or in front of a campfire. Behind the nutritionist with a thousand and one tricks, there's also a bright-eyed outdoor enthusiast and an avid traveler for whom exploring the world differently is a true way of life.
Here's our portrait of an inspired and inspiring adventurer.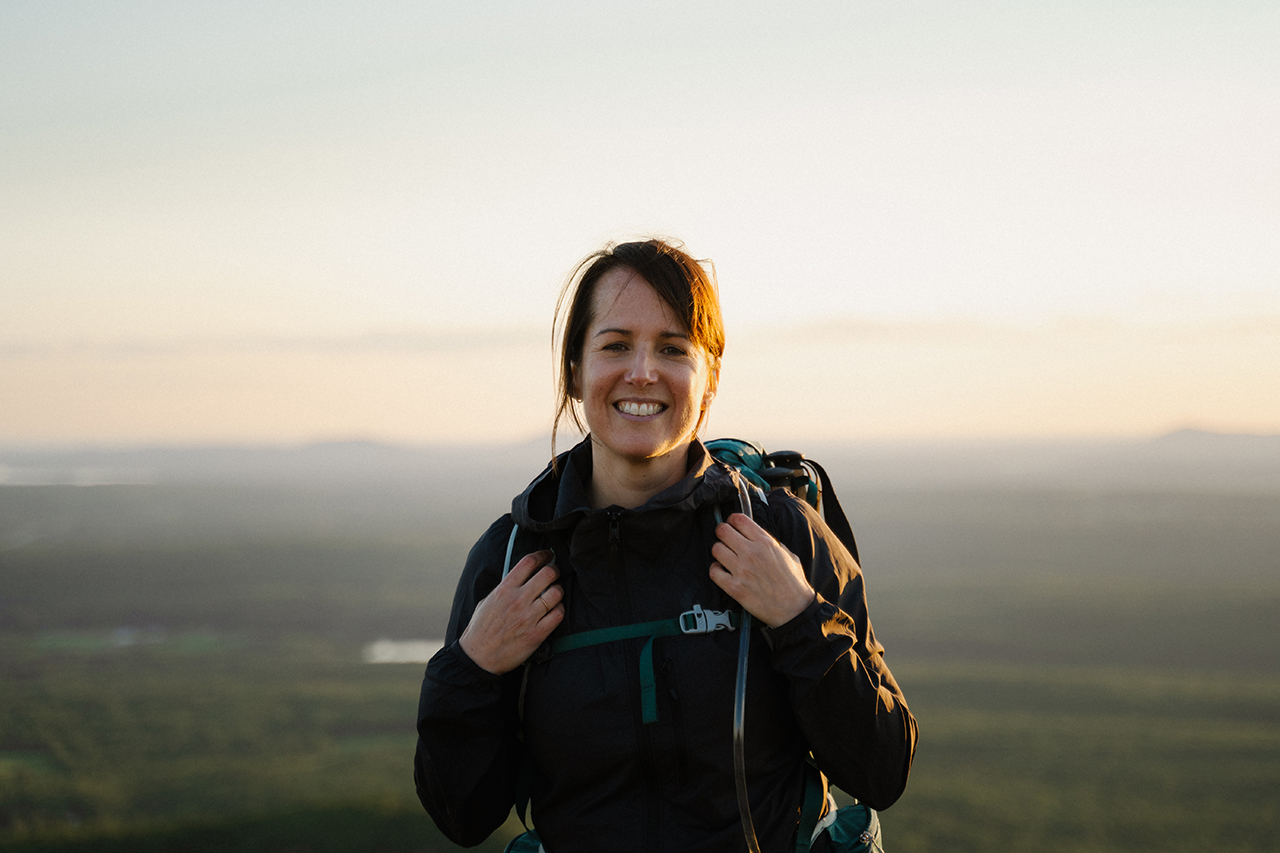 Discovering the great outdoors
She's a nutritionist, has a degree in journalism from the Université de Montréal, and is the author of some 15 best-selling books on healthy cooking. We discovered her with Cuisine futée, parents pressés, the show she conceived, co-produced, and co-hosted on Télé-Québec for six seasons. Then, we were delighted to see her back on screen with Savourer, a new concept of culinary show that she has cooked up, produces, and hosts, this time on ICI Radio-Canada Télé.
Many outdoor enthusiasts have fallen under the spell of Savourer en plein air, the online version of this series presented since the summer of 2020 on Radio-Canada's Mordu platform, in collaboration with Sépaq. On the menu? Original gourmet recipes to cook in nature and lots of ideas for better planning your adventure. If the content of this online series has dazzled you with its great relevance, you won't be surprised to learn that Geneviève O'Gleman is an outdoor fanatic. But this hasn't always been the case!
"As a teenager, I was horrible at sports. I didn't like physical education one bit. I was clumsy and always the last one picked when it came to forming teams. I was a complete dud and I hated all that sporty stuff," she laughs.
She got the nature bug in college when her friend France invited her to spend a few days with friends in a cabin in the Cantons-de-l'Est. The project for the weekend was to climb Mont Sutton. Intimidated by the challenge and unsure if she was fit enough to make it to the peak, Geneviève accepted the invitation anyway. And that's when it all began.
"I remember it like it was yesterday, because that's really when I discovered the great outdoors. In nature, there's no pressure to score points or calculate your speed. There's no winning or losing, and it's not a competition. But walking in the forest brings an immense sense of well-being and climbing a mountain provides an instant adrenaline rush, regardless of how fast you go. After this first outdoor experience, I immediately wanted to do it again," she confides.
Today, Geneviève spends most of her weekends playing outside with her family. She says she enjoys all activities that take place in nature, from camping to fishing, including downhill skiing, cross-country skiing, and snowshoeing. But her favourite activity is hiking. "I do it summer and winter, rain or shine. In the spring in the mud, in the summer when there are lots of bugs, in the winter when it's freezing cold... nothing stops me!" she admits with enthusiasm. "I've explored many trails here in Québec, but also all over the world. Travelling is another of my great passions!"
Geneviève, the traveller
Geneviève is an all-out travel enthusiast. To date, she has set foot on every continent and visited over 55 countries! But don't try to find her in the luxury hotels and tourist circuits, because when she travels, Geneviève prefers to get off the beaten track.
In China? She camped in small villages north of the Great Wall. In Malaysia? She walked in the tea fields. In Senegal? She went everywhere, from Dakar, the country's capital, to the smallest rural communities. In Guatemala? She learned Spanish by cooking with locals. In Namibia? Accompanied by her daughter and her partner, she went camping in the desert, climbed the highest dune in the world, and encountered Indigenous communities.
"Travelling gives me wings. It refreshes and energizes me," she says in a soft voice. "It allows me to put my daily life on pause and experience so much newness at the same time. I'm never more creative than when I come back from a trip. That's really where my big bursts of inspiration come from."
"When we get out of our routine," says Geneviève, "our automatic pilot suddenly stops and we become more open-minded. When we travel, our brain works differently. We're more anchored in the present moment, more spontaneous, more available. And when we're in this state of mind, the magic happens: we can more easily see and explore other possibilities when we get away from the preoccupations of the daily routine."
Discovering the world is Geneviève's primary source of inspiration. That's why, before the pandemic, she packed her bags four or five times a year, most of the time to visit a new destination or a new part of the country.
From the wild islands of Panama to the Himalayas
Her greatest adventure to date? Hard to say, there are so many!
In January 2018, when she suffered a knee injury in the middle of ski season, a friend suggested she join a group kayaking trip to Central America. On the agenda? Two weeks of complete autonomy, paddling in the turquoise waters of the San Blas archipelago in the Caribbean Sea, northwest of Panama. The trip promised breathtaking natural landscapes, white sand beaches, heavenly sunsets, and encounters with the Kunas, the Indigenous community of these wild islands. Geneviève accepted the invitation on the spot.
"What I didn't know was that the group was made up of experts and that I was the only beginner, even though I had my Level 1 sea kayak certification. I wasn't warned that the route would be so demanding. I had to face strong ocean currents and waves up to two metres high! But once I got there, I saw it as a chance to live a super trippy experience that would allow me to learn and push my limits, while being well looked after. So I jumped right in, despite the challenges, and had a wonderful trip," she recalls.
One year later, she left for South Asia, in the direction of a non-touristy region, Nepal. The objective of this trip? An expedition on Mount Numbur, a glacial mountain located in the Himalayan chain, a little less than 50 kilometres from Everest. Guided by experienced Sherpas, the group would hike and camp for several days to reach an altitude of 5,550 metres.
"The expedition took us through small villages, where we met Nepalese people who had hardly ever seen foreigners. One morning, we woke up with 20 centimetres of snow on our tent and, during the night, we heard yaks crossing the camp. This trip was one of the most exotic, but also one of the most enriching that I've experienced," she tells us with emotion.
According to Geneviève, travelling puts everything in perspective: our needs, what we consume, what we buy. "We meet people who live differently from us, but who live well, who are smiling and happy, and from whom we can draw inspiration. For me, adventure is as much about the fantastic experiences as it is about the contact with difference, with the other. This openness nourishes me enormously, both on a human and a professional level," she says.
When asked what her adventures around the world have taught her, Geneviève answers without hesitation: flexibility. "The outdoors, travel, and adventure teach us to be in solution mode," she says, "to develop our capacity to adapt and to stay positive, no matter what happens. No matter how detailed an itinerary you prepare, in reality, things never go as planned. However, if we're prepared to react with openness and seize the opportunities that arise, plan B can become even more interesting than plan A.
"I've experienced many adventures while traveling. Losing my luggage, missing my flight, being stuck in a typhoon in Hong Kong, suffering from conjunctivitis in both eyes while caught in a blizzard in Iceland... you name it! So much so that now, it takes a lot to throw me off. My morale stays rock solid and I can adapt to any circumstance, come what may. I think the most important and useful thing I've learned from traveling is flexibility," she asserts.
Prepared, organized, and equipped
When we listen to her passionate stories about her thousand and one travels, we can imagine that Geneviève has a taste for risk and that she runs on adrenaline. But what interests her most is the discovery of new experiences.
"I'm an adventurer, but I'm a cautious adventurer," she says with a laugh. "I like to push my limits, but I'm not reckless. I don't take unnecessary risks; I try to make conscious choices and to think before I act." Above and beyond being a seasoned traveler, Geneviève is a responsible mom and entrepreneur who wants her family and team to be able to rely on her.
"I'm super organized and always go well equipped, over not under prepared. When hiking, for example, I'm always dressed and shod appropriately and my backpack is well stocked. I bring a first aid kit, a headlamp, always more water and food than I need, and I make sure I can take care of the group if necessary," she explains.
In fact, she has taken a remote first aid course that has served her well on more than one occasion. She tells us that small injuries such as foot blisters can completely ruin a day of hiking in the mountains and even compromise our game plan for the trip. That's why it's so important to be prepared and to have what's needed on hand to deal with this type of situation.
What does she always bring along in her survival gear, in addition to bandages and other essentials to treat common injuries? Raspberry-flavored jujubes and chocolate-covered almonds, little treats that put a smile on everyone's face and lighten the mood when the overly challenged troops feel discouraged and down in the dumps.
"When I travel or go out in the great outdoors, influencing the group in a positive way is a role that suits me and that I take to heart. And I've discovered over time that little treats can work wonders in circumstances of sustained psychological effort," explains Geneviève. In her view, keeping your spirits up when the going gets tough is one of the most important challenges of major expeditions.
The ultimate adventure
When Geneviève is asked about her ultimate adventure, her already bright eyes light up even more.
"My greatest dream would be to host a TV show that would allow me to combine my three great passions: cooking, the outdoors, and travel. Having a platform to give people a taste for the world would be a challenge and an extraordinary adventure for me. My mission would be to convince as many people as possible not to get stuck in the proverbial rat race , to dare to get out of their comfort zone and to travel differently," she enthuses.
Hearing her talk about this great project gives us goose bumps. We can imagine her leaving to discover far away countries, bag on her back, armed with her natural curiosity and her contagious energy. Finally, because her determination is unfailing and her desire to explore new horizons always takes her a little further, we have no doubt that her dream will eventually come true. What she'll share is sure to be just like her…simply brilliant!
Geneviève's essentials for adventure
Tablets to purify water in lakes and rivers. They're light, take up very little space, and may be needed when you least expect it. Even when you go on a one-day hike, running out of water can have serious consequences, especially if it's hot and you've miscalculated your distance and duration.
Climbing tape. There's nothing better to eliminate friction in a boot and prevent blisters. When you feel the boot start to rub and your foot become sensitive, you just stop and put the tape directly on the skin. As if by magic, you've just avoided a blister, which can be so unpleasant while hiking.
Second skin bandages. If you don't put on your climbing tape in time (it happens!) and end up with a blister, blister pads work miracles. They soothe, heal, remove friction, and protect. You can continue to walk as if nothing had happened and often the blister is gone by the next day.
Flip flops. When it's hot, there's nothing like airing out your feet during your lunch break! That also helps prevent blisters. First thing to do before lunch: take off your boots, dry your socks, and soles and air your feet. The rest of the day goes much better when you return to the paths with dry feet. I always have a pair of flip flops in my hiking bag. The cheapest ones, the $5 variety, are the lightest and easiest to carry.
Hand cream... for feet! You're going to tell me that I'm fixated on feet, but the most important thing when hiking is to take care of your feet. In the evening, after a long day of walking in the mountains, even if exhausted, you need to take the time to cover your feet with cream so that they remain supple. Otherwise, as the days go by, blisters will appear.
Eye drops. You have to ask your pharmacist for them, but if you wear contact lenses, drops are essential. When camping and hiking for several days in a row, it's almost inevitable that dust will irritate eyes and cause conjunctivitis. This never happens to me in the city and almost always when I travel. Drops have become indispensable for me.
A hydration pack. You'll drink more, and more regularly, when you have access to a water supply at the end of a tube. You don't have to take off our backpack to get your water bottle or ask someone to help reach it and put it back. A hydration pack is not some sort of luxury. It's energy saving and really helps prevent dehydration and heat stroke.
Duct tape. Not the whole roll, but a good metre wrapped around a pencil and buried in my hiking bag. You never know what you'll use it for, but it's always useful. Over the years, I've repaired the loose sole of a friend's boots; I've solidified my hiking poles, whose spring had broken; I've sealed a torn backpack... It's really worth it to carry around this little bit of tape that doesn't take up any space and that helps out a whole lot!
A headlamp. I now have a rechargeable USB headlamp that doesn't need a battery. It's lighter, you have more autonomy, and you don't end up with dead batteries in the middle of a hiking trip. You can recharge this type of lamp with a battery pack or a small solar panel.
A small solar panel. Precisely, when I leave for several days on my own, I don't have access to electricity. I like to have a way to charge my cell phone, which I use to take pictures, as an alarm clock, as a GPS with downloadable trail maps offline, and in case of emergency. Often there's no cell phone coverage at the base of the mountain, whereas there is at the top.
Small compressed towels. A compressed towel is as big as a cough drop, and when soaked in water, it makes a full-fledged towel for face cleaning. Plus, it's biodegradable. When hiking, a regular towel or wash cloth sometimes gets dirty, so a capsule towel is really appreciated! Especially when it's very dusty, windy, or when you want to clean a wound.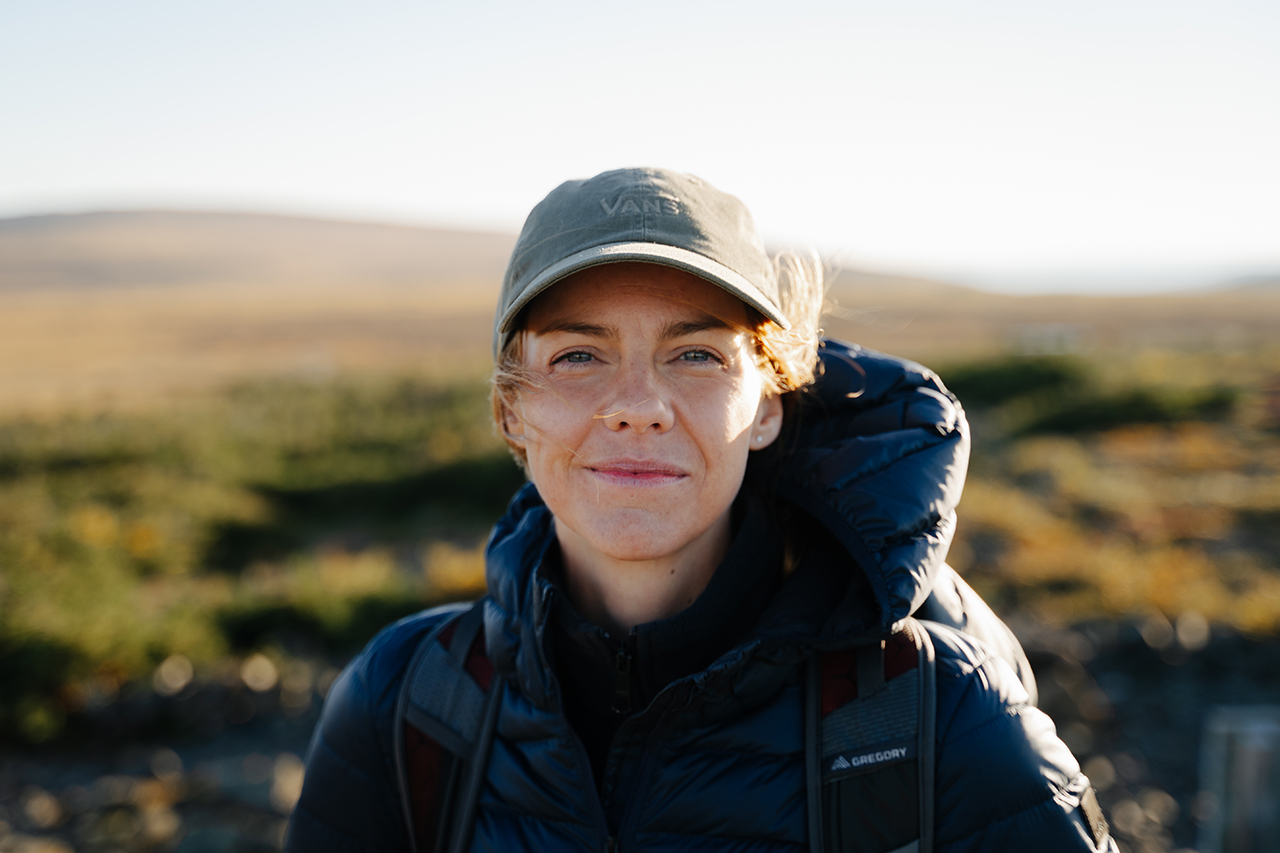 About Karina Durand
Aside from walking alone in the forest, Karina enjoys trying her luck at fishing, grilling hot dogs over the coals of a campfire, reading at the end of a dock, and swimming in a lake when it rains. She has been Sépaq's content strategy director since 2017.