Discovering backcountry skiing in Gaspésie
In collaboration with Dinette Magazine
There are some adventures that we observe from afar, via TV, Internet, or if we're lucky enough, through binoculars pointed at the window. Curious and admiring, we watch these reckless adventurers roam the snowy, arid, mountainous, or desert territories of the planet, envying their audacity to climb peaks in the name of freedom, exploration, and beauty as well; their views worth the magnitude of their physical effort.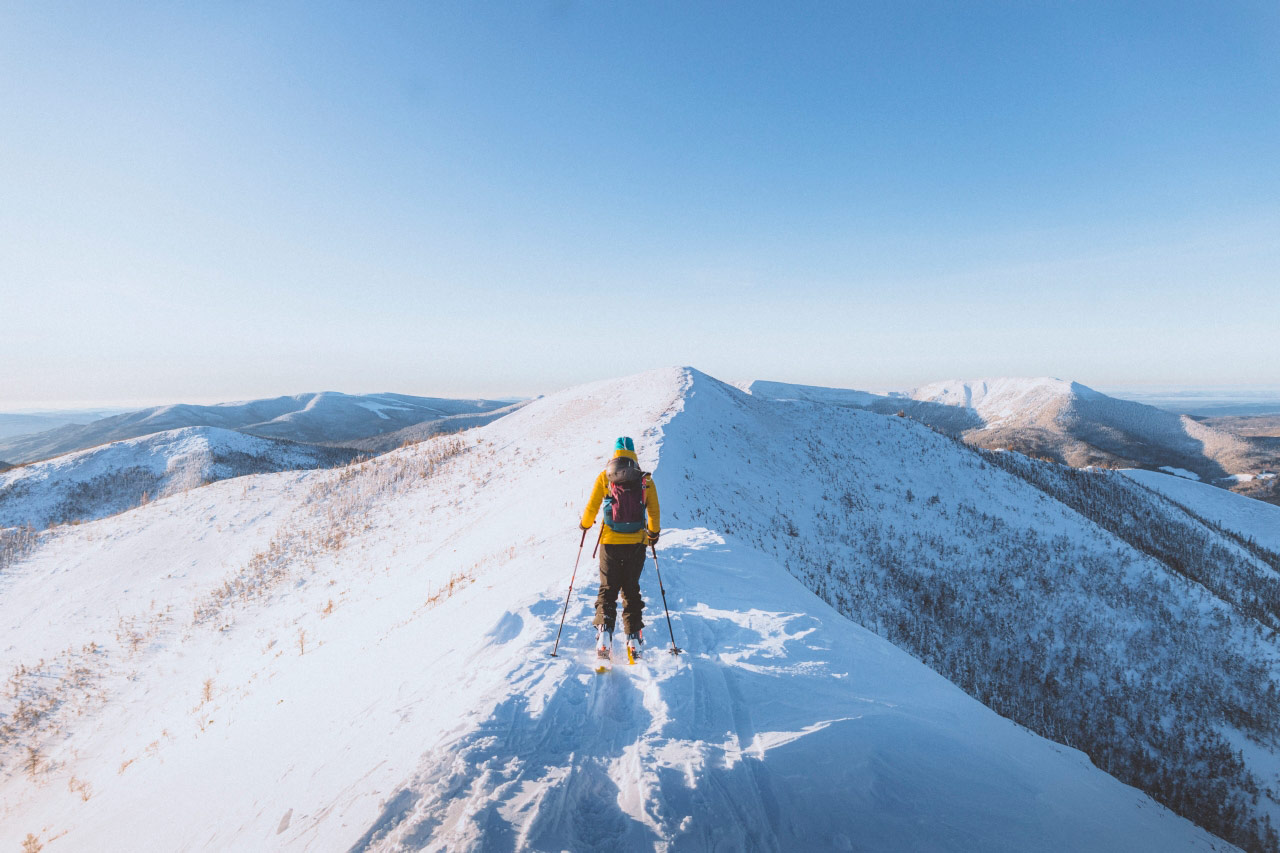 As I entered Parc national de la Gaspésie, this was how I looked at the backcountry skiers, those little blue, yellow, green, and orange dots balanced on the ridges. I was soon going to cross the window through which I was watching them to invade their off-piste world. It was the Parc national de la Gaspésie mountain school that would make this leap into a world far from mine possible, accessible and, above all, safe.
Upon arrival, you settle into the mountain-view lounge. The adventure begins with an information session during which you'll learn how to decipher the map of this immense playground designed for winter enthusiasts and to make good use of the required equipment, from sealskins to avalanche detectors. A practice field near the school is available for beginners and experts alike to simulate the use of these detectors. Reassuring to say the least! Two options are made available to visitors by the school neighbouring Gîte du Mont-Albert: an ascent with an expert guide who'll share expertise in mountain reading or an independent, self-directed climb.
Accompanied by highly experienced skiers, I chose the second option. Because although the school facilitates one's entry into the microcosm of backcountry skiing, the experience still requires great ease on a board or on skis, superior physical stamina, a quick ability to adapt to a new environment and very little pride. Where nature rules, it's crucial to listen to yourself and turn back when the challenge exceeds your abilities.
The next day, at dawn, we'll head off to tackle Champ-de-Mars, a welcoming mountain often used as an entry point for apprentices.
Every evening, Gîte du Mont-Albert fills up with hikers who recount their day's journey over local beers and dishes concocted on the spot. At every table, the names of the mountains resound. People talk about the summit of Mont Hog's Back, the quality of the powder on Mont Lyall, the sun that beats down on the face of Mont Vallières-de-Saint-Réal... Here skiing becomes a singular obsession, whether it's your first or your thousandth ascent. The conversations are exciting, stimulating, the night will be short, and that's okay: the sooner we get up, the sooner we leave to discover these new heights.
In the morning, it's with a backpack full of snacks and a change of clothes that we attach the skins to our skis. In single file, we learn to master this new sliding movement… and the surrounding silence. It's here, in Gaspésie, that what we were all looking for was hidden: absolute peace and quiet. On the way, we stop several times, to drink or to pinch ourselves and remember that this is still Quebec, the scenery reminding us of Switzerland or France. Once at the summit, the snow-heavy fir trees having given way to the spectacle of a bare peak, we rediscover what we didn't know we'd lost: the incomparable feeling of being tiny and powerful at the same time. Humble in the face of this greatness, and proud of the mission accomplished. A happy combination to be sure.
The descent offers skiers several options: since no trail has been marked, you leave it to your intuition and your reading of the mountain to descend at your own speed, in the powder snow. At this point, the silence breaks – bursts of laughter and exclamations of joy echo down to the parking lot. The melody of freedom.
That evening, it's with a tired body but a light spirit that we enter one of the Lac Sainte-Anne cabins, located just a few minutes from the mountains. As the sun begins to set, we comfortably settle into our rooms furnished with one or more bunk beds. In the living room, we light a blaze in the fireplace to warm our feet and prepare supper. Everything is on hand for a perfect evening: a full, comfortable kitchen with room for several friends, winter-loving neighbours sharing stories of snow and ice, and more stars in the sky than we've ever seen. Here, nature and comfort combine.
Tomorrow, a new mountain awaits us, with its own personality and surprises. From our neighbours, we've learned the secret: the success of backcountry skiing is not hidden in performance, but in an ability to slow down to contemplate the scenery and savour the good fortune of being right there.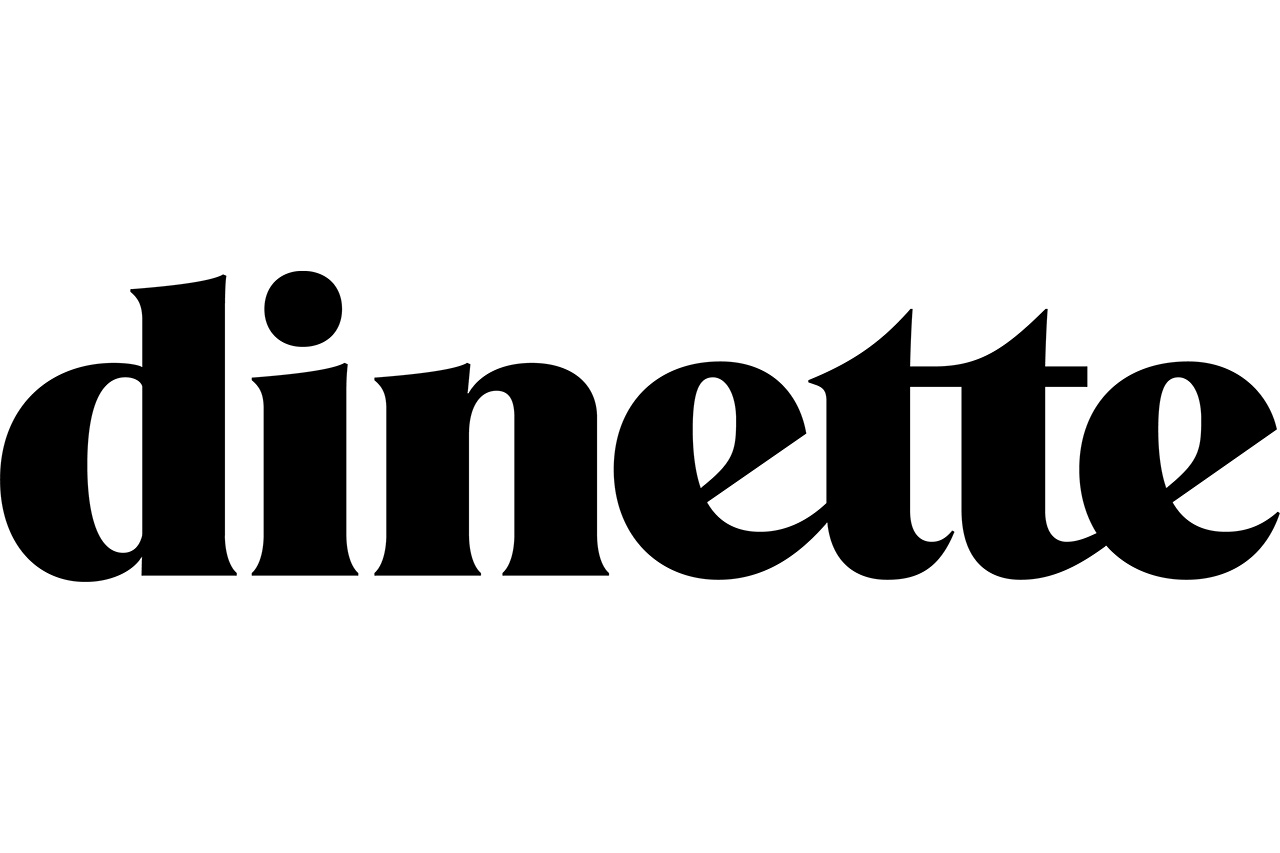 About Dinette Magazine
Dinette is a world of discoveries, recipes, beautiful photos, original reports, custom illustrations, and interviews. It explores the world of food with an epicurean eye through encounters, exchanges, and escapades. Dinette plunges the reader into a world where food is a medium for expressing spontaneity. We don't eat just because we have to; we eat because it is a way to appreciate all the beauty of the world.