The keys for a successful fall outing
Fall is already upon us and makes us want to go out and discover the colourful trees, the invigorating weather, and the larger than life landscapes. To help you make the most of your first fall getaway, here are some things to keep in mind when planning your outing.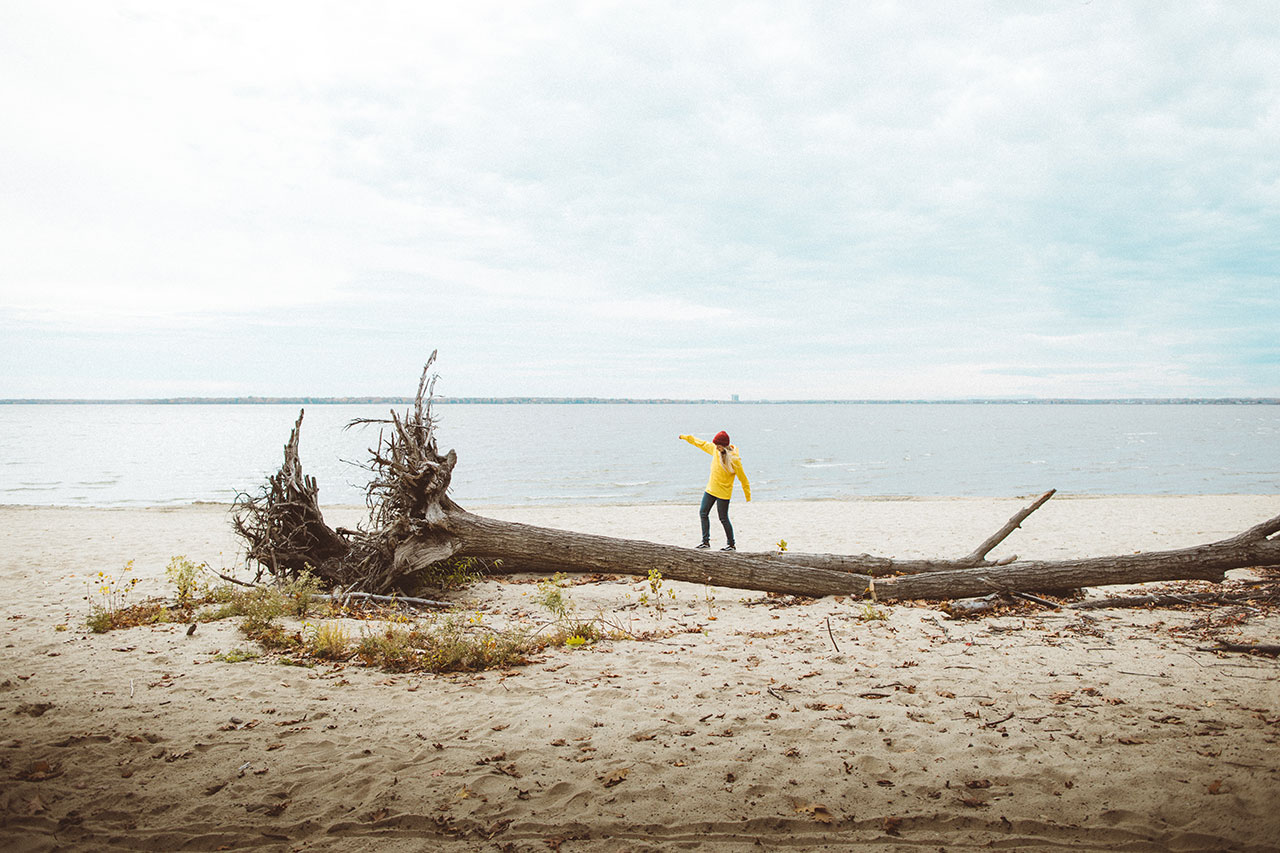 1. Identify a colourful destination
Let's face it, choosing a destination is the "hard" part of planning a national park getaway. These protected areas are full of great places to feast your eyes on nature in its autumn glory, and it can be hard to decide which colourful destination is right for you. Luckily, we can offer a bit of help!
Before you leave, remember to use the virtual ticketing service to obtain your daily right of access. Sunday hikers… a little bird tells us that you'll love our destinations located near major urban centres where many short hiking trails are available. Close to Montreal, Parc national des Îles-de-Boucherville and Parc national d'Oka are ideal for an express style nature outing.Near Quebec City, the colorful landscapes of Parc de la Chute-Montmorency and Station touristique Duchesnay are a sight to behold.
For those who would like to take advantage of their fall outing to take on a more physical challenge, Parc national du Mont Orford and Parc national de la Gaspésie will satisfy your thirst for a change of scenery and spectacular summits galore.
Are you the owner of an endearing little four-legged friend? Your dog may be allowed to accompany you in national parks under certain conditions. In fact, the places where dogs are allowed vary from one national park to another and from one season to another. Why? To ensure that their presence has a minimal impact on these natural environments and to preserve a quality experience for all visitors. To find a destination that's right for you and your dog, check out the complete list of permitted areas.
Follow the changing colours in real time
To help you follow the changing fall colours in the different regions of the province, Tourisme Québec has published its fall colour map once again this year. Use it to plan your next outing!
2. Choose your activity
What must-do activity provides a colourful sight for sore eyes? Hiking. Simple and accessible, hiking is available at all Sépaq destinations. Looking for a short walk that will give you just enough time to get some fresh air? Choose from our selection of express hikes. Are you the type of person who wants a return on your investment? Venture out on one of our best trails to access spectacular views.
3. Gear up to be safe
Regardless of where you choose to go and what you choose to do to enjoy the colours, there are a few things you should know about fall.
First of all, even if the temperature is quite mild in the city, it's much cooler in the forest and even cooler in the mountains. Some peaks even accumulate a few centimetres of snow. To avoid being fooled by Mother Nature, opt for multi-layer clothing (a close-fitting non-cotton sweatshirt, a wool or fleece sweater, and an insulator, such as a windbreaker). Also bring gloves and a toque in your backpack. Remember to check the weather forecast before you leave and never forget that it's better to have a few extra warm clothes with you than to get caught unprepared by a sudden drop in temperature.
Also, be aware that fall precipitation and cool nights can often leave the trails muddier. So, choose a good walking shoe with a thick sole and proper ankle support. It may also be a good idea to add a second pair of socks to your backpack.
If you plan to hike for several hours, you should also bring a headlamp, as the days are getting shorter very quickly. Please note that for your own safety and that of the emergency teams that may be called in the event of an incident, hiking outside of sunlight hours is not permitted.

Finally, when it comes to snacks, focus on nutrient-dense foods like nuts and dried fruit. For a longer hike, consider a more substantial lunch, like a sandwich, cheese cubes, and some fruit. Need some inspiration for packing a bag of delicious snacks? Step right this way!
Useful tip #1: Cold weather decreases the sensation of thirst. Remember to have enough water for the activity you plan to do and to hydrate regularly. The minimum: 1 litre of water in your backpack!
Useful tip #2: In many national parks, your cell phone signal will be lost. In fact, you won't have one at all. It's a good idea to download the free Avenza Maps app before you leave home; these terrific great geo-referenced maps will let you know where you are at all times, even without a signal.
4. Rediscover your nature… and respect it too
The mission of national parks is first and foremost to conserve the most beautiful territories in Quebec by protecting their rich ecosystems. Although our specialists work tirelessly to carry out this precious mission, your contribution is essential so that future generations can also marvel at the beauty of these 6995 km2 of unique territories.
Discover how you can help preserve the richness of the national parks by keeping these five simple steps in mind:
Stay on the trails.
Refrain from collecting natural elements (plants, wood, rocks, etc.).
Pick up your garbage.
Do not feed the animals.
Keep your distance while wildlife watching.
Ready to rediscover your nature in its most flamboyant colours?
Now, open your eyes and marvel at all that the national parks have to offer.