TREAT YOURSELF TO NATURE AROUND THE CLOCK
If you prefer the great outdoors and birdsong to the traffic and noise of the city, here are some places where you can easily work and even live for one or more seasons.
The following establishments* offer their employees various forms of accommodations, and other benefits too. Working in the great outdoors is an excellent way to develop an even stronger team spirit with colleagues and to connect with nature. Positions are limited so don't delay!
* This isn't an exhaustive list. If you're interested in a position, please inquire about all available opportunities!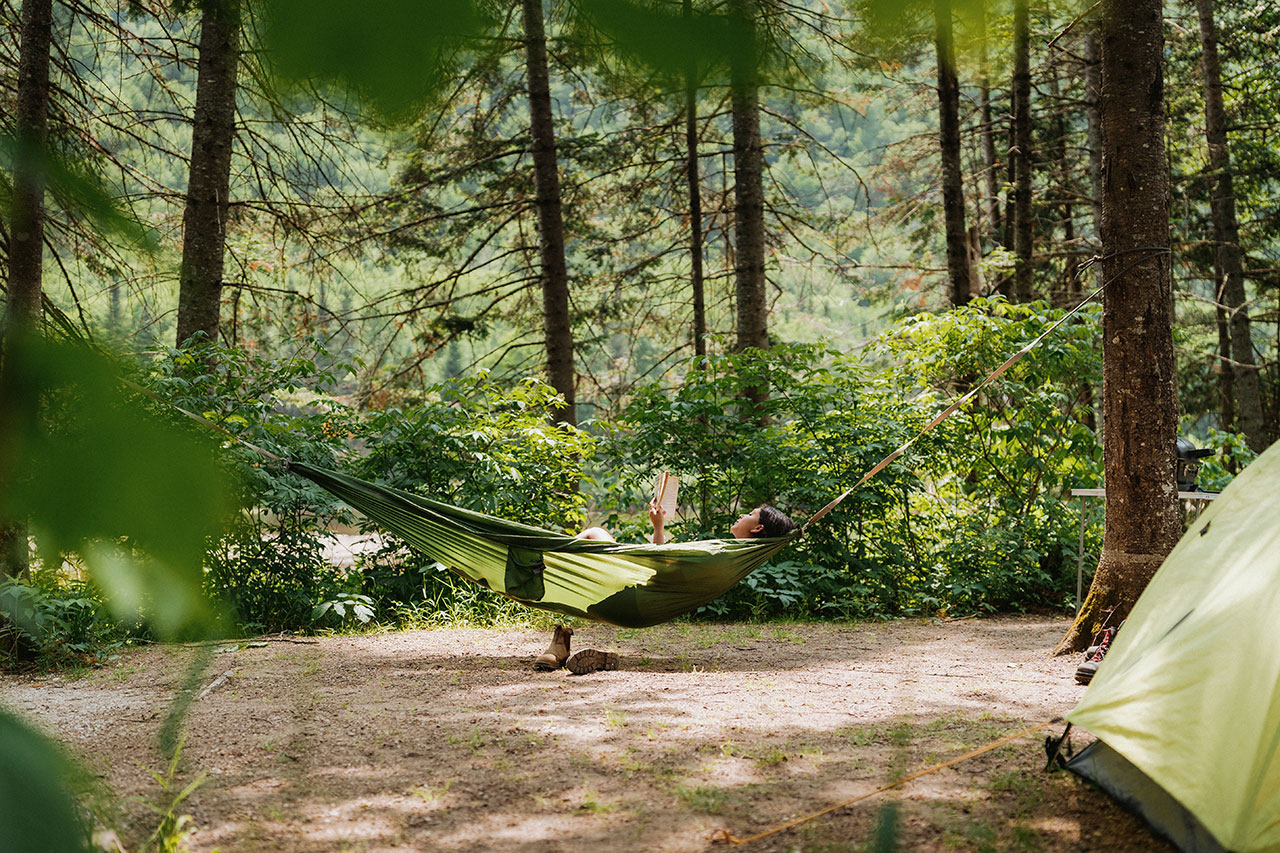 Under the tent
For adventurers
Parc national du Mont-Tremblant (Laurentides)
Attention all camping enthusiasts! Parc national du Mont-Tremblant offers its employees the opportunity to camp at the park in a tent or campervan all summer long. Once at the park, you no longer need a car since your workplace is within walking or biking distance. And after work, you're already on site for a little outing on Lac Monroe at sunset!
Centre touristique du Lac-Kénogami and Parc national des Monts-Valin (Saguenay)
Employees are offered a few serviced campsites as well as rustic campsites with access to washroom facilities and a common kitchen.
Parc national de la Jacques-Cartier (Capitale-Nationale) and parc national du Fjord du Saguenay (Saguenay–Lac-Saint-Jean)
A few campsites are available to those who'd like to camp on site.
Employee program

At all Sépaq establishments, employees can use their employee card to take advantage of discounts on accommodations, food services, activities, and gift shop products.
Under a roof
For comfort lovers seeking clean air
Centre touristique du Lac-Simon (Outaouais)
The site has dormitory-style forest trailers with around 10 single rooms, washroom facilities, an integrated laundry room, a rest area, a kitchenette, and an outdoor space (fire pit). Wi-Fi is included. All travel can be done by foot or bike in this small territory!
Parc national de la Jacques-Cartier (Capitale-Nationale)
The park reserves eight rustic shelters in double occupancy for summer employees. Employee lodgers share a common kitchen, lunchroom, showers, and toilets, all located in a service building nearby. Wi-Fi is included. In addition, schedules are designed to encourage carpooling among employees from outside the park.
Gîte du Mont-Albert (Gaspésie)
A lodge with 24 individual rooms is available to employees, and you can also take advantage of a meal service, directly from the payroll. An eight-room cabin is at your disposal as well.
Parc national de la Gaspésie (Gaspésie)
Two houses at the park entrance offer a total of 14 spaces for employees. Both residences have a television, unlimited Internet, and washers and dryers.
Auberge de montagne des Chic-Chocs (Gaspésie)
An all-inclusive resort in the mountains! Since employees must stay on site, the hotel provides room and board.
Parc national des Grands-Jardins (Charlevoix)
For a more rustic and "disconnected" experience (no cellular signal, propane lighting and heating) by a magnificent lake, here's the option of your dreams! The park is also negotiating an agreement with a partner from Baie-Saint-Paul to offer its employees discount accommodations in the village centre within walking distance of all services.
Pointe-Taillon, Monts-Valin, and Fjord du Saguenay national parks and Centre touristique du Lac-Kénogami (Saguenay–Lac-Saint-Jean)
Pointe-Taillon: construction facility with access to a washroom facility and a kitchen
Monts-Valin: fully equipped communal house
Lac-Kénogami: two rustic cabins offering water, electricity, and access to washroom facilities.
Fjord-du-Saguenay: new six-room trailer with a shared kitchen and bathroom in Baie–Sainte-Marguerite sector
Île-Bonaventure-et-du-Rocher-Percé and Miguasha national parks (Gaspésie)
Home accommodation, internet, and bicycles provided.
A number of wildlife reserves (different regions), including Matane, Portneuf, La Vérendrye, Mastigouche, Ashuapmushuan, Rouge-Matawin, Laurentides, Saint-Maurice, and Papineau-Labelle
Most wildlife reserves provide cabins for wardens and other employees, often with Internet access.
Nature in the city
Aquarium du Québec and Parc de la Chute-Montmorency (Capitale-Nationale)
For folks looking to keep in contact with animals while remaining in the city, Aquarium du Québec is the perfect option! This exceptional site on the shores of the St. Lawrence River is full of life. Located at the entrance to the bridges in the Sainte-Foy–Sillery district, the Aquarium is easily accessible by car or public transit.
Another major attraction in Quebec City is Parc de la Chute-Montmorency, offering a breathtaking view of the waterfall, the river, and the city. You can easily get there by Métrobus. It's the ideal spot for a picnic, some lunchtime jogging, or a nice meal or drink on the terrace at the end of your shift!
Hot tip! Sépaq reimburses transit passes for establishments served by public transit.
So you're a nature lover? We've got just the job for you!
Each year, Sépaq seeks around a thousand people to fill various positions. One of these jobs may be just for you! Keep an eye out for offers and sign up for employment alerts.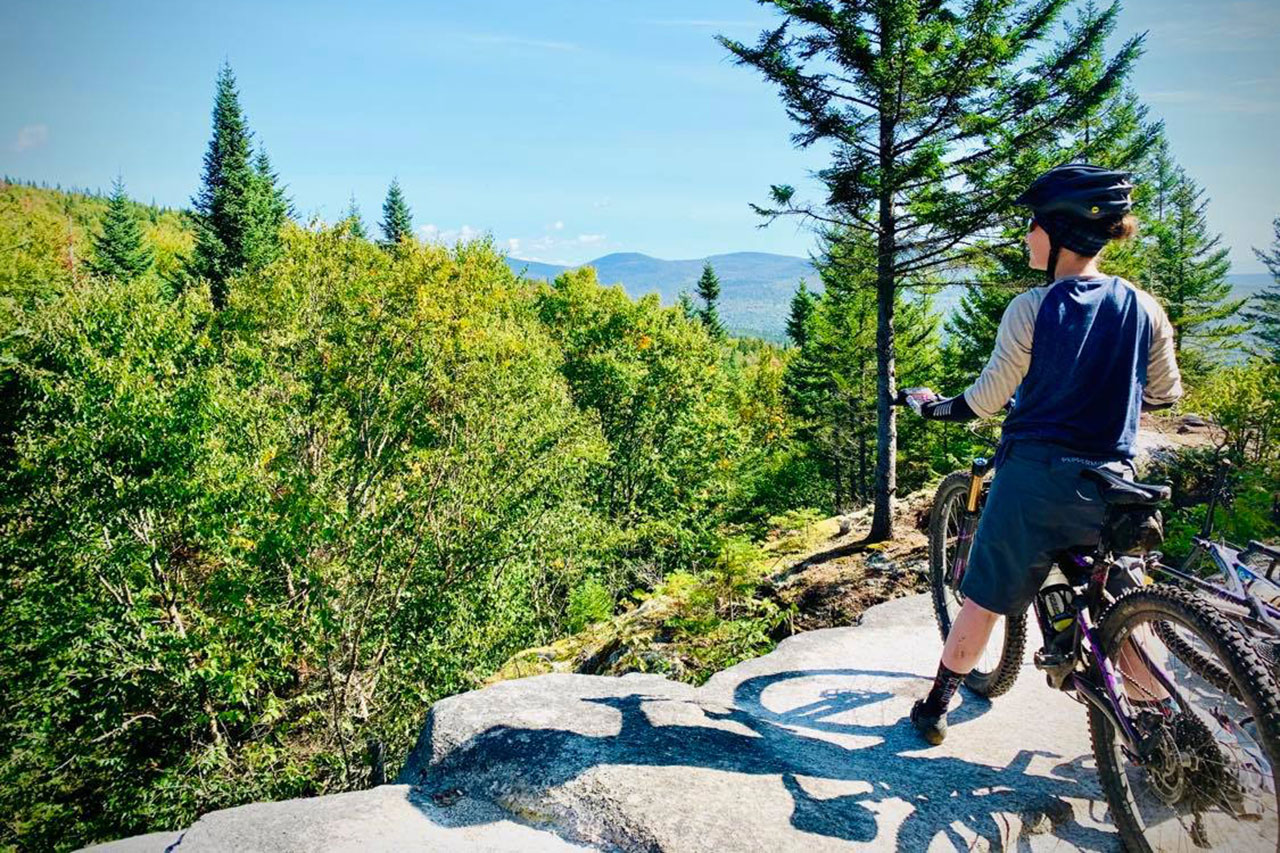 About Mélanie Pageau
A mother of two boys and an outdoor and adventure enthusiast, Mélanie is particularly fond of mountain biking, fat biking, cross-country skiing, long hikes, and other strenuous activities. In short, staying active in the great outdoors! A former journalist turned communications consultant, Mélanie joined Sépaq to combine her passions with her professional life.