Camping
Dream locations for sleeping under the stars
Our promise is quite simple: between forests, lakes, and mountains, you'll sleep under the stars of the most beautiful nature in Quebec. Let's just say that when it comes to a simple camping getaway, it's hard to ask for more. And to make the whole thing even more attractive, our team will reveal its favourite places where there are still good opportunities for a stay this summer.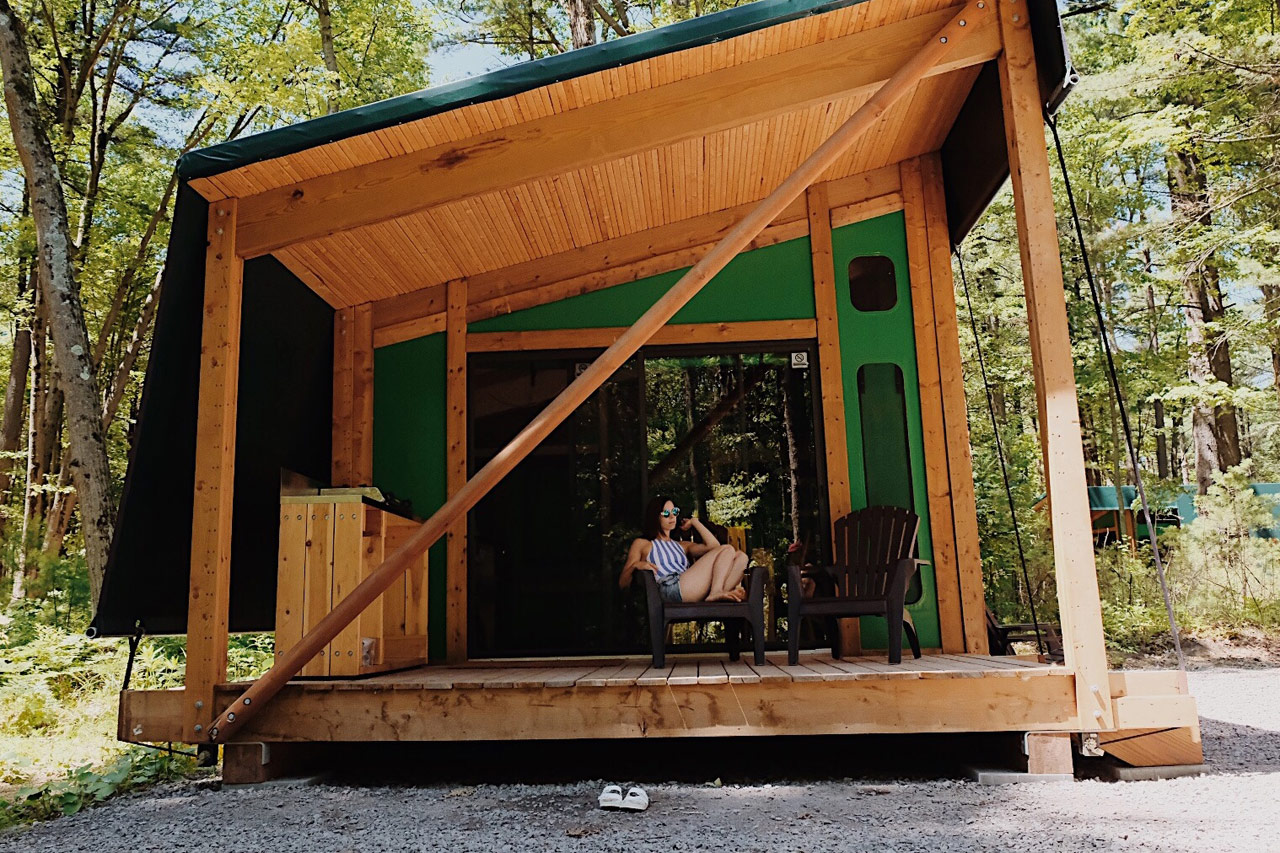 Parc national du Mont-Tremblant
Camping Grand-Pin, in L'Assomption sector of Parc national du Mont-Tremblant, remains a well-kept secret. At the heart of this magnificent natural environment, campers will be enveloped by a very special atmosphere indeed. The forest, the light, the vibe– everything is extraordinary and peaceful. You can rent watercraft on site, and three hiking trails are accessible nearby, including Grandes-Vallées trail, distinguished by its splendid mature trees.
The rustic campsites of Camping La Bacagnole, located in Diable sector, will delight campers looking for a bit more action. Imagine the scenario: magnificent woodlands on the shores of Lac Monroe and a vast array of outdoor activities (hiking, water sports, and via ferrata) waiting nearby. A dream come true!
Parc national des Îles-de-Boucherville
Treat yourself to an immersion in nature while camping just a few minutes from downtown Montreal. The campsites and ready-to-camp units on Île Grosbois in Parc national des Îles-de-Boucherville are located in an enchanting spot where terrestrial and aquatic environments cohabit like a charm. A change of scenery guaranteed!
New this summer, the park offers you a package including the rental of a campsite or a ready-to-camp unit, the transportation of luggage and campers to the campground, as well as the rental of a watercraft or bike for one hour. A perfect way to discover all the beauties of this protected territory!
Parc national d'Oka
Parc national d'Oka offers a wide range of wooded campsites for those who want to sleep under the stars. Feel like camping without lugging all that gear? You can count on a number of ready-to-camp units being available at the park.
A few steps from the campground, you'll enjoy an 11 km natural sandy shoreline and a supervised beach, as well as a program of special activities and a playground to entertain the small fry. You can also navigate Lac des Deux Montagnes in a canoe, kayak, or pedal boat and test your balance while stand-up paddleboarding.
Parc national de Frontenac
Southern and Saint-Daniel sectors of Parc national de Frontenac are perfect base camps to discover this exceptional territory in complete freedom and to have a front row seat to observe wildlife in its natural habitat.
On Sud sector side, you can combine your night under the stars with a visit by canoe or kayak along the Lac à la Barbue water route. Some nifty introductory canoe-camping circuits are also available for more adventurous campers. In Saint-Daniel sector, a magnificent supervised and landscaped beach (BBQ and playground) awaits camping enthusiasts.