Stay in a rustic shelter
The perfect alternative for a successful winter getaway
To satisfy your desire to awaken a stone's throw from winter trails or for the simple pleasure of getting together in a comforting spot right near the fire, you absolutely must stay in a rustic shelter! Offered at a number of our winter destinations, these little, and a little bit more rustic, corners of paradise offer a true return to the basics for snow lovers of all stripes.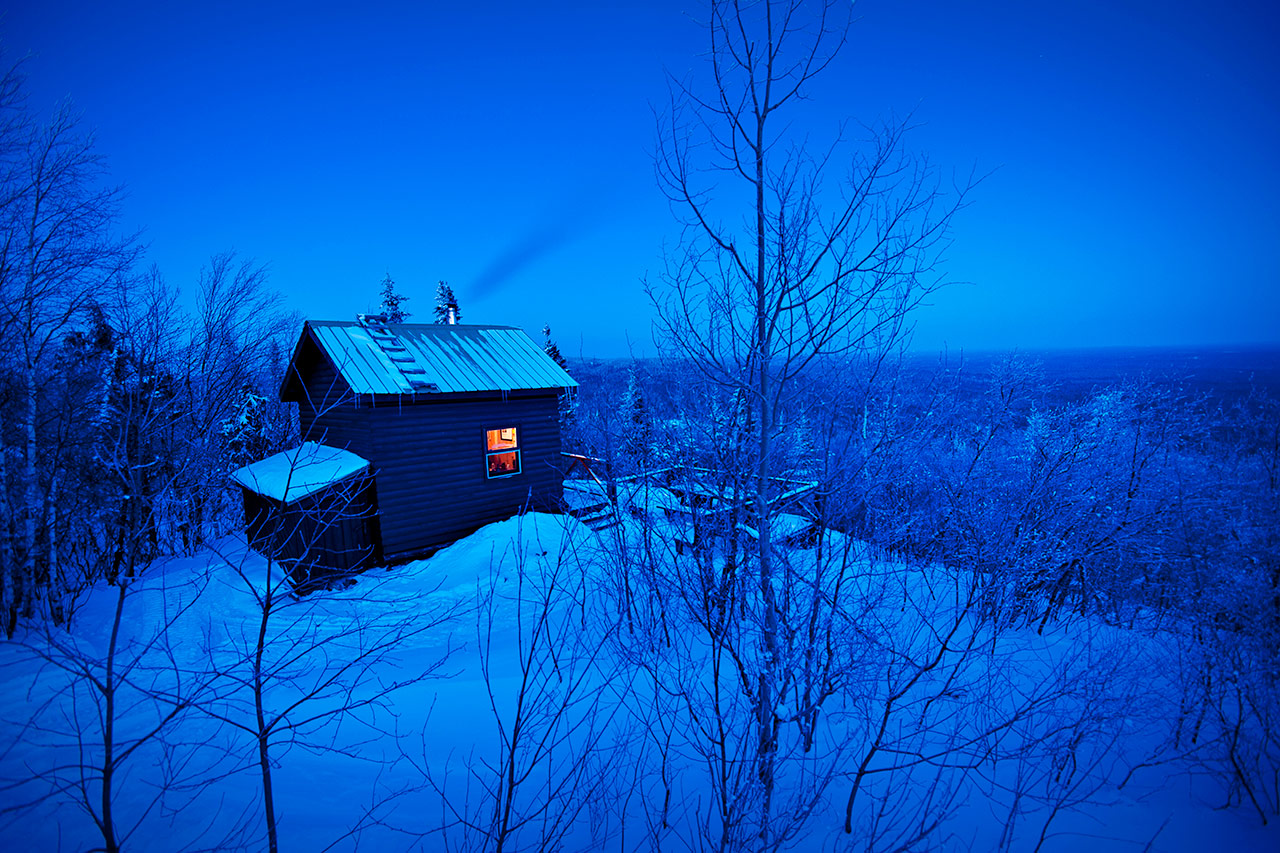 Back to the basics with the charms of a cabin
Nature getaways during the cold season are becoming more popular, especially during this special period when the desire to escape is stronger than ever. As a result, full-serviced cabins are often already booked. So, why not turn toward rustic shelters? Often a little further away from busy areas, they're a well-kept secret. What a great alternative to take full advantage of winter!
Parc national d'Aiguebelle
It's difficult not to fall under the spell of the authentic roundwood rustic shelters of Parc national d'Aiguebelle. Le Vice-Roi and La Puce-d'Eau rustic shelters, which are basically cabins without running water or dishes, will provide a front-row seat to admire the starry sky and magnificent Lac Matissard.
For its part, Le Collembole rustic shelter can serve as a base camp for a splendid snowshoeing excursion in the forest. Last but not least, Le Monarque rustic shelter, also without running water or dishes, is reputed to be the most luxurious accommodation of the bunch and offers an interesting panoramic view of Rivière Kinojévis.
You'll be delighted to learn that all these rustic shelters are accessible by car.
Parc national de la Gaspésie
If you're a true winter enthusiast, Parc national de la Gaspésie is truly a must-see location! Set off to discover a new unspoiled aspect of this unique territory and stop over at one of the four rustic shelters located in Petit-Saut sector, away from busy circuits. These base camps will be your starting point to explore many kilometres of well marked backcountry skiing trails, whether in mountainous areas or along Rivière Sainte-Anne. These little corners of paradise are accessible via a backcountry skiing trail or by snowshoeing over a distance of 4 km.
Parc national des Grands-Jardins
Set off on an adventure in Parc national des Grands-Jardins. Backcountry skiing and snowshoeing circuits will take you to impressive peaks or through burned forests offering endless white horizons. For an on-site overnight stay, Benjamin-Simard, Joseph-Girard, and Jean-Pressé rustic shelters are just the ticket! Equipped like cabins, with the exception of running water, these accommodation units will offer the best of winter pleasure right near snowy trails. For the ultimate experience, please note that you can do some ice fishing on the lake in front of Benjamin-Simard and Joseph-Girard shelters.
Parc national du Mont-Mégantic
Reach for the stars at Parc national du Mont-Mégantic. By spending the night at any one of the ten rustic shelters of Observatoire sector, you can admire the evening starry sky show and take advantage of the winter trails during the day. These amply-windowed rustic shelters are easily accessible by snowshoeing or via cross-country skiing. Families can even try out some short treks, especially since 6 of the 10 rustic shelters (Petite-Ourse sector) are located only a kilometre or so from the discovery and visitors centre.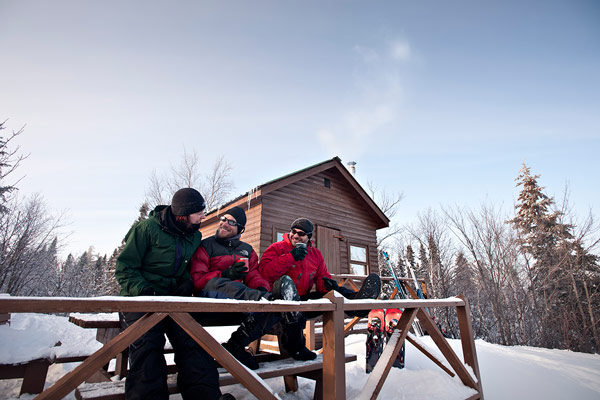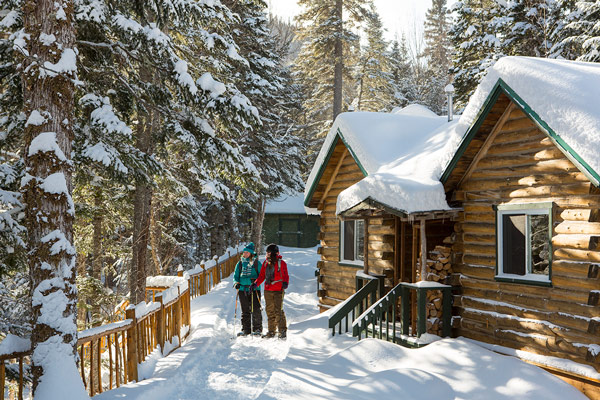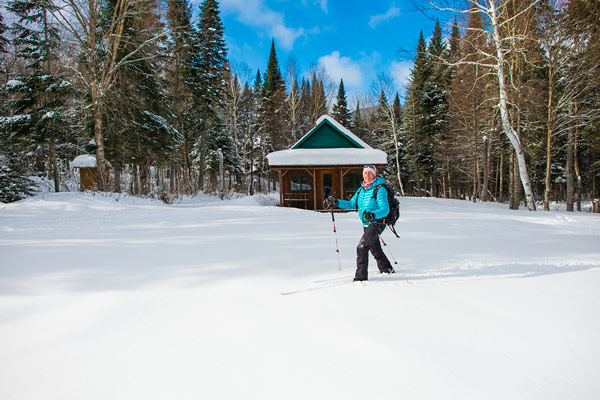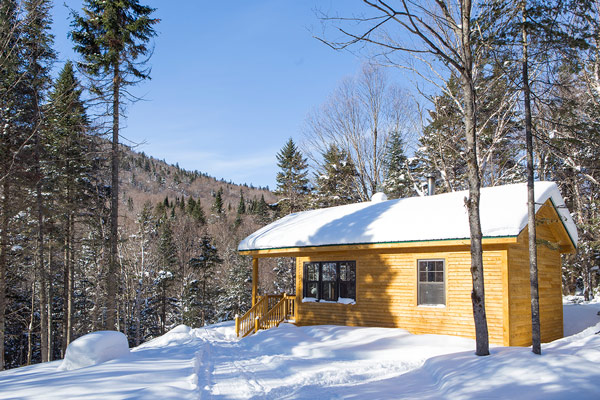 A base camp for extended outings
Are you already a winter enthusiast who loves extended outings on our snowy trails? If so, you'll appreciate the fact that rustic shelters are a superb alternative to huts, which are unfortunately rarer this winter due to the implementation of COVID-19-related health measures. Nestled along certain winter trails, these exclusive five-star base camps offer separate accommodation units and additional services which aren't available in shelters. So, why not give them a try?
Parc national d'Aiguebelle
Strap on your backcountry skis or snowshoes and set off to discover Parc national d'Aiguebelle. Snuggled at the heart of the boreal forest and located all along its winter trails, La Cigale, La Guêpe, Le Dytique, Le Patineur, L'Amiral, L'Alucite, and Le Bourdon rustic shelters await you. What a wonderful way to spend a cozy evening after a wonderful daytime excursion! Most rustic-shelter-access trails are of the intermediate or advanced variety. A great challenge for those used to rigorous outings!
Parc national du Fjord-du-Saguenay
There's nothing better than a winter excursion and a night under the stars at Parc national du Fjord-du-Saguenay. What a great way to take in the vastness of this distinctive territory! Some seven km from the registration centre, Méandres and Rivière rustic shelters are perched at the edge of magnificent Baie-Éternité and are accessible by backcountry skiing or snowshoeing. They can accommodate two to four people. Also on the agenda: breathtaking scenery, an impressive amount of snow, and a vast territory where you can truly get away from it all.
Parc national de la Jacques-Cartier
Vallée de la Jacques-Cartier in all its splendor offers a vast array of possibilities for experienced excursion enthusiasts. The five La Cachée rustic shelters located near the park entrance can be reached by car and provide access to some snowshoeing trails nearby. If you're looking for a great adventure, please note as well that these rustic shelters are accessible by backcountry skiing from Camp Mercier, an excursion spanning more than 23 km!
Parc national des Monts-Valin
Welcome to snow heaven! Parc national des Monts-Valin is sure to delight true lovers of snowy trails. Located near the discovery and visitors centre and accessible by car, L'Attisée rustic shelter can serve as a good base camp for setting off to conquer the surrounding trails. As a bonus, you'll be able to enjoy a magnificent view of the mountain and the relaxing sounds of Rivière Vallin, all from your humble abode.