The little-known benefits of fall camping
You think that the camping season is all over with the end of summer? Think again! When the mercury plunges and the trees change colour, you can still pitch your tent in the forest. And most importantly, remember that indulging in this activity later in the year includes benefits that summer can't begin to offer.
Today we take you on a journey of discovery of fall camping by showcasing its unsuspected advantages.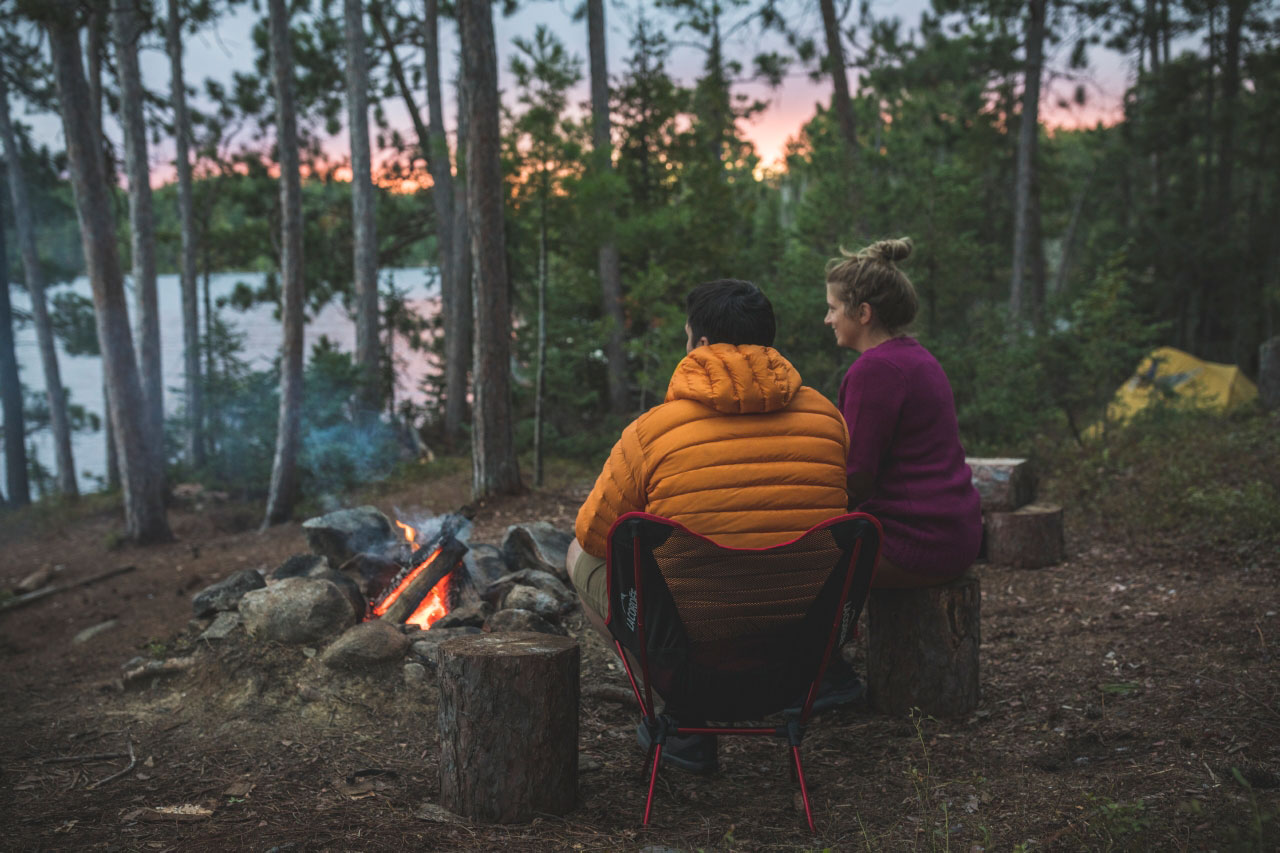 1. Rediscovery
During fall, particularly in Quebec, we're lucky enough to watch our landscapes transforming before our very eyes. Setting off on an excursion at this time of year allows us to completely rediscover a familiar environment. It's also the perfect opportunity to have access to the very best campsites, by the water or with a magnificent view, since there are fewer people camping in fall. So take the opportunity to camp in a national park you know well and try out a hike that you've done before. You'll see… everything seems completely different. Even the smells of the forest change and the leaves release sweet fragrances. You'll have the impression of rediscovering a place you thought you knew. An experience not to be missed!
2. Great nights
Can you believe that when you camp during fall, you sleep better and longer? Well, it's true! The nights are cooler, so when you're well equipped, you'll sleep like a baby, without the heat that would have accumulated in the tent in summer. In addition, you'll be awakened much less early by the morning sunlight, as the sun rises later in fall. So it's true that when camping during fall, you'll sleep better... and longer!
3. Coolness
The nighttime coolness of fall that sometimes gives us pause lasts throughout the day as well. But once the sun rises, that fall freshness really hits the spot . A number of outdoor activities such as hiking and canoeing are very pleasurable when the temperature drops. You'll be happy to enjoy these physical activities with a little less sweat!
4. Where are the mosquitoes?
Don't look for them; they've gone into hiding for the chilly season! Here's one of the big advantages of fall camping: the total absence of flies and mosquitoes. So you can leave the mosquito repellent and citronella candle at home.
5. Wildlife watching
Fall is a key season for checking out all sorts of species. It's the mating period for moose, and certain migratory birds are particularly visible at this time of year. When you arrive in a national park, consider asking Sépaq experts which species you might spot and keep your eyes peeled! However, even if it can be tempting to get closer to animals, stick to observing them from a distance and avoid feeding them. Their well-being depends on it.
6. Fireside evenings
When evening comes around during fall, life at the campsite especially unfolds around the campfire. This is an opportunity to enjoy hearty meals, such as a cheese fondue, chili... and those classic s'mores cooked over the open fire! And don't hesitate to head off the beaten path and let yourself be inspired by more original recipes, such as stuffed apples cooked over embers, a recipe suggested by Geneviève O'Gleman. Otherwise, a good old hot chocolate is sure to please. Finally, the earlier night makes it possible to do some extended stargazing sooner than in summer. In short, evenings are precious and comforting when camping during fall.
If you'd like a little more comfort, you can always stay in our ready-to-camp units, which are even equipped with a small space heater. And the beauty of the ready-to-camp experience is that you can still enjoy all the benefits described above!
So, are you ready to take up the challenge of fall?