A fall for lovers at Parc national du Mont-Tremblant
In collaboration with the Go-Van community
A healthy dose of nature and adventure is within easy reach at Parc national du Mont-Tremblant. Especially in the fall, when the blazing colours are a sight for sore eyes!
We invited our friends from Go-Van to criss-cross the roads of the largest park in the network to find activities that will bring you closer to both your co-pilot and to Mother Nature's spectacular show.
Here are their favourites. It was love at first sight!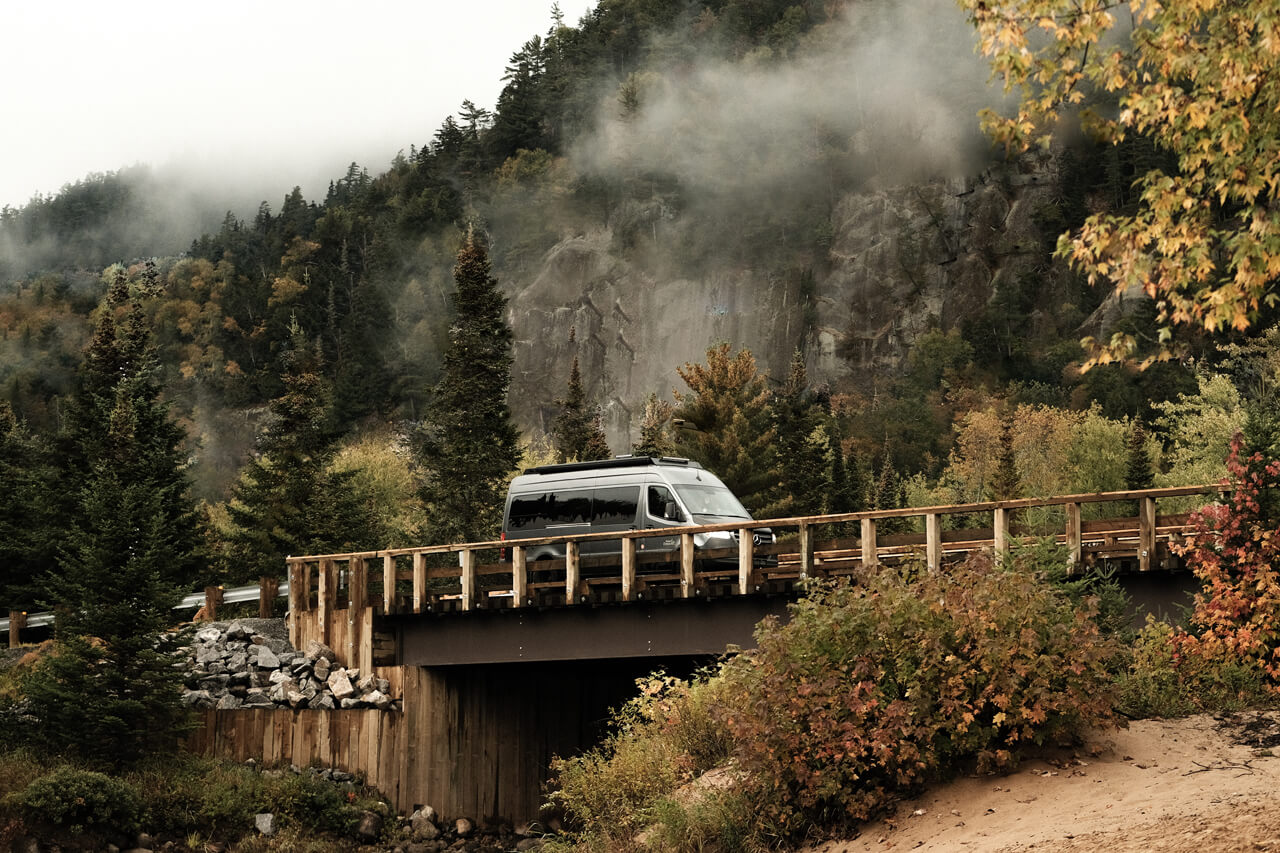 Hiking
With more than twenty trails in its three superb sectors, Parc national du Mont-Tremblant offers many alternatives for walkers. From contemplative to sustained hiking, the park has trails for all tastes. For walkers looking for an accessible hike, Le Centenaire trail can be completed in half a day, while offering a spectacular view of the colourful Laurentian hills. You can enjoy hiking in Parc national du Mont-Tremblant until the first snowfall, and it is a must in the fall because the colours of the hardwoods are at their most spectacular.
Via ferrata
In fall, thrill-seekers can admire the mountains glowing with yellow, orange, and red deciduous trees from the rock faces of the via ferrata, an activity halfway between climbing and hiking. Beams, bridges, and gangplanks can be crossed using cables along three different circuits, suitable for all skill levels. Although it takes between three and six hours to complete your circuit, it feels like time is suspended as Rivière du Diable, crowned by Vache Noire mountain, unfurls beneath your feet. Nestled in the Lac-Supérieur sector, the via ferrata is open until the end of October and provides a fall experience you won't want to miss!
Canoeing on lakes and rivers
There's nothing like relaxing and spending quality time on one of the 400 lakes that dot Parc national du Mont-Tremblant. Throw your canoe or kayak into the water for a complete nature experience. You can also rent a watercraft (pedal boat, canoe, single or double kayak) for the day. Those who wish to explore Rivière du Diable will be able to do so until mid-October.
Cycling
Those who prefer to ride rather than walk, climb, or paddle can take advantage of the park's 124 km of bike paths. Eight circuits are available for cyclists, who can rent a bike by the hour or by the day at Parc national du Mont-Tremblant. You can enjoy the fall panorama on two wheels until the first snowfall!
Recharging your batteries
After so much exertion, there's no shortage of options for the hungry foodie around here. To savour quality products in a warm and unpretentious space, head to the old village of Mont-Tremblant. We suggest an order at Le Rustique resto-pub for initial refreshment, to be topped off at Mille Pâtes boutique and restaurant, specializing in fresh traditional and gluten-free pasta. The French restaurant Des Petits Ventres is another excellent dining establishment housed in a magnificent ancestral home. Lovers of artisanal beers should visit the pub La Maison du Brasseur, where you can bring your own lunch if you so desire.
To continue the outdoor experience right through lunch or dinner, why not picnic on the colourful carpet of leaves that covers the park? You can buy your supplies at one of the markets offering fine local products, such as the urban grocery store Le St-Amour, in St-Jovite, or the gourmet market L'Étalage, in Lac-Supérieur.
Parc national du Mont-Tremblant is a must for your simple fall getaways. The site offers a host of serviced and semi-serviced campsites, offering the perfect place to park an RV or even pitch a tent.
QUICK TIP!
At home, make sure to use the virtual ticketing system to purchase your daily right of access.
Reminder: Holders of an Annual Québec National Parks Card or an Annual Card for a single park don't need to purchase a daily right of access.