Fall has arrived at Gîte du Mont-Albert
By Karina Durand, content strategy and social media manager.
Beautifully situated at the foot of the Chic-Chocs, Gîte du Mont-Albert is a unique place indeed. A cozy four-star hotel offering a warm welcome and delicious local cuisine, its location at the heart of Parc national de la Gaspésie makes the eyes of outdoor enthusiasts shine, during summer and winter alike. What do regular guests appreciate so much? The experience is different every time, because the magnificent nature of Gaspésie always reveals itself in a new light, depending on the period of year you drop by.
However, some people believe that the most soothing time to hike the park's trails is during colour season, from September to October.
Here are nine reasons to let yourself be tempted by a little fall holiday in the Chic-Chocs.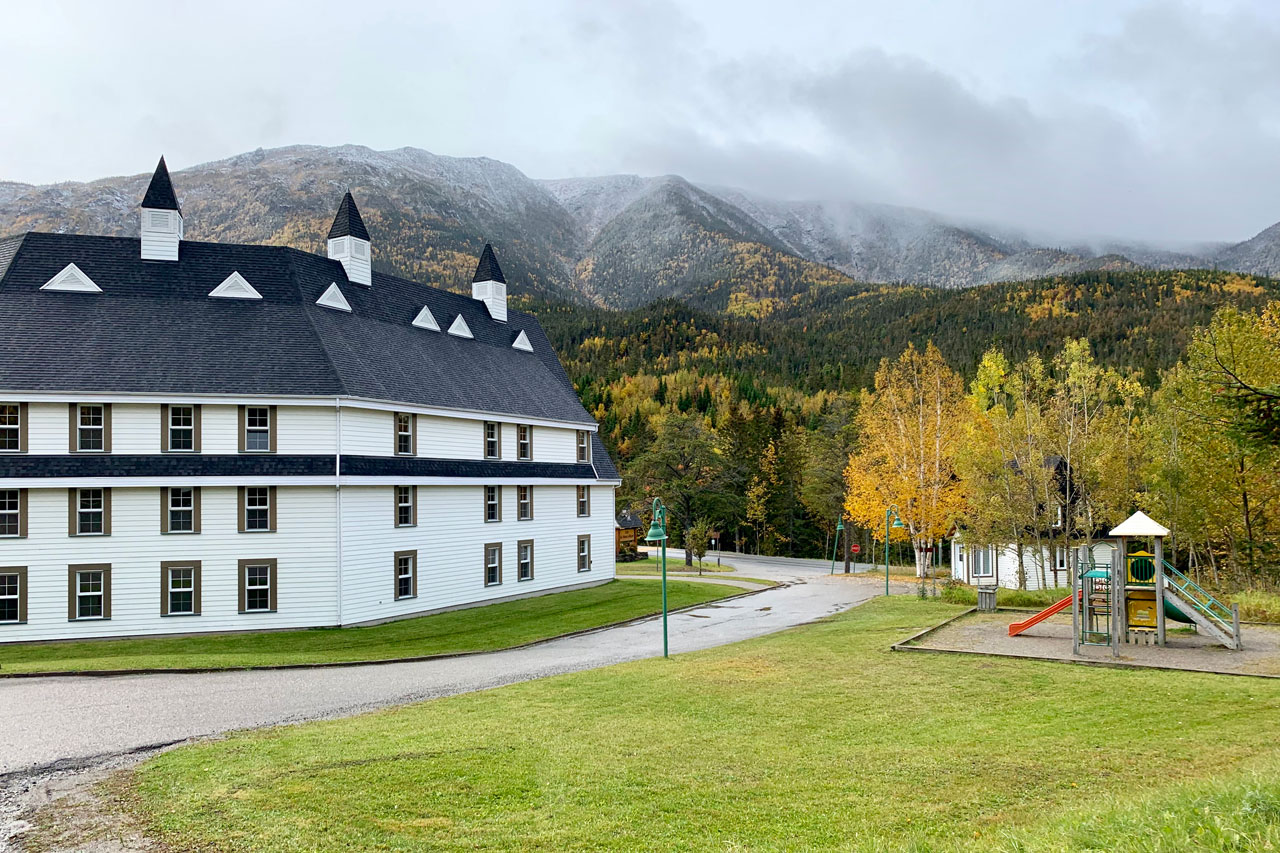 1. Spectacular colours
Colour season is one of the most popular times of the year for hikers in Quebec, particularly in Gaspésie. And with good reason! The golden yellow foliage of the forests that cover the Gaspé mountains is well worth checking out. Mont-Olivine trail, which runs directly in front of Gîte du Mont-Albert, offers a spectacular view of the Rivière Saint-Anne valley and majestic Mont Albert, breathtaking panoramas in the fall.
2. Plenty of moose
It is a well known fact that Parc national de la Gaspésie is one of the best places in Quebec to observe moose, one of the most impressive mammals to be found in our forests. Fall being the rutting season, moose are particularly active at this time of year and move around more, which makes them easier to check out. Mont Ernest-Laforce trail is the perfect place to encounter moose, because they appreciate the trail environment, made up of yellow birch, young firs, and tender foliage. And as luck would have it, this trail is very close to Gîte du Mont-Albert and is accessible to less experienced hikers.
3. Ideal temperatures
In the fall, milder temperatures are perfectly suited to hiking, especially when tackling certain Gaspesian trails that feature a significant difference in altitude, such as Mont-Albert (open until the end of September) or Mont-Richardson trails. The heat factor being attenuated, reaching the peaks becomes easier. Moreover, it seems that the sweet scents that delicately perfume the mountain wind at this time of year have a soothing effect on the body and mind.
4. No mosquitoes
Another factor that hikers appreciate in the fall is that there are very few (if any) flies or mosquitoes at this time of year. So you can leave the mosquito repellent at home and walk in the forest without being bugged.
5. Where the action is
With the holidays already over for many of us, fall is the ideal time to treat yourself to shorter stays of two, three, or even four days. During these little getaways, we generally appreciate being close to activities so we can enjoy them at the drop of a hat. Gîte du Mont-Albert couldn't be better located, being right at the foot of the hiking trails. All we have to do is lace on our boots and we're on our way!
6. A warm welcome
One of the nicest features of this hotel, apart from its enchanting setting, is the warm welcome you'll receive. Do you need a little break before the whirlwind of the Christmas holiday season hits in full force? Settling in at the Gîte for a fall getaway will bring you comfort and regeneration, thanks to the kindness of its team members who'll treat you with tender loving care throughout your visit.
7. A room with a view
Another noteworthy feature: each of the rooms at Gîte du Mont-Albert is oriented so that you can admire Mont Albert from the window. In the fall, the golden yellow foliage that can be seen there is simply sublime.
8. Chef Jean-Alexandre Dubé's exquisite cuisine
Loyal customers are unanimous: Gîte du Mont-Albert serves up a feast for all occasions. The Gîte's restaurant offers fine and tasty dishes, featuring the delights of the region's terroir, while the bistro offers gourmet dishes that will satisfy ravenous appetites each and every time. Congratulations to chef Jean-Alexandre Dubé and his brigade for their excellent mastery of both types of cuisine, which are appreciated for very different reasons.
9. Full of soft light
In Quebec, we're fortunate to be able to enjoy a full colour season that few places in the world can match. In the fall, nature is transformed and the show Mother Nature offers is completely magical! Even if it's quite simple, walking outside remains one of the best ways to enjoy the beauty of this natural phenomenon. And let's face it, a few days in a place lined with colourful trails will also allow you to fill up on soft light before the colder temperatures set in.
So, why not treat yourself to a fall getaway at Gîte du Mont-Albert this year?