Tips for Introducing Your Loved Ones to Camping
Here are some of our favorite ideas for introducing a loved one to camping and ensuring they have an amazing time. After all, outdoor getaways are even better when you're with those you love. The goal? To get them hooked on camping and grow your circle of fellow campers. We guarantee that even the most reluctant among them won't be able to resist the wonder of a weekend sleeping beneath the stars!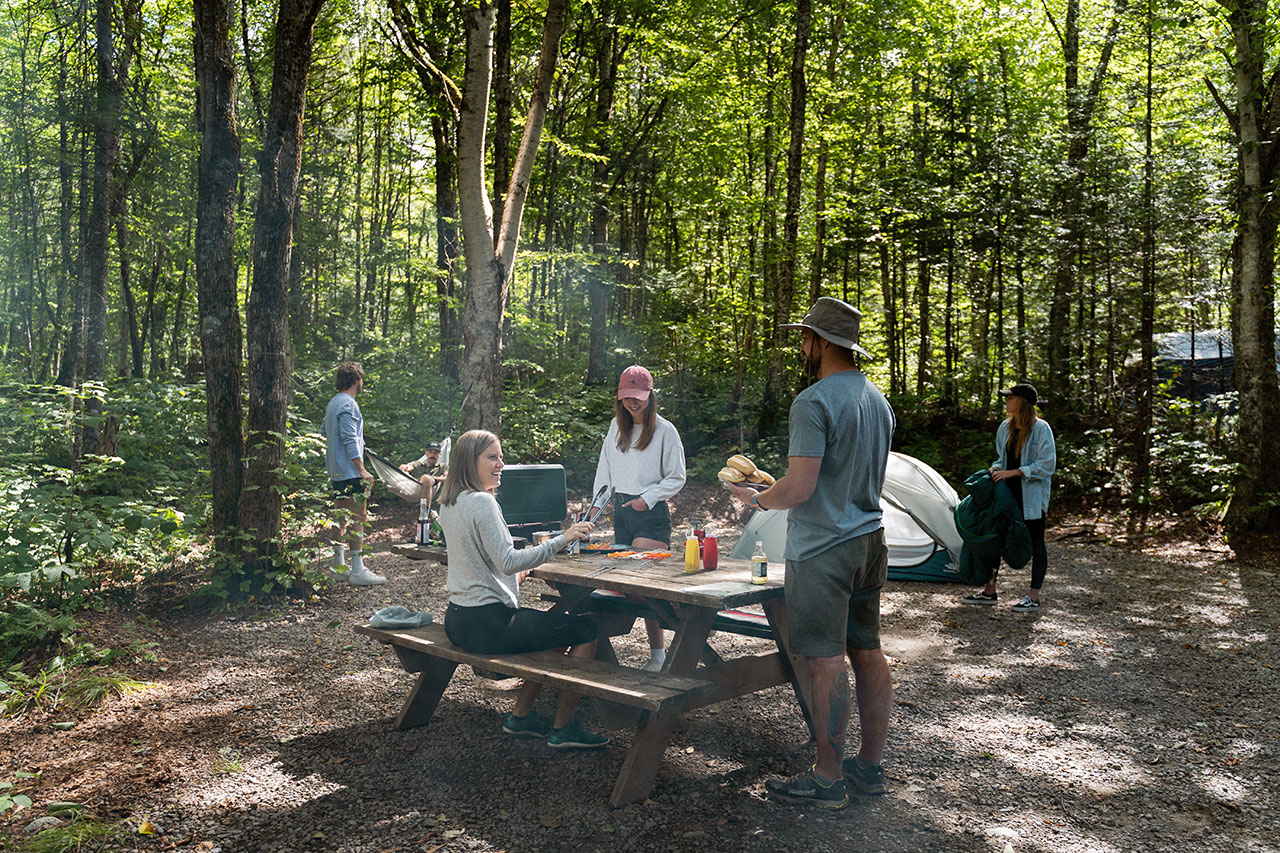 The Philosophy of Camping
Lesson Number 1 for converting newbies into camping aficionados is to teach them the philosophy of camping. The essence of camping is simple: it's all about enjoying the here and now, spending quality time together, having long discussions, playing games… all with no set schedule. Especially with no set schedule! The usual family rules don't apply when camping: you can go to bed later, the kids can eat s'mores for breakfast if they want, the grownups can crack open a beer before lunchtime if they feel like it… and that's just fine. It's all part of the camping credo. It's about relaxing and letting your hair down, far from your usual routine. Sound like a convincing argument?
Organization 101
The List
To help your budding campers, draw up a list of essential gear they'll need. And to make it easier for them, share as much of your own gear as you can. After all, they're probably not nearly as well equipped as you are. For example, you could bring along all the cooking equipment. That way, your camping companions will have the chance to discover the joy of cooking in the great outdoors and realize how much fun it is!
Make sure your camping partners are equipped for a good night's sleep: comfortable sleeping pad, appropriate sleeping bag for the forecast temps, and dry clothes.
Before leaving, check that everything is in good working order: waterproof tent, campstove that works, correct number of tent pegs, etc.
And don't forget the camping must-haves:
Insect repellent and sunscreen
Biodegradable soap to wash everything (body, hair, dishes)
Hammock (ok, maybe not absolutely essential, but it sure beats a folding chair for hanging out or enjoying an afternoon siesta…)
Nylon rope (you wouldn't believe all the things you can do with a simple length of nylon rope: string up a washing line, install a tarp in case it rains, strap your gear to the roof rack, hang a battery-operated lantern so you can see better while you cook, and all kinds of other things)
Headlamp
Candle lantern (helps remove humidity inside the tent and creates a cozy atmosphere, too)
Living Out of a Box
The key to making camping fun is to be organized. A place for everything and everything in its place. A handy trick is to use sturdy, transparent, plastic storage boxes of the same size so they can be stacked in the car. Organize the boxes by theme: one for cooking gear, one for dry goods, one for the essentials (headlamp, candles, pocket knife, rope, etc.), and so on.
Rain? No Big Deal!
So long as you're properly equipped, you'll have a fun time with your camping neophytes, regardless of the weather.
Bring a tarp: It will make a great shelter when you're hanging out at the picnic table.
Pack bad-weather clothing. Ideally, a complete kit: boots, jacket, and pants. These days, it's easy to find affordably priced rain pants in outdoor stores, and it's worth having a pair in your bag.
Remember a towel, whether for the beach or just for drying off: Microfiber towels are ultralight and dry super fast.
Slip a few games into your pack so you can while away the time beneath the shelter of the tarp: a pack of cards, backgammon, and the ever-popular UNO or YUM are camping classics.
Planning
Tailor your getaway to the level of experience of your companions (serviced or unserviced campsite, access by vehicle or distance to be covered on foot, fitness level, tolerance to insects or to the vagaries of Mother Nature).
Check the weather forecast for daytime and nighttime highs and lows (temperatures can vary by as much as 20 degrees from day to night).
Opt for two nights instead of just one: The first night of camping often takes a bit of getting used to, and the second day you can really relax and enjoy the experience.
Camping Activities
Once on site, enlist your companions to help out with the tasks that need doing. Everyone can help out in their own way: pitching the tent, cooking, getting the fire going… It's amazing how quickly you learn when it's a hand-on activity!
Plan a few fun activities nearby, such as hiking, stand-up paddleboard, canoeing, kayaking, via ferrata, or fishing. Choose something your guests enjoy or, alternatively, introduce them to a new activity. If you prefer to just hang out at the campsite, consider bringing along some games that everyone will enjoy: bocce and washer toss are a couple of timeless camping faves!
Most importantly, keep it simple and avoid trying to pack in too many activities. When introducing people to camping, each task can take a little longer than when you're on your own or with other camping enthusiasts. To ensure everyone enjoys the experience, take your time and enjoy the moment.
Win Their Hearts Through Their Stomachs
To win over your budding campers, we strongly suggest you charm them with great meals. Because, let's face it, dining is a big part of the camping experience.
Plan your meals ahead of time. That way, you'll have more time to enjoy your camping experience in good company.
Don't skimp on breakfast. It helps get your day off to a great start, and it's a key part of camping life! Forget the old standby of peanut butter toast and try Geneviève O'Gleman's breakfast crisp, or go for something completely different like breakfast burritos, crêpes, or healthy biscuits.
Opt for DIY recipes like tacos, fondue, or BBQ. Set everything out in the middle of the table and have your companions serve themselves in a relaxed and fun setting. For a festive evening, try pizza on naan: Simply set out a selection of toppings and let each person invent a pizza. Sample each one as it comes off the grill and cast your vote for the night's best pizza. And don't forget chocolate spread for the dessert pizza!
Create a cozy dining atmosphere with a few candles on the picnic table. You can even mix and match tea lights and a couple of citronella candles, killing two birds with one stone–a mellow ambiance with no annoying mosquitos!
Plan a dessert that can be cooked over the campfire. Because camping desserts are the best! Bring along an iron skillet or a reusable aluminum tray and throw in your favorite sweet foods. For a surefire hit, combine chunks of angel cake with fresh berries, your favorite sweet treat (dark chocolate, white chocolate chips, chunks of your favorite candy bar, cookies, or whatever) and heat over the fire until everything starts to soften. Yummy!
Review the Basics
Now that you're all caught up on some great tips to get your friends or family hooked on camping, this is a good time to review your knowledge of the basics and become an expert in the art of teaching the following camping techniques: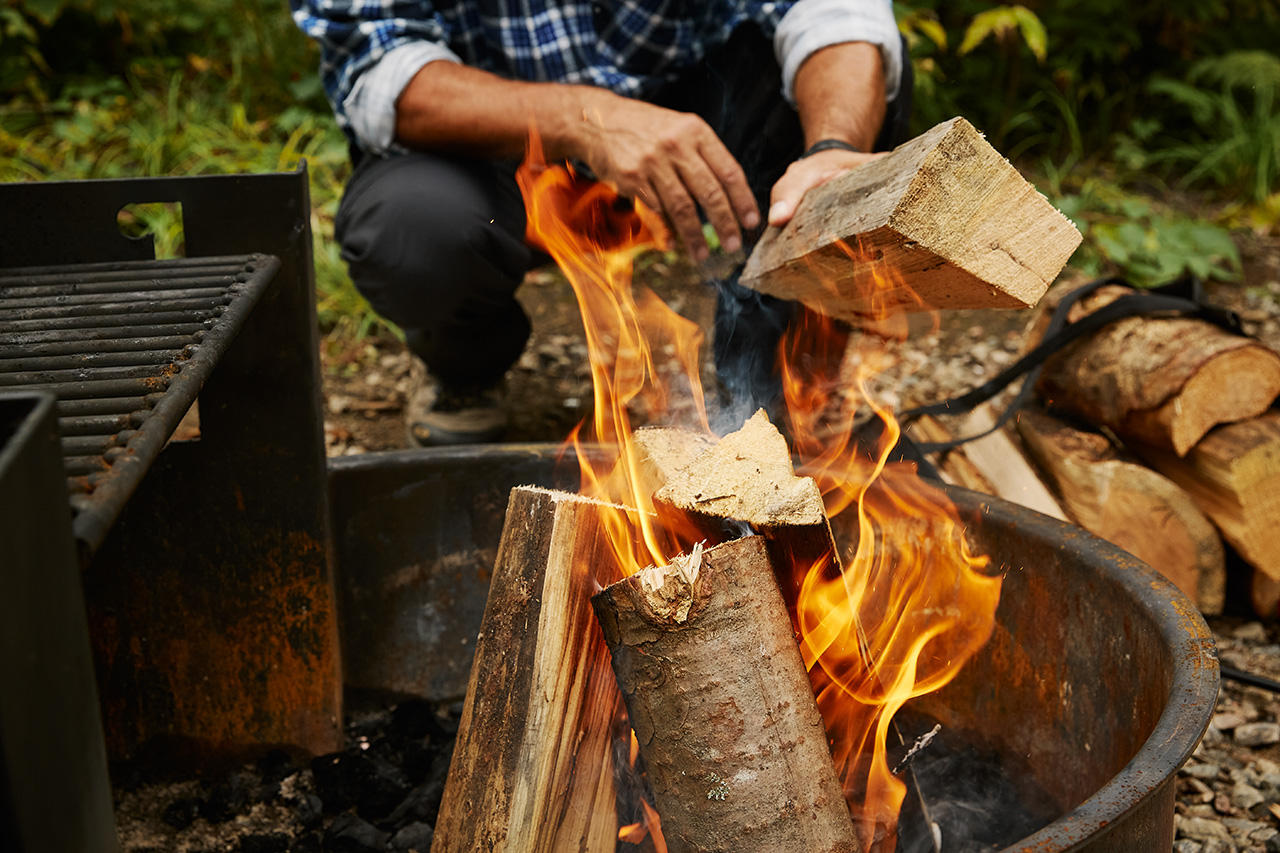 How to start and blow out a fire
Socializing around the fire is one of the joys of camping. But knowing how to light a fire is also very useful for cooking and warming up. Here we show you a tried and tested technique: the log cabin fire lay.
---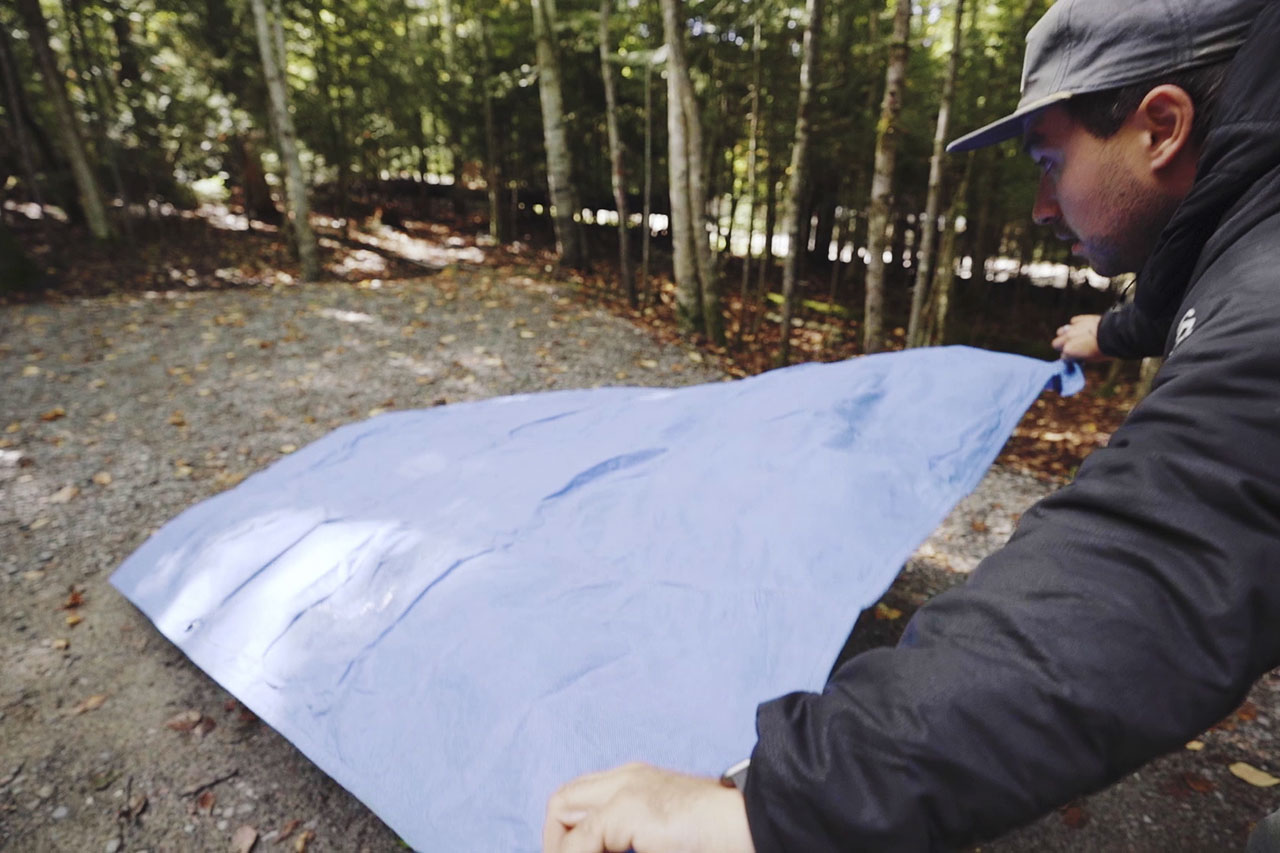 The many uses of a tarp
Tarpaulins are versatile and economical and can be used in many ways. Whether you want to protect your tent from the sun and rain, build a makeshift shelter, or create a small kitchen area sheltered from the elements, tarpaulins are a camping essential. Find out here how to use a tarp effectively.
Values of a Model Camper
We all know how important it is to take care of nature, which is why there are a few simple actions you'll want to share with your new camping partners:
Even if it can be tempting to get closer to animals, stick to observing them from a distance and avoid feeding them. Their well-being depends on it.
To preserve flora and allow it to regenerate, stay on the trails, at your campsite, and in designated visitor areas.
Leave behind no waste. An empty bread bag or granola bar wrapper can be whipped away by the wind before you know it.
Store food and other fragrant products (toothpaste, deodorant, etc.) in airtight containers, to seal in the smell, and store them in a locked vehicle.
Happy Camping!